Sisterhood in the Workplace Only Goes So Far When It Comes to Perceptions of Pay
Most white women believe there is a gender pay gap but don't believe they're paid more than non-white women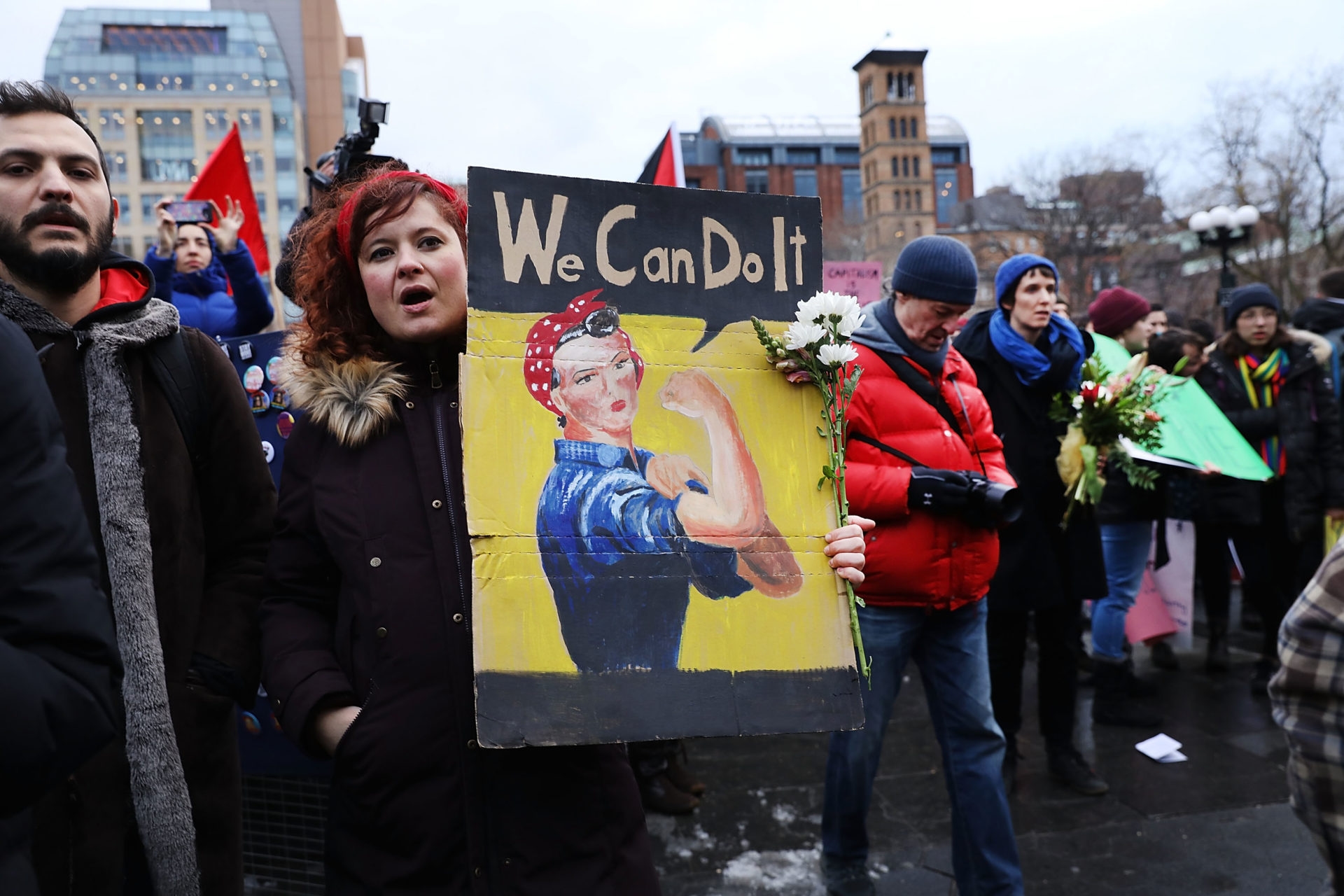 The #MeToo movement highlighted the discrimination many women face in the workplace, but new polling shows there's a limited understanding of the everyday bias non-white women face.
Such misconceptions, experts said, are not only preventing non-white women from earning equal pay and opportunities but also hindering progress on policies that could help address the issue.
Sixty-seven percent of women, including 66 percent of white women, in the April 17-20 Morning Consult/ASCEND poll agreed that women are paid less than men for doing similar work. That view is backed up by a March study from Glassdoor Economic Research that found women earned 95.1 cents for every dollar earned by men with the same job title, employer and location.
But when asked whether non-white women are paid less than white women for doing the same work, that number dropped to 39 percent among all women and 34 percent among white women -- even though Labor Department data shows that median earnings among women of color are lower than those of white women.
"Even though white women experience a lack of privilege in one dimension, they don't necessarily understand that they do have privilege in another dimension -- which is being white," said Katherine W. Phillips, a professor at Columbia Business School who studies diversity.
These findings suggest "white feminism," or white women's recognition of cultural sexism without acknowledging and highlighting the larger struggles non-white women face, is alive and well in the workplace.
"While we espouse sisterhood, I'm not sure if we do sisterhood," said Ella Bell Smith, a professor of business management at Dartmouth College's Tuck School of Business.
It is a misbelief among many white women, Smith said, that their experiences are similar to those of non-white women because they share gender. Such misconceptions can freeze any sort of discourse around pay at the intersection of race and gender.
"Part of the gaps that we see comes from naiveté about: 'Well, we're all in this together,' " Smith said.
Women's median earnings in 2017, the most recent available year for which the Department of Labor has data, came in at $41,977 compared to men's $52,146. That puts a woman's earnings at 80.5 cents of every man's dollar.
The average of the median earnings of black, Asian and Hispanic women was $40,038 that same year, 76 percent of men's median salary and 86 percent of white women's median salary ($46,513).
Given all the discussion surrounding the gender pay gap, very little discussion is dedicated to the racial gap between women, said Chandra Childers, a study director at the Institute for Women's Policy Research, despite the fact that "the pay gap is mostly about women of color."
"That pay gap is a racial gap," she said.
Childers noted that non-white women must work harder and stay longer in positions to receive promotions and earn pay raises -- efforts that are largely invisible to their white female peers.
Phillips said that organizations currently "have a lack of understanding of the complexities that exist within certain subgroups. Intersectionality is missing."
This limited perception prevents policies that could lift up non-white women, experts said, ensuring that any effort -- whether from public or private spheres -- will face accusations of pandering until the public realizes the pay gap racial minority women face.
Asked in the poll how helpful certain policies would be in supporting women interested in reaching executive positions, white women were less likely to characterize as helpful the efforts that highlighted diversity -- such as making top executives' compensation dependent upon more diversity in leadership (52 percent) and mandatory diversity requirements within a company (52 percent) -- than the policies that didn't mention diversity. Those policies include mentorship programs with top executives (67 percent) and legislation to ensure men and women are paid equally for similar work (67 percent).
"White America, culturally, does not understand the reality of the 'other' in our society," said Smith.
Companies have to be willing to unpack their pay practices and hiring practices with intersectionality in mind, Smith said, and understand that this is an ongoing process -- not just an issue for which human resources departments can "check the box" and move on.
Phillips said it's common to exclude race when we're talking about gender rights. "We're at the point now where a conversation that doesn't include this is just not sufficient," she said.
See crosstabs here.
Joanna Piacenza leads Industry Analysis at Morning Consult. Prior to joining Morning Consult, she was an editor at the Public Religion Research Institute, conducting research at the intersection of religion, culture and public policy. Joanna graduated from the University of Wisconsin-Madison with a bachelor's degree in journalism and mass communications and holds a master's degree in religious studies from the University of Colorado Boulder. For speaking opportunities and booking requests, please email [email protected].
We want to hear from you. Reach out to this author or your Morning Consult team with any questions or comments.
Contact Us