Public Favors Small-Business Funds Going to Non-Chain Restaurants, Medical Groups, Private Schools
Celebrity clothing companies like Kanye West's Yeezy and dating apps received least amount of support
Key Takeaways
Religious organizations such as the U.S. Roman Catholic Church and medical organizations were among the largest partisan divides.

65% say they support small-business funds for non-franchised restaurants.

Private K-12 schools received 50% backing for small-business funds.
When the Small Business Administration released the names of about 650,000 groups that received loans through the Paycheck Protection Program last week, a slew of criticism arose about funds going to companies with ties to lawmakers, celebrities and smaller parts of larger businesses that may have other avenues to raise money to keep them afloat throughout the economic slump spurred by the coronavirus pandemic. 
According to new data from Morning Consult, some of that criticism has resonated with the public. And with the Trump administration and congressional Republicans and Democrats debating how to tailor the small-business lending program to businesses hurt most by the pandemic, U.S. adults are pointing to restaurants, schools and medical organizations as worthy recipients of the extra government boost.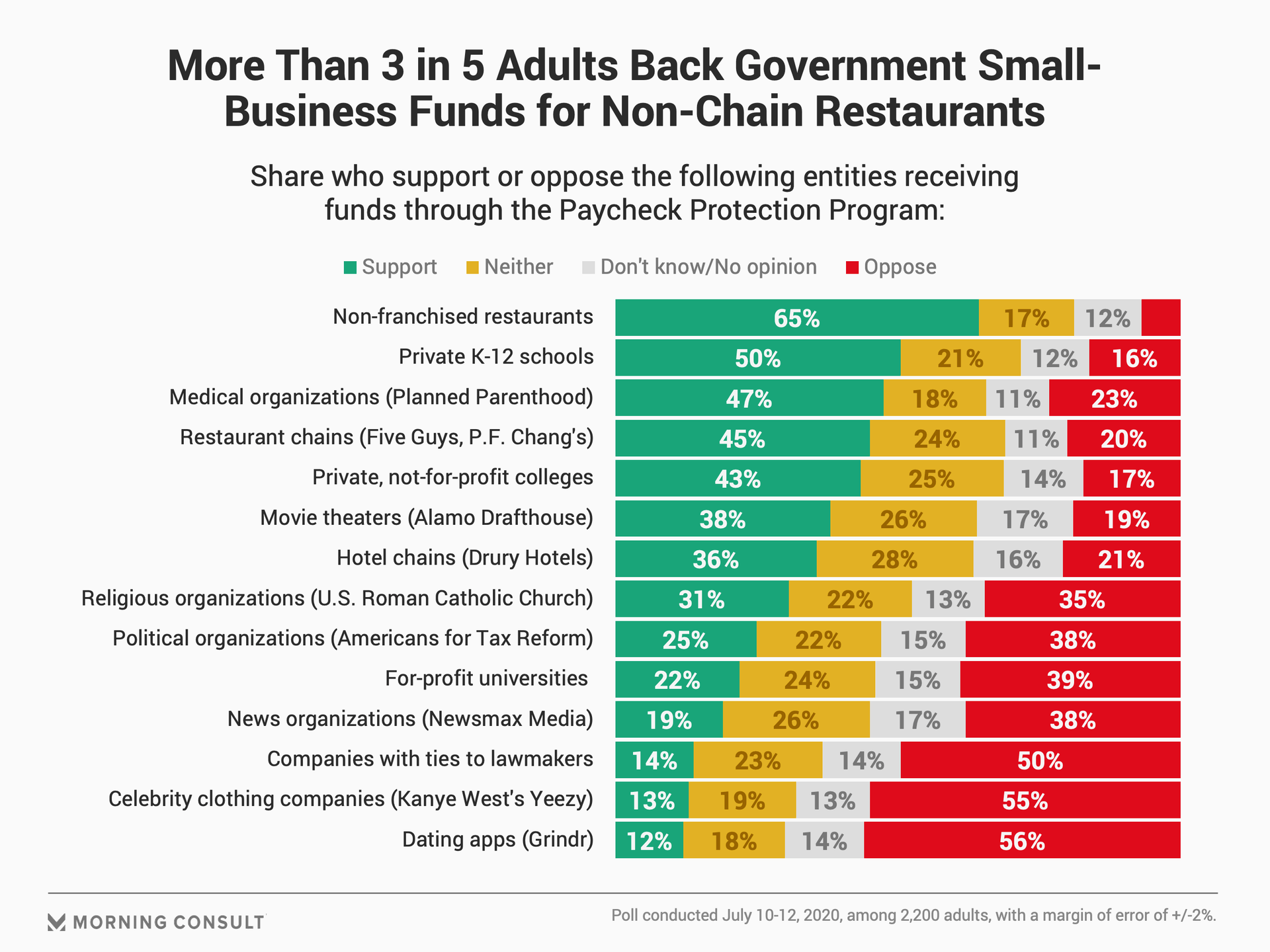 By far, non-franchised restaurants had the greatest support among 14 groups that have, so far, received PPP funding. Sixty-five percent of U.S. adults said they support the eating establishments receiving the loans, compared to 7 percent who didn't. Chain restaurants also received relatively high backing, with 45 percent support and 20 percent opposed. 
Private K-12 schools garnered support from half of the public, with 16 percent opposing funding for the group, while private, not-for-profit colleges received 43 percent support and 17 percent opposition. For-profit universities, however, fell relatively low among other groups that received funding, with 22 percent of adults supporting financial assistance to for-profit schools and 39 percent opposing. 
Just under half of the public (47 percent) backed medical organizations, such as affiliates of Planned Parenthood, getting the funds, with 23 percent opposing.
The poll surveyed 2,200 U.S. adults from July 10-12 and has a margin of error of 2 percentage points. 
The difference between the highest and lowest support was stark: While small restaurants had backing from nearly two-thirds of the public, dating apps such as Grindr received 12 percent support and were opposed by 56 percent, while celebrity clothing companies such as Kanye West's Yeezy got 13 percent support and saw 55 percent opposition. 
Companies with ties to lawmakers came in just above celebrity clothing companies and dating apps, with 14 percent in support of funding for such businesses and 50 percent opposed.
Largely, there weren't big partisan divides between Democrats and Republicans in most categories -- with a couple notable exceptions. Religious organizations such as the U.S. Roman Catholic Church saw 40 percent support from Republicans and 32 percent from Democrats, while medical organizations, such as Planned Parenthood, drew the largest divide, with 68 percent backing from Democrats and just 29 percent from Republicans.
Dating apps such as Grindr didn't have much of a partisan divide in terms of support (15 percent among Democrats and 12 percent from Republicans) but did have a significant gender gap, with 16 percent of men supporting the group receiving small-business funds, compared to 7 percent of women.
Claire Williams previously worked at Morning Consult as a reporter covering finances.
We want to hear from you. Reach out to this author or your Morning Consult team with any questions or comments.
Contact Us