Most Voters Back Social Distancing as Long as Necessary, but Some Factors Sway Support
Job loss has relatively little impact on whether voters think social distancing should continue
Key Takeaways
7 in 10 voters support social distancing as long as necessary to curb the spread of COVID-19.

Nonessential workers are 10 percentage points more likely than essential workers to back continued social distancing, 77% vs. 67%.

Strongest support for the continuation of social distancing comes from voters who have a friend or family member that has battled the coronavirus, at 81%.
Americans are watching unemployment skyrocket, their loved ones fall ill and Washington spar over its coronavirus response — and they're debating among themselves whether they can go shopping, take a vacation and even get a haircut. 
While most voters (70 percent) said in a new poll that they would prefer to continue social distancing, even at the expense of the economy, there are a few strong predictors to someone's opinion on social distancing versus reopening the United States for business.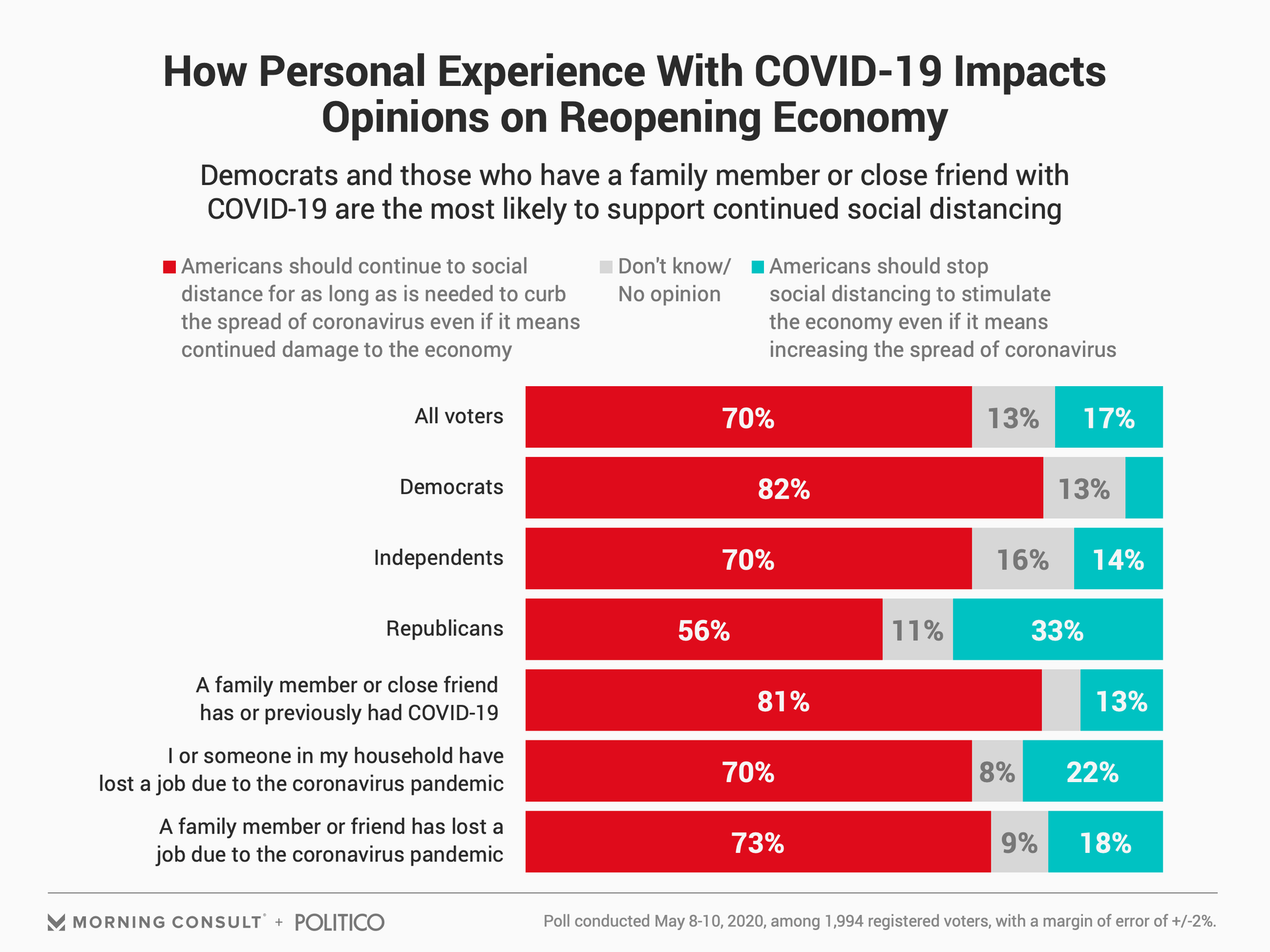 The most prominent indicator is a voter's political ideology. Eighty-two percent of Democrats said they would continue social distancing for as long as needed, compared to 56 percent of Republicans and 70 percent of independents.
Thirty-three percent of Republicans said Americans should stop social distancing to stimulate the economy, even if it means increasing the spread of the coronavirus. That dwarfs the figures for all voters at 17 percent, Democrats at 6 percent and independents at 14 percent.   
The Morning Consult/Politico poll surveyed 1,994 registered voters from May 8-10, 2020, and has a margin of error of 2 percentage points. 
Voters who said a family member or close friend previously or currently has the coronavirus were also significantly more likely, at 81 percent, to support the continuation of social distancing. That subset of voters totaled 275 and has a 6-point margin of error.
The loss of a job, perhaps surprisingly, has a lesser impact on whether voters want the economy to reopen. Seventy percent of those who said that they or someone in their household has lost a job due to the pandemic would opt to continue social distancing, on par with registered voters overall. Twenty-two percent of that group said the United States should stop social distancing, a figure that still falls below the same sentiment among Republicans. This 285-person demographic carries a margin of error of 6 percentage points. 
The support for continued social distancing ticks up to 73 percent for those who said a family member or close friend has lost a job (which carries a 5-point margin of error with 395 respondents), although support for reopening the economy is relatively the same as all voters at 18 percent. 
There's also a sizable split between those who are considered essential workers and those who aren't. At 77 percent, nonessential working voters are actually more likely than the average voter to say that social distancing should continue, compared to 67 percent of essential workers who say the same. Essential workers totaled 482 survey respondents with a margin of error of 4 percentage points, while nonessential workers made up 351 survey respondents and carry a 5-point margin of error. 
Trends were similar when voters were asked to choose if the government should prioritize the spread of coronavirus or the economy. Democrats were significantly more likely to choose the spread of coronavirus (76 percent) than Republicans (43 percent), and the figures for those whose household lost a job, or whose family member or close friend lost a job, were largely the same as overall registered voters. 
Those who have a friend or family member who has or had the coronavirus are significantly more likely to say the government should address the spread of coronavirus (67 percent) over the economy (26 percent). 
Claire Williams previously worked at Morning Consult as a reporter covering finances.
We want to hear from you. Reach out to this author or your Morning Consult team with any questions or comments.
Contact Us