Solar-for-Coal Energy Swaps Could Facilitate Utilities' Renewables Transition, Analysis Shows
New research from Energy Innovation pitches alternative financing model for replacing coal plants with solar farms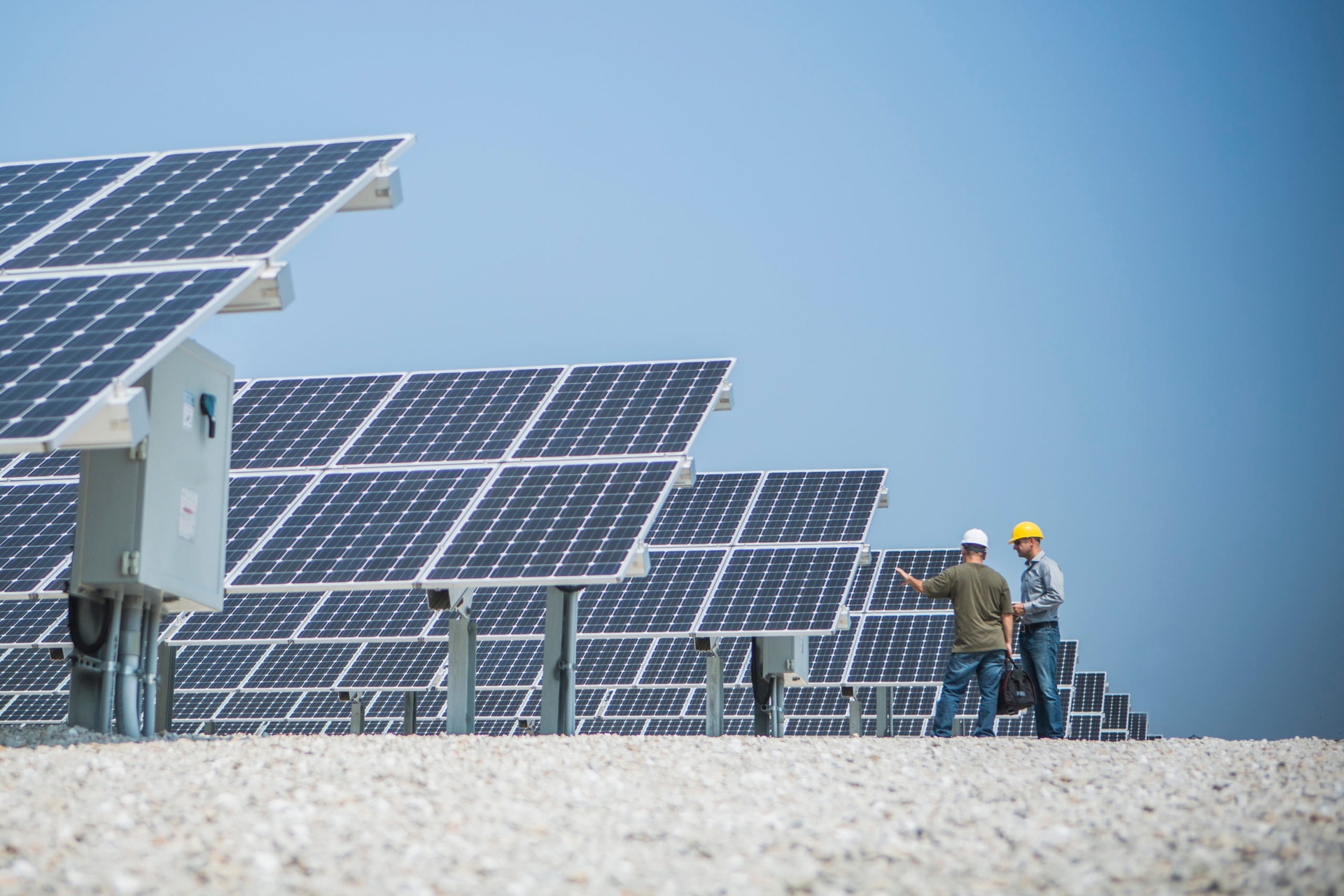 Utilities are increasing their reliance on renewable energy as they make the transition away from coal, and a new policy brief proposes a new financing approach to facilitate that transition. 
While natural gas is generally considered a transition fuel between coal and renewables, direct solar-for-coal swaps could enable utilities to skip that step entirely, according to an analysis by Energy Innovation: Policy and Technology LLC, a San Francisco-based nonpartisan think tank focused on energy and environmental research directed at policymakers. 
This coal-replacement approach "can be applied to any fuel source, but it is likely of particular interest for customers that want to clean up their electricity mix and save money," Mike O'Boyle, the group's director of electricity policy, told Morning Consult in an email. "New natural gas is not a great long-term emissions reduction strategy at this point."
A solar-for-coal swap is when a third party, such as an energy marketer, renewables developer or related investor, purchases and retires a coal asset from a regulated utility while simultaneously introducing a contract for new solar. 
The terms of the transaction would "include payment for solar power plant output as well as repayment for purchasing and decommissioning coal," O'Boyle and his co-author, Ron Lehr, wrote, citing underlying motivations for the deals including consumer preferences and policy pressures, as well as a shift in the economic equation of which resources utilities rely on. While consumers would repay the coal purchase and solar investment through their everyday rate-paying, the theory is that they ultimately pay less because of low and dropping solar costs. 
"Because fundamental economics have changed, consumer pressure will eventually become relentless, forcing utilities to adapt or risk consumers finding alternatives to limited utility offerings," according to the brief. 
A 2019 analysis from Energy Innovation and the software company Vibrant Clean Energy LLC found that 34 percent (15 gigawatts) of municipal or cooperative-owned coal assets were uneconomic compared to new local solar, and by 2025 that number is expected to increase to 59 percent (26 GW). Today's brief recommends accelerating the refinancing of today's estimated 22.5 GW of existing coal plants via swapping in solar; the current annual retirement rates are closer to 10 GW.
The authors have recommended these swaps to municipal and public utilities specifically because they are typically more independent than their investor-owned counterparts, controlled by their own boards of directors or municipal or special district officials rather than state utility commissions. While solar-for-coal swaps are not yet widespread, Lehr and O'Boyle cite several existing examples of the practice, notably at cooperatives in New Mexico and Colorado. The former, the Kit Carson Cooperative, estimated that its swap to solar will save cooperative member-owners between $50 million and $70 million.  
And as for whether these swaps accelerate the transition to renewables in investor-owned utilities, whose customers made up 72 percent of the nation's electricity market in 2017, O'Boyle said the outlook for those operations is not as clear as for publicly owned utilities.
"IOUs face markedly different incentives than their publicly owned counterparts, the most significant of which is to continue earning on existing coal investments through the coal plant's full lifetime," O'Boyle said. "It would take regulatory intervention or extreme customer pressure for IOUs to pursue this on their own and voluntarily forgo those earnings, whereas publicly owned utilities face a more clear mandate to minimize costs and respond to customer demands for clean electricity."
Lisa Martine Jenkins previously worked at Morning Consult as a senior reporter covering energy and climate change.
We want to hear from you. Reach out to this author or your Morning Consult team with any questions or comments.
Contact Us