Without Sports, Gamblers Are Willing to Bet on Weather, NFL Draft and COVID-19
While U.S.-based sportsbooks need states' OK for new offerings, offshore competitors take bets on almost anything
Key Takeaways
While bettors are unlikely to find a book willing to take coronavirus bets, 1 in 3 say they would be interested in placing one.

13% of sports bettors said they have gambled on something new since the pandemic shut down most sports.

Legal wagers on sports in states like New Jersey, Pennsylvania and Indiana in March fell by more than 60% from the prior month.
There aren't many bets that Adam Burns, the top oddsmaker for offshore bookmaker Sportsbetting.ag, won't at least consider taking. Unlike operators licensed in the United States, who require approval from state regulators before accepting wagers on a particular event, the Panama-based outfit, which accepts bets from all 50 states, can "pretty much put up anything we want."
Even Burns, however, has his limits.
"We stay away from pretty much anything coronavirus," he said. "Stuff we've done with that is, you know, if Trump does a speech or something, how many times will he say 'coronavirus.' But we don't do anything regarding the deaths and the cases -- we definitely stay away from that."
But according to a new Morning Consult survey, more than 1 in 3 sports bettors would consider gambling on what Burns considers beyond the pale. Amid the current shutdown of most major and professional college sports, 35 percent of U.S. adults who bet on sports at least occasionally would be "very" or "somewhat" interested in betting on statistics related to the COVID-19 pandemic.
While bettors are unlikely to find an institution to take such a bet -- police in Singapore are investigating a handful of unnamed betting websites reportedly posting offerings related to the number of infections -- that interest speaks in part to the desire for something to wager on in the absence of most sports.
Though the use of offshore sportsbooks is fairly prevalent among bettors in the United States, federal law technically prohibits offshore bookmakers from accepting such bets.
Of the 13 potential alternatives to mainstream sports betting presented in the survey -- some of which are currently available through licensed sportsbooks in the United States -- only the NFL Draft, which runs from April 23-25, generated more enthusiasm than the pandemic among sports bettors, with 36 percent saying they'd be interested. This year's draft is the most high-profile U.S. sports-related event in a month that usually features the Final Four of the NCAA men's basketball tournament, the early days of baseball season and the start of the postseason in the NHL and NBA.
The April 16-20 poll surveyed 4,400 U.S. adults, including 1,870 bettors, which both have margins of error of 2 percentage points. The subsample of 853 sports bettors has a 3-point margin of error.
"The NFL Draft has certainly been a boon for every book," said Patrick Eichner, who serves as director of communications in the United States for PointsBet, an Australian operator licensed in New Jersey, Iowa and Indiana.
FanDuel Inc., which runs a sportsbook in six states, said its users have already bet 10 times as much on the draft as last year due in part to the sparse sporting landscape, as well as the fact that it has added online betting in Indiana since the previous draft.
The early impact of the pandemic on the licensed U.S. gaming industry is reflected in filings from individual states, which show depressed sports betting handles -- the total amount of money wagered -- and a decline in overall gaming revenue, which is also hampered by the closure of brick-and-mortar casinos.
Before the pandemic, sports betting in New Jersey this year was on the rise: Bettors in the state legally wagered 40 percent more this past January than during the same month in 2019 and 54 percent more in February than the year before. In March, which had roughly two weeks of mainstream sporting events prior to the moratorium, the amount bet on sports in the state dipped 51 percent year-over-year.
New Jersey and Pennsylvania, the states with the largest handles outside of Nevada, both saw sports betting decrease by more than 60 percent from February to March after seeing increases over the same period in 2019. Nevada has yet to release its numbers for March.
Both Eichner and Burns pointed to Eastern European table tennis as a betting market that has taken off among those eager to wager on some sort of live action. The sport was one of the focal points of PointsBet's March Strangeness promotional campaign, a play on the March Madness basketball tournament that featured digital content aimed at raising awareness and understanding of offbeat sports, as well as boosted odds for certain events.
Eichner said a day's worth of pingpong in recent weeks has generated a handle comparable to one of golf's four major tournaments during normal times.
Eighteen percent of sports bettors said they would have at least some interest in betting on table tennis, a figure comparable to esports at 20 percent, darts and competitive eating at 19 percent each and foreign team sports such as Belarussian soccer and Nicaraguan baseball at 18 percent. 
But compared to those activities, sports bettors are nearly twice as interested in betting on the weather, with 35 percent saying they would put their money where their meteorology is. BetOnWeather.io founder Jesse Rowe, who says his platform is still in the private beta stage after launching in February, saw traffic to his site increase tenfold in the week immediately following the halt of most major sports in mid-March. 
Sportsbetting.ag started offering weather bets when the mainstream sports disappeared, but decided it was more trouble than it was worth.
"We had to literally designate one oddsmaker full-time to watch it because it changes all the time," Burns said. "Especially now with people at home all day, if there's a really good bettor, he can just sit there and monitor it all day and beat us to the punch."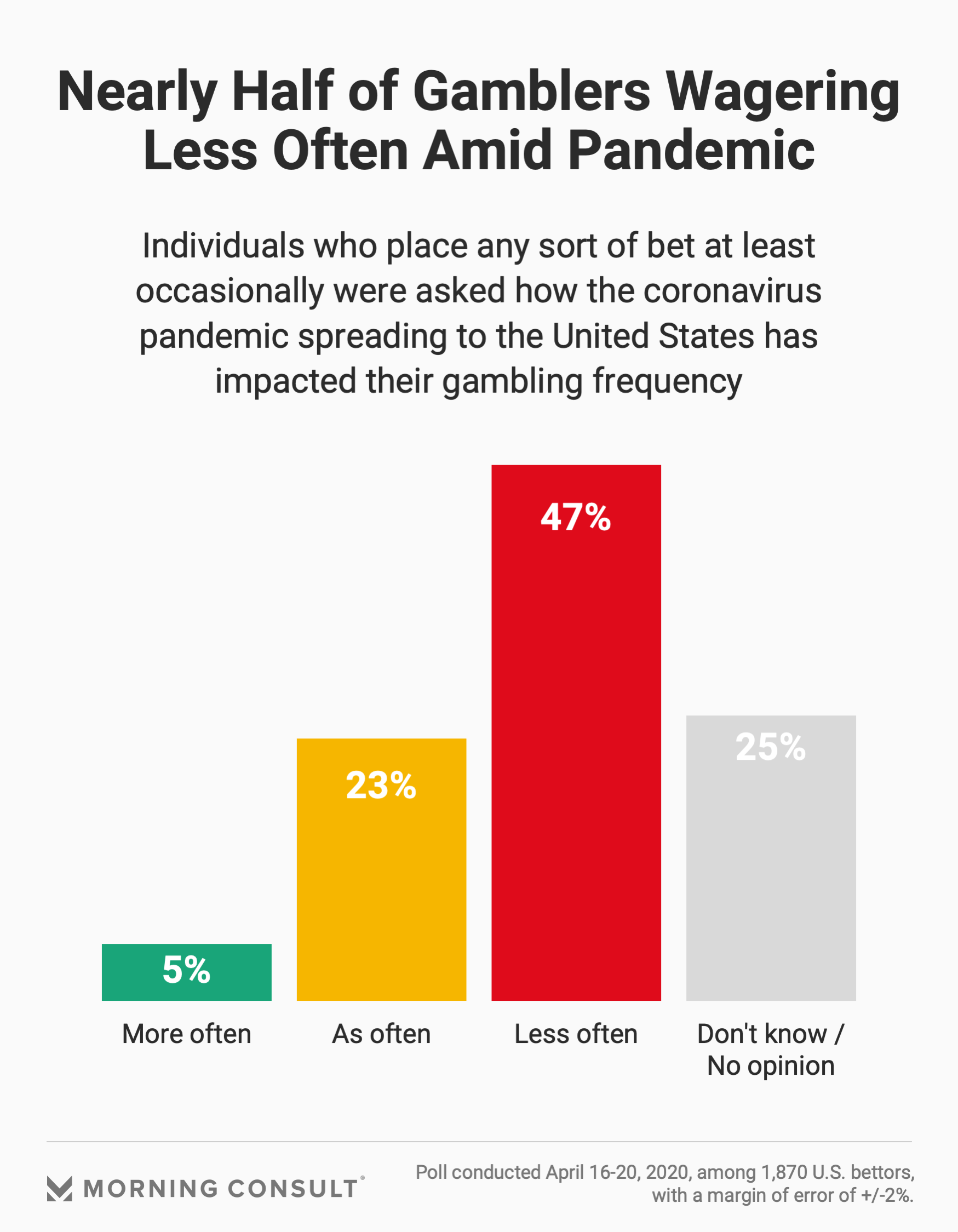 Eichner said that like reality TV and political election outcomes, weather betting falls into territory that legitimate operations such as PointsBet are unable to dip into due to pushback from regulators, which he said is generally based on "valid integrity questions."
Sites such as DraftKings Inc. and Fanduel, however, are able to get as creative as they want with their free-to-play contests, which attract and engage users who might also be interested in paid fantasy competitions or betting. 
About 1 in 4 sports bettors said they regularly participate in free-to-play contests, though 48 percent said they're doing so less often during the pandemic.
Contests in recent weeks on DraftKings have included predictions on Bravo's "Top Chef" and "Real Housewives of New York," a simulated MLB bracket-style tournament and, of course, the weather. FanDuel has offered similar contests, including pools based on MTV's "The Challenge" and CBS' "Survivor," as well as a fantasy version of the canceled Masters golf tournament featuring legends like Jack Nicklaus and fictional characters like Happy Gilmore.
It's unclear how long the current drought will last for sportsbooks, given the still-murky state of the sports calendar. While NASCAR is reportedly aiming to resume racing in mid-May and the PGA Tour announced its intent to tee off in early June, it's less clear when money-makers like the NBA, MLB and, to a lesser degree, the NHL will resume play. 
The multibillion-dollar question for the betting world is whether college football and the NFL will start as scheduled in late August and early September.
This story has been updated to clarify the legality of offshore operators accepting bets from U.S. residents.
Alex Silverman previously worked at Morning Consult as a reporter covering the business of sports.
We want to hear from you. Reach out to this author or your Morning Consult team with any questions or comments.
Contact Us