Sports
With Live Sports Slate Still Light, Americans Want Documentaries on Muhammad Ali, Babe Ruth
Led by ESPN's 'The Last Dance,' the spotlight is on sports documentaries amid the COVID-19 pandemic
Key Takeaways
Nearly half of U.S. adults would be interested in films or series on the lives and careers of Ali (49%) and Ruth (48%).

Serena Williams (35%) generated the most interest among female athletes.

2000s Lakers dynasty featuring Kobe Bryant, Shaquille O'Neal tops list of most compelling teams.
Without a full slate of live sports since the emergence of the coronavirus pandemic, sports television networks have turned to documentary programming to entertain fans waiting for their favorite leagues to return to play.
ESPN's decision to fast-track "The Last Dance," its 10-part series on Michael Jordan's Chicago Bulls, proved to be one of the shrewdest programming decisions of the pandemic, resulting in a record average live audience of 5.6 million viewers per episode across five Sunday nights in April and May. But its successor in the time slot, a two-part installment in its "30 for 30" series chronicling the controversial career of cyclist Lance Armstrong, averaged 824,000 over the past two Sunday evenings, just a smidge higher than the 811,000 viewers a similar two-part piece on former NFL quarterback Michael Vick drew on Thursday nights prior to the pandemic.
As ESPN moves ahead with its Sunday night films and other sports networks fill their lineups with documentary content, the results of a recent Morning Consult/The Hollywood Reporter poll show that boxer Muhammad Ali, who died in 2016, is the athlete that U.S. adults are most interested seeing profiled in a new sports documentary series or film. Forty-nine percent of respondents expressed interest in Ali as a documentary subject, including 24 percent who said they would be "very interested."
Ali has previously been the subject of several documentary films. "When We Were Kings," which focused on his famous "Rumble in the Jungle" against George Foreman in 1974, won the Academy Award for Best Documentary Feature in 1996. More recently, ESPN chronicled Ali's fourth and final bout against Larry Holmes as part of its "30 for 30" series in 2009 with "Muhammad and Larry." Last year, HBO aired "What's My Name: Muhammad Ali," a two-part film that delved into Ali's social activism, a topic that's become more relevant amid Black Lives Matter demonstrations over the killing of George Floyd.
Baseball Hall of Famer Babe Ruth was the next most popular choice among the 21 current and former athletes included in the survey, with 48 percent of adults exhibiting interest in a film or series based on his life and career. Ruth, who died in 1948, much longer ago than any other athlete included in the survey, was most recently featured in a 2015 documentary from MLB's production arm called "American Hercules: Babe Ruth."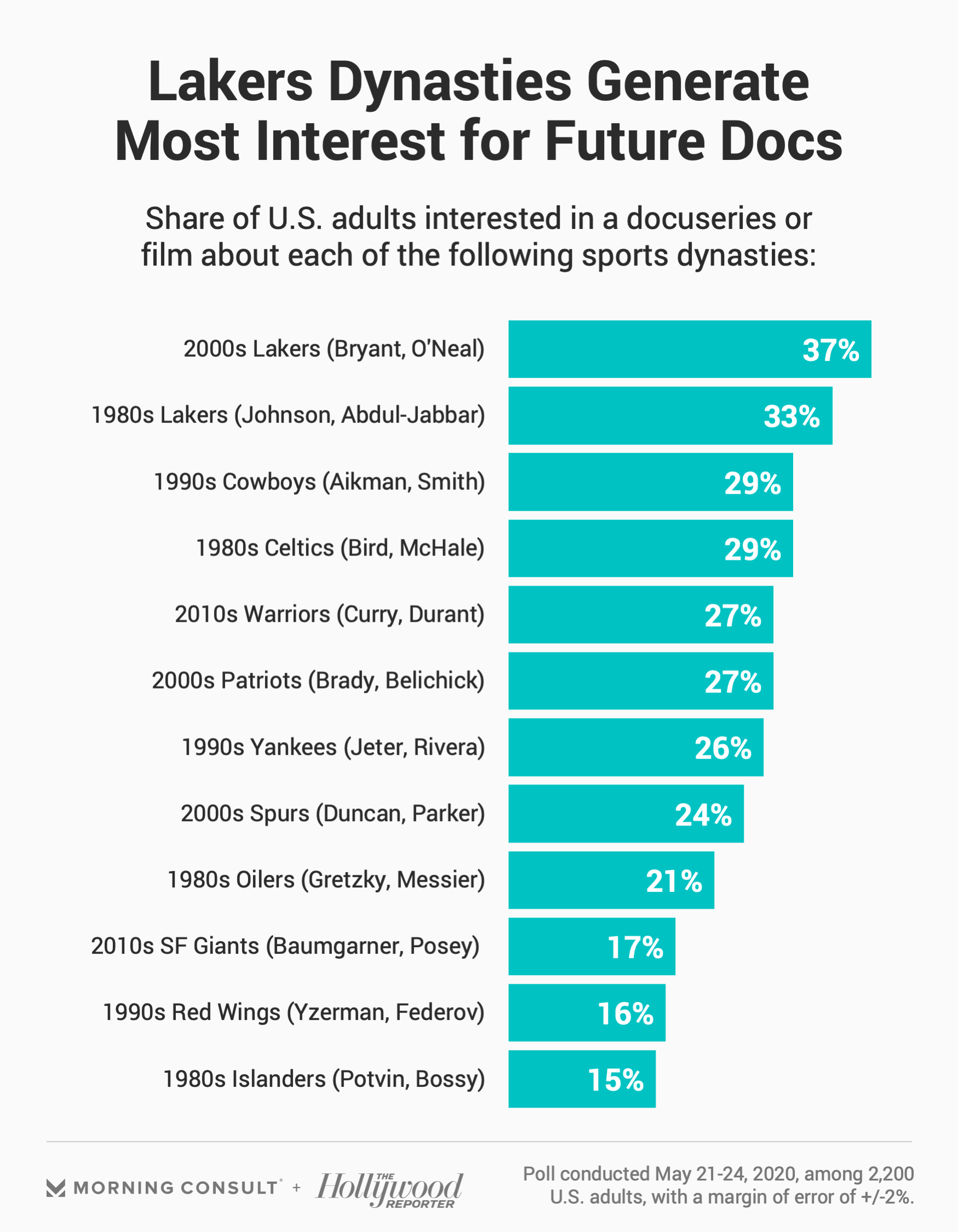 The late Kobe Bryant was the only other athlete to come close to Ali and Ruth in terms of interest for an upcoming documentary project, garnering interest from 45 percent of respondents. In the wake of the Los Angeles Lakers legend's tragic death in a helicopter accident earlier this year, it has been reported that NBA Entertainment chronicled Bryant's final season in 2015-2016 from behind the scenes. His most prominent documentary feature prior to his death was "Kobe Bryant's Muse," which Showtime released in 2015.
In addition to being one of the most popular athletes in the survey, Bryant was part of the team that Americans are most interested in seeing featured in an upcoming documentary project.
The Lakers of the early 2000s -- featuring Bryant, Shaquille O'Neal and coach Phil Jackson -- drew interest from 37 percent of respondents, the highest share of the 12 multiple championship-winning teams included in the survey. The "Showtime" Lakers of the 1980s, featuring Magic Johnson and Kareem Abdul-Jabbar, were the next most popular choice at 33 percent.
Tennis star Serena Williams garnered the most interest of the 10 female athletes included in the survey at 35 percent and placed fourth among the entire group of 21. Williams was also the fourth-most popular potential subject among just female respondents. She was the subject of HBO's "Being Serena" in 2018, which focused on marriage, pregnancy and motherhood, as well as Epix's "Serena" in 2016, which chronicled her chase for a calendar year Grand Slam the previous season.
The May 21-24 survey of 2,200 U.S. adults carries a margin of error of 2 percentage points.
Alex Silverman previously worked at Morning Consult as a reporter covering the business of sports.
We want to hear from you. Reach out to this author or your Morning Consult team with any questions or comments.
Contact Us