The FCC Has Pledged to Update Its 'Broken' Broadband Mapping Process. Some States Are Starting to Go It Alone
Tired of waiting for the federal government to update its process, more are looking at what they can do locally
Key Takeaways
Virginia is the latest to revamp its mapping, with Georgia having shown the way forward with its statewide version.

The maps can help state governments direct grant funding and policy, but observers worry about a "patchwork" of data that is not nationally standardized.

Meanwhile, 4 in 5 U.S. adults say they're satisfied with the speed of their home internet service, per new Morning Consult data.
With the federal government slow to produce better maps of broadband internet coverage, state leaders are stepping up with their own efforts that they say will yield more granular information that leads to better decisions on the infrastructure buildout.
Virginia became the latest state this summer to unveil an effort to revamp its statewide broadband map, following Georgia, which launched its map last year. Elsewhere, New York has proposed a similar effort but is stuck in legislative limbo, while most others rely on federal data for their existing state-level maps.
This new push comes with the Federal Communications Commission under fire for the inadequacy of its national maps. But while the new maps can help states better direct funds, there are concerns they still might be inadequate and lead to disparities in infrastructure, even as there is recognition that the current model isn't working.
"This is going to sound more cynical than it is," said Tyler Cooper, editor-in-chief at the independent broadband research company BroadbandNow, "but almost anything is better than what we've been doing at the FCC for the past decade."
Driving policy
For state officials, putting together their own broadband maps with more granular data is most beneficial when distributing grant money to extend service to underserved or unserved areas.
Virginia, like many states, has had a state-level broadband map since 2008, but it only reflects data collected by the FCC, which measures broadband availability at the census block level through self-reports from internet service providers.
The agency has made moves to address those shortcomings, following the Broadband DATA Act becoming law in March 2020 and the subsequent creation of a Broadband Data Task Force to coordinate the improvement of its data collection. But overall, progress on a revamped national effort has been slow.
In the meantime, the FCC expressed a willingness to work with states who go their own way with broadband mapping.
"We look forward to working collaboratively with states who are already collecting broadband availability data on how we can best leverage these efforts to provide the public with reliable broadband data that will inform the FCC's future policy decisions," an FCC spokesperson said in an email.
The initiative to create a new Virginia map, made in partnership with the Center for Geospatial Information Technology at Virginia Tech, was mandated by law this year and would help the commonwealth count the number of addresses in each census block that are covered with broadband and enable decision-makers to identify the gaps more clearly.
State programs like Commonwealth Connect, Virginia's universal broadband access initiative, would then have more clarity on where money for buildout should be distributed. The commonwealth's Department of Housing and Community Development has been directed by the Virginia General Assembly to have the initial map operating by July 2022.
But Dr. Tamarah Holmes, director of the Office of Broadband at DHCD, said she wants it to be ready sooner to help guide 2022 grant-making, including from federal coronavirus relief packages, which allow money to be spent on expanding broadband access.
Holmes said she'd like to see "community stakeholders, providers, local governments and planning districts" or any other group that comes forward for funding to use the map in 2022 to "help them determine where they should direct either their local" American Rescue Plan funds or apply for state broadband grant funding.
Georgia might have shown the way for other states with its map, built in partnership with real estate information company LightBox. Chief Executive Eric Frank said the company provided the state with a list of properties, then the state combined that with information from telecommunications companies to determine which locations are served by a broadband connection. Having location-specific data helps determine where the gaps are, Frank said.
"We don't need to bring internet access to the barn, but we do need to bring it to the farmer's house and be able to distinguish those things," he said.
The flaws in the FCC's broadband mapping process are well-documented. Currently, ISPs self-report broadband availability, and a census block is deemed served if just one house in that block can access broadband. That means the map does not truly reflect service.
The data provided to the federal government by ISPs is processed so slowly that it is out of date as soon as it goes public. Typically, Holmes said, it takes 18 months for the FCC to process the data it receives and make it public, whereas state-level maps could have a quicker turnaround time and also have a way for local residents and organizations to have more of a say.
The FCC spokesperson said that the commission, Congress and others have "all acknowledged" that the old system of mapping broadband availability is "broken."
Obstacles remain
States wishing to do their own broadband maps may still run into issues, however. State-level maps are still largely dependent on self-reporting coverage from ISPs, so leaders must find a way to ensure the data is accurate. Holmes said the law in Virginia creating the new map requires providers to cooperate and therefore has an enforcement mechanism.
But she said it has also been crucial to involve providers in the project and to help shape the legislation, as that encourages cooperation in what is a public-private partnership.
"It's really important to have all your stakeholders at the table, even the ones that may be dissenters, so that you can figure out what their concerns are and build that into the program," Holmes said.
A spokesman for the United States Telecom Association, the trade association for ISPs and other broadband providers, declined to comment on state-level mapping initiatives, noting that much of its work so far has focused on the federal level.
It could also be challenging for a state to build out a map with a sufficient level of detail for the first time, if something similar does not already exist. Holmes said Virginia benefited from already having an address database and map in place for its 911 emergency response, as did Georgia, which she said helped them stay "ahead of the curve."
Experts said for broadband maps to be truly useful, they should expand their data beyond just whether an area is served to include information on connection speed and price.
Neither is considered in current federal maps, which focus instead on whether a connection is available at 25 megabits per second download speed and 3 Mbps upload speed, which is the federal standard for broadband internet. Having more information could help further shape policy decisions, Cooper said.
"If we had a robust dataset that included speeds, pricing and access at a more granular level, it could really help inform funding eligibility, inform policy, infrastructure planning and planning for digital inclusion," he said. "In the infrastructure bill there is $2.75 billion for digital inclusion and digital equity, but right now, we don't know where to target that money."
Despite concerns over current internet speeds and price, there are indications that much of the public is happy with its current service. A new Morning Consult poll found that 80 percent of U.S. adults are satisfied with the speed of their home internet, while 64 percent say they are OK with the price they pay.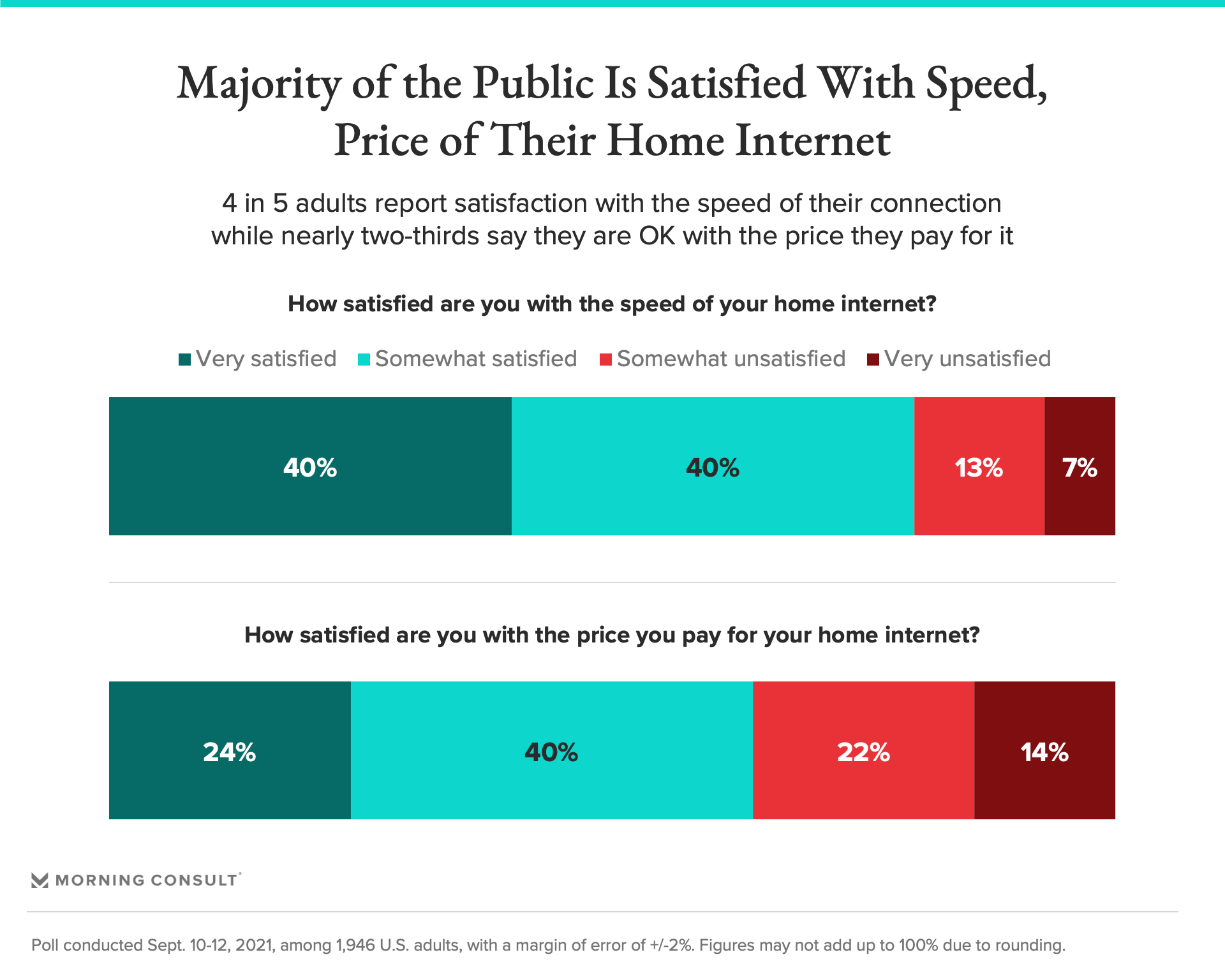 Frank said a more granular map, such as the one in Georgia, could help bring issues around adoption to the forefront, especially if it becomes apparent that many people in a service area do not have a connection.
"Say you have a multifamily development of 200 apartments, and the provider says it's served and 23 have broadband," he said. "You probably know that you have an affordability issue of some kind, or a training issue or lack of laptops or whatever. There's a number of different things that go into the adoption conversation."
These local efforts have raised optimism among some that the federal government can follow states' lead and use some of their methods to improve their national maps.
Cooper said that path could create a "patchwork," where some have granular information on availability, but others do not. That would then mean a lack of standardized data, which could make it difficult to form national policy, others warned.
"I do think a piecemeal approach isn't necessarily helpful," said Mark Buell, regional vice president for North America at the nonprofit Internet Society, "but it's indicative of what the real problem is, and that's that the FCC really isn't doing their job telling us where the digital divide exists."
Chris Teale previously worked at Morning Consult as a reporter covering technology.
We want to hear from you. Reach out to this author or your Morning Consult team with any questions or comments.
Contact Us