Streaming Services Are Turning to Podcast Ads, but They're Still a Small Portion of Total Ad Budgets
Roughly 2% of Hulu's marketing dollars went to podcast ads
Read more stories about podcasting in Morning Consult's special report, 'The Public's Perceptions on Podcasts.'
Podcasts have become the new hot medium for companies looking to reach new customers. That includes streaming services, which have poured millions of dollars into podcast ads in 2020.
An analysis of consumer and public opinion data shows that while spending on podcasts accounts for a small portion of total ad spending, those dollars are well-spent, as podcast listeners are also likely to subscribe to streaming services.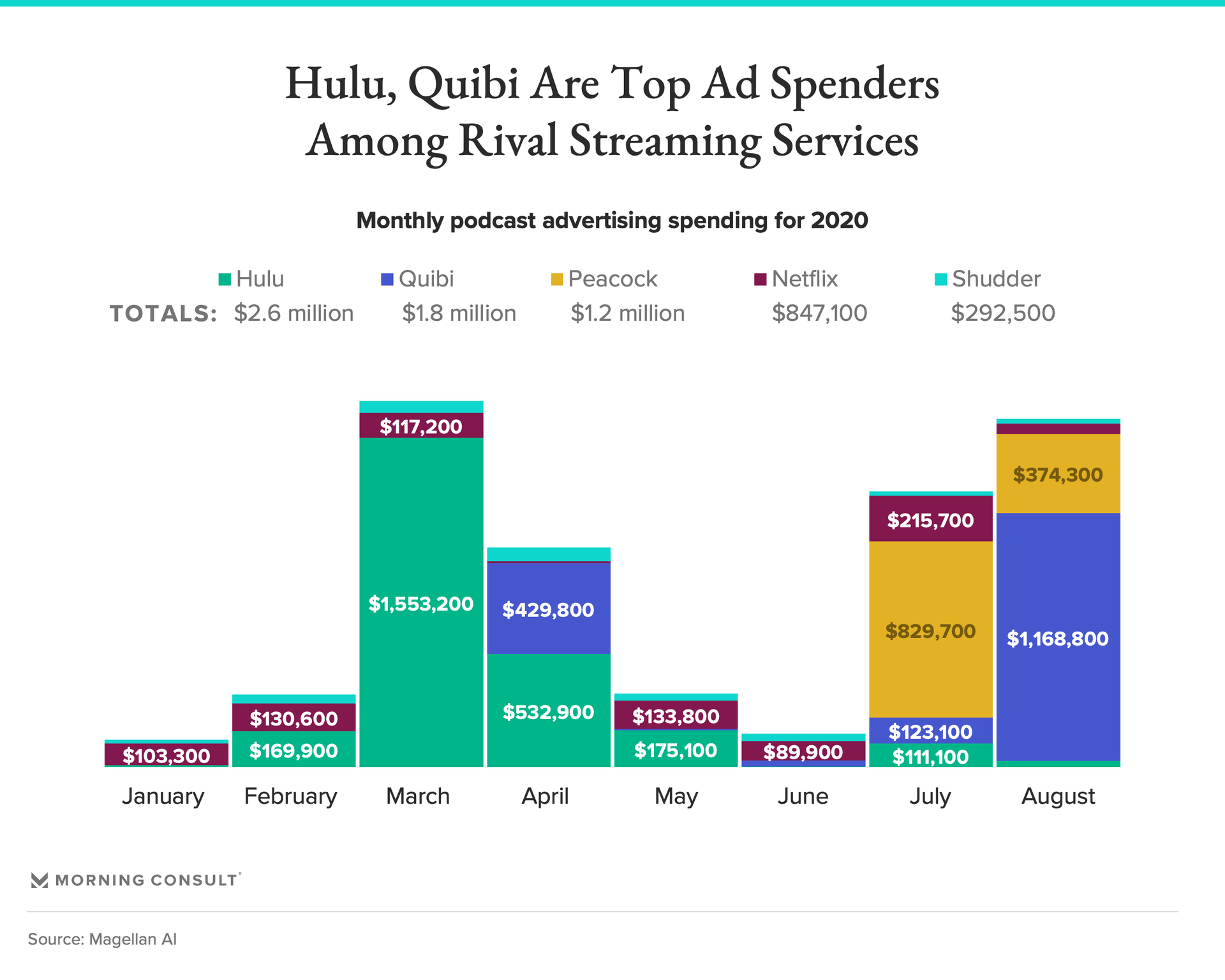 New data from Magellan AI, a podcast advertising analytics company, shows that Hulu and Peacock are big spenders in the podcast ad space. (So was Quibi, which said in October that it would shut down.)
Hulu upped its podcast ad budget at the start of the COVID-19 pandemic, spending more than $1.5 million on podcast ads in March alone out of nearly $2.6 million spent on podcast ads between January and August, while Quibi and Peacock looked to podcasts to attract potential customers around the time they hit the market.
Podcast advertising has grown in recent years, with the Interactive Advertising Bureau and PwC reporting that podcast advertising revenue is expected to increase by roughly 15 percent this year.
Zoe Soon, vice president of IAB's Consumer Experience Center of Excellence, said one benefit to advertising via podcasts is that they can target "unreachable" consumers who may not spend time with print or TV ads, but will interact with them via mobile devices or smart speakers.
New polling from Morning Consult shows that streaming services are speaking to an engaged audience.
A Oct. 8-11 survey found that 79 percent of the 537 U.S. adults who listen to podcasts every day currently subscribe to Netflix Inc. compared to 62 percent of adults overall. Half of the podcast listeners said they subscribe to Hulu or Disney+, and 11 percent said they currently subscribe to Quibi, nearly three times the number of adults overall. Eighteen percent of listeners currently subscribe to Peacock, compared to 13 percent of adults overall.
The survey has an overall margin of error of 1 percentage point, while the podcast listener demographic has a 4-point margin of error.
Ross Benes, a senior TV and video analyst with eMarketer Inc., said in an email that streaming service and podcast audiences overlap, and that podcast listeners "are likely tech savvy and familiar with getting their entertainment from digital media," which is beneficial to streaming services selling themselves to consumers with a plethora of streaming options to choose from. 
But podcast advertising spending accounts for just a sliver of the streaming services' total advertising budget.
For example, Hulu's podcast ad budget of $2,442,900 for the first half of 2020 was only 2 percent of its total $122,368,000 spending during that period, according to data from Kantar. Quibi's podcast spending accounted for 1.4 percent of its total budget. 
Sarah Shevenock previously worked at Morning Consult as a reporter covering the business of entertainment.
We want to hear from you. Reach out to this author or your Morning Consult team with any questions or comments.
Contact Us