Millennials and Generation Z Form the Bedrock of Disney+'s First-Year Success
Analysts say nostalgia has driven interest among the demographics
Key Takeaways
On average, 44% of Gen Zers said they have used Disney+ at least once a week since early March, as did 42% of millennials.

49% of millennial parents said they use Disney+ at least once a week, as do 33% of childless millennials.
Disney+ and Apple TV+ entered the streaming marketplace at about the same time, with different approaches to conquering the streaming wars: Walt Disney Co. leveraged its recognizable brands to draw in subscribers, while Apple Inc. invested in high-profile Hollywood names, such as Reese Witherspoon and Steven Spielberg. 
Now, roughly one year after their respective launches, Morning Consult Brand Intelligence data confirms that Disney+ has found its audience -- namely Generation Z adults and millennials, many of whom are parents -- within its first year and that consumer use of the service has remained consistent throughout the pandemic, positioning Disney+ as a competitor with other established streaming services, while Apple TV+ will need to focus on building its library to compete. 
"Disney+ has been a really strong success for Disney, so much so that Disney has really refocused significant parts of its business to really bolster that and to make it even more successful in the future," said Brett Sappington, vice president at Interpret, a global market research company specializing in the entertainment industry.
As of June 27, Disney+ had 57.5 million subscribers, according to Disney's earnings report for the fiscal third quarter. And in October, the company announced it would undergo a strategic reorganization to build on its streaming strategy.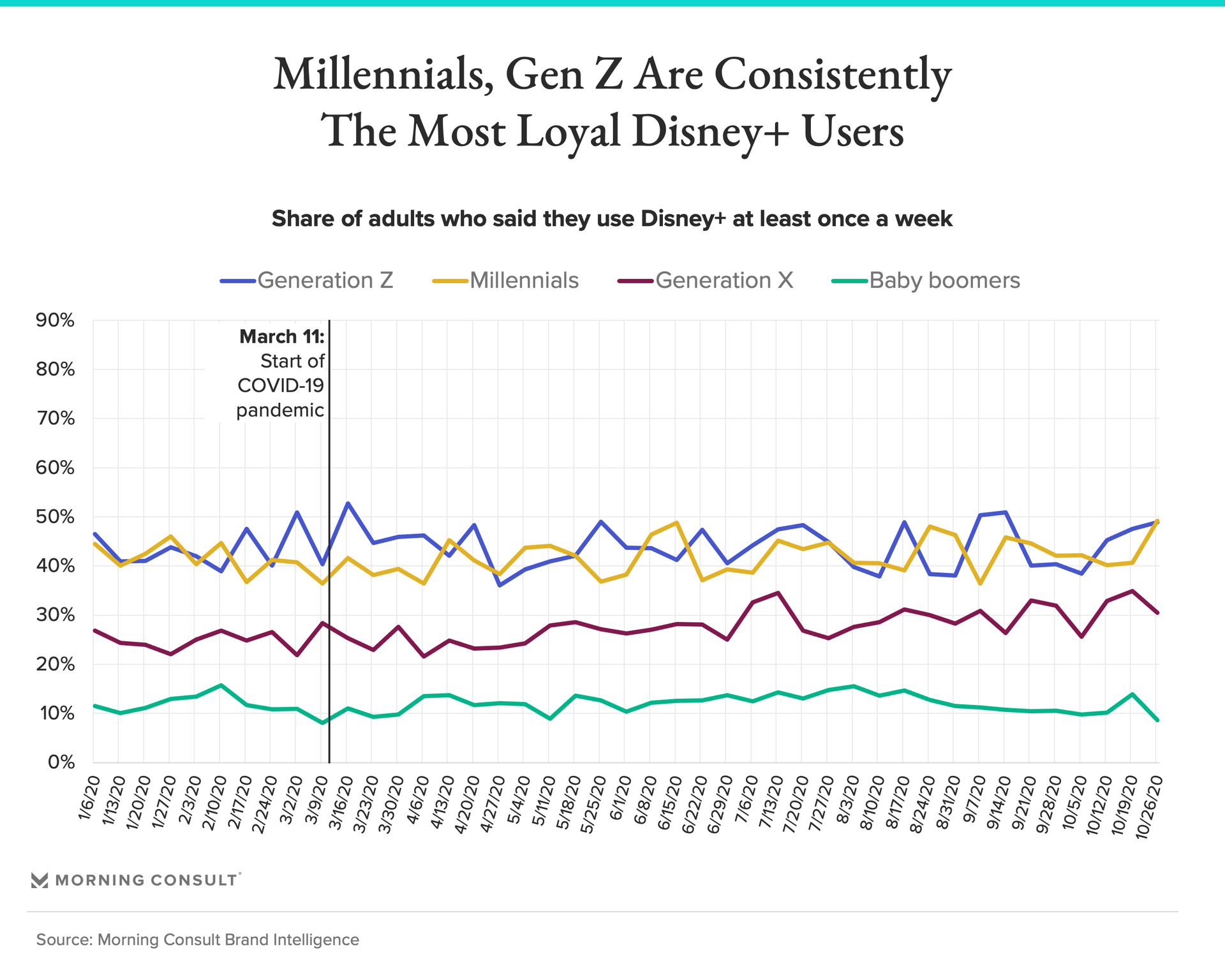 Morning Consult data shows that since its November 2019 release, 10 percent of U.S. adults use Apple TV+ at least once a week, on average, compared with 26 percent who said the same of Disney+. 
Allen Adamson, a founder and managing partner of brand marketing firm Metaforce, said Disney and Apple's established reputations contributed to the reception of their streaming offerings. 
"Disney has been creating content since Mickey Mouse," he said. "Apple has been in the computer business." When customers think of Disney, they think of things to watch, he said, but Apple brings to mind devices or things to use. 
Disney spent a reported $3 billion on technology and content in its steaming debut, while Apple doled out a reported $6 billion on original titles.
Sappington added that Disney's library of content dwarfed Apple's offerings at launch, and that by offering exclusive access to favorite Disney titles, the Mouse House was able to satisfy subscribers who had finished watching the new releases, an advantage Apple TV+ does not share. 
Apple and Disney did not respond to requests for comment.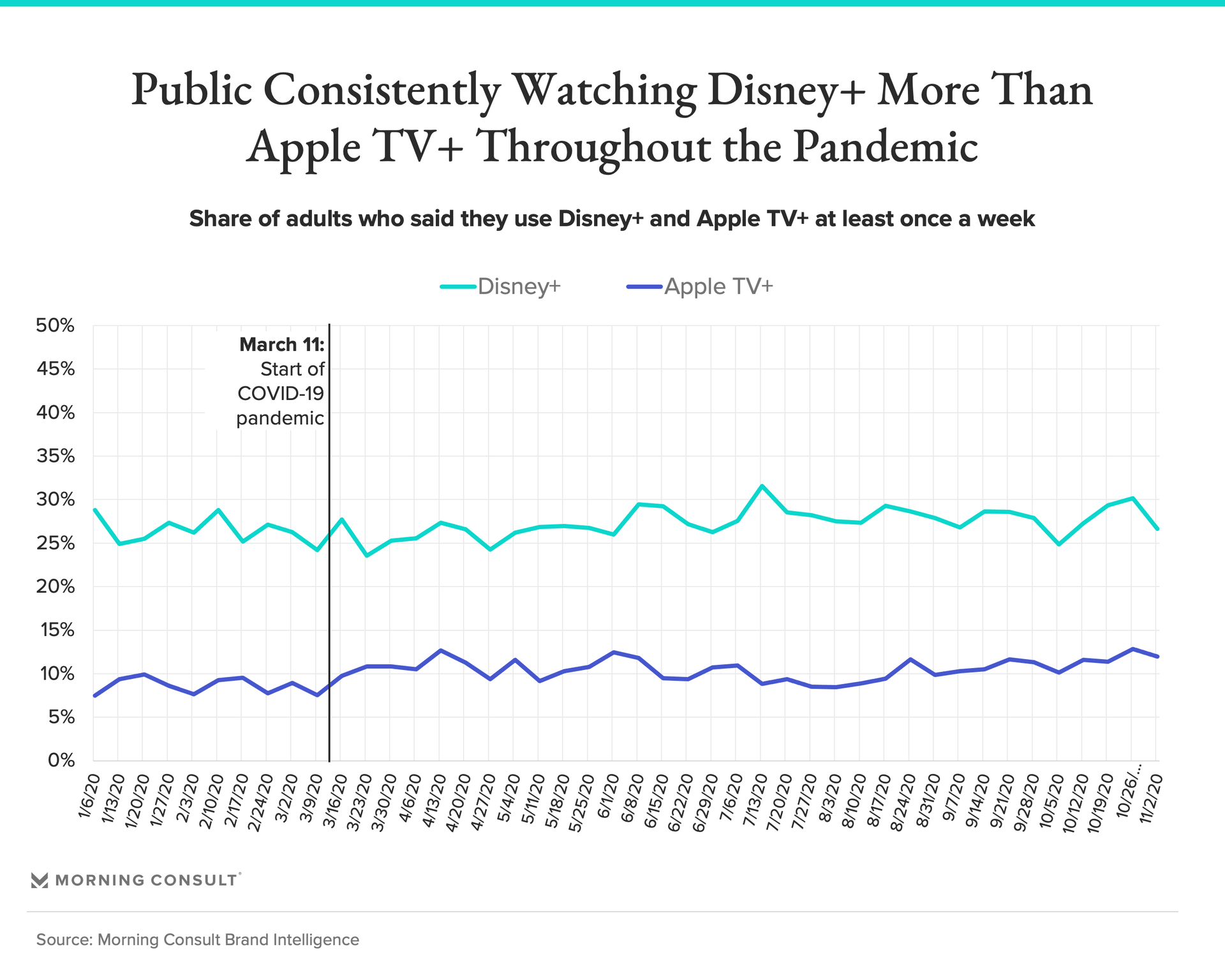 Usage frequency of Disney+ is higher among members of Gen Z and millennials, and has remained consistent, throughout the COVID-19 pandemic, undermining early assumptions some had about the service.
"I think many people believed that Disney+ was going to be popular for a short while, that everyone would watch that content, and then it would fade," said Sappington. "That really hasn't happened, or at least not to the degree that many pundits believe it would happen." 
Since early March, on average 44 percent of Gen Zers said they use Disney+ at least once a week, as did 42 percent of millennials.
Adamson said this consistency proves that Disney+ is becoming a streaming staple for consumers, saying the service "goes on the list of must-have versus nice-to-have" as consumers start to evaluate how many streaming services they want to pay for. 
And while Disney+ has performed well among parents and provided a way for them to occupy homebound children during the pandemic, Disney+ has also found success among younger, childless consumers, which analysts attribute to the array of Disney brands. 
"One of the keys is the all-ages appeal of things like Marvel, Star Wars and even Pixar films," said Neil Macker, a senior equity analyst with Morningstar Inc. He added that adults in the Gen Z and millennial age range also grew up with content from other Disney brands, such as Disney Channel, which along with notable originals, could provide a nostalgic draw for consumers without kids. 
"I think there's enough there," he said. "If they continue to create series like 'The Mandalorian' and some other stuff to put out there, it's going to continue to appeal to childless households." 
Adamson added that Disney's 2019 acquisition of 21st Century Fox expanded its portfolio of brands and gave it ownership of properties ranging from Searchlight Pictures, a studio known for awards season contenders such as "12 Years a Slave" and "Slumdog Millionaire," to "The Simpsons," that are more likely to appeal to adult audiences.  
Macker said international expansion will be key for Disney+ in the next year, while Sappington added that the service needs to add more new, original content to keep U.S. subscribers coming.
As for Apple TV+, it needs to find its breakthrough hit. 
"They need something big," Sappington said. "They need something that people can't do without and really need to come watch. Netflix has so many of those, but  Apple needs its own." 
Sarah Shevenock previously worked at Morning Consult as a reporter covering the business of entertainment.
We want to hear from you. Reach out to this author or your Morning Consult team with any questions or comments.
Contact Us