Support for Gun Control Following Florida Shooting Matches Las Vegas Aftermath
Republican opposition to stricter gun laws has softened since 2016 Pulse nightclub shooting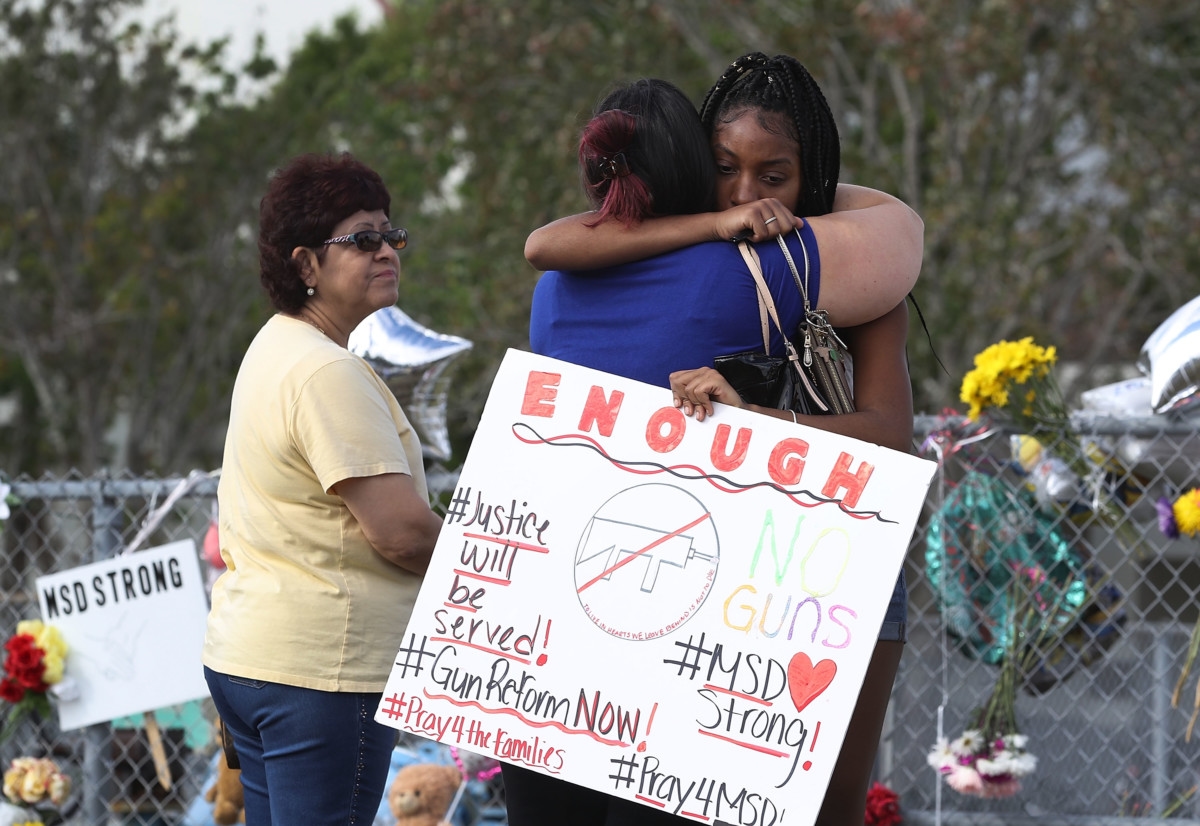 Key Takeaways
64 percent of registered voters back stricter gun laws, while 30 percent oppose them.

Level of support for more gun control was the same in October after the Las Vegas concert shooting.
Almost two-thirds of registered voters want stricter gun control laws, according to a nationwide poll conducted after last week's school shooting in Parkland, Fla., marking a level of support that's consistent with figures following other mass shootings.
Sixty-four percent of registered voters back tougher gun control statutes, compared to 30 percent who oppose such laws, according to a Morning Consult/Politico poll on Feb. 20, almost a week after 17 people were gunned down at Marjory Stoneman Douglas High School. The same percentage of voters in October supported stricter laws following the Las Vegas concert mass shooting that killed 58 people.
Similarly, 60 percent of voters in November said they supported stricter gun laws after a gunman killed 26 people at a church in Sutherland Springs, Texas.
In Tuesday's poll, 45 percent of GOP voters said they support stricter gun control laws, while 49 percent oppose them. Republican opposition has softened since a poll conducted in June 2016 following the Pulse nightclub shooting in Orlando, Fla., that killed 49 people. At that time, 42 percent of GOP respondents said they strongly opposed stricter gun laws and 17 percent said they somewhat opposed them. In the latest poll, 29 percent were strongly opposed and 20 percent were somewhat opposed.
Among voters overall, 57 supported tougher gun laws in June 2016.
Michael Hammond, legislative counsel for Gun Owners of America, a group that opposes restrictions on guns and gun accessories, said in a Tuesday interview that some gun rights advocates have "succumbed" in the past to things like the Brady Law and bans on semi-automatic weapons, and in doing they diminished the effectiveness of firearm regulations.
"It never stops the next shooting," he said.
Shannon Watts, founder of Moms Demand Action For Gun Sense In America, said in a Tuesday interview that her group has seen an uptick in activity --more than 500 events across the country and more than 50,000 volunteer signups -- since last week's Florida school shooting. But Watts said she is not holding her breath for Congress to act.
"Congress is not where activism like this starts, it's where it ends," she said. "You have to pivot to statehouses and board rooms."
A Morning Consult/Politico poll conducted Feb. 15-19 found that 44 percent of registered voters said a top priority for Congress should be passing legislation that places additional regulations on gun ownership. Fifty percent of voters also said health care reform and reducing the federal deficit should be top priorities on Capitol Hill.
A 43 percent plurality said chances were slim that Congress would pass stricter gun control legislation -- up 5 percentage points since October.
Cameron Easley contributed.
Eli Yokley is Morning Consult's U.S. politics analyst. Prior to his current role, Eli was Morning Consult's senior reporter covering U.S. politics. Eli joined Morning Consult in 2016 from Roll Call, where he reported on House and Senate campaigns after five years of covering state-level politics in the Show Me State while studying at the University of Missouri in Columbia, including contributions to The New York Times, Politico and The Daily Beast. Follow him on Twitter @eyokley. Interested in connecting with Eli to discuss his analysis or for a media engagement or speaking opportunity? Email [email protected].
We want to hear from you. Reach out to this author or your Morning Consult team with any questions or comments.
Contact Us