Bulk of Voters Continue to Back Barrett's Supreme Court Confirmation
48% say the Senate should confirm Ginsburg's replacement; 31% say it should not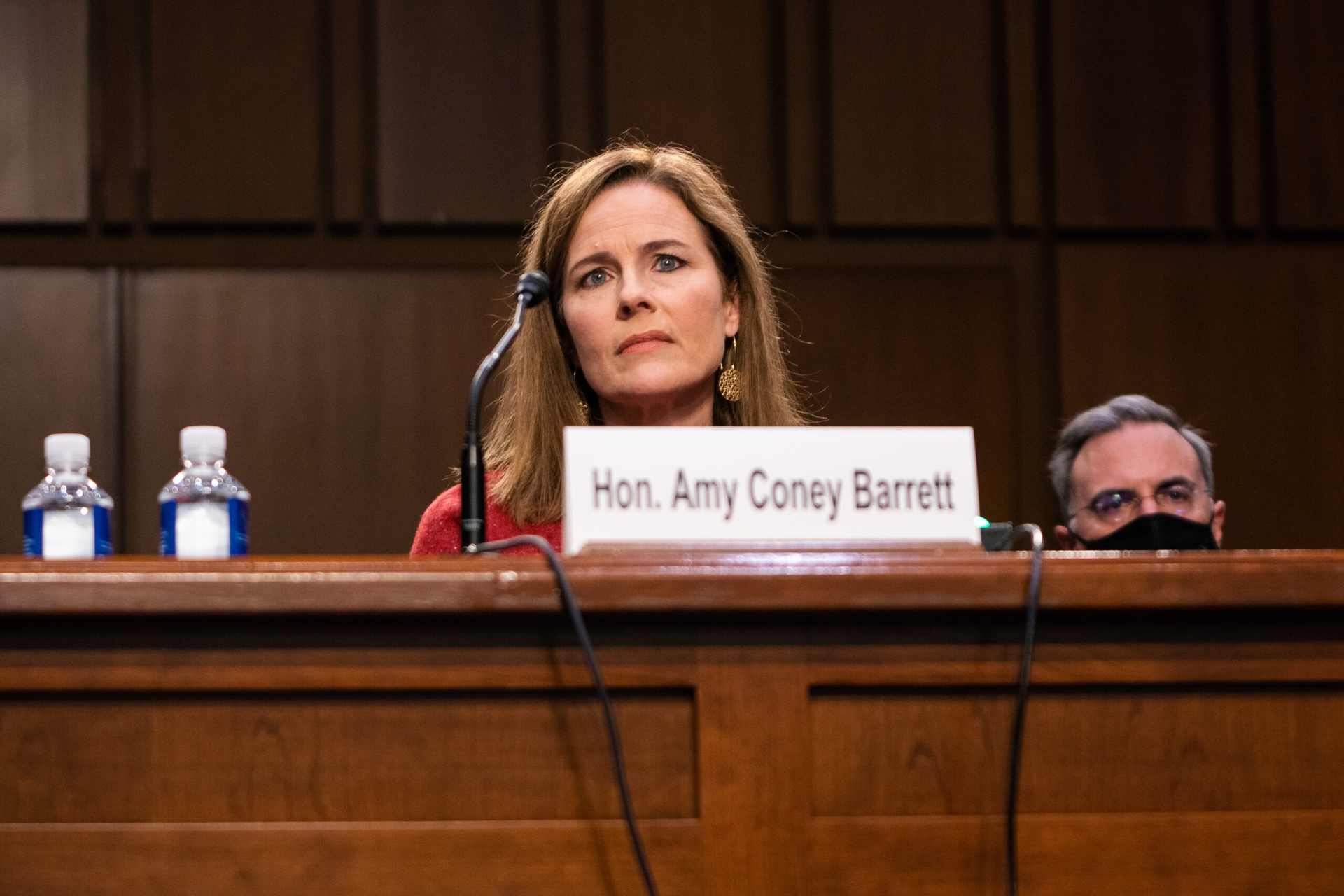 As the Senate Judiciary Committee considers Judge Amy Coney Barrett's nomination to replace the late Justice Ruth Bader Ginsburg on the Supreme Court, new Morning Consult/Politico polling shows support for her confirmation remains sturdy.
Forty-eight percent of registered voters in the Oct. 9-11 survey said the Senate should vote to confirm Barrett as a Supreme Court justice, up 2 percentage points from 46 percent in a poll one week ago, though inside the surveys' 2-point margins of error. Thirty-one percent of voters said the Senate should vote down Barrett's nomination, unchanged from the previous polling.
The level of support for Barrett's nomination, an increase of 11 points since President Donald Trump announced her nomination on Sept. 26, also compares favorably with public sentiment toward Justice Brett Kavanaugh prior to the first day of his confirmation hearings in September 2018. At that time, 37 percent of voters said the Senate should vote to confirm Kavanaugh to the court, compared with 29 percent who said it should vote to deny his nomination.
At this point in the process, a larger share of Republicans and Democrats are voicing support for Barrett's nomination than they did for Kavanaugh's: 77 percent of GOP voters and 27 percent of Democratic voters said Barrett should be confirmed, compared to 67 percent and 15 percent, respectively, who said the same of Kavanaugh ahead of his hearings. 
Turning to more recent trends, the latest poll provides another warning sign for Senate Democrats -- process arguments about when the chamber should hold a vote on Barrett's nomination have yet to sway public opinion.
By an 8-point margin, voters say that the Senate should vote on Barrett's nomination as soon as possible, rather than wait to see if the president can defeat Democratic nominee Joe Biden on Election Day. 
The preference for an immediate floor vote is largely a function of partisan unity: While 73 percent of Republicans back swift action from the Senate, only 59 percent of Democrats say that the chamber should wait to see who wins the White House. 
Similarly, nearly a quarter (23 percent) of Democrats think the Senate should vote to confirm Barrett as soon as possible, compared with 14 percent of GOP voters who want Republicans to put things on ice for the rest of the month.
Cameron Easley is Morning Consult's lead analyst for U.S. politics. Prior to moving into his current role, he led Morning Consult's editorial coverage of U.S. politics and elections from 2016 through 2022. Cameron joined Morning Consult from Roll Call, where he was managing editor. He graduated from the University of North Carolina at Chapel Hill. Follow him on Twitter @cameron_easley. Interested in connecting with Cameron to discuss his analysis or for a media engagement or speaking opportunity? Email [email protected].
We want to hear from you. Reach out to this author or your Morning Consult team with any questions or comments.
Contact Us