The Supreme Court Is Becoming More Important for Democratic Voters
Democrats now more likely than GOP to say the court is a 'very important' factor in voting choice
Key Takeaways
When thinking about their vote, 57% of Democratic voters say the Supreme Court is very important, up 9 points since May.

53% of GOP voters say the court is a very important factor in their vote, unchanged since the spring.

Though 52% of all voters say the court is very important, they are more likely to prioritize the economy, health care, the coronavirus and national security.
The Supreme Court's potency as a voting issue for the left has increased after a number of headline-making rulings this term and the news that Justice Ruth Bader Ginsburg was undergoing chemotherapy following a recurrence of cancer earlier in the year, new polling shows.
Fifty-seven percent of Democratic voters in the latest Morning Consult/Politico survey, conducted July 31-Aug. 2, said the Supreme Court was "very important" in deciding whom to vote for in the 2020 presidential election. That's up 9 percentage points since a Morning Consult/Politico survey from early May, before the high court wrapped up its 2019-20 term with major decisions concerning abortion, discrimination protections for LGBTQ workers, President Donald Trump's tax returns, the status of the Obama-era Deferred Action for Childhood Arrivals Program, tribal rights in Oklahoma and religious freedom.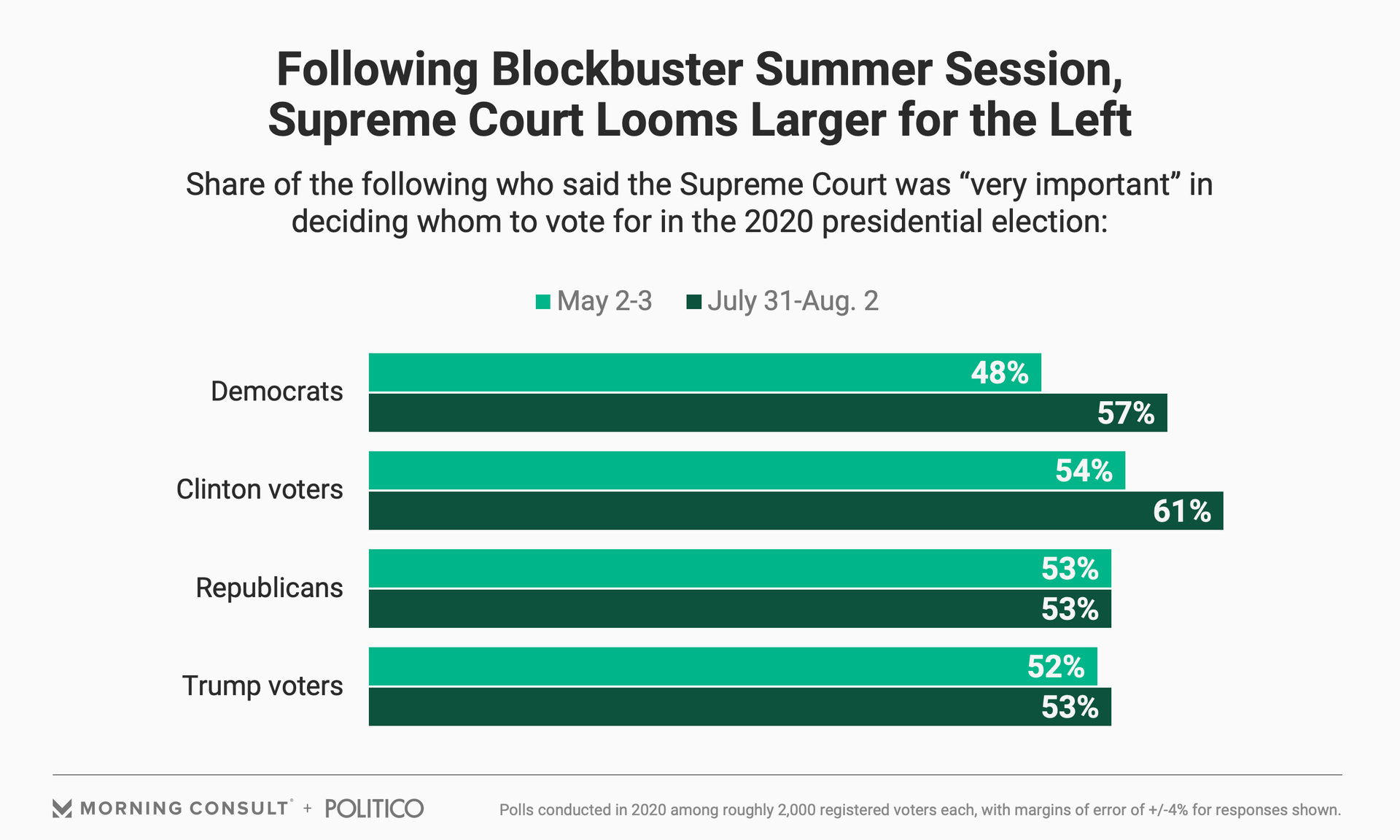 The president, who wound up on the losing end of a number of those decisions, has looked to make political hay out of the rulings, promising to release a list by Sept. 1 of potential Supreme Court justices he would select if another vacancy -- one that could potentially tilt the court even further to the right -- were to open up. That list, which he called "more important than ever," represents a return to his 2016 campaign playbook, when concerns about the ideological balance of the Supreme Court helped convince wary conservatives to turn out and vote for him.
However, the latest polling shows Democrats are now slightly more likely than GOP voters to prioritize the Supreme Court when thinking about their vote for the 2020 presidential election, and it found a similar trend among voters who opted for Democratic nominee Hillary Clinton four years ago: 61 percent of Clinton voters now say the court is a very important factor to their voting decision, up 7 points from the spring, and more than the share of Trump voters who said the same (53 percent).
Each survey was conducted among roughly 2,000 voters, with a 2-point margin of error for all respondents and a 4-point margin of error for the subsets mentioned. 
That shift coincides with a rise in the share of Democrats who are energized about the 2020 elections. 
While GOP voters in early May were slightly more likely than Democrats (43 percent versus 39 percent) to say they were "extremely enthusiastic" to vote in November, sentiment has shifted in the left's favor in the latest survey. Fifty-four percent of Democrats now say they are extremely enthusiastic about voting, compared with 52 percent of Republicans. Similarly, 59 percent of Democrats say they are more enthusiastic about voting than usual, while half of GOP voters said the same.
But despite the Supreme Court's increased importance as a voting issue on the left, the survey indicates that at the moment, other concerns are weighing more heavily on voters' minds.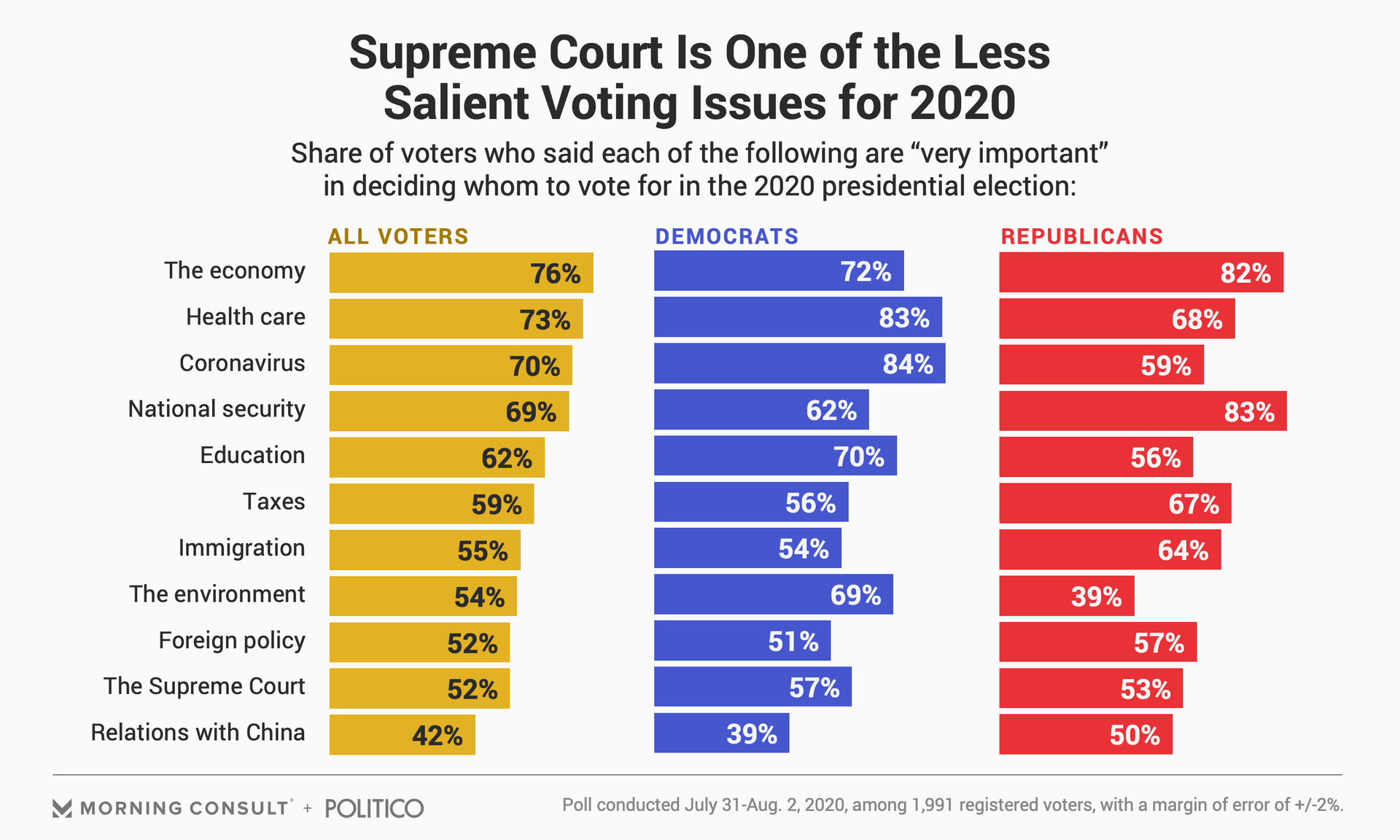 Just over half (52 percent) of the broader electorate said the court was "very important" in deciding whom they would vote for, placing it near the bottom of the issues listed in the survey, including foreign policy, the environment and immigration. Voters were significantly more likely to prioritize the economy, health care, the coronavirus and national security.
Cameron Easley is Morning Consult's lead analyst for U.S. politics. Prior to moving into his current role, he led Morning Consult's editorial coverage of U.S. politics and elections from 2016 through 2022. Cameron joined Morning Consult from Roll Call, where he was managing editor. He graduated from the University of North Carolina at Chapel Hill. Follow him on Twitter @cameron_easley. Interested in connecting with Cameron to discuss his analysis or for a media engagement or speaking opportunity? Email [email protected].
We want to hear from you. Reach out to this author or your Morning Consult team with any questions or comments.
Contact Us