Survey Says: About Half of U.S. Sports Fans Have Room on Their Plates for XFL
49 percent of U.S. sports fans say they are open to watching a new pro football league during the NFL offseason
Key Takeaways
Fans point to quality of play, safety and standing for the national anthem as "very important" factors in determining interest in XFL.

Half of sports fans say they've heard "nothing at all" thus far about the league's February reboot.
Ahead of its post-Super Bowl launch next month, the XFL is banking on America having a hearty appetite for football beyond the traditional September through February season carved out by the NFL and college football. A new Morning Consult poll finds about half of adult sports fans are open to watching a new league during the NFL offseason, making them potential fans-to-be for the second coming of the upstart football outfit.
The new, eight-team league funded by WWE Chairman & CEO Vince McMahon begins play Feb. 8 with franchises located in New York, Los Angeles, Dallas, Houston, St. Louis, Seattle, Tampa and Washington, D.C. Unlike the initial edition of the XFL launched in 2001 by the WWE and NBC, which sold a more violent and shocking brand of football during its one-season run, the 2020 version is marketing itself as a "fan-first" league focused on delivering a higher-quality on-field product through innovative new rules.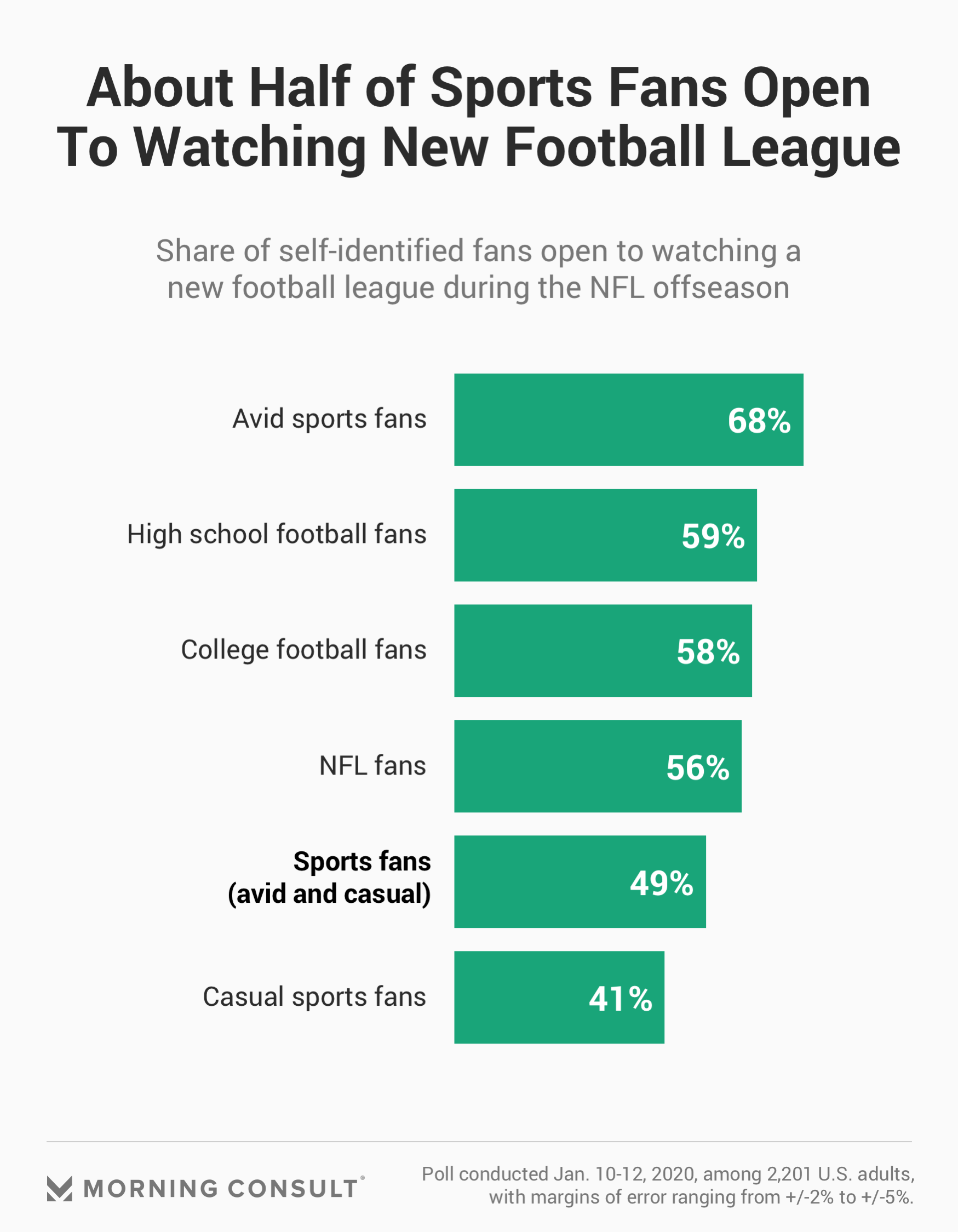 In a Jan. 10-12 poll of 2,201 U.S. adults, 49 percent of self-identified avid or casual sports fans said they would be open to watching a new professional football league during the NFL offseason, including 68 percent of avid fans, who account for just under a third of total fans.
Fifty-six percent of adults who said they are at least somewhat interested in the NFL said they'd be open to a new league, compared to 58 percent of adults who are at least somewhat interested in college football.
Margins of error for responses from the groups range from 3 percentage points to 5 percentage points.
What potential XFL fans want
Sports fans who said they'd be open to watching a new league during the NFL offseason identified quality of play and player safety as the most important factors in determining whether they would regularly watch or attend XFL games or follow the league. More than half of these fans deemed both factors "very important."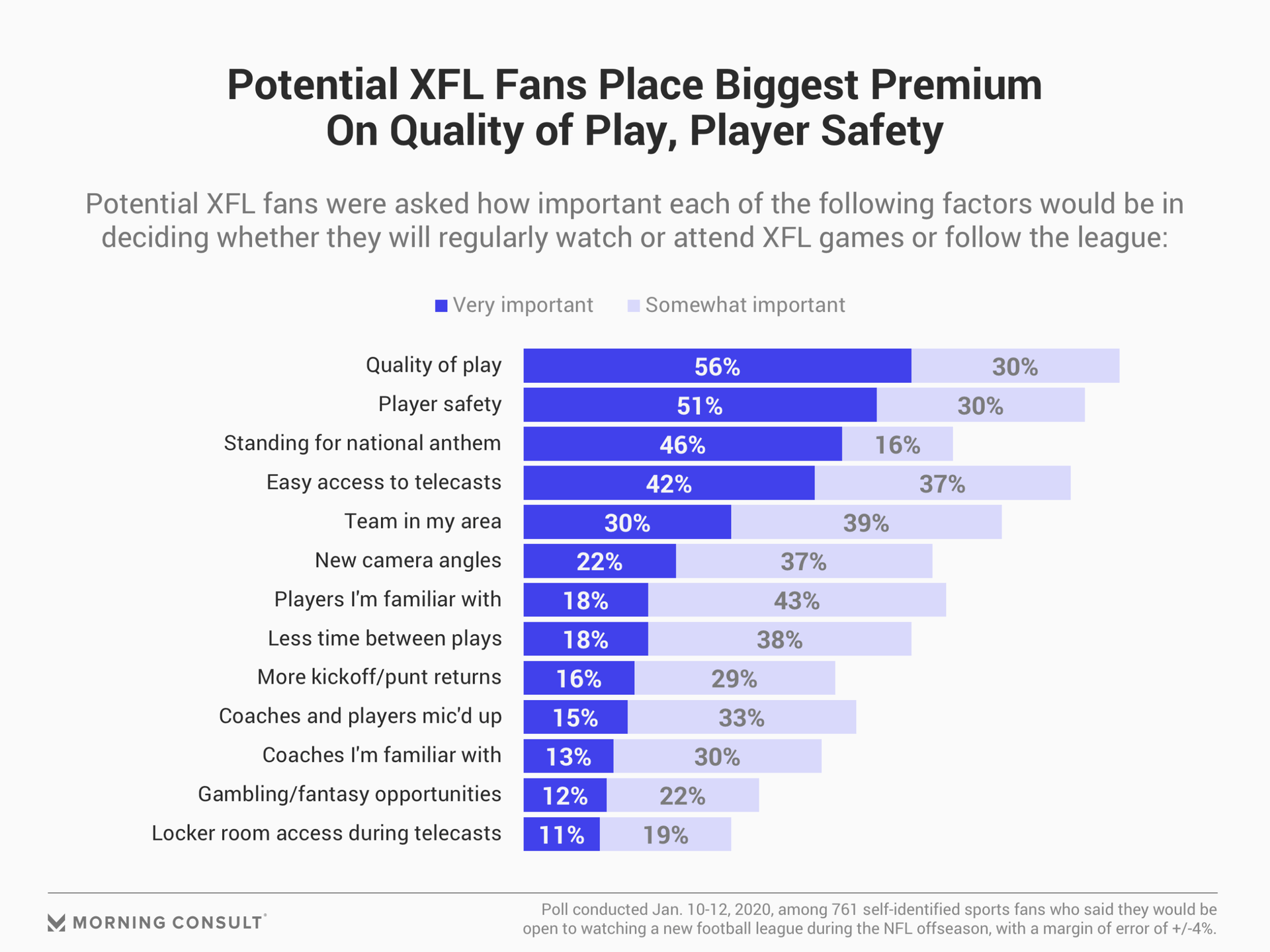 Another criterion deemed important by fans open to a new league is that players stand for the national anthem, something that 46 percent characterized as "very important." In 2018, when the debate surrounding former NFL quarterback Colin Kaepernick's protest was still fresh in the minds of sports fans, McMahon emphasized during his livestreamed announcement of the XFL's return that he would require players to stand during the anthem. The league's marketing leading up to its February launch, however, has been largely apolitical and lacked references to patriotism or the flag.
Unsurprisingly, most fans open to a new league also said it is important that telecasts of the league's games be easy to access, with 42 percent calling this "very important." XFL telecasts should be widely accessible, as the league's multiyear media rights agreements call for 24 of 43 games to air on broadcast networks ABC and Fox, with the other 19 slated for highly distributed cable sports networks ESPN, ESPN2 and FS1. While the league reportedly won't receive a rights fee from its TV partners, its distribution footprint will allow it to reach most U.S. television homes.
Rules that rule?
Led by Dean Blandino, a former NFL vice president of officiating, the XFL unveiled a reimagined set of football rules earlier this month aimed at limiting down time, increasing excitement and improving player safety. The changes range from practical (reducing the play clock to 25 seconds from 40) to zany (allowing multiple forward passes behind the line of scrimmage), in addition to addressing common criticisms of the NFL (a new overtime format that gives both teams five opportunities to score from the 5-yard line). These and other rules promise an on-field product that will, for better or worse, look and feel different from any other football league on the planet.
Poll results show that sports fans are almost evenly split on whether the most significant changes are "interesting and exciting" or "silly and gimmicky," but individuals open to watching a new league are more than twice as likely to view the changes favorably. Fifty-three percent of these fans view the new rules positively. 
In addition, younger fans are more likely to find the rule changes "interesting and exciting." Among those ages 18-29 and 30-44, 45 and 46 percent of sports fans, respectively, view the tweaks favorably. Conversely, 29 percent of sports fans ages 55-64 and 32 percent of sports fans over 65 view the changes as exciting.
No big buzz yet
The XFL still has yet to make its biggest marketing push, but at the time of the survey, half of sports fans said they had not seen, read or heard anything "at all" about the XFL's upcoming launch. Only 5 percent of sports fans said they had seen, read or heard "a lot" about the XFL 2.0, while another 19 percent said they'd heard "some" chatter.
Even among those who said football is their favorite sport, only 6 percent had heard "a lot" about the XFL, with another 20 percent saying they had seen, read or heard "some." Among those who said they are open to watching a new football league during the NFL offseason, 8 percent said they had seen, read or heard "a lot" and 25 percent said they had come across "some" information about the league's return.
Alex Silverman previously worked at Morning Consult as a reporter covering the business of sports.
We want to hear from you. Reach out to this author or your Morning Consult team with any questions or comments.
Contact Us