Before Hearing With Big Tech CEOs, Lawmakers Lay Out Different Visions for Its Focus
Plenty of congressional energy is being poured into hearing, as 53% of registered voters think Congress should prioritize tech regulation
Ahead of the recently rescheduled blockbuster congressional hearing Wednesday with the chief executives of Apple Inc., Amazon.com Inc., Alphabet Inc. and Facebook Inc., senior House Judiciary aides told reporters last week that the hearing — which will feature all four executives calling in virtually — will be laser-focused on the 1.3 million documents of evidence and roughly 385 hours of phone calls, briefings and meetings that have been poured into the antitrust subcommittee's 13-month investigation into competition issues in the tech sector. 
Some Republican lawmakers appear to have a different agenda, with a spokesperson for one GOP member of the antitrust subcommittee, Rep. Greg Steube (R-Fla.), saying the congressman still plans to focus on allegations of anti-conservative bias on online platforms and censorship of such speech. And a Republican aide told Morning Consult that GOP lawmakers don't have a "tight road map" for questioning and will ask about a mix of antitrust and censorship issues.
"In the era of big tech and social media, our freedom of speech is more important now than ever," said Carson Steelman, a spokeswoman for Steube's office. "It is crucial that our voices are not silenced and tech providers do not unfairly censor or editorialize content just because they disagree with the underlying politics."
With the four CEOs -- Jeff Bezos, Tim Cook, Sundar Pichai and Mark Zuckerberg -- appearing on the panel at the same time, concerns have been raised about how effectively the lawmakers can dig into each of the alleged anti-competitive practices raised against their companies. And although senior aides expressed confidence in the panel's ability to stay focused on competition matters, the hearing risks being muddled by a competing aim favored by some Republican lawmakers. 
How lawmakers regulate technology companies hasn't been a particularly high priority for the public this year. In Morning Consult/Politico surveys conducted throughout 2020 among roughly 2,000 registered voters, the share who said regulating tech should be either "a top priority" or "an important, but lower priority" remained steady at about 50 percent -- roughly 20 to 35 percentage points lower than support for issues such as controlling the spread of COVID-19, stimulating the economy to recover from the pandemic, passing a health care bill and reducing the federal budget.
In a survey conducted July 10-12, Democratic voters were slightly more supportive of Congress making tech regulation a priority (58 percent) than Republican voters (52 percent). While the same share of Democrats showed interest in tech reform in a January survey on the topic, GOP voters are now 9 percentage points more likely since the beginning of the year to voice support for congressional regulation of tech companies.
The surveys have a margin of error of 2 points.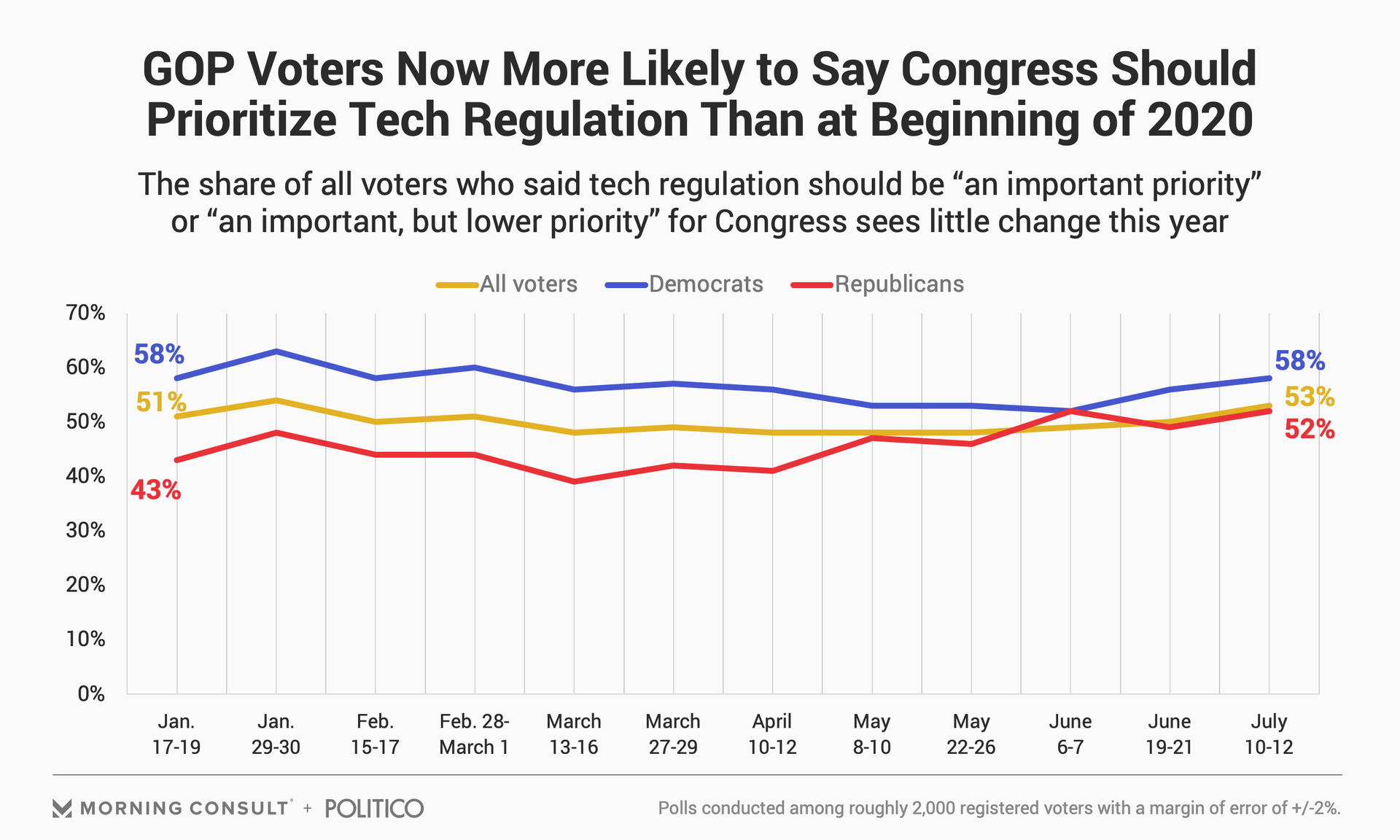 The new details on the hearing's logistics and the scope of the antitrust committee's investigation come amid bipartisan disputes about how exactly the panel should approach the unprecedented event featuring the four tech industry leaders, which also marks Bezos' first congressional appearance.
In the latest move, Rep. Jim Jordan (R-Ohio), the ranking member of the House Judiciary Committee, sent a letter to Chairman Jerrold Nadler (D-N.Y.) on Wednesday requesting that Twitter Inc. CEO Jack Dorsey be invited as a witness to the hearing because of the bipartisan interest in learning about Twitter's market power, content moderation and the causes for the recent hack of high-profile users of the platform. But if the Democratic majority were to follow through on the invitation, the hearing could switch from one centered on competition and antitrust to one focused more on content moderation and bias. 
Senior committee aides also said the line of questioning from lawmakers will be less about educating themselves on the matter and more about engaging with them on what has already been gleaned from the thousands of documents that have been accumulated, noting that the decision to keep this hearing strictly to the antitrust committee, rather than opening it up to the Judiciary committee at large, was made to ensure it doesn't stray into other tech-related topics.
One aide said this oversight hearing will be atypical in that it's unlikely lawmakers will "hear from the CEOs and move on." 
Leading up to the hearing, the big tech companies are making moves of their own in response to critics: Apple released a report last week highlighting that the App Store's 30 percent commission fee falls in line with those from its peers, including Google, and is below those from ticket resellers StubHub and Ticketmaster, which charge about 37 percent and 31 percent, respectively. And Facebook has penned three white papers since September laying out strategies for regulating privacy and online content regulation, including one on privacy published earlier this month.
Sam Sabin previously worked at Morning Consult as a reporter covering tech.
We want to hear from you. Reach out to this author or your Morning Consult team with any questions or comments.
Contact Us