Higher Earners Are Keeping the U.S. From a Full Thanksgiving Travel Renaissance
High-income adults are more likely to cut back on Thanksgiving travel, particularly shorter trips and stays at chain hotels, writes travel and hospitality analyst Lindsey Roeschke
Thanksgiving travel will increase this year compared to 2020's travel low, though it will fail to return to pre-pandemic levels. High-income earners are primarily driving this decline, which is most likely to impact brands that cater to long-weekend trips. While these brands should plan for decreased volume, they can also find new opportunities by appealing to day trippers who are open to extending their travel. 
Thanksgiving is typically the busiest week for the travel industry. Although the sector has shown signs of recovery over the past year, the COVID-19 pandemic is still keeping millions of Americans who typically travel for the holiday at home.
The analysis comes as confirmed cases of COVID-19 drop nationwide, suggesting the pandemic's grounding effect on 2020 holiday travel could have resulted in new habits for consumers. In addition, the country's highest earners — typically the group most likely to travel over the holiday — are limiting their Thanksgiving travel spending and the length of their trips.
High earners are most likely to scale back Thanksgiving travel 
The 2021 Thanksgiving travel landscape looks more promising than it did in 2020, when just 14 percent of U.S. adults said they traveled in November. But the share of adults who plan to travel in 2021 is down 12 percentage points from pre-pandemic norms — while 47 percent of adults say they always or sometimes travel for Thanksgiving in a typical year, only 35 percent say they will or might this year.
While nearly every major demographic will see a decline in travel this year compared to pre-pandemic times, the most significant declines will occur among the highest earners. Compared to a typical year, those in households earning $100,000 or more are 17 points less likely to travel for Thanksgiving in 2021, compared to an 8-point decrease among those whose annual household income falls under $50,000. This bucks a key pandemic trend, in which high-earning consumers have been less likely to shift behaviors due to their likelihood of steady income. 
The Highest-Income Travelers Are Most Likely to Cut Back on Thanksgiving Travel
Share of U.S. adults who said the following about their Thanksgiving travel plans:
Poll conducted Oct. 8-10, 2021, among 2,200 U.S. adults, with a margin of error of +/-2%.
The challenge for travel and hospitality brands here is twofold: Not only do they stand to lose volume from those who are avoiding travel, but many of those who are hitting the road are also planning to spend less.
Among higher earners — those who make $75,000 or more — 21 percent plan to spend less than in a typical year on transportation, and 24 percent will spend less on accommodation. While these higher earners plan to spend more on average in each category compared to their lower-income counterparts, it should be noted that the median expected spend on accommodation among both groups is $0.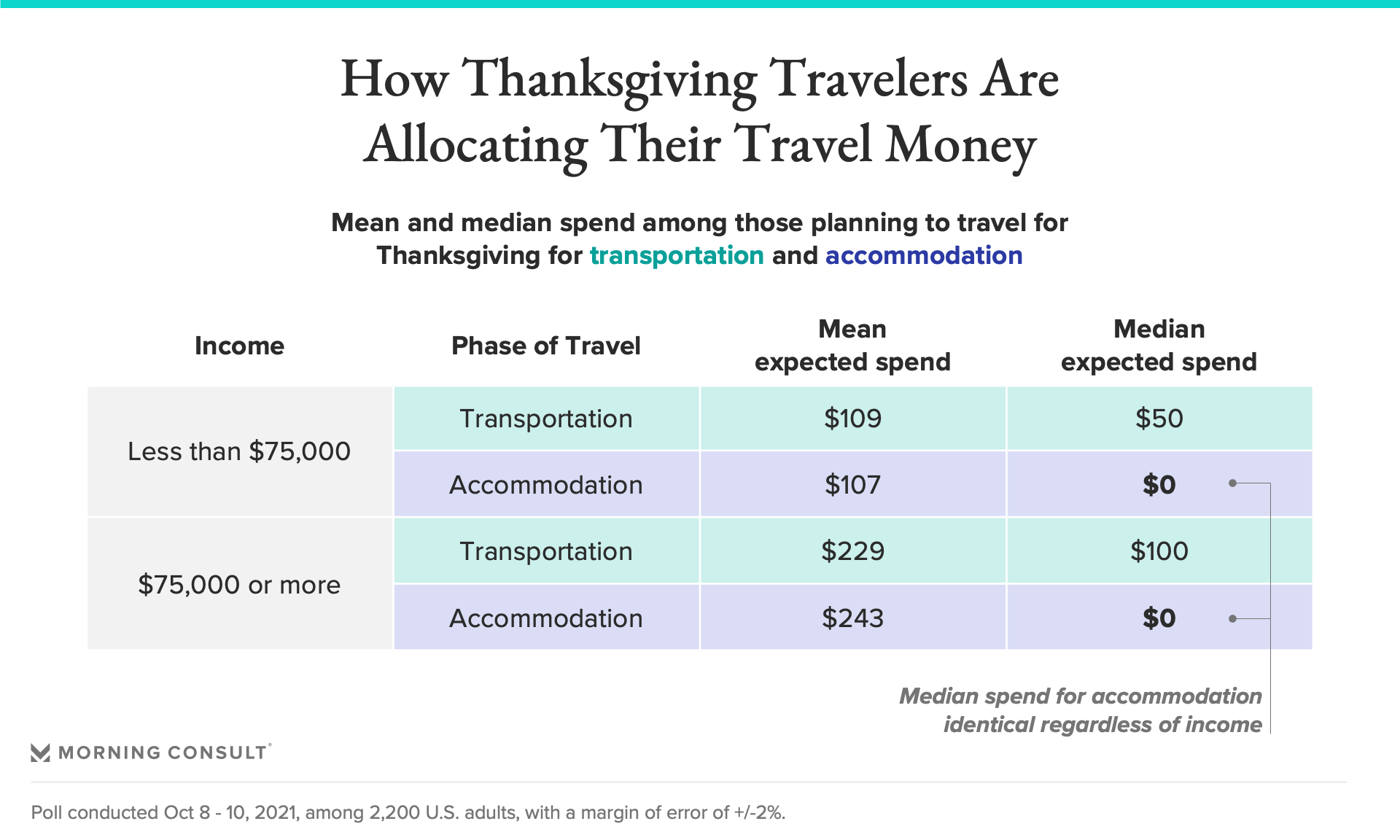 On the positive side, we're still five weeks away from Thanksgiving, leaving plenty of time for higher earners, who don't necessarily have to be as mindful about budget constraints, to make travel plans. Only 11 percent of this group has booked all of their holiday travel, so brands still have an opportunity to engage.
The shortest and longest trips will persist, but holiday weekend trips will decline 
 Regardless of the year, Thanksgiving trips are typically shorter in length compared to leisure travel in general. This will continue to be true in 2021: The share of higher earners who say they will go on a day trip with no overnight stay is slightly higher than in a typical year.
Higher earners will instead scale back on weekend and long-weekend trips. When asked about their intended destination for Thanksgiving travel, the biggest decreases among higher earners involved locations within road-trip distance — inside one's home state and to another state in the same region. (All intended destinations, including international and domestic locales, decreased.) 
High Earners to Cut Back on Mid-Length Road Trips
Length of Thanksgiving trip among U.S. adults in households earning $75,000 or more
Poll conducted Oct. 8-10, 2021, among 2,200 U.S. adults, with a margin of error of +/-2%. 'Don't know/No opinion' responses are not shown.
Travel brands will need to plan accordingly for this behavioral shift. With in-state and in-region trips declining the most, airlines should expect a decrease in volume compared to pre-pandemic years, though they will not experience as sharp a decline as that of brands serving the road trip — such as car rentals, restaurants and service stations along major routes.
Brands can generate opportunities by encouraging travelers who have not yet confirmed plans to extend their day trips for leisure purposes. Destinations could highlight restaurants and bars to encourage prolonged travel, or even promote unique tourist attractions to entice those who have missed out on travel opportunities due to the pandemic.
Encouraging travelers to think beyond the holiday dinner when making their plans can drive engagement and, ultimately, spending.
Chain hotels will see the most significant occupancy decrease
Despite the more broad declines in travel, 71 percent of higher earners who plan on taking a trip for Thanksgiving say it will include at least one overnight stay. Given the holiday's family focus, both pre-pandemic behaviors and 2021 plans involve most travelers staying with friends and family, explaining the $0 median expected spend on accommodation. 
In pre-pandemic times, chain hotels were the most popular paid accommodation for higher earners who chose not to bunk with loved ones. But this year, the share of those considering a chain hotel stay declined steeply, making members of the group roughly as likely to choose an independent or boutique hotel as they are a major chain.
Vacation Rentals, Independent Hotels Lure High Earners Away From Chains
Where U.S. adults in households earning $75,000 or more stay or plan to stay during Thanksgiving travel
Poll conducted Oct. 8-10, 2021, among 2,200 U.S. adults, with a margin of error of +/-2%.
While perhaps some of this decline is driven by the expected decrease in mid-length road trips that require an overnight stop en route, larger hotel brands should not ignore the other underlying drivers behind the choice of a home share or boutique hotel. These can include anything from a need for space – larger families that are traveling together require room for more guests – to requirements for a kitchen to store and prepare food before gathering at a loved one's home for Thanksgiving dinner.
Lindsey Roeschke is the lead travel & hospitality analyst on the Industry Intelligence team, where she conducts research, authors analyst notes and advises leaders in the travel & hospitality industry on how to apply insights to make better business decisions. Before joining Morning Consult, she served as a director of consumer and culture analysis at Gartner and spent more than a decade working at advertising agencies across three continents. Lindsey graduated from the University of Delaware with a bachelor's degree in communications and holds a master's degree in strategic communications from Villanova University. For speaking opportunities and booking requests, please email [email protected].
We want to hear from you. Reach out to this author or your Morning Consult team with any questions or comments.
Contact Us