While Most Americans Said They're Staying Put for the Holidays, the Travel Industry Is Optimistic for 2021
25% of U.S. adults have plans to travel for the upcoming holiday season
Key Takeaways
For those who traveled in November, 74% said they drove a car to at least one of their destinations, while 25% said they went by plane.

Similar shares are planning on driving (76%) and flying (26%) for their December travel.

57% of travelers stayed with friends or family in November, the same share who plan to do so in December and/or January.
It's been an unprecedented year for the travel industry, and new polling and interviews with industry insiders show 2020 won't likely end on a high note.
"We anticipate this will be the worst holiday travel season on record," said Chip Rogers, president and chief executive of the American Hotel and Lodging Association. "CDC recommendations to stay at home and local lockdowns are making a huge impact."
Although shelter-in-place mandates are rarer now than they were in spring, confirmed cases of the coronavirus in the United States are higher than ever. That, paired with strongly worded guidance from federal and local governments for the public to abandon travel plans, has caused many to change their minds regarding where or with whom they plan to celebrate the holidays this month.
Before Thanksgiving, 35 percent of U.S. adults indicated they planned to travel for the holidays in general, according to a Morning Consult survey conducted Oct. 6-8. 
But most also noted that their plans were contingent upon factors such as coronavirus-related travel restrictions, and a more recent survey conducted after Thanksgiving found that only about 14 percent of Americans followed through with those plans in November.
"People were optimistic in mid-October, so we saw a ramp-up in intent into November," said Stephen Rogers, executive director of Deloitte's Consumer Industry Center. "But then the reality of COVID settled in on folks, and we saw that they were really making game-day decisions after that."
As of the most recent Morning Consult survey exploring travel behaviors, conducted Dec. 1-4, the share of adults who said they still have holiday travel plans dropped to 25 percent. A majority of that group said they'll travel in December, which was fairly consistent with the share who said in October that they planned to travel this month.
That's far below the normal volume of holiday travel, said Chip Rogers. What's more, Christmas travel is usually more popular than Thanksgiving travel, given longer breaks from school and work, and there's a chance that won't be the case this year.
"The fact that the separation between those November and December numbers isn't that great is concerning," he said.
Tripadvisor Inc. data is more optimistic for the travel industry. It shows planned December holiday travel down 20 percent from last year, but that 55 percent of Americans still expect to hit the road.
The Transportation Security Administration recorded nearly 1.2 million people passing through domestic airport checkpoints on the Sunday after Thanksgiving alone, the highest number since the nationwide shutdown in mid-March. 
The following week, the United States topped 100,000 COVID-19 hospitalizations for the first time since the pandemic began, according to the COVID Tracking Project.
While the number of airline passengers has decreased since Thanksgiving, the TSA still expects more than 1 million air passengers per day for several days around Christmas, Bloomberg reported.
Ramya Murali, U.S. hospitality sector leader at Deloitte, said the task of predicting and tracking consumer behaviors around travel has also been "unquestionably" more difficult this season due to factors such as reported COVID-19 cases increasing in the fall alongside promising signs of vaccine developments.
"Even with the notion of a vaccine, I don't think people feel like things are under control right now," Murali said. "Consumer anxiety about the virus continues to be incredibly high."
For those who did embark on Thanksgiving travel, they most likely chose to drive for at least one of their trips. About three-quarters (74 percent) said they reached at least one of their November destinations by car, while one-quarter said they flew at some point last month. Similar shares plan to drive or fly in December. 
Deloitte found that 22 percent of adults expect to take a domestic flight within the next three months, and Tripadvisor data shows 19 percent plan to fly to their holiday destinations, a share that's down year over year but up 7 percent from Thanksgiving.
Though less popular compared to more common vehicles, recreational vehicles are steadily becoming a more attractive option to those looking to travel amid the pandemic. 
Nine percent of adults said they drove an RV for their holiday trip in November, according to Morning Consult's December survey, the same share who said they rented a car, and a similar share to those who said they traveled by train. Those numbers do not move outside their respective margins of error when it comes to December travel.
Many RV companies saw a significant spike in business during the summer months, said Randall Smalley, executive vice president of global marketing at Cruise America, which offers RV rentals at 125 locations around the country. That interest hasn't yet abated. 
"It was probably the busiest fall we'll ever have, given a lot of people are working from home and have more flexible schedules, and kids are out of school," Smalley said. "And 95 percent of people coming through the door since COVID are first-timers." 
Though Cruise America's busiest season is typically Memorial Day through Labor Day, Smalley said the company saw a steady doubling of its revenue, year over year, from July through October, and an even larger increase in November, with many last-minute bookings for Thanksgiving as people canceled traditional travel plans. 
Smalley said he feels confident about December. Though business is likely to slow down with campgrounds closed and colder weather, he expects year-over-year numbers to increase.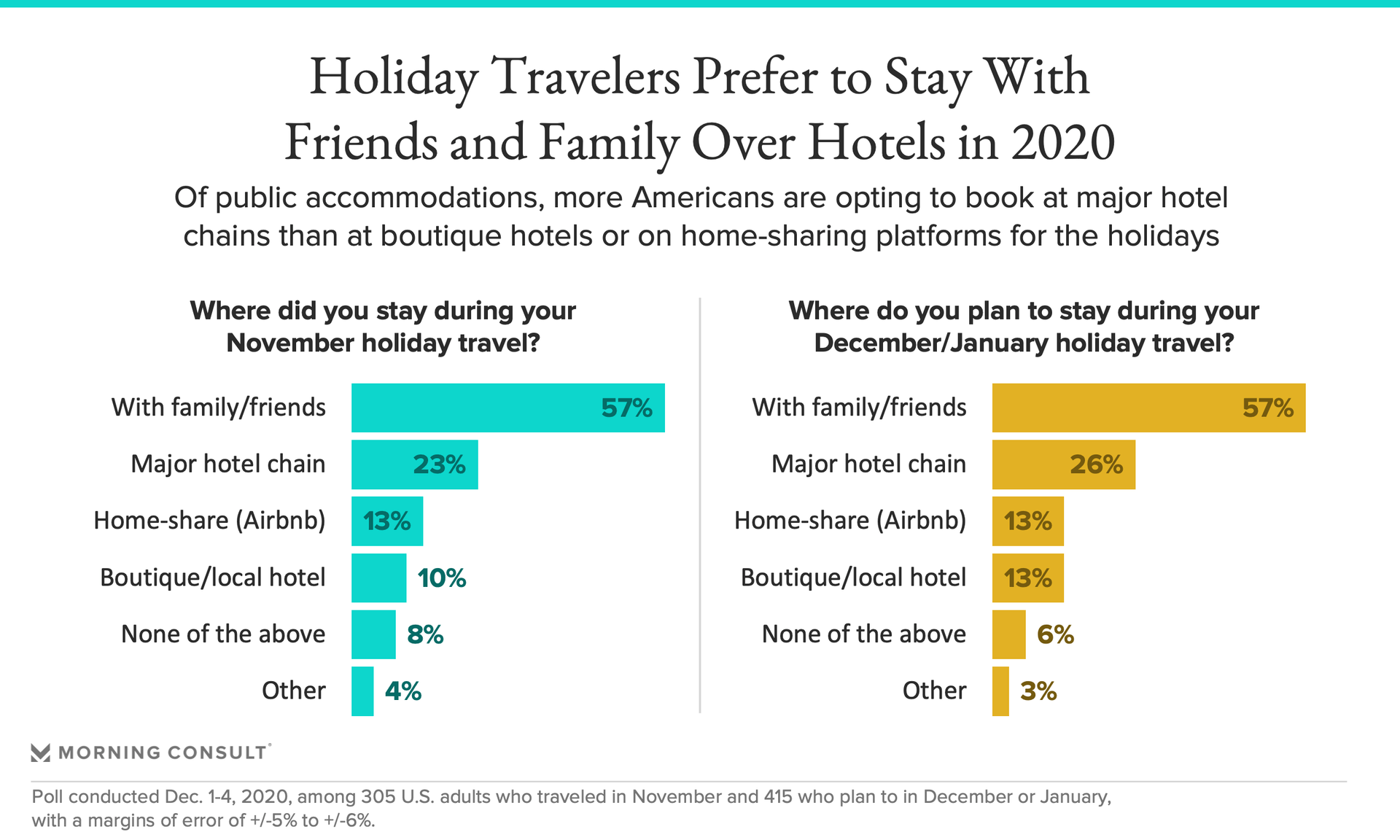 Following a difficult few months in the fall, Morning Consult data shows hotels are performing better than alternatives such as home-sharing platforms, which have grown in popularity during the pandemic nonetheless. But a majority of Americans are still opting to stay with friends and family when possible — a potential concern for all companies within the lodging industry.
One-third of November travelers said they stayed at a hotel, a share that doesn't increase significantly when it comes to December plans. Major hotel chains are more popular than boutiques or local hotels, with home-sharing options such as Airbnb Inc. rentals drawing around the same amount of interest as small hotels.
Visits to hotel and airline websites have ticked up since Thanksgiving, according to Stephen Rogers, indicating intent to travel. Thought it comes with a caveat: Businesses in those industries have yet to see subsequent increases in bookings.
"Intent and follow through right now are not tracking the same," he said. "We're seeing hotel intent that rivals some of the summer levels, but it's obviously down year over year. Still, there's signs for hope and pent-up demand there." 
Hotel earnings reports also suggest that the industry has a ways to go before it returns to pre-pandemic business. Hilton Worldwide Holdings Inc. reported third-quarter revenue per occupied room down about 60 percent. Marriott International Inc. returned to profitability, but reported a 66 percent year-over-year drop in revenue per occupied room. 
With occupancy down, hotels are lowering prices to entice guests, but that leads to revenue declines, which have been especially significant in urban markets, Stephen Rogers said.
Though Morning Consult polling shows less interest in home sharing than hotels, short-term rental property management platform Guesty Inc., which is used by hosts and property management companies on platforms such as Airbnb and VRBO to streamline operations, saw some positive signs for that segment of the industry.
Thanksgiving short-term rental bookings in 2020 ultimately outperformed 2019, with reservation volume up 14 percent year over year, according to Guesty. Prices also aren't going down like they are at hotels, said Guesty President and Chief Operating Officer Vered Schwarz, and the average length of stays has increased since the start of the pandemic. 
"Just like with e-commerce companies blowing up this year, the same goes for short-term rentals," Schwarz said. "People who never did this all of a sudden did because it was the best choice for the situation."
Christmas reservation volume in the United States is 21 percent lower than it was this time last year, according to Guesty, with New Year's Eve reservations down 14 percent. That's subject to change closer to each holiday, Schwarz said. 
Americans, though eager to travel, are likely to remain hesitant until a major turn in the tide of the pandemic, according to experts. While the industry remains hopeful for the Christmas season, they agree that positive turnarounds for travel might take longer.
As of early December, 30 percent of U.S. adults said they feel comfortable taking a vacation, a share that has hardly budged since early June. 
Even after people begin to feel comfortable taking vacations again, economic factors could continue to dampen travel plans. Seventeen percent of respondents to an Oct. 29-Nov. 5 Deloitte survey said the pandemic has made travel difficult to fit into their budget.
Deloitte's Rogers said that, depending on the deployment of vaccines, spring breaks could deliver the first positive turnaround for travel, but summer vacations are more likely to be a turning point.
"There won't be a significant number of Americans who get the vaccine before Christmas, but psychologically, people know there's an answer to this, and that helps," Chip Rogers said. "We are certainly excited about what next summer holds."
Alyssa Meyers previously worked at Morning Consult as a reporter covering brands and marketing.
We want to hear from you. Reach out to this author or your Morning Consult team with any questions or comments.
Contact Us