Theresa Greenfield Pitches Humble Roots as She Seeks Crossover Support in Joni Ernst Challenge
Iowa Democrat's personal story hits notes targeting the state's comparatively wide swath of Obama-Trump voters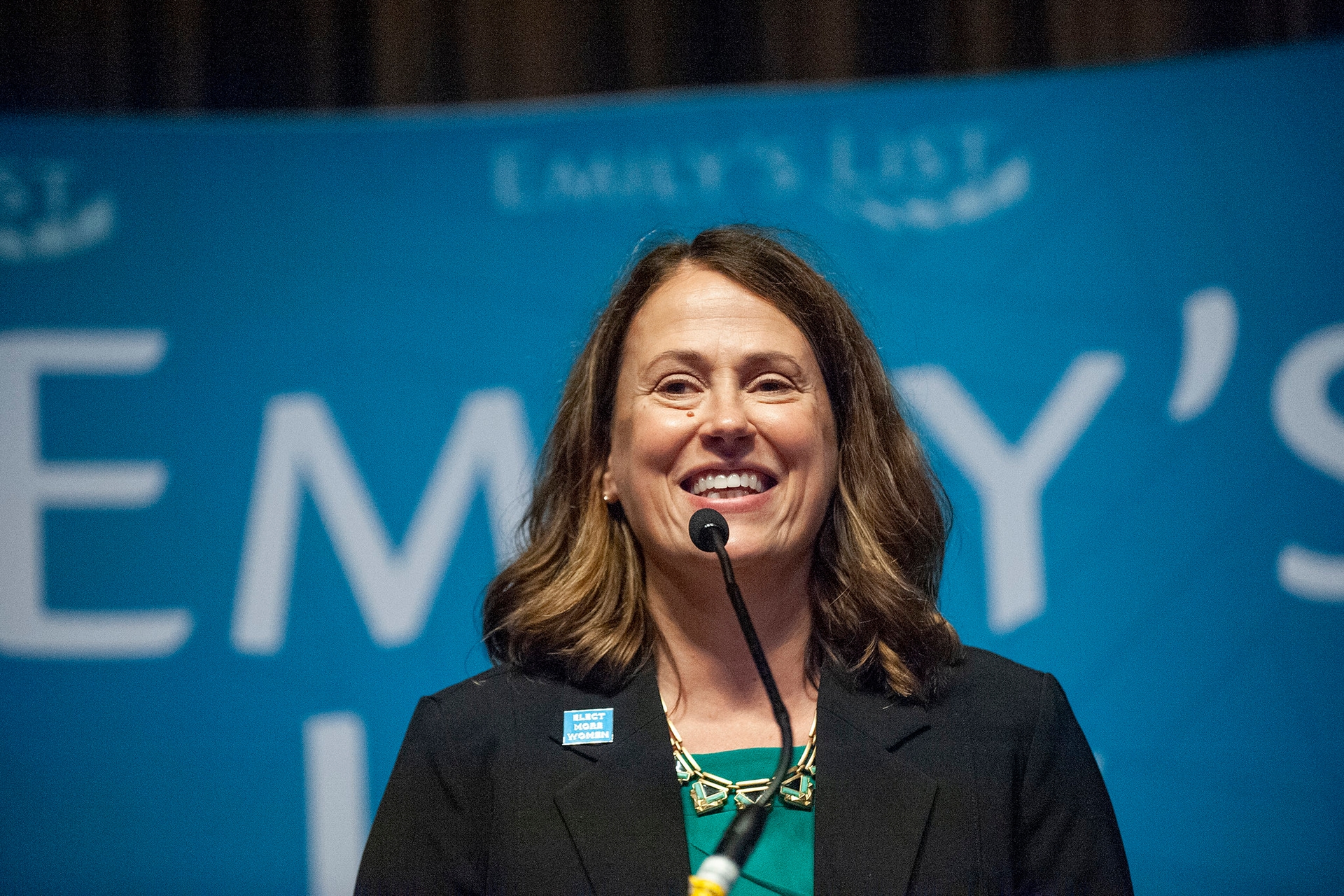 This is the first in our "Majority Makers" series, a race-by-race look at the contests that will decide control of the Senate in 2021.
Six years after Sen. Joni Ernst became the first woman elected to federal office in the Hawkeye State, thanks in part to a campaign that put personality over policy, Democrat Theresa Greenfield is leaning into her own story as she seeks her party's nod to take on the first-term Republican incumbent this fall. 
Greenfield, a businesswoman and mother who became a widow at 24 when her husband, an electrician and union member, was killed in a workplace accident, is tapping into her narrative to push broader themes on health care, Social Security, labor unions and the struggles of the agrarian economy. Her biography doubles as a pitch to the wider electorate in a state where the Democratic Senate nominee will likely need to win over at least some of the people who will ultimately vote for President Donald Trump in November.
"We don't have to win the presidency to win the Senate and keep the congressional seats we have," said Norm Sterzenbach, a Democratic strategist based in Des Moines. "We just need to knock him down."
In an interview this month, Greenfield said, "I would not be here today without union benefits and Social Security." That message has been featured in TV ads from her campaign and prominent national Democratic groups such as the Senate Majority PAC ahead of Tuesday's primary election, where the first-time candidate for statewide office is the favorite against less-funded rivals including Michael Franken, a retired Navy vice admiral who was endorsed by the Des Moines Register, and businessman Eddie Mauro.  
The focus on biography from Greenfield, who describes herself as a "proud farm kid," evokes memories of Ernst's successful 2014 campaign, when she was elected on a promise to "make 'em squeal" in Washington. One reporter at the time dubbed Ernst's campaign pitch as "biography over ideology" -- a tack that focused on her as a mother and soldier, and helped her defeat Democrat Bruce Braley by 6 percentage points as she brought together the Republican establishment and a powerful tea-party wing. 
This time, nonpartisan election analysts are united in the early estimation that the Iowa contest leans Republican, but strategists of both parties believe the contest could very well be decisive in determining whether Democrats are able to wrest control of the chamber from Senate Majority Leader Mitch McConnell (R-Ky.) this fall.
We don't have to win the presidency to win the Senate and keep the congressional seats we have. We just need to knock him down.
Norm Sterzenbach, Des Moines-based Democratic strategist
While former Vice President Joe Biden registered a disappointing fourth-place finish in Iowa's Democratic presidential caucuses, strategists on both sides of the aisle expect the presumptive nominee to do better than Hillary Clinton, who lost by 9 points to Trump in Iowa four years ago. Polling in the state has been sparse, but according to RealClearPolitics, Trump currently leads Biden in the state by an average of 4 points, 48 percent to 44 percent.
Democrats argue that the red-leaning state, which voted twice for Barack Obama before voting for Trump in 2016, still has purple hues. In 2018, when Iowa elected Gov. Kim Reynolds (R) to a full term, it sent three Democrats to Congress after voting out two Republicans. And compared with the rest of the country, Iowa has the largest concentration of counties that voted for Obama in 2012 and went to Trump four years later.
"Partisan realignment can be a slow process, and the top of the ticket can sometimes take time to bleed down the ballot," said Kyle Kondik, managing editor of Sabato's Crystal Ball at the University of Virginia Center for Politics. "If Trump in fact wins Iowa again, the Democratic Senate nominee will have to hope that Biden narrows the gap at least a little bit and that some ancestral Democrats, particularly in the eastern part of the state, split their tickets down the ballot." 
A 2019 Morning Consult poll of people in Iowa who voted for Obama in 2012 and Trump in 2016 found that 81 percent approved of Trump's job performance, up from 74 percent in 2017. His disapproval rating had dropped by 5 points, to 17 percent, over the time frame. The 2019 poll was conducted from April 1 through Oct. 28 among 934 Obama-Trump voters, with a 3-point margin of error, and the 2017 poll surveyed 324 Obama-Trump voters from Feb. 1 through Aug. 31, with a 6-point margin of error. 
Greenfield, who led a brief campaign for Congress in 2018 before dropping out amid a controversy over revelations that her campaign manager faked signatures on a candidate petition, does not have a governing record to run on like the Democrats challenging Republicans in marquee contests in Maine, Colorado and North Carolina. That's where her pitch comes into play, weaving personal anecdotes into an argument that could be palatable to people outside the Democratic base before an expected onslaught of Republican ads. 
On health care, Greenfield has praised the now-popular Affordable Care Act, which Ernst, holding a gun, targeted in a 2014 campaign commercial and repeatedly voted to repeal. Greenfield said the senator's embrace of coverage for pre-existing conditions, touted in an outside group's January ad supporting Ernst, doesn't cut it in a state where rural hospitals depend on the 2010 health law's Medicaid expansion.
On the coronavirus pandemic, which campaigns across the map have been forced to address, and trade, an issue of particular importance to Iowans, Greenfield has leaned into anti-China sentiments that have resonated in the past with the white working class and are now believed to have wider reach. 
"China lied to us" on coronavirus, she said in the interview, "and they've certainly been a bad actor when it comes to trade." But Greenfield also called for global bonds to rebuild trading relationships that are vital to the state's agriculture industry, noting her time growing up on a "little farm outside of a town of 500."
And in a campaign ad released Monday, Greenfield took direct aim at Ernst's 2014 pork-themed pledge, saying "she didn't castrate anyone" in Washington, hinting at a general election attack line. 
But Greenfield's fiercest attack comes on Social Security. She and her campaign have ripped Ernst for remarks revealed in a video posted last September by the Democratic super PAC American Bridge in which Ernst said lawmakers should discuss fixing the program "behind closed doors."
"Sen. Joni Ernst talks about privatizing Social Security and going behind doors to gut it, and I take that personally," Greenfield said. "Those are earned benefits, and I think a little over 20 percent of Iowans rely on those benefits, and I want grannies to know all over the state that I'm going to be working hard to sustain Social Security." 
In an email responding to Greenfield's criticisms, Ernst campaign spokesperson Melissa Deatsch said: "We are in the midst of a national crisis and while Joni Ernst continues to lead, Theresa Greenfield demonstrates time and again how completely unprepared she is to stand up and fight for Iowans. Greenfield's ignorance on the issues is a danger to the livelihood of Iowans."
A Republican strategist close to Ernst's campaign noted that Braley also tried, and failed, to make the Social Security attack stick in 2014, and questioned the efficacy of Greenfield's playbook in a state that has trended Republican.
To that end, Greenfield has tried to put some distance between herself and Democrats in Washington.
In the interview, she said she "probably wouldn't have voted" for House Speaker Nancy Pelosi's $3 trillion "Heroes Act," and declined to say whether she'd vote to keep New York Sen. Chuck Schumer as the leader of the Democratic caucus, though she was complimentary of his work.
"These are tough times and I think Sen. Schumer has done a wonderful job. He's from the East Coast, so I'm not sure what Iowans think," she said. "But he certainly has stood up to lead and has stayed focused on hard-working Americans and their needs, and in my opinion, that really does make him a good leader."
While some Republicans concede that Greenfield's personal tale is compelling, they've already sought to tear it down, branding her as a Minnesota real estate executive rather than an Iowa farm girl. Greenfield, who grew up in a small town just across the Iowa border in Minnesota, has served as president of a Des Moines-based real estate company since 2012.
And the money that has poured in for Greenfield from national Democratic groups -- while a major tactical advantage in both the primary and general elections -- is a key part of the picture Republicans are trying to paint.
In an email to reporters last week, an Ernst campaign spokesperson said, "Although Chuck Schumer's PAC has poured in more than $6 million in TV ads to prop up his candidate, Theresa Greenfield, the reality is, she's completely unprepared to lead." Ernst's campaign has pointed to on-camera stumbles captured during Greenfield's primary debates and virtual campaign events, including one stumble over a question about Afghanistan it clipped and uploaded to YouTube.
Greenfield, who's pledged to take no money from corporate political action committees, was endorsed in June 2019 by the Democratic Senatorial Campaign Committee and has also benefited from the support of EMILY's List, which works to elect women who support abortion rights.
In what's become normal for major campaigns, Greenfield's website has a page signaling to outside groups the importance of telling her personal story, and provides a 3-minute clip of b-roll that can be used in ads. EMILY's List has posted a similar sheet signaling the importance of attacks on Franken and Mauro. These efforts have fueled cries of hypocrisy on campaign finance issues from her Republican and Democratic critics.
Asked about that influx of outside money, Greenfield noted her support from local groups and leaders -- the kinds of endorsements a presidential campaign in the Iowa caucuses would heavily tout -- and said she can't control what outsiders do. Her campaign also notes her own fundraising strength: She outraised Ernst in the pre-primary report with the Federal Election Commission, though she trails in cash on hand.
"I can't win this race alone," Greenfield added. "Nobody can."
Eli Yokley is Morning Consult's U.S. politics analyst. Prior to his current role, Eli was Morning Consult's senior reporter covering U.S. politics. Eli joined Morning Consult in 2016 from Roll Call, where he reported on House and Senate campaigns after five years of covering state-level politics in the Show Me State while studying at the University of Missouri in Columbia, including contributions to The New York Times, Politico and The Daily Beast. Follow him on Twitter @eyokley. Interested in connecting with Eli to discuss his analysis or for a media engagement or speaking opportunity? Email [email protected].
We want to hear from you. Reach out to this author or your Morning Consult team with any questions or comments.
Contact Us