Near-Bans of TikTok, WeChat Downloads in U.S. Have Little Impact on Presidential Votes
Over 50% of Democrats, Republicans don't plan to change votes, while about 2 in 5 are more likely to vote for their party's candidate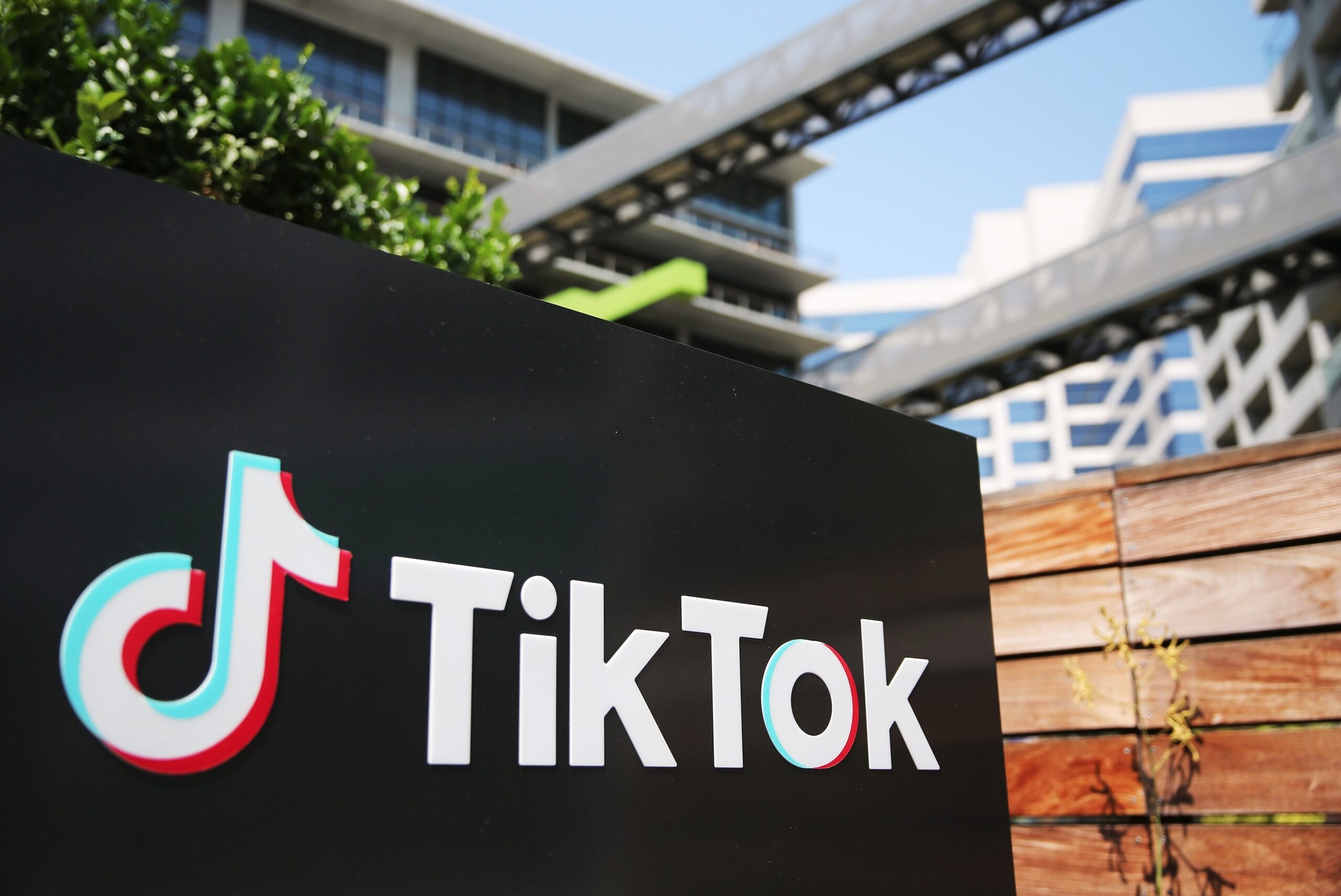 Key Takeaways
41% of registered voters said they supported the Commerce Department's move to ban the sale of TikTok and WeChat on smartphone app stores, while 28% opposed.

26% of registered voters have a more favorable view of the president and his administration due to the news of the TikTok restrictions and WeChat ban, compared with 24% who have a less favorable view.
The near-bans of new TikTok downloads and WeChat this past weekend, which have been postponed, have done little to change whom voters across party lines say they're casting their ballots for in the November presidential election, according to a new Morning Consult survey, with overwhelming shares of Democrats and Republicans saying either their opinion hasn't changed or that they're more likely to vote for their party's nominee.
In the survey of 1,988 registered voters, 55 percent of Democrats said their 2020 presidential vote would not be impacted by the proposed bans, while 40 percent said they were more inclined to vote for Democratic presidential candidate Joe Biden. And 54 percent of Republicans said the bans would have no effect on their planned vote, while 43 percent said they were more likely to vote for President Donald Trump.
The survey has a margin of error of 2 percentage points and was conducted Sept. 18-20 as the news of TikTok and WeChat avoiding proposed new download bans unfolded.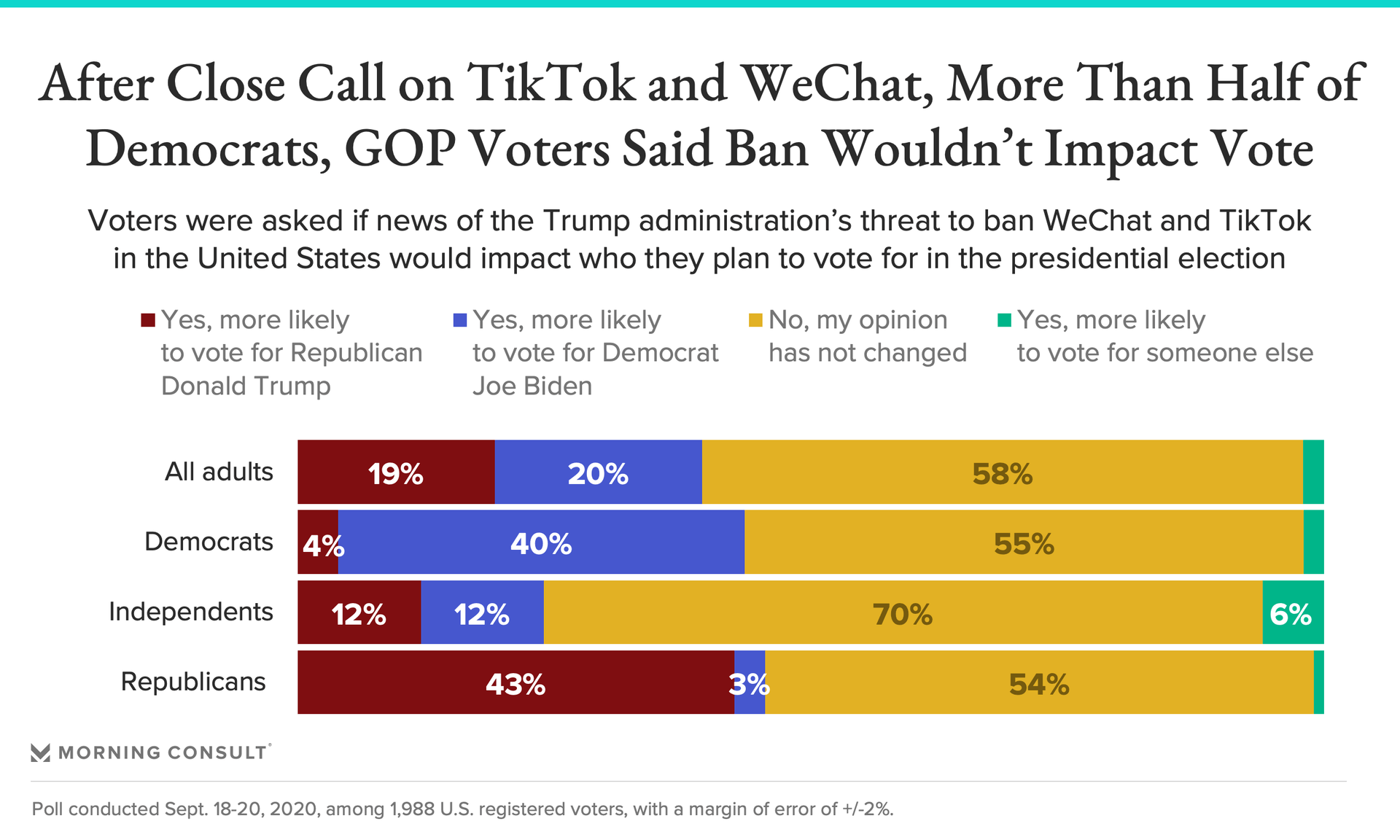 Had Trump not given his preliminary approval to ByteDance Ltd.'s TikTok for a deal with Oracle Corp. and Walmart Inc. on Saturday, new app downloads would have been banned in U.S. app stores, including those from Apple Inc. and Google's Android, under a long-awaited Commerce Department order issued Friday that laid out how it planned to implement Trump's executive orders targeting both of the China-based social media apps, TikTok and WeChat.
The order also effectively banned WeChat from the United States starting Sunday, but a federal judge in California granted a preliminary injunction that halted the order from being enforced.
Both short-form video app TikTok and WeChat, which is highly popular in China with users relying on the app to communicate with one another, pay bills, read the news and more, have come under intense scrutiny by the Trump administration in recent months due to their Chinese ownership, which the Trump administration has claimed poses a security risk to American consumers who use the apps.
In the survey, 41 percent of voters said they supported the Commerce Department's move to ban the sale of TikTok and WeChat on smartphone app stores, while 28 percent opposed and 31 percent said they didn't know or had no opinion.
The frenzy of news this past weekend, meanwhile, spurred app downloads not just of TikTok and WeChat, but also of their rivals.
According to app analytics firm Apptopia, U.S.-based mobile app downloads of TikTok grew 4.74 percent between the weekends of Sept. 11-13 and Sept. 18-20, from 681,594 to 713,868 downloads. WeChat's total numbers remain far lower than TikTok, but its growth was much more exponential, with 46,553 downloads this past weekend in the United States, compared to 16,561 the week before -- a 181 percent increase.
TikTok rivals Triller and Byte also saw bumps in their downloads. Triller, the Los Angeles-based startup that has been leaning heavily on the music scene to grow its user base, was downloaded 101,052 times this past weekend, more than four times as many downloads as the weekend before. And Byte, which launched earlier this year and was started by a co-founder of the defunct app Vine, was downloaded 56,466 times this past weekend, a 452 percent jump from the 10,221 downloads the previous weekend.
Sam Sabin previously worked at Morning Consult as a reporter covering tech.
We want to hear from you. Reach out to this author or your Morning Consult team with any questions or comments.
Contact Us