When Will Consumers Feel Safe? Weekly Updates on Consumers' Comfort Level With Various Pastimes
Jan. 11 update: Americans report small increases in comfort week to week in 2021, but no significant changes
Key Takeaways
36% of U.S. adults say they are comfortable going out to eat, down just 1 percentage point from early January, reflecting similar degrees of movement — or lack thereof — with other activities.

Baby boomers report more slight increases in comfort than millennials, but the younger demographic is still significantly more comfortable across categories.
For weekly updates on consumer comfort, visit Morning Consult's Tracking the Return to Normal interactive pages.
Updated: Jan. 11, 2021
As the coronavirus pandemic drags into 2021, Americans remain steadfast in their comfort levels so far, reporting no significant changes across demographics from the first to second weekends of the year.
When Morning Consult first began tracking consumer comfort levels during the spring lockdowns, people became steadily more confident that they would be able to safely return to public spaces in the near future. 
Following a brief downturn in comfort levels, the public's attitudes also did not change significantly for 12 weeks during the summer. At the beginning of fall, comfort levels for some activities started to creep up, then spiked to several all-time highs by the middle of October, before leveling off again as COVID-19 cases increased in much of the United States.
As news of vaccine developments reached the country in December, with Dec. 14 marking the start of a mass rollout, gradual increases among Democrats and millennials led to record highs in comfort with most activities for those groups early that month. However, among all adults, numbers did not budge in December, nor have they changed significantly in January.
This continued hesitation to return to pre-pandemic habits has significant implications for consumer-facing companies, many of which have had to adjust their business models to reach people where they're most comfortable: in their homes.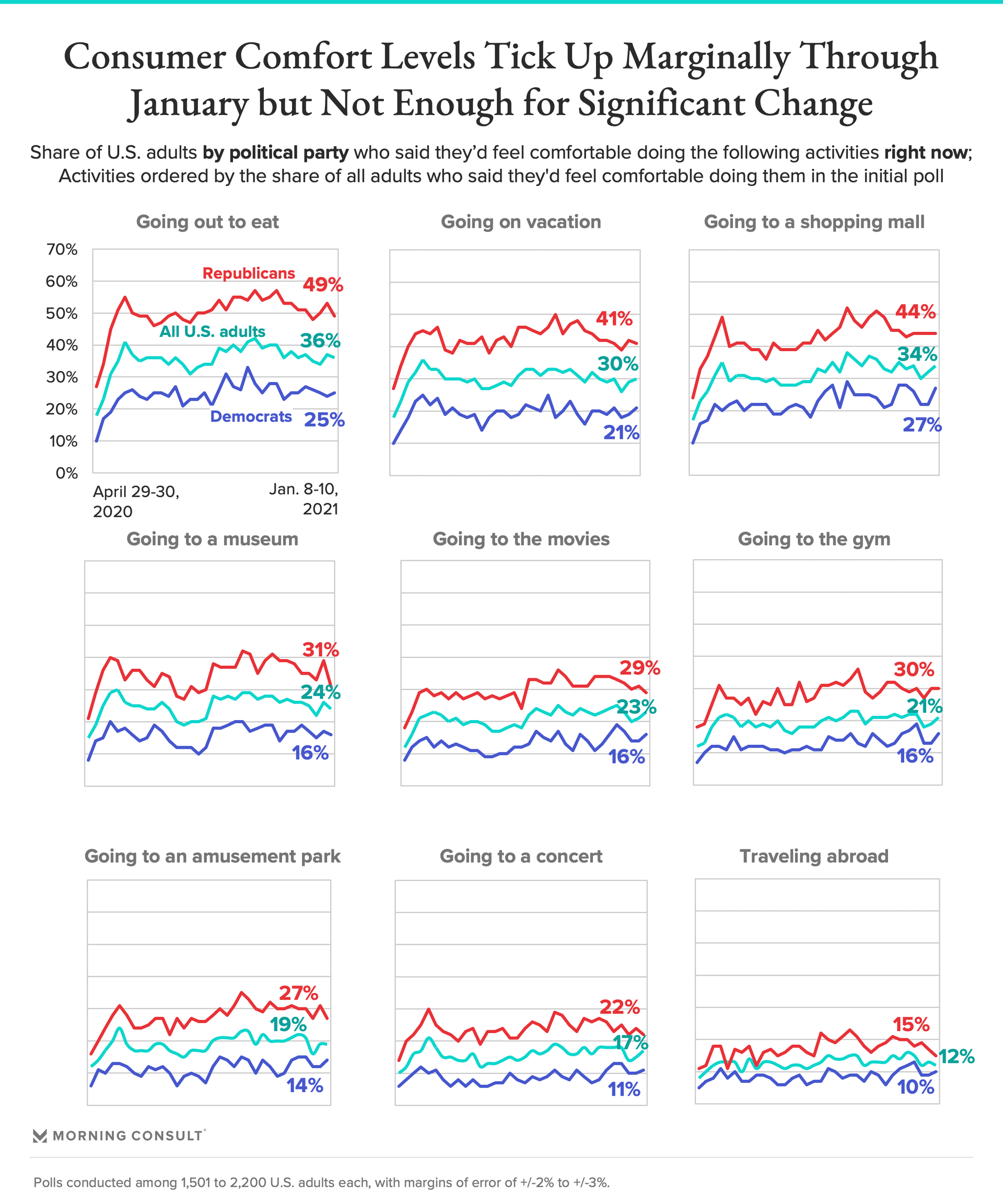 Comfort among all adults with regard to going to restaurants reached a record high in late October, with 42 percent of the public saying they'd feel safe dining out. That share fell through November and December, ticking down to 34 percent as of the last survey of 2020, then leveling off at 36 percent as of the most recent survey, conducted Jan. 8-10.
The rest of the activities tracked by Morning Consult followed a similar trajectory. For the majority of the remaining eight categories, comfort levels moved up or down by just 1 or 2 percentage points each, and did not change at all with regard to amusement parks.
For instance, following the holiday shopping season, few signs indicate that consumers are going to start abandoning e-commerce in favor of the brick-and-mortar experience. 
After a decline in November, comfort with shopping malls remained fairly even in December and into January. As of the latest survey, 34 percent of consumers said they feel comfortable going to a mall.
Americans have shown continued hesitance to return to movie theaters, but as of mid-December, a record high of one-quarter of all adults said they felt comfortable with the activity. Later in December, that share ticked down to 20 percent, before returning to 23 percent in the most recent poll.
In late September, Democrats for the first time reported comfort increases with regard to more categories than Republicans, and did so again during both the first and second weeks of December.
After wavering through late December and early January, Democrats' comfort increased slightly for most activities as of the latest survey. Republicans reported only decreases or no change in comfort, marking the fourth week that Democrats' comfort increased in more categories than Republicans'.
In mid-December, the gap in comfort between Republicans and Democrats narrowed the most it has since Morning Consult began tracking. It widened again in early January, but as Democrats' comfort ticked up, the gap returned to its mid-December level as of the latest survey, with Republicans nearly twice as likely as Democrats on average to feel comfortable with all activities.
Still, the persistent partisan gap could spell trouble for businesses located in Democratic-leaning areas, such as along the coasts or in major cities, with Democrats less comfortable with venturing out.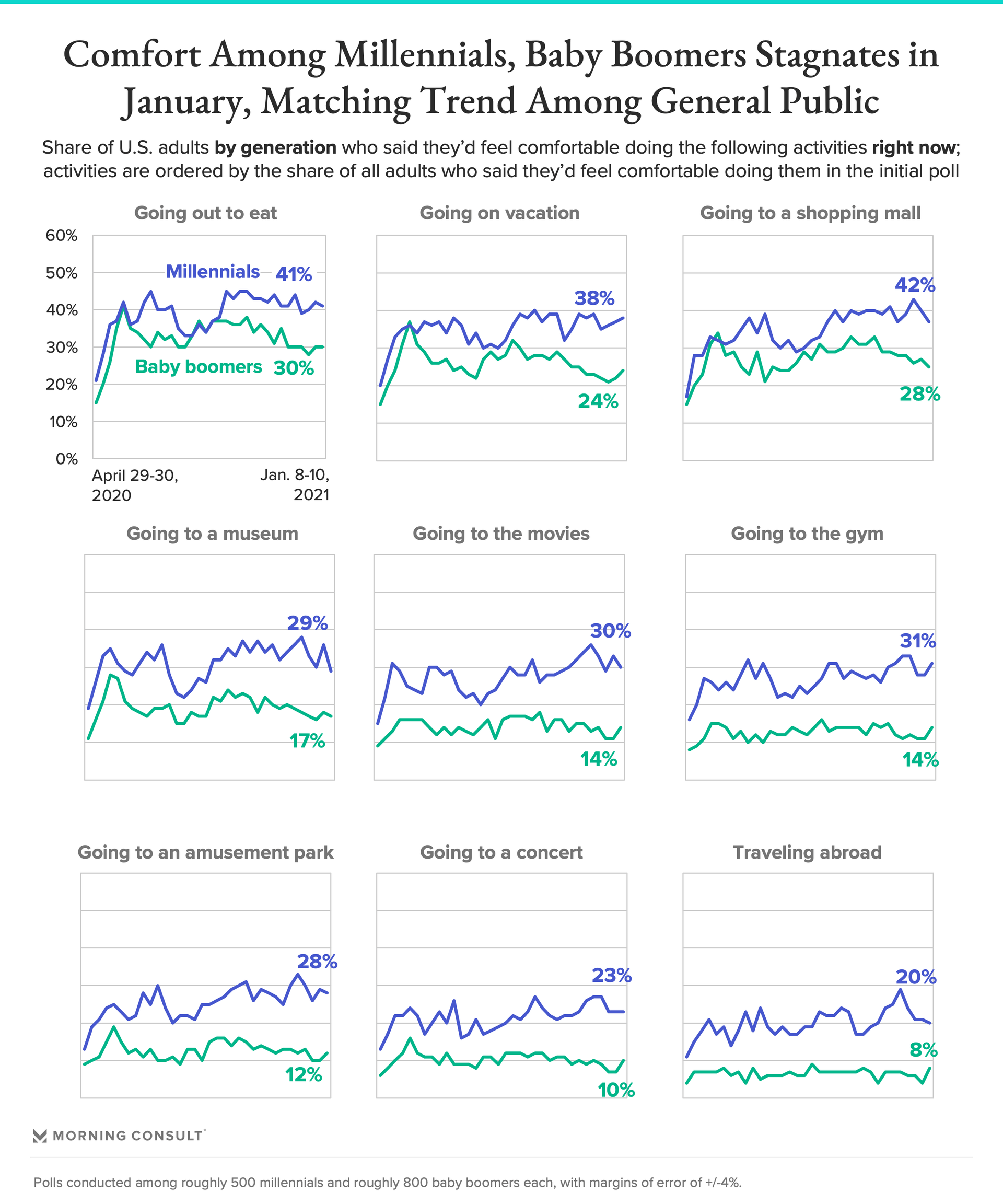 In early August, statistically significant differences between generations started to emerge for the first time, with millennials more likely than older adults to be comfortable with nearly every activity listed in the poll. In late August and early September, that gap began to shrink on many activities before re-emerging again in early October and growing by the middle of the month.
Generational differences in comfort levels have persisted through the fall, emerging for all activities by the end of October, and then again in mid-November. 
The gap persisted into 2021, with neither generation reporting significant changes in comfort as of the Jan. 8-10 survey.
Baby boomers' comfort increased in most categories, but never outside the group's margin of error and not enough to close the gap.
Millennials reached or tied seven all-time highs in comfort in December — going out to eat and going on vacation were the exceptions — but reported more decreases than increases over the second weekend of January.
In asking consumers to predict when they will feel safe returning to leisure activities, Morning Consult measured a steady increase in consumer comfort with doing most activities through mid-June, followed by a plateau or drop. 
In early November, uncertainty appeared to be growing, with shares of consumers who said they couldn't predict or had no opinion about when they would feel comfortable with several activities increasing. Those numbers ticked down as of mid-November, but rose slightly with regard to a few activities again later in the month. 
As of the last check-in of 2020, the shares of Americans who said they would feel comfortable with most activities within the next few months declined within margins of error. The shares who anticipated it would take more than 6 months to feel safe increased in every category, by as much as 5 percentage points with regard to going to concerts.
Not much changed from late December to early January, although the share of adults who said they think they'll feel comfortable dining out within the next month increased to 31 percent after hovering in the mid-to-high 20 percent range through December.
Predictions have stagnated so far through January, as well, with no changes outside margins of error for any activities.
Morning Consult's week-to-week data on consumer comfort levels: April 7-9; April 29-30; May 5-8; May 12-15; May 21-25; May 26-29; June 2-5; June 5-7; June 9-11; June 12-14; June 23-26; June 30-July 3; July 7-9; July 14-16; July 20-22; July 29-Aug. 2; Aug. 4-7; Aug. 14-17; Aug. 21-23; Aug 28-31; Sept. 2-6; Sept. 10-13; Sept. 18-20; Sept. 25-27; Oct. 1-4; Oct. 8-10; Oct. 16-18; Oct. 23-35; Oct. 29-31; Nov. 6-9; Nov. 12-14; Nov. 19-23; Nov. 26-29; Dec. 4-6; Dec. 10-12; Dec. 17-19; Dec. 24-26; Dec. 31-Jan. 2, 2021; and Jan. 8-10, 2021.
Download the data behind the charts displaying political party differences, generational differences and when consumers will feel safe.
Alyssa Meyers previously worked at Morning Consult as a reporter covering brands and marketing.
We want to hear from you. Reach out to this author or your Morning Consult team with any questions or comments.
Contact Us