Transgender Female Athletes Face Hurdles to Acceptance With the Public
As Connecticut case fuels policy debate, polling shows most say transgender female athletes have advantage
Key Takeaways
Association with transgender or nonbinary individuals had meager impact on Americans' views.

57% of adults said they agreed that transgender female athletes have a competitive advantage over cisgender female athletes.
As young transgender people across the United States enter athletic competition, they're often facing pushback amid a patchwork of eligibility rules depending on where they live and the gender with which they identify.
Such opposition came to a head this summer in Connecticut, when a conservative group filed a complaint against the state's high school athletics association claiming that its policy allowing transgender girls -- who were assigned the male sex at birth but identify as female -- to compete in sports is causing cisgender girls to lose out on participation and scholarship opportunities. 
The case emblemizes a debate about fairness and equality, both for transgender athletes and cisgender athletes. It could set the tone, and a precedent, for other states in a country where, according to a Morning Consult poll, most of the public believes transgender female athletes have a competitive advantage over other female athletes, driven at least in part by perceptions of strength and speed due to a person's biological sex.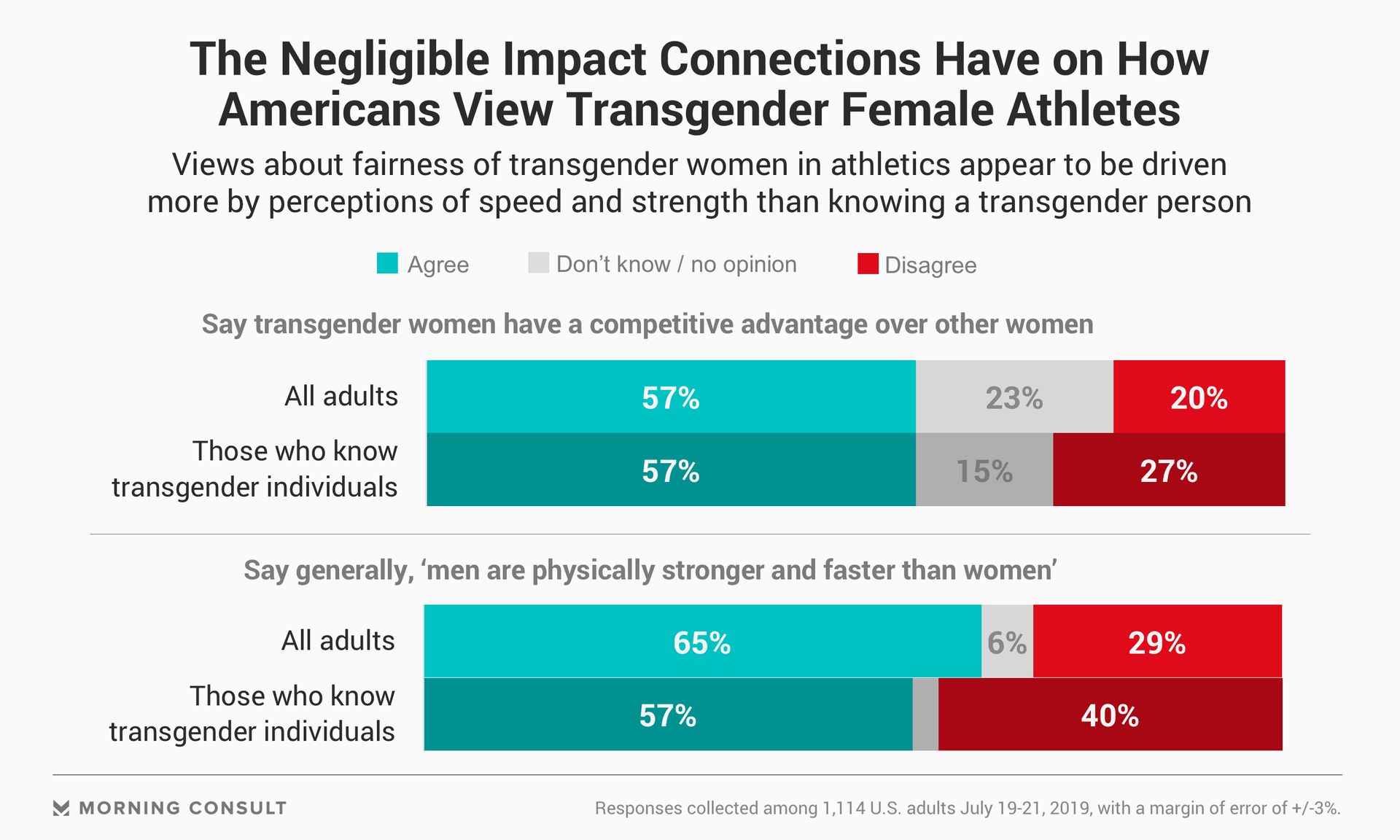 The July 19-21 poll surveyed 2,200 U.S. adults, with a margin of error of 2 percentage points. Roughly half the sample was asked questions about strength and speed of women and views about the competitive advantage of transgender women, while the other half was asked about men and transgender women.
Fifty-seven percent of U.S. adults said they agreed that transgender female athletes have a competitive advantage over cisgender female athletes, while 20 percent disagreed. By comparison, the public was more split -- 28 percent in agreement vs. 39 percent in disagreement -- on the question of whether transgender male athletes have a competitive advantage over cisgender male athletes.
These differences appear to be fueled, at least in part, by views on biological traits associated with the male and female sex: 65 percent of respondents said they agreed with the general statement that "men are physically stronger and faster than women." 
Notably, those sentiments endure among respondents who said they know a transgender or nonbinary individual, 57 percent of whom agreed that men are physically stronger and faster than women. That marks a contrast from earlier research on views about the wider swath of the LGBTQ population. 
A Morning Consult survey in May found that the public was more comfortable with a set of issues, including marriage, public expressions of love and being represented in Congress by an LGBT person, if they knew someone who identified as such. The contrast suggests the public could have more intransigent views when it comes to the ethics of athletic competitions, revealing a potentially tougher road to acceptance for athletes from the transgender community -- who, according to the Williams Institute in 2016, make up less than 1 percent of the U.S. adult population.
Warren Zola, an expert in sports law and executive director of the Boston College Chief Executives Club, said there have been figures in sports and entertainment who have put a face to transgender issues in America, but "it's not something that's been entirely accepted by society yet."
"It's becoming at least understood better than it was, but it is still not something that's embraced, and it also depends on where you live in the country," he said of athletes who identify as transgender.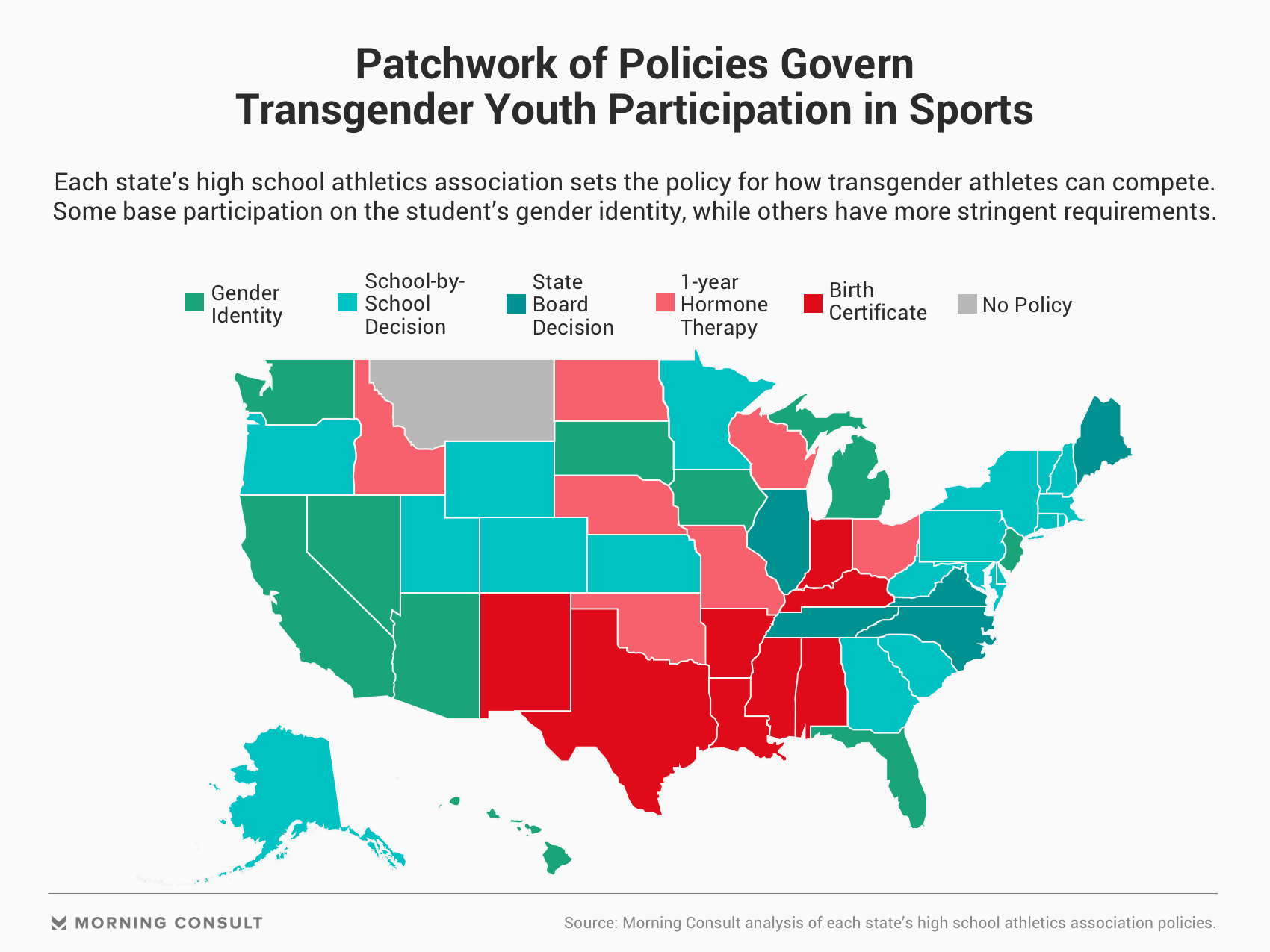 The policies for high school athletes vary by state. Eight states, including Texas and much of the South, have policies on the books this year that leave the decision about whether a student plays on a high school boys or girls team to their birth certificate. Kentucky and Louisiana make exceptions for students who have undergone sex reassignment. 
In Connecticut, the latest policy states that "it would be fundamentally unjust and contrary to applicable state and federal law to preclude a student from participation on a gender specific sports team that is consistent with the public gender identity of that student for all other purposes." But it goes on to "defer to the determination" of team eligibility to a local school district, a similar policy to 18 other states. 
Connecticut's policy has scored accolades from national groups that advocate for transgender rights. Jennifer Levi, director of the Transgender Rights Project for GLBTQ Legal Advocates & Defenders, said participation by transgender athletes is crucial for equal rights, and that their exclusion is "unfair" and "hurtful."
"Athletics are crucial to self-esteem, peer building and overall core-development," she said, adding that the Connecticut policy protects high school girls' right to participate.
But for Christiana Holcomb, legal counsel for the conservative Christian advocacy group Alliance Defending Freedom, the issue is about equity and a "restoration of fairness towards women."
"Any solution that allows biological males to compete in women's sports is not a solution at all," she said. "A female competitor potentially loses the opportunity to compete in front of college coaches and the ability to gain scholarship opportunities is incredibly detrimental."
Seven states have taken steps to nullify that concern, requiring transgender girls to have undergone one year of hormone treatment in order to compete with other girls. One of those states, Ohio, cites "tremendous variation among individuals in strength, size, musculature, and ability" as its reasoning. 
In June, the Alliance Defending Freedom filed a complaint on behalf of three Connecticut high school track and field athletes through the U.S. Department of Education's Office for Civil Rights against the Connecticut Interscholastic Athletic Conference challenging the state's policy. 
Glenn Lungarini, executive director of the CIAC, said his organization believes its policy is appropriate under both state law and the federal Title IX, a law prohibiting sex discrimination in schools that receive money from the federal government.
In Washington, the House voted in May for the Equality Act, which, among its other provisions, would ban discrimination based on gender identity for schools who receive Title IX funding. It has stalled in the Senate, but if it were to pass, it could affect policies currently on the books across the United States. 
The measure was backed by Reps. John Larson (D-Conn.) and Jim Himes (D-Conn.), but both congressmen appeared somewhat sympathetic to Holcomb's argument. In interviews this summer, Larson expressed his support for inclusivity in sports but said discrimination has the potential to "cut both ways." And Himes said, "It's quite possible that if transgender women grew to dominate a particular team or sport, it could force out cisgender women."
That sentiment is reflected in policies by other sport governing organizations. The National Collegiate Athletic Association's policy is similar to a rule put in place in 2016 by the International Olympic Committee that allows female-to-male transgender athletes to compete "without restriction," but places more restrictions on male-to-female transgender athletes. The IOC's policy requires transgender women to meet certain testosterone levels for a year in order to participate. 
Ryan Pettengill, executive director of You Can Play, a group that advocates for LGBTQ athletes, said in many cases, the people making decisions about eligibility for transgender athletes "do not have the appropriate background to offer informed opinions on the 'unfair' physical differences between transgender and cisgender athletes." 
"We have learned the challenges of creating rules like this, but at least with the IOC example decision makers have the resources to discuss the science of testosterone levels and their effects on the body, and corresponding competitive advantage," he said. "Too many organizations at other levels don't have this luxury, and too often rely on archaic notions of gender and the unfair advantages of trans athletes." 
Andre Earls contributed.
Eli Yokley is Morning Consult's U.S. politics analyst. Prior to his current role, Eli was Morning Consult's senior reporter covering U.S. politics. Eli joined Morning Consult in 2016 from Roll Call, where he reported on House and Senate campaigns after five years of covering state-level politics in the Show Me State while studying at the University of Missouri in Columbia, including contributions to The New York Times, Politico and The Daily Beast. Follow him on Twitter @eyokley. Interested in connecting with Eli to discuss his analysis or for a media engagement or speaking opportunity? Email [email protected].
We want to hear from you. Reach out to this author or your Morning Consult team with any questions or comments.
Contact Us