Net Approval of Trump's Coronavirus Response Reaches New Low
Since mid-March, net approval of the president's COVID-19 handling is down 22 points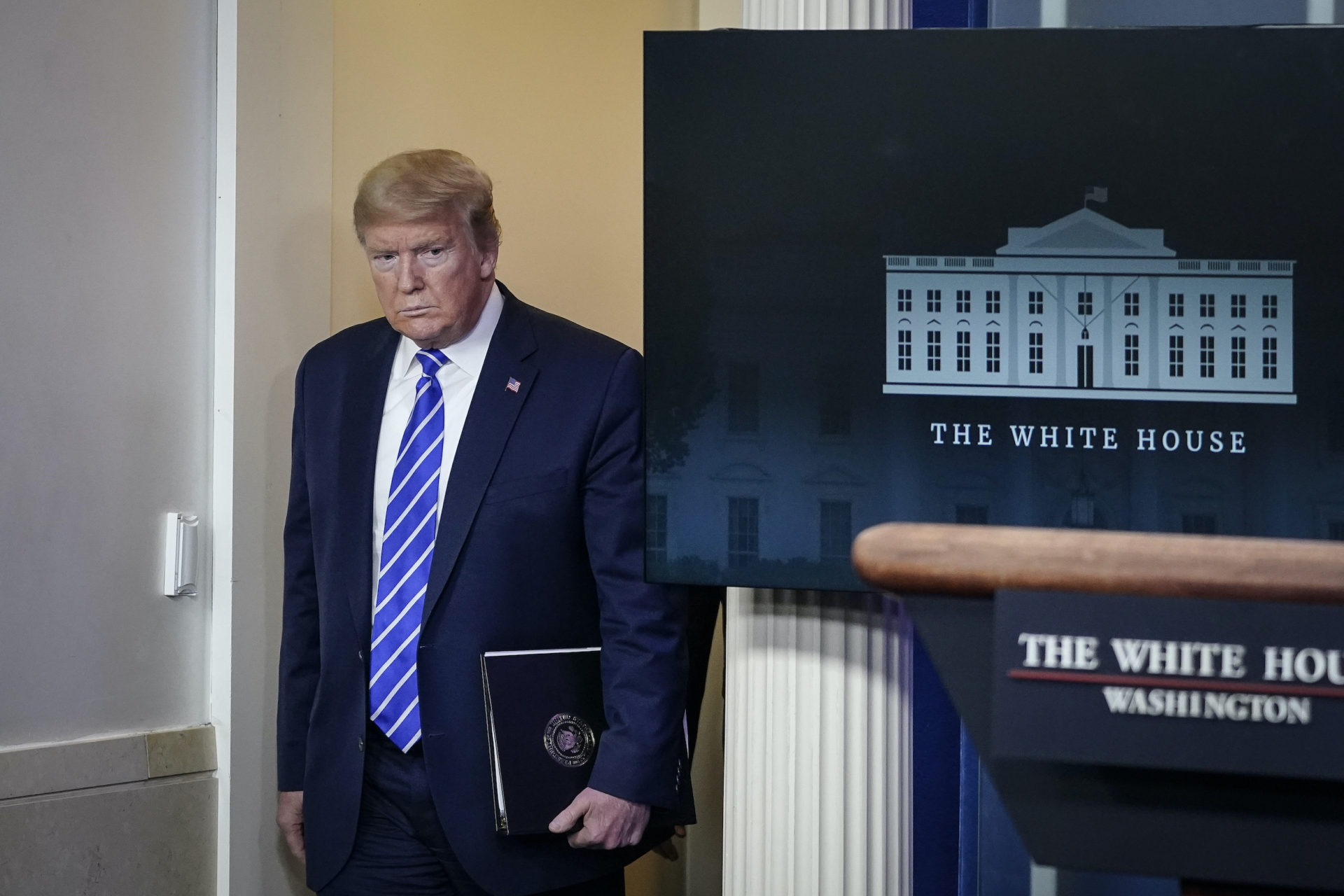 Key Takeaways
51% of voters disapprove of Trump's coronavirus response; 43% approve.

54% say his coronavirus task force briefings are frustrating, and 47% say they're counterproductive.

President trails Joe Biden, presumptive Democratic nominee, by 4 points.
Voters have given President Donald Trump his worst marks yet for how he's handled the coronavirus pandemic. 
A new Morning Consult poll found net approval for Trump's COVID-19 response -- the share who approve minus the share who disapprove -- is 8 percentage points underwater, with 51 percent disapproving and 43 percent approving.
The April 24-26 survey, conducted as a backlash emerged over the president's televised remarks about using disinfectant or sunlight inside the human body to combat the disease, marked Trump's worst showing since tracking began at the end of February. His net approval was down 22 points since a high point in a March 17-20 poll, when voters' level of concern about coronavirus surged amid an apparent "rally around the flag" effect, driven by increased backing from Democrats and independents. (Both polls had a 2-point margin of error.)
In the most recent poll, 41 percent of voters "strongly" disapprove of Trump's coronavirus response, up 13 points since that mid-March survey, while the share who strongly approve dropped 7 points to 23 percent during that time. The share who "somewhat" approve and disapprove hardly changed.
By contrast, roughly 7 in 10 approve of their state and local governments' response to the virus. Even Congress, which has been criticized in recent weeks for its handling of legislation to fund economic and health care relief programs, retained the support of 49 percent of voters on the subject of coronavirus.
Since March 13, Trump has had the nation's political spotlight mostly to himself, using near-nightly press briefings to promote himself and his administration's response, spar with the media and the nation's governors and float untested and even dangerous means to treat the virus as the number of COVID-19 cases and deaths increased.
Trump has recently questioned the purpose of the televised events, which the White House has reportedly considered rolling back, though one that had been canceled on Monday was later rescheduled. The briefings have attracted wide audiences, and a Morning Consult poll conducted last week found 55 percent of voters said they always or sometimes watch the briefings live on television, with 65 percent saying they watch coverage of them on the news. 
While 47 percent said the briefings were "informative," the same share said they were "counter-productive," and 54 percent said they were "frustrating." Thirty-nine percent called them "presidential."
If the briefings are the new Trump campaign rally, it appears they're hurting voter perceptions of his response to his presidency's biggest crisis ahead of the fall campaign: With presumptive November rival Joe Biden largely sidelined due to the COVID-19 lockdown, Trump's singular position on the 2020 stage has been followed by a 27-point decline in net approval among independent voters over his handling of coronavirus, roughly matching the drop among Democrats since mid-March. 
Still, that shift has not been reflected in Biden's head-to-head polling against Trump. The latest Morning Consult polling tracking the presidential race found Biden would lead Trump by 4 points, 46 percent to 42 percent, if the election were held today, statistically similar to weekly surveys conducted since March 9-15, each of which have a 1-point margin of error.
The latest Biden-Trump poll was conducted April 20-26 among 30,560 registered voters.
Eli Yokley is Morning Consult's U.S. politics analyst. Prior to his current role, Eli was Morning Consult's senior reporter covering U.S. politics. Eli joined Morning Consult in 2016 from Roll Call, where he reported on House and Senate campaigns after five years of covering state-level politics in the Show Me State while studying at the University of Missouri in Columbia, including contributions to The New York Times, Politico and The Daily Beast. Follow him on Twitter @eyokley. Interested in connecting with Eli to discuss his analysis or for a media engagement or speaking opportunity? Email [email protected].
We want to hear from you. Reach out to this author or your Morning Consult team with any questions or comments.
Contact Us