Voter Sentiment on Trump's Pandemic Response Hits New Low
41% approve of Trump's handling of COVID-19; 53% disapprove
Key Takeaways
78% of Republicans approve and 16% disapprove of President Trump's COVID-19 response, a net 62 percentage points and his worst showing since tracking began in February.

31% of voters said Trump is the most to blame for the spread of coronavirus into the United States, statistically unchanged from the previous survey.
Voter sentiment about President Donald Trump's handling of the coronavirus pandemic reached a new nadir as reports emerged that the United States had surpassed 100,000 deaths attributed to COVID-19. 
Forty-one percent of registered voters approve of Trump's management of the public health crisis while 53 percent disapprove, according to a May 29-June 1 poll, his worst marks since Morning Consult began tracking public opinion on the pandemic in February. The survey polled 1,989 registered voters and has a margin of error of 2 percentage points.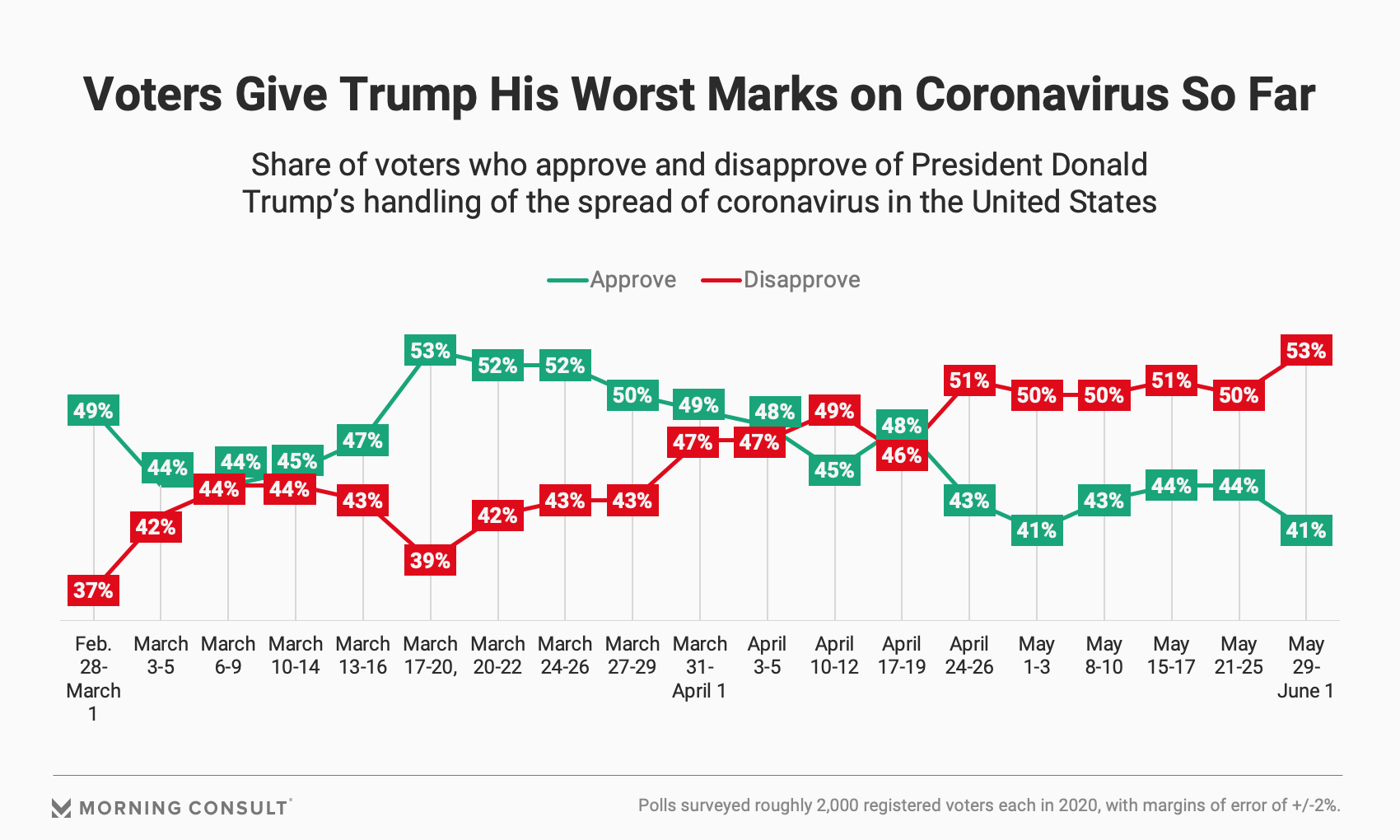 The 12-point gap, double the deficit measured in a May 21-25 poll, is the first notable movement in weeks from a metric that has been relatively stable since perceptions of Trump's coronavirus handling slipped underwater in late April.
The change was driven by Republicans and independents, as the vast majority of Democrats were already vehemently displeased with the president's response to the pandemic. 
The most recent poll marked the worst assessment of Trump's performance on the issue from both his base and voters in the middle: He has a 62-point net approval rating among Republicans (78 percent approve and 16 percent disapprove) and is 18 points underwater among independents (35 percent approve and 53 percent disapprove).
While voters have soured on Trump's handling of the pandemic since his approval's mid-March zenith, which followed his declaration of a national emergency, the poll found no movement on the question of whom voters hold most responsible for COVID-19's domestic spread. Thirty-one percent of voters said Trump is the most to blame, while 34 percent named the Chinese government, figures that fall within the surveys' margins of error.
Eli Yokley is Morning Consult's U.S. politics analyst. Prior to his current role, Eli was Morning Consult's senior reporter covering U.S. politics. Eli joined Morning Consult in 2016 from Roll Call, where he reported on House and Senate campaigns after five years of covering state-level politics in the Show Me State while studying at the University of Missouri in Columbia, including contributions to The New York Times, Politico and The Daily Beast. Follow him on Twitter @eyokley. Interested in connecting with Eli to discuss his analysis or for a media engagement or speaking opportunity? Email [email protected].
We want to hear from you. Reach out to this author or your Morning Consult team with any questions or comments.
Contact Us