29% of GOP Voters Say It's Likely Trump Will Be Reinstated as President This Year
Most voters reject far-fetched idea, but many believe America's democracy is under threat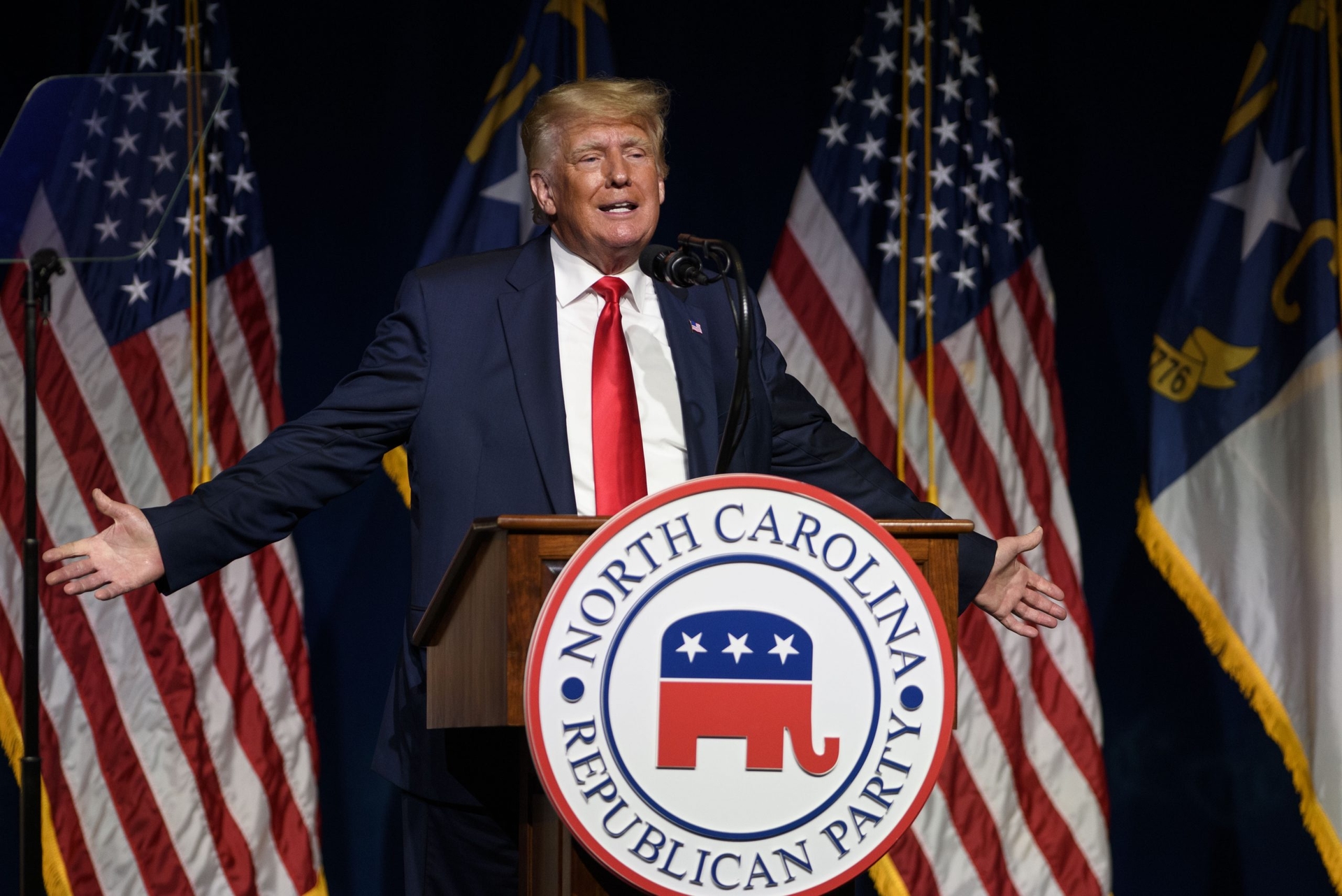 Key Takeaways
72% of voters, including 61% of Republicans, say it is unlikely Trump will be restored to the presidency.

77% of voters said they believe America's democracy is currently being threatened, including 82% of Republicans and 77% of Democrats.

Only 40% of Republicans said they had at least "some" confidence in the U.S. electoral system.
Those close to Donald Trump have sought to publicly downplay a report that the former president thinks he will be reinstated in the Oval Office later this year, but a sizable minority of Republican voters believe it will happen anyway.
According to a new Morning Consult/Politico survey, 29 percent of Republican voters said it is at least somewhat likely that Trump will be restored as president in 2021 – including 17 percent who said it is "very likely."
The June 4-7 poll was conducted among 1,990 registered voters, with a margin of error of 2 percentage points. For the first time in a Morning Consult/Politico poll, the responses were weighted on 2020 presidential vote in addition to the typical weighting variables of age, gender, race and ethnicity, educational attainment and region.
The survey was conducted after New York Times journalist Maggie Haberman reported that the former president had told a number of people in his orbit that he expects to be reinstated by August. The paper's chief Trump chronicler alluded to Trump's regular statements on such developments as Arizona's ongoing election review as evidence of the former president's preoccupation with the notion that President Joe Biden's certified victory in the 2020 presidential election could be overturned.
There is no existing constitutional mechanism to accomplish such a goal, as Corey Lewandowsi, a top Trump adviser, acknowledged on Fox News over the weekend, a fact that was not lost on the nearly 3 in 4 voters – including 84 percent of Democrats, 70 percent of independents and 61 percent of Republicans – who said it is unlikely that Trump will return to  the White House this year.
While the idea of Trump's reinstatement is far-fetched at best, the electoral and political impact of Trump's repeated attacks on the 2020 outcome is very real, polling data suggests.
Recent Morning Consult polling has shown Democrats and Biden voters with an early enthusiasm advantage over Republicans and voters who backed Trump in 2020 ahead of the midterm elections. Republican leaders have also pressed Trump to drop his public denial of Biden's victory and instead focus on attacking Biden and his agenda, but he instead doubled down on his false claims during remarks at the North Carolina Republican Party convention over the weekend.
Trump's loss – and his behavior following it – did a number on Republican confidence in American elections, and it's already been blamed by GOP strategists for a number of electoral problems, including the GOP's loss in two Georgia special elections for Senate in January and the poor showing in a special election for House in New Mexico earlier this month, as both parties look toward a midterm cycle where there is no room for error.
From October to November, the share of Republican adults who said they had "a lot" or "some" confidence in the electoral system fell 22 percentage points, to 45 percent. In the latest May 28-30 survey, just 2 in 5 Republicans said they have confidence in American elections, compared with 62 percent of Democrats.
Amid Republicans' Trump-fueled erosion of faith in the integrity of U.S. elections and Democrats' fear and anger following the Jan. 6 insurrection at the Capitol and a spate of state-level voting legislation, the vast majority of Americans said that they felt the world's oldest continuous democracy is at risk.
Three in 4 voters (77 percent) said they believe America's democracy is currently being threatened, including 82 percent of Republicans, 77 percent of Democrats and 72 percent of independents.
Eli Yokley is Morning Consult's U.S. politics analyst. Prior to his current role, Eli was Morning Consult's senior reporter covering U.S. politics. Eli joined Morning Consult in 2016 from Roll Call, where he reported on House and Senate campaigns after five years of covering state-level politics in the Show Me State while studying at the University of Missouri in Columbia, including contributions to The New York Times, Politico and The Daily Beast. Follow him on Twitter @eyokley. Interested in connecting with Eli to discuss his analysis or for a media engagement or speaking opportunity? Email [email protected].
We want to hear from you. Reach out to this author or your Morning Consult team with any questions or comments.
Contact Us