Trump Says There's 'No Political Appetite' for an Assault Weapons Ban. There Is.
54 percent of Republicans back an assault weapons ban, including one-third who strongly support it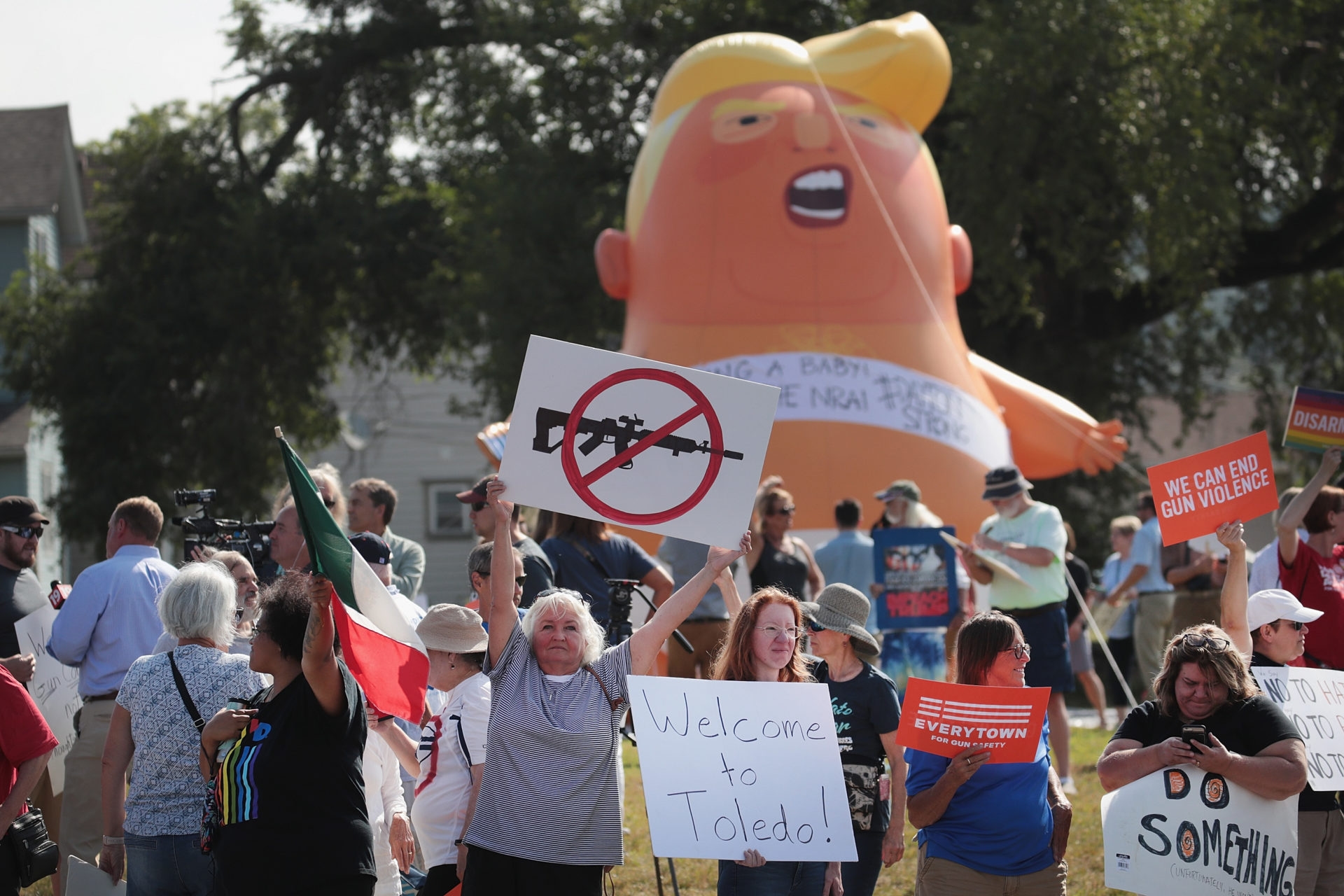 Key Takeaways
Republican women were more likely than men to support several potential gun control measures tested.

However, Republicans were more likely to say better mental health safeguards would be a  better tool to prevent mass shootings than gun control.

GOP voters were just as likely to strongly oppose stricter gun control laws as they were to strongly support them.
President Donald Trump on Wednesday downplayed the public support for banning assault-style weapons like the ones used in the deadly mass shootings in El Paso, Texas, and Dayton, Ohio, over the weekend.
"You could do your own polling," he told reporters before leaving Washington to visit both cities. "There's no political appetite, probably, from the standpoint of legislature."
But a new Morning Consult/Politico poll found broad support for such a ban.
Seven in 10 voters, including 54 percent of Republicans, said they support a ban on assault-style weapons, according to the Aug. 5-7 survey -- and even greater shares backed other provisions such as banning the sale of high-capacity ammunition magazines, requiring a person to be 21 or older in order to purchase a gun and imposing a 3-day waiting period to take a gun home. 
Support among Republicans for a series of gun control measures tested in the poll was largely driven by women. On the question of assault-style weapons, 64 percent of women in the party support a ban, while men were divided. 
The federal government prohibited the production of certain semi-automatic firearms and high-capacity magazines for a decade under the Federal Assault Weapons Ban until the law expired in 2004. Such weapons have been used in many mass murder events over the past decade, including in school shootings such as that at Sandy Hook Elemetary School in 2012, last year's in Parkland, Fla., and the weekend massacres in Texas and Ohio.
Some states have enacted their own laws in the nearly 15 years since the assault weapons ban lapsed, but Republicans in the nation's capital have long resisted calls for such restrictions. 
In televised remarks on Monday, Trump called for a list of measures to address violence in the United States -- including cultural changes involving video games and changing the country's mental health laws -- but stopped short of calling for stricter gun control laws. 
"Mental illness and hatred pulls the trigger, not the gun," he said at the time. 
His comments illustrated a political challenge for the Republican Party in responding to incidents of mass violence involving guns: While the party's voters are generally supportive of policies that would restrict gun sales, they do not view such regulations as the best policy solution to the problem of mass shootings.  
The biggest share of Republicans (29 percent) said better mental health screening and support would be the best tool to prevent the attacks, breaking with the 62 percent of Democrats and 37 percent of voters overall who identified stronger gun control laws as the strongest prescription for the country. 
Fourteen percent of Republicans said stricter gun laws were the most effective tool to prevent mass shootings, similar to the 17 percent who said the best solution was allowing more private citizens to carry guns and less than the 21 percent who opted for putting more emphasis on God and morality in society.
What's more, GOP voters were just as likely to strongly oppose (24 percent) stricter gun control laws in the United States as they were to strongly support (23 percent) them, and 73 percent said that protecting the rights of Americans to own guns took precedence over limiting gun ownership.
Senate Majority Leader Mitch McConnell (R-Ky.) has faced pressure to bring his chamber back from August recess to take up House-passed legislation that would strengthen federal background checks. 
On Wednesday, Trump said, "I think we can bring up background checks like we've never had before," echoing similar remarks he made in the wake of the Parkland shooting. Universal background checks are supported by 90 percent of voters and 90 percent of Republicans, according to the latest poll.  
Neither party on Capitol Hill has a clear trust advantage to handle gun policy: 36 percent favor Democrats compared to 33 percent who prefer the GOP. 
In terms of legislative action on Capitol Hill, a slim majority (52 percent), including 60 percent of Democrats and 47 percent of Republicans, said it is unlikely Congress will pass stricter gun control laws in the next year. 
Eli Yokley is Morning Consult's U.S. politics analyst. Prior to his current role, Eli was Morning Consult's senior reporter covering U.S. politics. Eli joined Morning Consult in 2016 from Roll Call, where he reported on House and Senate campaigns after five years of covering state-level politics in the Show Me State while studying at the University of Missouri in Columbia, including contributions to The New York Times, Politico and The Daily Beast. Follow him on Twitter @eyokley. Interested in connecting with Eli to discuss his analysis or for a media engagement or speaking opportunity? Email [email protected].
We want to hear from you. Reach out to this author or your Morning Consult team with any questions or comments.
Contact Us