Trump Should Commit Now to a Peaceful Transfer of Power, Most Voters Say
60% say Trump should commit to leaving White House if he loses; 53% are concerned he will refuse
Key Takeaways
25% of voters -- including 39% of Republicans -- said Trump should avoid committing to a peaceful transfer of power before the election.

73% of voters are concerned about violent protests occurring in response to election results, and 65% are worried about election results being delayed.

52% of voters -- including 62% of Republicans and 49% of Democrats -- believe that the November election will be free and fair.
President Donald Trump last week twice refused to commit to a peaceful transfer of power if he loses the November election, triggering an outcry from Democrats and prompting a wave of Republicans on Capitol Hill to distance themselves from the comments, and new Morning Consult/Politico polling shows it's also unsettling the American electorate.
Sixty percent of registered voters surveyed Sept. 25-27 said the president should commit to a peaceful transfer of power now, before the election, compared with a quarter who said he should avoid making that commitment before Election Day on Nov. 3.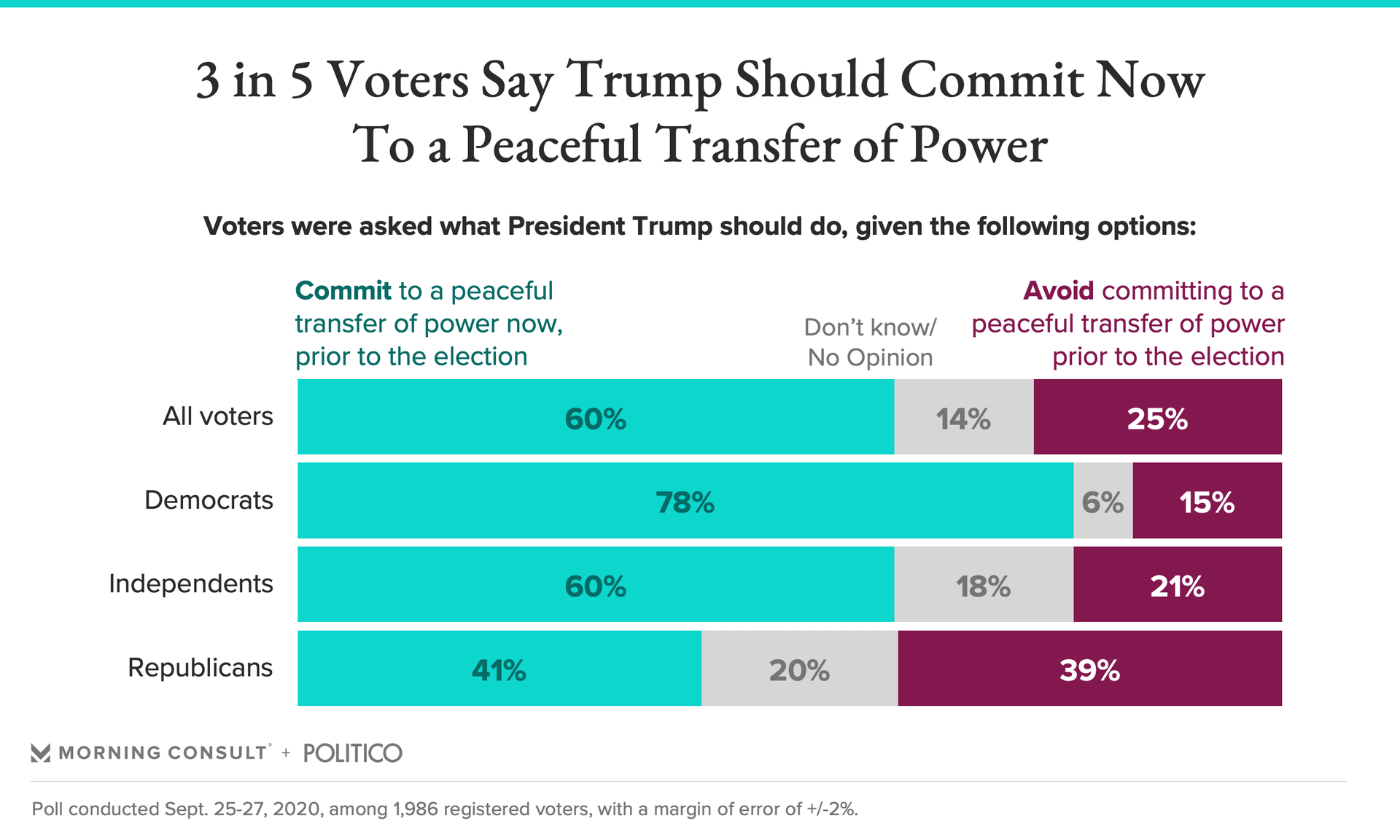 Strong majorities of Democrats and independents said they wanted to hear Trump commit to leaving office peacefully if he loses, but the question split the Republican base: 41 percent sided with the broader electorate versus 39 percent who want Trump to avoid making any promises.
The nearly 2,000 registered voters in the survey were asked for their views on what Trump should do after being shown a video of his Sept. 23 back-and-forth during a White House news conference with Brian Karem of Playboy.
That exchange, which kicked off the "will he or won't he" news cycle that continued for days -- (on Sept. 24, Trump again declined to commit to a peaceful transfer of power) -- divided respondents, according to a Morning Consult dial test that had voters respond in real time. Once again, Democrats and independents in the poll were repelled by Trump's stance, while GOP voters tended to give him positive marks but register negative responses during Karem's follow-up prompts. The split, particularly along partisan lines, was evident throughout the survey, which has a margin of error of 2 percentage points.
A slim majority (53 percent) of voters and 77 percent of Democrats said they were at least somewhat concerned that Trump would refuse to leave office if he loses, a fear held by only 29 percent of GOP voters. A similar share of all voters expressed concern about Trump prematurely declaring victory in November, prompting nearly identical partisan splits among voters who identify with the country's major political parties.
The top two concerns about potential election chaos -- violent protests in response to the results and the prospect of a delay in a definitive result -- were largely shared by Democrats and Republicans, but views on many of the topics appeared anchored in messaging from party elites.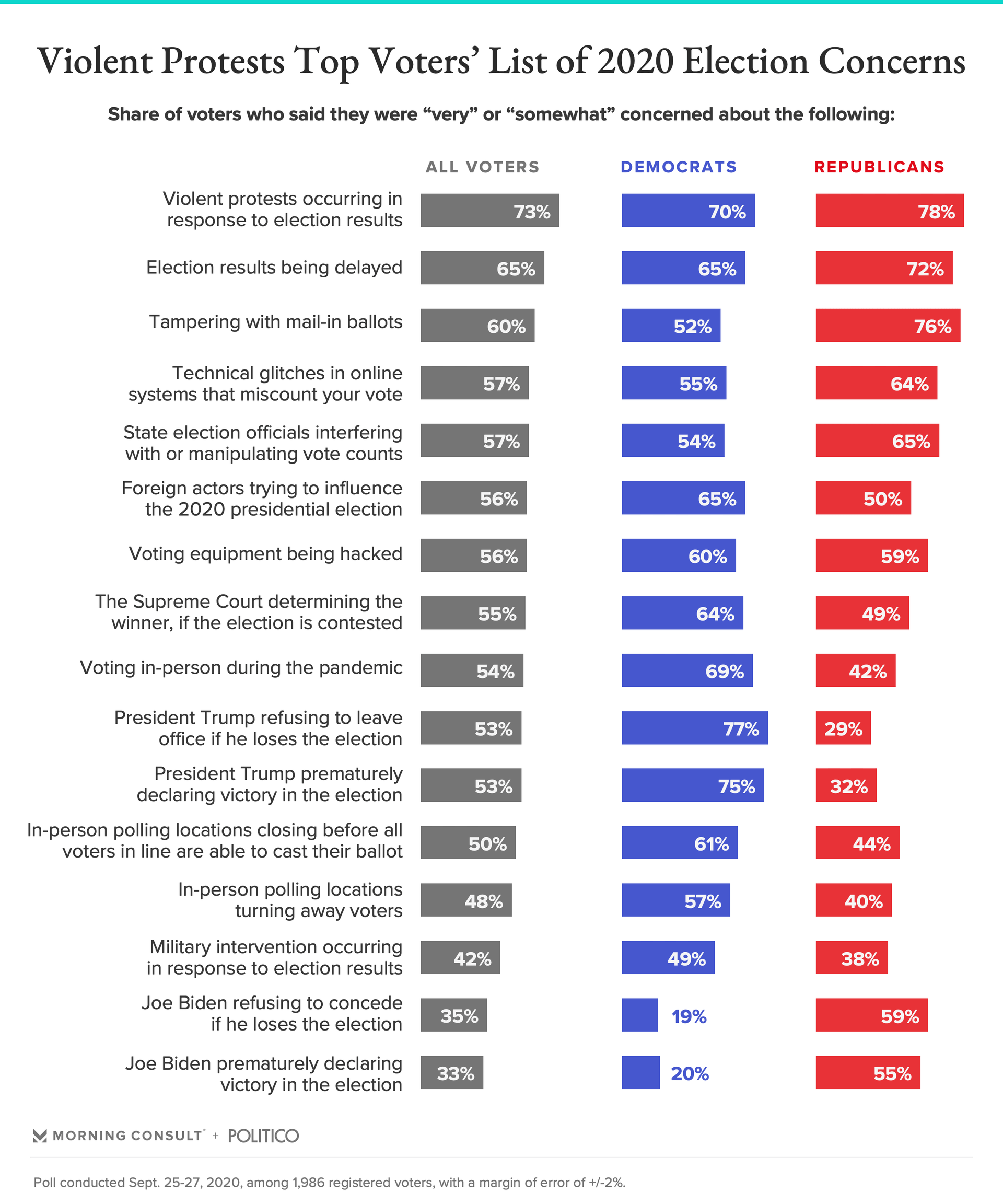 By a 24-point margin, Republicans were more likely than Democrats to express concern about tampering with mail-in ballots, a drum that Trump has beaten relentlessly since states began taking steps earlier this year to make it easier for Americans to cast their ballots from the safety of their homes amid the coronavirus pandemic. Democrats, meanwhile, were 15 points more likely than Republicans to be concerned about foreign actors trying to influence the election or about the Supreme Court deciding the outcome in a redux of 2000, when George W. Bush (R) defeated Vice President Al Gore (D).
These gaps also showed up in another Morning Consult/Politico survey conducted over the weekend among a separate group of roughly 2,000 registered voters. That poll, which tested the reach of stories related to voting and election security, found respondents were more likely to report hearing about news items that may comport with their prior concerns or conceptions.
Roughly three-quarters of Democrats said they'd heard "a lot" or "some" about Trump's refusal to commit to a peaceful transfer of power, compared with less than half of Republicans. And while most GOP voters had internalized a story about the discovery of several discarded military ballots in Pennsylvania that had been cast for the president, only 38 percent were aware of Federal Bureau of Investigation Director Chris Wray's testimony to Congress that he'd seen no evidence of a coordinated national voter fraud effort targeting the 2020 elections.
Despite these concerns and the media cycles that help nourish them, the poll found some cause for optimism.
Sixty-three percent of voters said they have some level of trust in the U.S. election system, including majorities of Republicans (72 percent) and Democrats (62 percent). Similarly, voters said by a 16-point margin that they believe 2020 will be a free and fair election.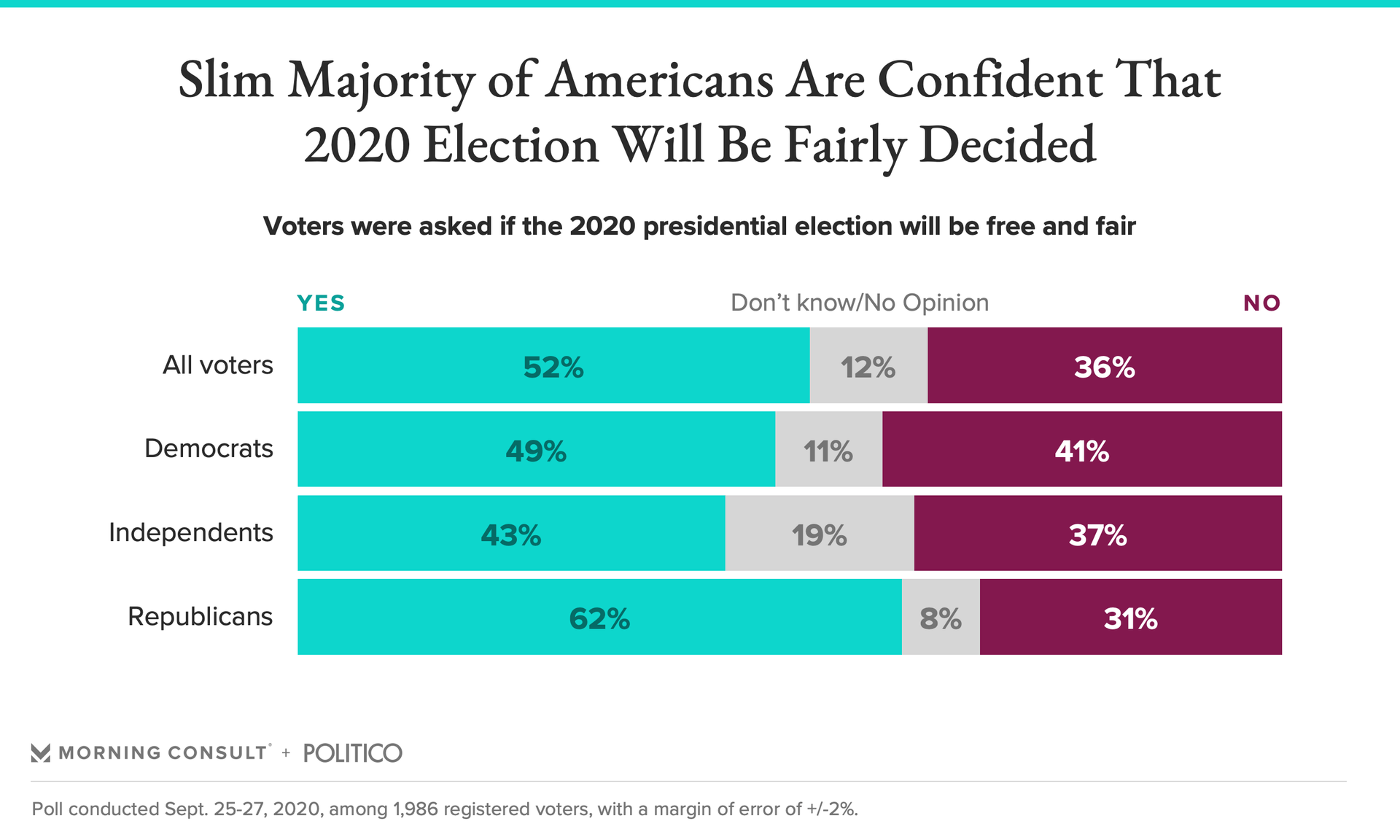 A plurality of Democrats had confidence that November's election will be fairly decided, while a solid majority of Republicans agreed. However, these views are liable to change, depending on the outcome in less than two months' time: 82 percent of Democrats in the poll said they believe the Democratic presidential nominee will win the election, compared with 85 percent of Republicans who believe that Trump will once again be victorious.
Cameron Easley is Morning Consult's lead analyst for U.S. politics. Prior to moving into his current role, he led Morning Consult's editorial coverage of U.S. politics and elections from 2016 through 2022. Cameron joined Morning Consult from Roll Call, where he was managing editor. He graduated from the University of North Carolina at Chapel Hill. Follow him on Twitter @cameron_easley. Interested in connecting with Cameron to discuss his analysis or for a media engagement or speaking opportunity? Email [email protected].
We want to hear from you. Reach out to this author or your Morning Consult team with any questions or comments.
Contact Us