Trump's Executive Order Scrutinizing Social Media Poses Possible Threat to a Key Tool in Military Recruitment
Mandate calls for review of federal spending on online ads, which the Pentagon relies on to attract recruits
When President Donald Trump signed an executive order targeting the liability protections afforded to online platforms last month, his targets were social media companies like Facebook Inc. and Twitter Inc. But one piece of the executive branch could be inadvertently hit by a little-noticed provision in the order: the military, which relies heavily on social media advertisements to appeal to Gen Z and millennial recruits.
Most of the news coverage of the executive order has focused on the sections directing the Federal Trade Commission to review liability protections afforded to online platforms under Section 230 of the Communications Decency Act and the Federal Communications Commission to review complaints of political bias against the companies. What has been overlooked is the third section, which has the potential to disrupt millions of dollars in federal online advertising spending across the executive branch if a mandated Justice Department review determines that online platforms like Facebook and Twitter are "problematic vehicles for government speech due to viewpoint discrimination, deception to consumers, or other bad practices."
Because it's unclear what parameters the Justice Department will use to make this determination and what exactly would happen if it deems a platform "problematic," U.S. armed forces recruitment offices, which have escalated spending on TikTok and other social media networks to reach young people, are left in limbo as they face the possibility of having to remake their digital-first strategies. The Justice Department did not respond to a question asking it to clarify how it will conduct its reviews.
Liz Carmo, the vice president of the military market at Refuel Agency, a media and marketing agency that works with companies to reach the military consumer audience, said one of the best ways to engage and find potential new recruits is through community-based platforms such as Facebook, Instagram and Snapchat because users highly customize what they see in their feeds. 
"They have chosen their friends; they've chosen what they're going to follow," said Carmo, whose agency has also worked with several Defense Department agencies to reach potential recruits. "So that's going to be hard, losing that piece."
Cmdr. Lara Bollinger, the Navy Recruiting Command's public affairs officer, said via email that the Navy's digital-first approach is most popular with those 17-24 years old on YouTube, Twitter, Facebook, Snapchat and Instagram. According to the Pentagon's latest data, in 2018, about 45.6 percent of active-duty military members are age 25 or younger, or mostly from Generation Z, while 46.5 percent are millennials between the age of 26 and 40.
Leslie Brown, the chief of public affairs at the Air Force Recruiting Service, which includes the newly created U.S. Space Force, said social media is playing an even more integral role in their recruitment process during the COVID-19 outbreak. 
Military advertising also aims to reach enlisted members who are coming to the end of their term and weighing whether they should re-enlist, and a report by Refuel also shows the value in advertising to active-duty members on social media. Active-duty military members reported spending 8.8 hours on average daily on Facebook, compared to 6.8 hours by the general population, per numbers by web analytics company SimilarWeb cited by Refuel.
The Refuel report also shows that social media advertisements yield the best recall among military consumers. In an online survey Refuel conducted from Jan. 27-Feb. 17 among nearly 2,000 military consumers, 46 percent of active-duty members said they pay attention to social media advertisements, with 39 percent saying such ads have influenced them to buy a product or service in the past month -- the highest response among all other advertisements tested, such as online video and military print ads.
Although it's uncertain how budgets could be impacted by the DOJ's review of spending, Carmo said Refuel is preparing for a world where spending on social media platforms like Facebook is cut -- which would leave marketers to focus on awareness-driven platforms like YouTube, Hulu and Spotify. 
The potential change to recruitment marketing comes as the coronavirus pandemic continues to cancel in-person networking events, which the military also relies on to woo new recruits into its ranks, Carmo said.
"It's a bad perfect storm of what's going on right now," she said.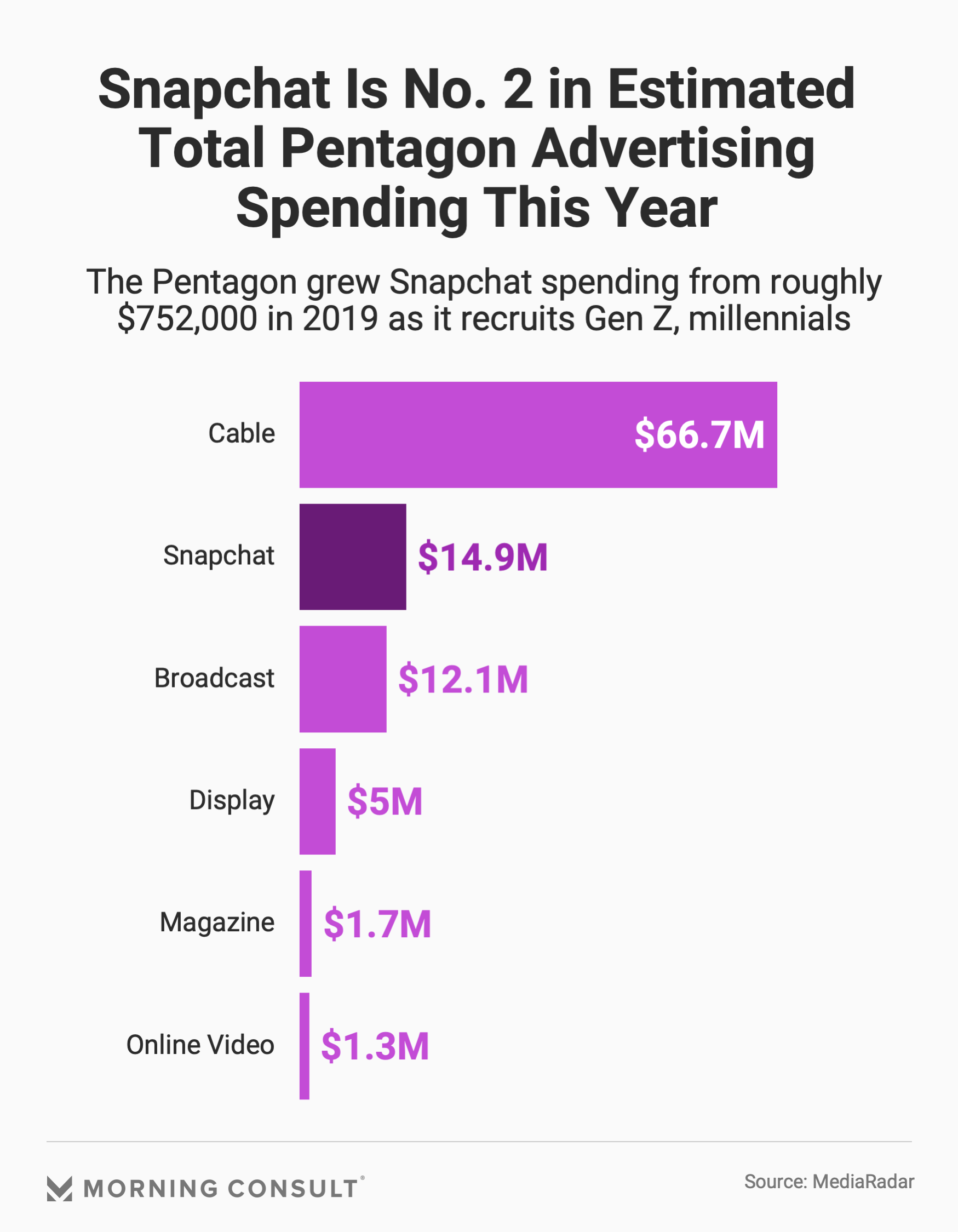 In statements to Morning Consult, representatives from each of the military branches' recruiting offices said that social media plays an integral role in recruitment but did not comment on how the order might impact them. Laura DeFrancisco, public affairs chief of the Army Enterprise Marketing Office, said the team remains "flexible to adjust our strategy as needed." 
Military budget documents do not disclose how much of the advertising budget goes toward the kinds of paid social media advertisements that will be reviewed by the Justice Department, but Lt. Col. Christian Devine, national director of marketing and communication strategy at the Marine Corps Recruiting Command, said by email that the Marine Corps dedicates 10 percent of its advertising budget to digital sites. Spokespeople for the other military branches did not answer questions about their digital ad budgets.  
Data from ad sales intelligence platform MediaRadar compiled by Refuel shows that the Defense Department's spending on Snapchat ads is expected to grow from $752,426 in 2019 to $14.9 million this year. For 2020, the Pentagon's spending on Snapchat, the only social media platform available in the analysis, is only expected to be beat only by its cable advertising budget of $66.7 million.
If the DOJ review of military digital ad spending under the executive order ends up restricting the armed services' ability to reach young people on social media, "they're going to have to get very creative," Carmo said. 
Sam Sabin previously worked at Morning Consult as a reporter covering tech.
We want to hear from you. Reach out to this author or your Morning Consult team with any questions or comments.
Contact Us