U.S. Coronavirus Response Has More Public Support Than Handling of Ebola in 2014
4 in 5 voters approve of CDC's handling of coronavirus, compared to about 2 in 5 during 2014 Ebola outbreak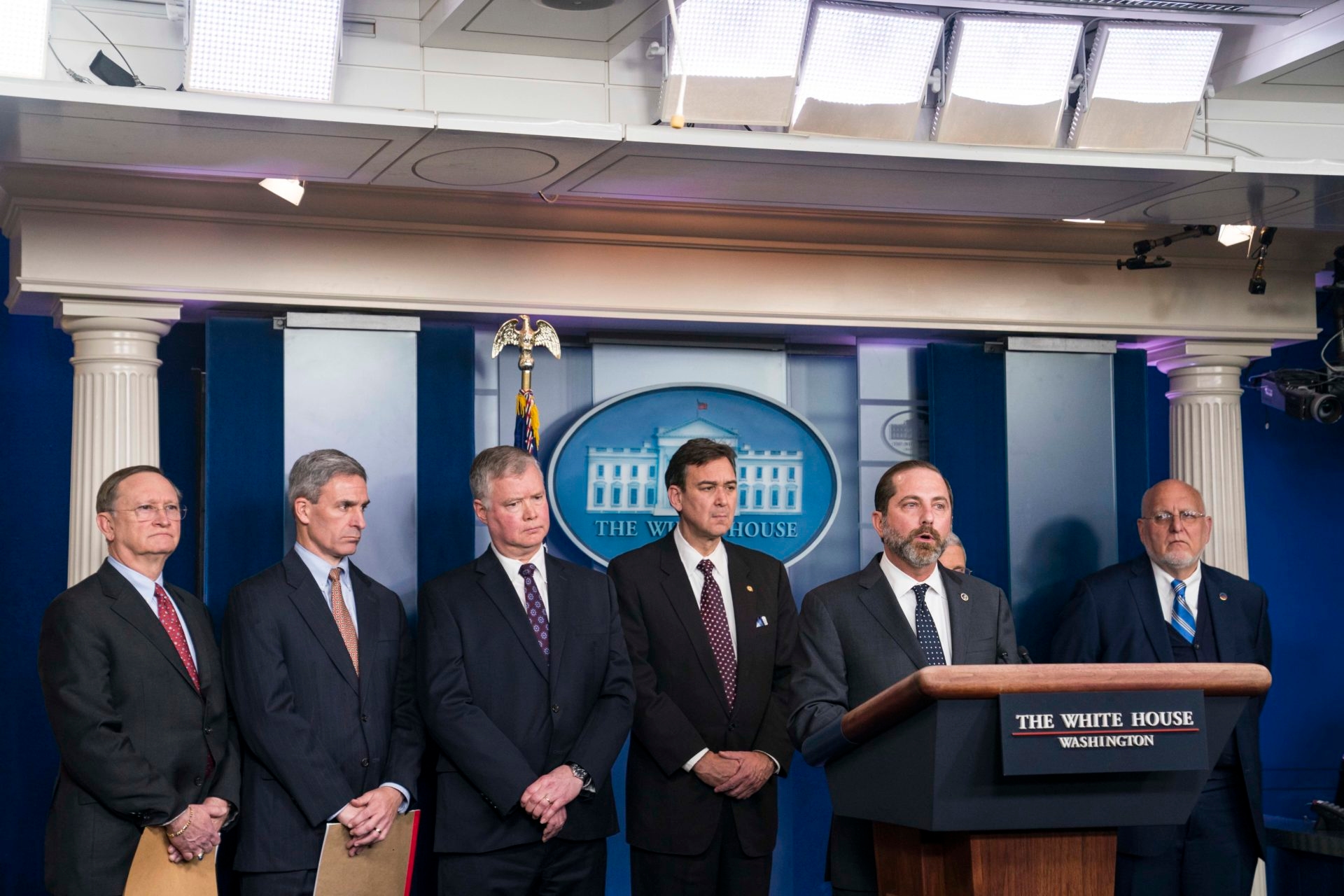 Key Takeaways
61 percent of voters, including 38 percent of Democrats, approve of Trump's handling of the coronavirus.

Among Republicans, 72% say the U.S. government is doing the right amount to address coronavirus, while in October 2014, 76% said the government needed to do more for Ebola.
With the number of confirmed cases of the novel coronavirus in the United States crossing a dozen and rising, the Centers for Disease Control and Prevention and other Trump administration officials have been providing frequent updates on their response to an epidemic that has now taken more than 1,000 lives worldwide, and polling shows the American public is supportive of the government's handling of the illness so far.
In a Morning Consult poll of 1,991 registered voters, 4 in 5 respondents said they approved of how the CDC is handling the spread of coronavirus in the United States, with strong support across all political affiliations. Sixty-one percent approve of President Donald Trump's response so far, and an equal share believe the U.S. government is doing the right amount to address the outbreak of the coronavirus, while 23 percent say the government could be doing more. The survey was conducted Feb. 7-9 and has a margin of error of 2 percentage points.
The measures that federal health agencies have taken to protect the United States from the coronavirus — such as temporarily banning entry of foreign nationals who have visited Wuhan, China, and mandatory quarantine for U.S. citizens returning from the region — have in some cases surpassed even the World Health Organization's recommendations, but have been well-received by Americans. Health and Human Services Secretary Alex Azar has consistently explained that while the threat to Americans remains low, such actions reflect an effort to keep it that way. HHS has notified Congress it may need to transfer as much as $136 million to address the coronavirus outbreak, but so far has not requested additional emergency supplemental funding from the House Appropriations Committee.
Trump has kept a notable distance from the issue, entrusting members of his cabinet, including Azar and Secretary of State Mike Pompeo, to manage the American response.
Those high numbers of support and general satisfaction with the U.S. response stand in stark contrast to public sentiment during the 2014 Ebola outbreak, which reached the United States just months before midterm elections, falling in the middle of former President Barack Obama's second term. In a Morning Consult poll from Oct. 17-21, 2014, 39 percent of 1,839 likely voters approved of both the CDC's and Obama's job in handling the Ebola outbreak, driven by high disapproval from Republicans in both cases. And 62 percent of likely voters overall during that outbreak felt the United States should be doing more.
While there had been just three confirmed cases of Ebola in the United States at the time the 2014 survey was taken (there are currently at least 15 U.S. cases of the coronavirus), the political climate was very different. Ahead of the election, throughout fall 2014, Republicans seized on the Obama administration's failure to prevent Ebola from reaching American shores as an opportunity to claim victory in the midterms.
Then-Senate candidates -- including Republican Sens. Joni Ernst (Iowa), David Perdue (Ga.) and Thom Tillis (N.C.) -- made calls for Obama to impose restrictions on travelers from affected West African countries, and Democratic lawmakers attempting to pin the outbreak on GOP-led cuts to health agencies were overpowered by Republican messaging on the president's failure to manage a global threat of that scale. In November, Republicans enjoyed historic victories in both chambers of Congress, with a net gain of nine Senate and 13 House seats.
The "October surprise" of Ebola, as it came to be known during the midterm season, suggests not even a disease outbreak is apolitical, especially as proximity to an election increases. But so far, the reaction to the coronavirus outbreak on Capitol Hill has not splintered too deeply along party lines. While some Senate Democrats have raised concern about poor communication between federal and state health agencies, they have been largely supportive of the CDC.
The Democratic electorate has also been more forgiving of Trump's efforts than Republican voters were of Obama's in 2014: 36 percent of Democratic voters disapprove of the current president's handling of the coronavirus, while 74 percent of Republicans — more than twice as many — disapproved of Obama's approach in 2014.
By October 2014, the Obama administration had implemented enhanced screenings at most airports receiving passengers from West Africa, deployed troops to help with the international Ebola response, appointed Ron Klain as the Ebola response coordinator and initiated work on a vaccine. Obama requested $6.2 billion from Congress on Nov. 6, 2014, roughly two weeks after the survey was taken.
Yusra Murad previously worked at Morning Consult as a reporter covering health.
We want to hear from you. Reach out to this author or your Morning Consult team with any questions or comments.
Contact Us