Upstart Online Florists Find a Way to Flourish by Touting Social Responsibility
But a new poll suggests price could stifle consumer enthusiasm for buying domestically grown plants
With each Valentine's Day season bringing in a flood of cut flowers from countries like Colombia and Ecuador, several U.S. retailers are furthering an eco-friendly trend within the $3.1 billion online flower delivery market by promoting an environmentally and socially responsible message as they offer product transparency and American plants.
But a Morning Consult survey shows that while many U.S. consumers support the idea of locally sourced stems, thus limiting the product's carbon footprint, they're generally not willing to pay more for them.
That doesn't stop experts from predicting that the marketing trend will serve vendors well in the future, however, as consumer interest in environmentally conscious flowers is expected to grow.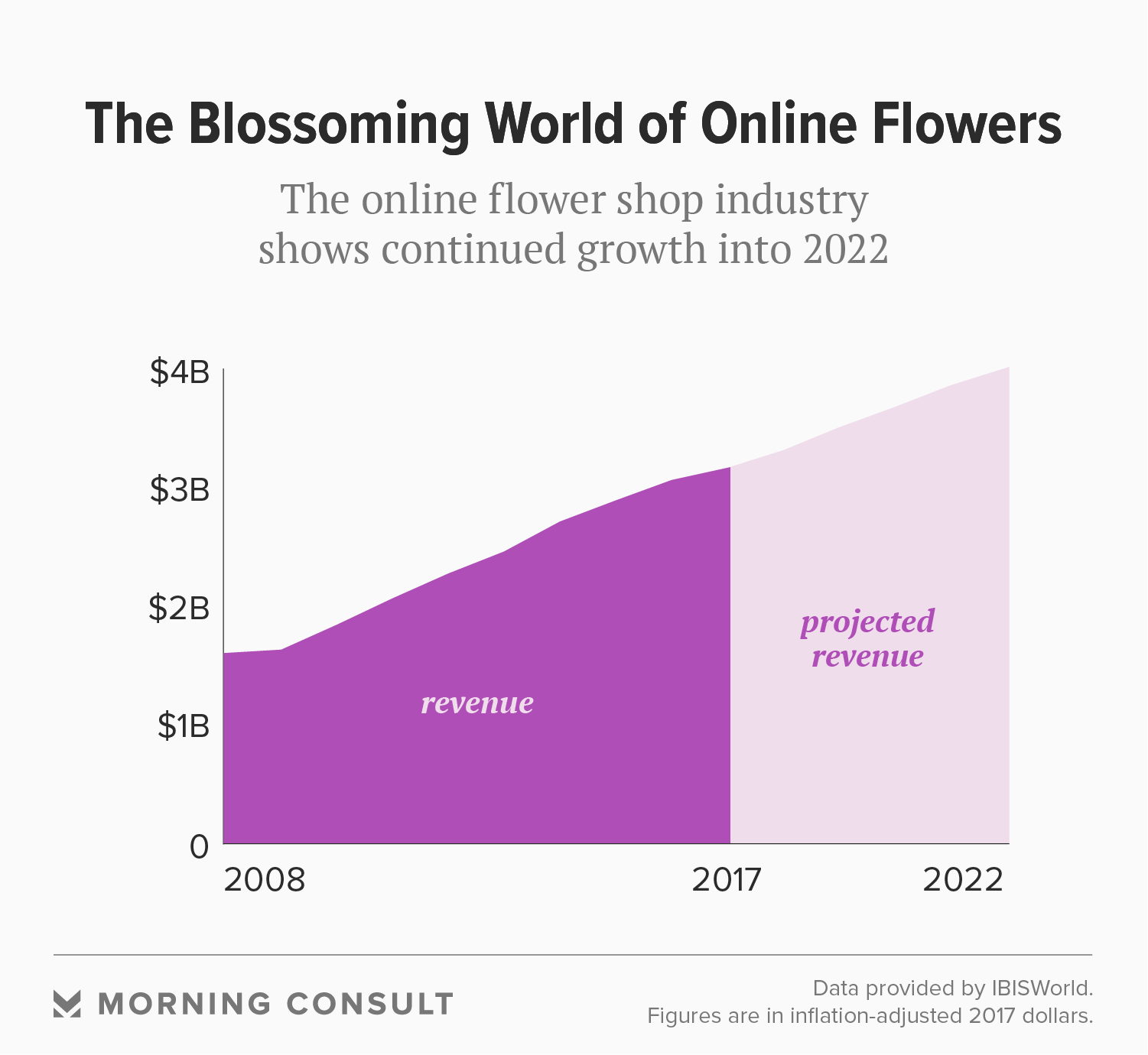 Overall, the U.S. floral industry has been flourishing online, where retailers selling both cut flowers and live plants generated $3.14 billion in revenue last year, from $1.57 billion nine years ago, according to the market research firm IBISWorld. Revenue for the plant and flower industry as a whole was $13.6 billion in 2017, according to IBISWorld.
The Society of American Florists says imports account for 70 percent to 80 percent of flowers sold in the United States, and that figure is closer to 90 percent for roses.
As the online floral industry has expanded, it has made room for relative newcomers such as The Bouqs Company, founded in 2012, and Farmgirl Flowers, which opened in 2010, according to Anya Cohen, a research analyst at IBISWorld.
Those brands are among the larger upstarts and are savvy to what their audiences want, Cohen said, by casting themselves as socially responsible purveyors of plants.
"They're responding to a bigger consumer trend by implementing it within the florist industry," Cohen said in a Jan. 25 interview.
Both Farmgirl Flowers, which is based in San Francisco, and Los Angeles-based Bouqs offer domestically and internationally grown products, but they specify where their plants are grown and provide profiles of some of the farmers.
Delivery bouquets from boutique shops tend to cost more than at their larger, established competitors like 1-800-Flowers.com Inc., which is based in Carle Place, N.Y., and FTD Companies Inc. in Downers Grove, Ill.
A Valentine's Day order of a dozen red roses, with a vase, sourced from a U.S. farm from Bouqs costs $87 before tax. An order from 1-800-Flowers.com Inc., which doesn't specify the origin of the roses, costs $69.97 before tax.
Farmgirl Flowers said its customers don't balk at higher prices for domestic flowers, noting that its "Grown in the USA Bouquet" sells well despite costing $10 more than comparable bouquets on the site. But the company had to transition from using solely U.S. farms to adding foreign growers because it lacked adequate supplies at home.
Many U.S. adults, regardless of age, embrace the idea of buying American when it comes to flowers, according to a Morning Consult poll of 2,201 consumers conducted Feb. 1-4.
A 44 percent plurality said they prefer locally sourced flowers when purchasing bouquets. Ten percent said they didn't have that preference, and 37 percent said it makes no difference. The poll has a margin of error of plus or minus 2 percentage points.
But consumers are more hesitant when it comes to paying more for such buds. Thirty-nine percent of respondents said they would not pay more for locally sourced flowers, compared with 34 percent who said they would.
Consumers who were most willing to pay a premium for locally grown bouquets were in the 30-44 age group. Forty-one percent said they would pay more; 34 percent said they would not.
"We simply couldn't get enough flowers to allow us to continue to grow," Farmgirl Flowers Founder and Chief Executive Christina Stembel said by email Feb. 8.
When asked about its financials, the privately held company pointed to a Forbes article from December that said it was expected to generate $15 million in revenue in 2017.
In a Feb. 12 email, Bouqs founder and CEO John Tabis declined to reveal the privately held company's financials, but said he believes the floral industry is "going more in the direction of what our mission is -- more de-commoditizing of the industry as a whole, more involvement of responsible growers and more transparency in sourcing."
Representatives for 1-800-Flowers.com and FTD did not respond to requests for comment on the state of the industry.
Joanna Piacenza leads Industry Analysis at Morning Consult. Prior to joining Morning Consult, she was an editor at the Public Religion Research Institute, conducting research at the intersection of religion, culture and public policy. Joanna graduated from the University of Wisconsin-Madison with a bachelor's degree in journalism and mass communications and holds a master's degree in religious studies from the University of Colorado Boulder. For speaking opportunities and booking requests, please email [email protected].
We want to hear from you. Reach out to this author or your Morning Consult team with any questions or comments.
Contact Us