Capitol Riot Reverses Positive Trend in America's Global Reputation That Followed Biden's Victory
Favorability for the United States fell in a dozen countries following Jan. 6 acts of insurrection
America's global popularity was generally on the upswing after Joe Biden secured his victory in early November. But following the dramatic scenes of a Jan. 6 riot on Capitol Hill -- prompted in part by President Donald Trump's anti-democratic rhetoric rejecting the legitimacy of the 2020 presidential election -- those reputational gains have taken a hit. 
According to Morning Consult Political Intelligence polling that tracks sentiment about the United States in 14 other countries, the share of adults with favorable views of the United States is lower in Australia, Canada, India, Mexico, Japan and the United Kingdom than it was when Biden was declared the winner on Nov. 7, while improvements made over the course of two months in France, Italy, South Korea and Spain were largely wiped out after the Capitol riot.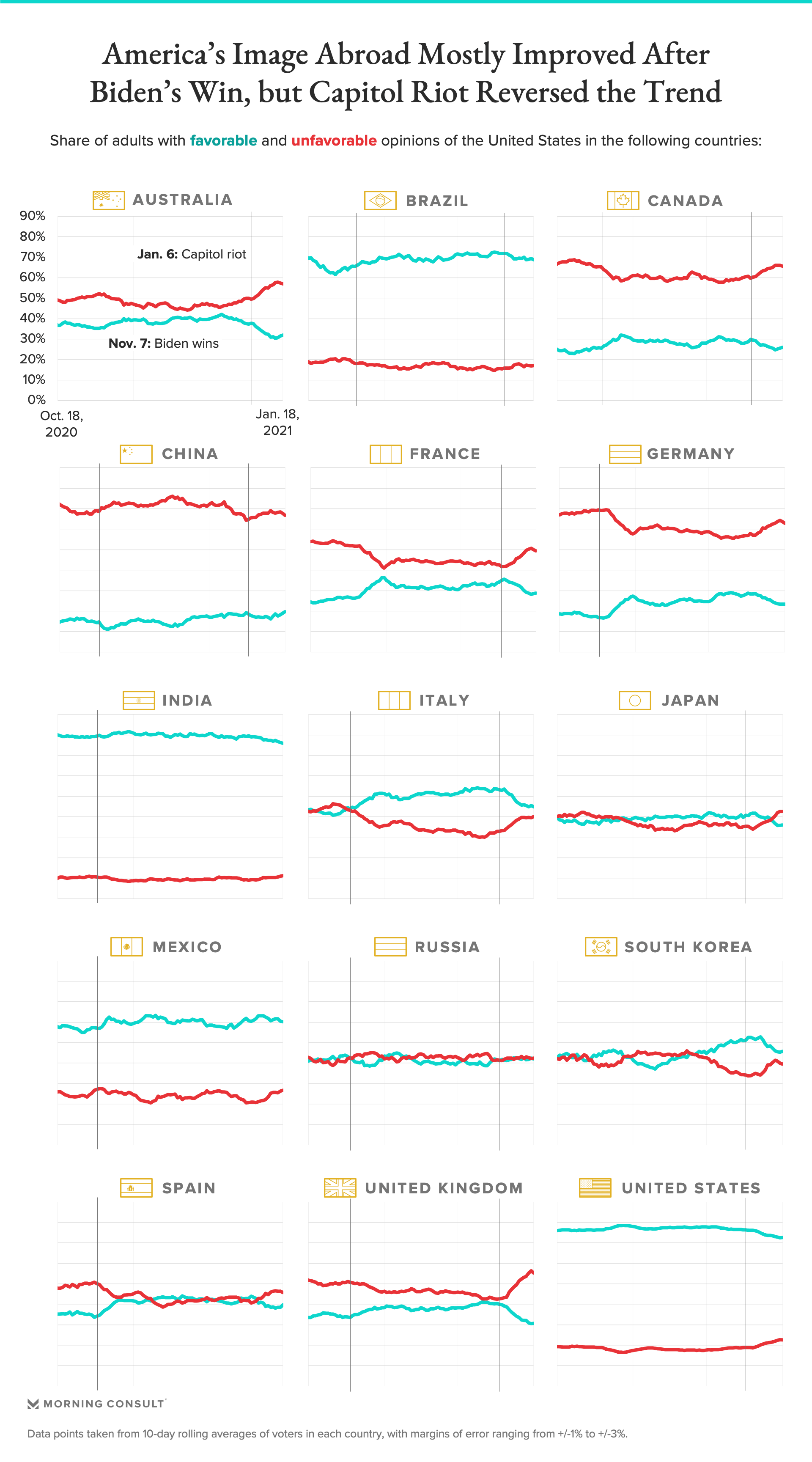 The Jan. 9-18 surveys found that the events of Jan. 6 took the biggest toll on America's reputation in the United Kingdom, the country responsible for the previous attack on the Capitol during the War of 1812. America's net favorability -- the share with favorable views minus the share with unfavorable views -- dropped 22 percentage points among British respondents compared with responses gathered Dec. 27 through Jan. 5. 
Over the same time period, America's net favorability faced double-digit declines among adults in Australia, Canada, France, Germany, Italy, Japan, South Korea and Spain -- all places with much to gain from Biden's plans to re-engage globally and bolster relationships in Europe and Asia in order to counter the influence of Russia and China.
Other data also indicates that the hits to America's popularity in parts of Europe are tied to the political turmoil -- not Biden's ascendance. A recent survey from Pew Research Center found that adults in France, Germany and the United Kingdom have more confidence in Biden to do the right thing with regard to world affairs than Trump. 
In countries whose leaders have an adversarial posture toward the United States, the Jan. 6 attack has done little to change minds: In Russia, adults are split evenly, at 42 percent, when asked whether they have a favorable or unfavorable view of the United States. And in China, two-thirds of adults (67 percent) have unfavorable views of the United States, statistically unchanged since before the Capitol attack but down 4 points from the day Biden was declared the election's winner.
Throughout the polling, the United States gets its best marks from adults in India, followed by Brazil.
Closer to home, America's net favorability is 33 points in Mexico, where 60 percent hold favorable views. But it is 40 points underwater in Canada, where 66 percent hold unfavorable views. 
Domestically, 73 percent of Americans view their own country favorably, down 3 points since the day before the Capitol riot and down 4 points from Nov. 7.
Eli Yokley is Morning Consult's U.S. politics analyst. Prior to his current role, Eli was Morning Consult's senior reporter covering U.S. politics. Eli joined Morning Consult in 2016 from Roll Call, where he reported on House and Senate campaigns after five years of covering state-level politics in the Show Me State while studying at the University of Missouri in Columbia, including contributions to The New York Times, Politico and The Daily Beast. Follow him on Twitter @eyokley. Interested in connecting with Eli to discuss his analysis or for a media engagement or speaking opportunity? Email [email protected].
We want to hear from you. Reach out to this author or your Morning Consult team with any questions or comments.
Contact Us