Nascent U.S. Sports Betting Industry Has Long Way to Go in Attracting Casual Fans, Super Bowl Research Shows
Adults in non-legalized betting states are just as likely to bet on Super Bowl LV as those in legal states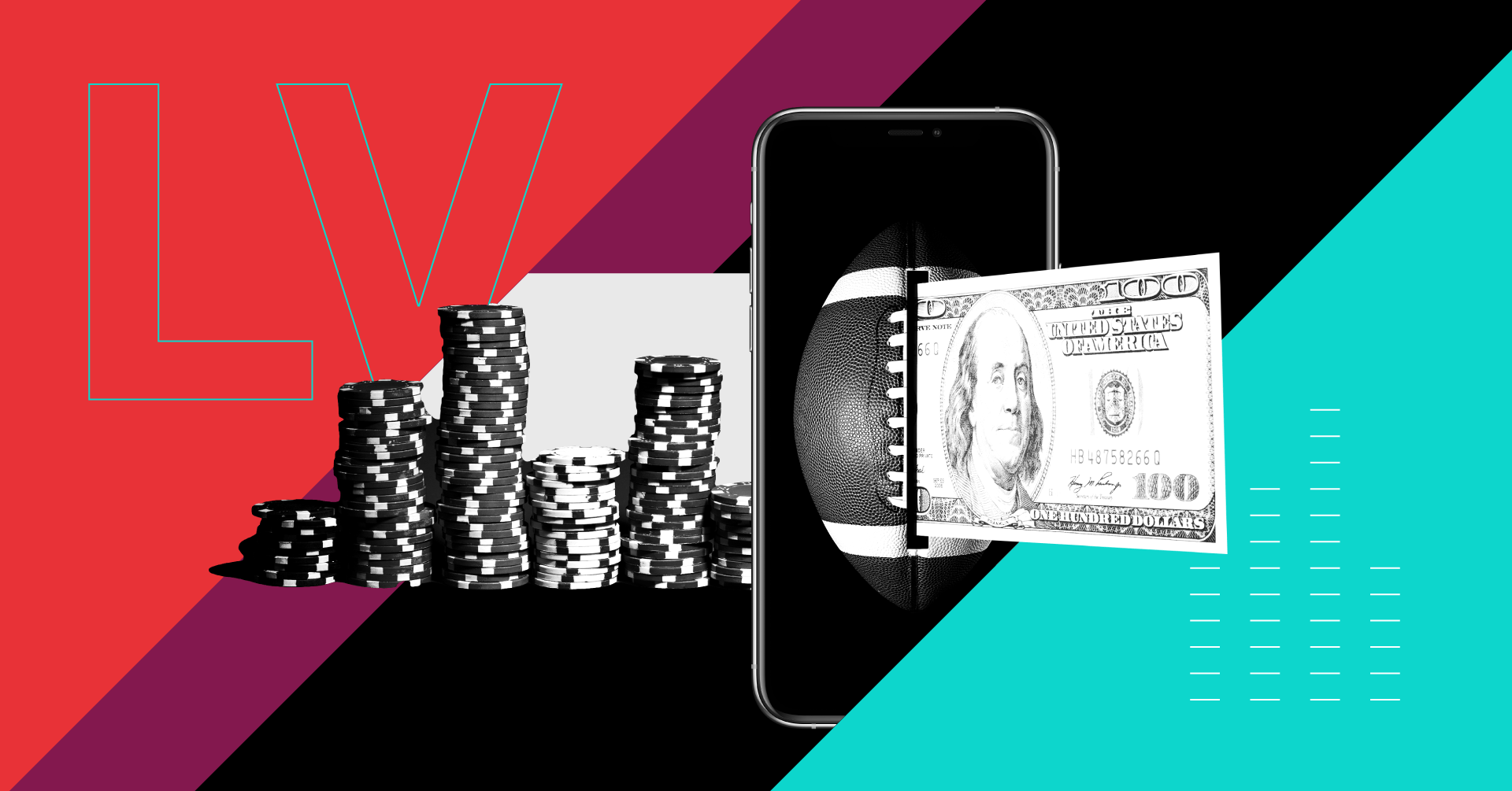 Key Takeaways
16% of Americans and 22% of likely Super Bowl viewers expect to bet on the Chiefs-Buccaneers showdown.

10% of U.S. adults and 13% of adult sports fans place monetary wagers at least once a month.

52% of adults living in states where sports betting is legal don't know they're allowed to bet on sports.
Since last year's Super Bowl, six more states and Washington D.C. have launched legal sports betting, giving 36 million more adults the ability to lawfully wager on Sunday's game. New research indicates, however, that many of these potential bettors haven't gotten the memo.
In a poll conducted by Morning Consult, 16 percent of U.S. adults said they plan to place some sort of monetary wager on Sunday's game between the Kansas City Chiefs and Tampa Bay Buccaneers, whether it be online or mobile, at a brick-and-mortar casino, in a pool with family and friends or in a daily fantasy contest. Among Americans who said they're likely to watch, roughly 1 in 5 expect to bet on the game.
Interestingly, residents of the 19 legal and active sports betting states, plus Washington D.C., weren't any more likely to bet on the Super Bowl than those living in states where gambling on sports has yet to gain government approval.
Even outside of the Super Bowl, an event that appeals to the most casual sports fans and inexperienced bettors, the share of people betting on sports in legal states at least once a month -- 10 percent -- is the same as in states in which gambling isn't regulated.
Industry experts and stakeholders believe it is still too early in most legal betting states to expect a significant number of people who weren't previously betting elsewhere to start wagering now that it is legal. After all, it's been less than three years since the Supreme Court struck down the Professional and Amateur Sports Protection Act of 1992. Before March 2018, Nevada was the only place in the United States to place a sports bet legally. 
Aubrey Levy, head of marketing and content for Canada-based media company-turned-sportsbook TheScore, said the industry isn't yet at the point of attracting casual bettors or fans.
"I think we're largely in the place of satisfying sports bettors by giving them an easier legal way to do it," Levy said.
Chris Grove, who oversees the sports betting practice for gaming consultancy Eilers & Krejcik Gaming, LLC, estimated that it will take an average of three-and-a-half to five years for most states to reach what he called "baseline maturity," or the point at which revenue stops increasing by double-digits each year. 
"People who are already interested in betting are going to gravitate toward the product first in the earliest stages of that ramp," Grove said. "Then it's going to take more and more spend, more and more exposure, and more and more time for people who need to be educated about betting, need to be motivated to bet, need to be reminded that they're interested in betting because it is a peripheral interest."
Another indication that legal sports betting has yet to reach the mainstream: The majority of respondents living in a legal betting state or Washington, D.C., weren't aware that betting on sports was legal in their states. While 48 percent of legal-state residents said betting on sports was allowed in their state, 43 percent said they weren't sure and 10 percent said sports betting was illegal.
While Grove acknowledged that major players in the space like DraftKings and FanDuel spend millions on marketing, operators still haven't had the capacity to devote time and resources to educating non-bettors on the legality of sports betting and how to play given the effort that is being put into becoming operational in each new legal state.
"There's just so much on the desk for every one of these companies, every day, that there's not really a lot of time or bandwidth for more esoteric pursuits like educating," Grove said of the intricacies firms face in becoming legal and operational in every state.
Given the Super Bowl's massive reach, sportsbook operators view this week as a major opportunity for customer acquisition. DraftKings will run its first-ever in-game ad during CBS' telecast Sunday, with 30 seconds of airtime costing a reported $5.5 million. Most sportsbooks are offering their best promotions of the year, from "odds boosts" to free bets.
In addition to leveraging its media arm to promote wagering opportunities, TheScore is leaning into the matchup between Tom Brady and Patrick Mahomes by offering customers who bet on either quarterback to throw more touchdown passes than the other an additional $7 per touchdown, among other promotional incentives.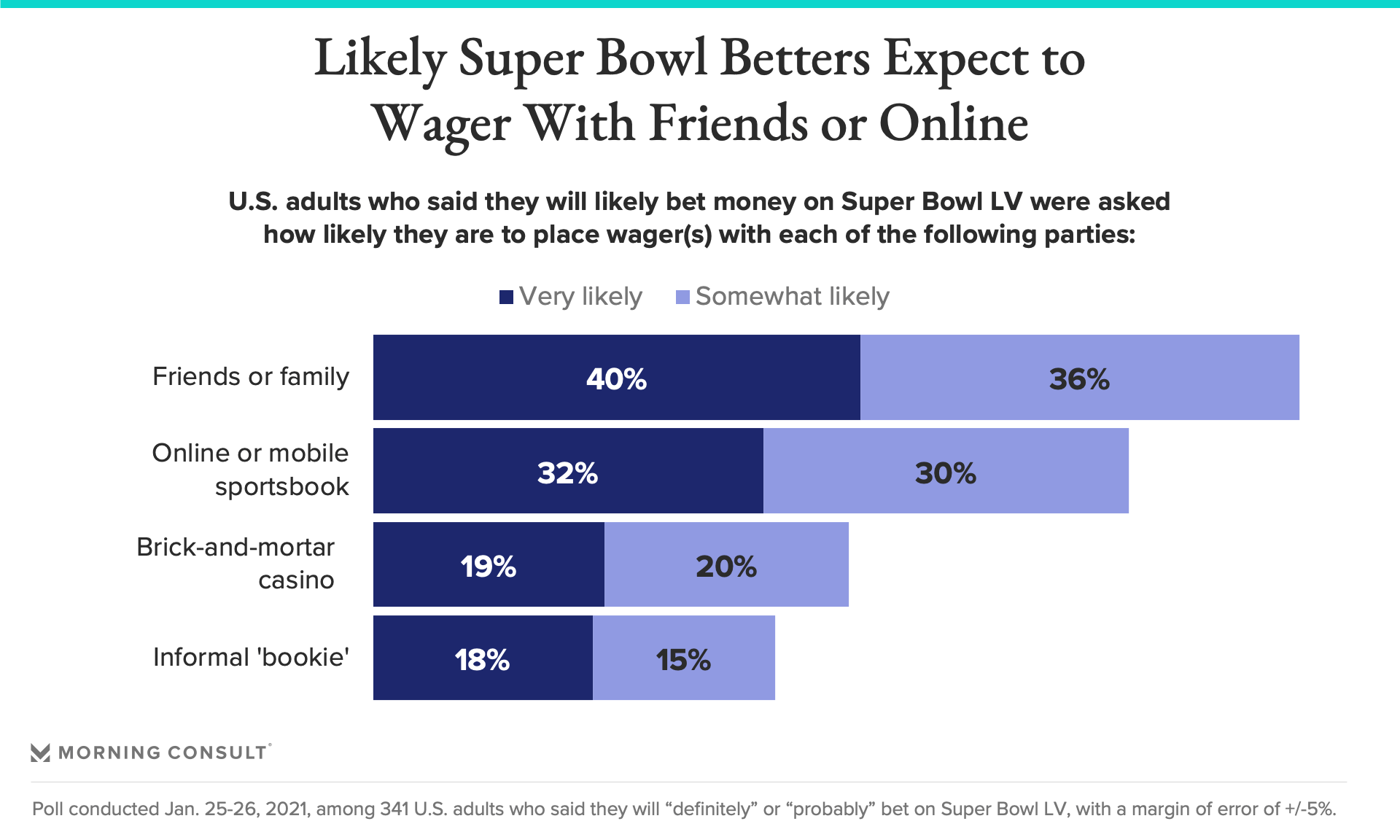 In the Jan. 25-26 survey, 76 percent of those who said they expect to bet on Sunday's game said they were likely to do so with friends and family, while 62 percent said they would bet with an online or mobile sportsbook. Less than 40 percent of likely bettors said they might head to a brick-and-mortar casino to place a bet, while 33 percent will bet via an informal "bookie."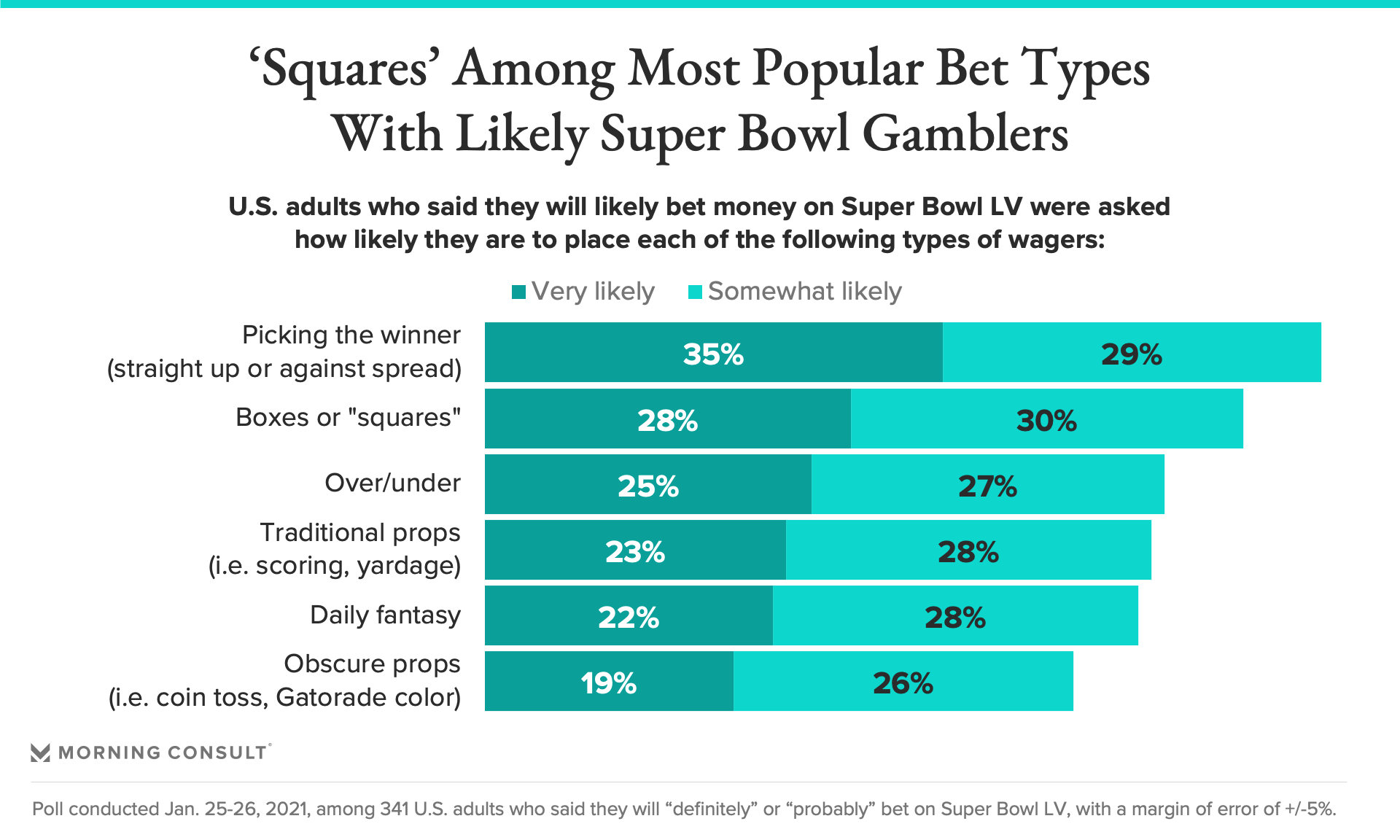 Meanwhile, nearly 2 in 3 probable bettors said they are likely to bet on the winner of the game, while 58 percent said they would likely enter a grid-based pool featuring "boxes" or "squares." While these pools might constitute illegal private lotteries in some states, according to Baruch College professor Marc Edelman, their popularity exemplifies the appeal of easy-to-understand wagering opportunities to a mass audience.
Grove is confident that, in time, U.S. sportsbook operators will put more effort into developing creative offerings for casual bettors. 
"You'll certainly see sportsbooks with more sophisticated ways to let people engage with gambling on Super Bowl outcomes beyond just +110 or -110, or a couple of player props," Grove said. "The deficit of creativity at this point, again, is a function of everyone just trying to get their bare minimum to be up and operating in all these states."
Alex Silverman previously worked at Morning Consult as a reporter covering the business of sports.
We want to hear from you. Reach out to this author or your Morning Consult team with any questions or comments.
Contact Us