Pence's Televised COVID-19 Inoculation Wasn't a Shot in the Arm for Vaccine Acceptance
Among GOP and general public, willingness to get vaccinated is essentially unchanged from previous week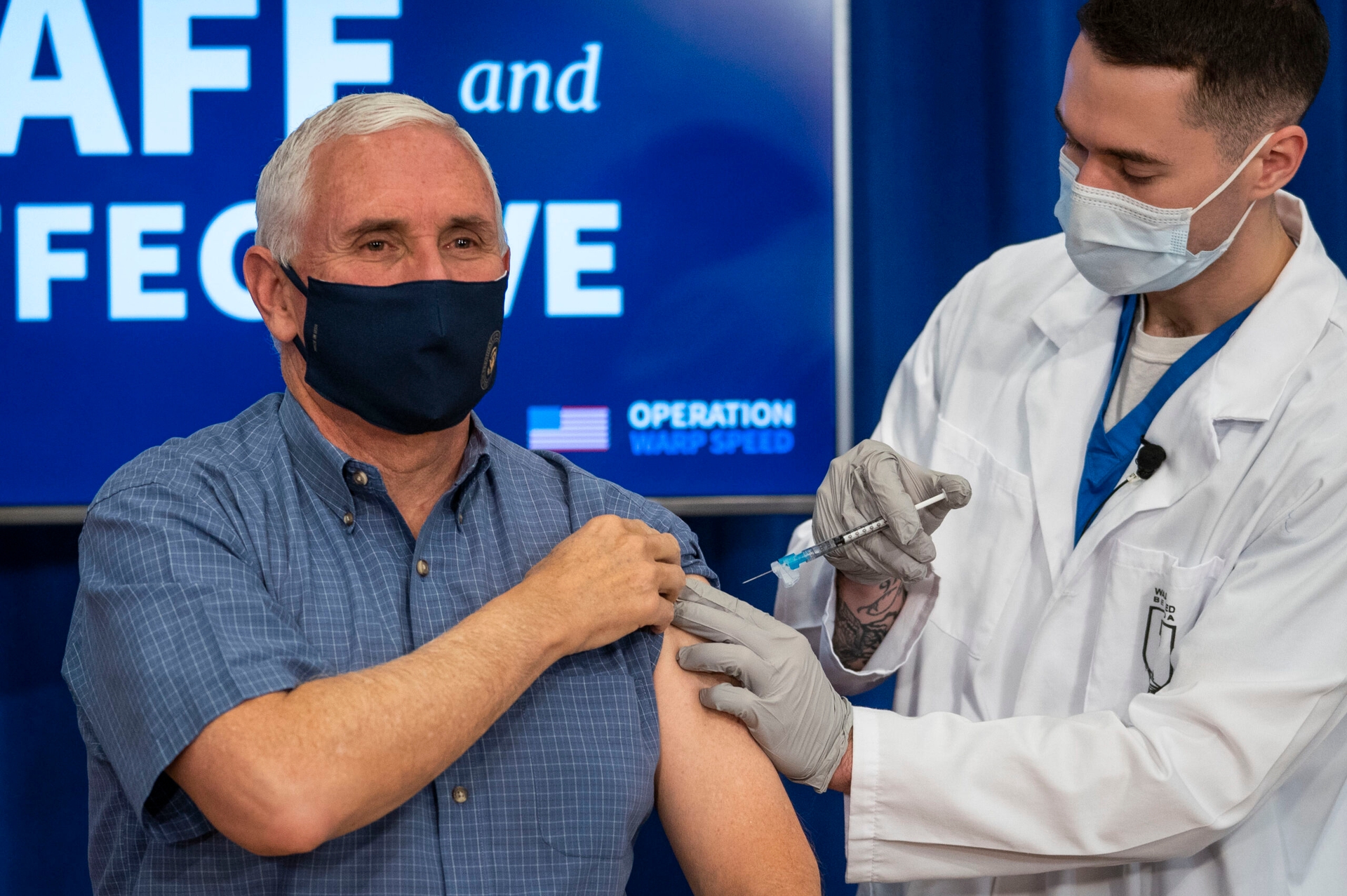 Key Takeaways
56% of U.S. adults said they would get a coronavirus vaccine if one became available, up 2 points from a week earlier.

Vaccine acceptance among GOP adults increased 1 point to 48% during the same period.
Vice President Mike Pence received a COVID-19 vaccine on live television Friday in an effort to promote the shot's safety and encourage the public to get one once it's available to them. New polling shows, however, that Pence's move did little to boost the public's willingness to get inoculated -- including among members of his own party.
In a Morning Consult survey conducted Dec. 17-19 among 2,201 U.S. adults, 56 percent said they would get a coronavirus vaccine if one became available: the highest level since Aug. 31 but just an increase of 2 percentage points from the previous week and within the poll's 2-point margin of error.
A quarter of adults said they would not get the vaccine, and 19 percent did not know or had no opinion on the matter. 
Vaccine willingness among Democrats remained roughly the same, at 64 percent, compared to the previous week, while just over half of independents (51 percent) said the same, a 6-point increase from a week earlier. 
Despite Pence's inoculation, the willingness among GOP adults to get the vaccine was about the same: 48 percent said they would get a coronavirus shot, compared to 47 percent a week earlier. A third of Republicans in the newest poll said they would not get the vaccine, and 18 percent didn't know or had no opinion.
Pence's vaccination came as other high-profile politicians, including former Presidents Barack Obama, George W. Bush and Bill Clinton, have all pledged to receive the coronavirus shot in public to convince skeptics to get inoculated. President-elect Joe Biden received a vaccination Monday afternoon. 
Health officials have also considered tapping celebrities to get vaccinated in efforts to promote wide-scale vaccination, though a Dec. 10-15 Morning Consult survey showed adults are most likely to be swayed by their own family members or public health leaders, such as Dr. Anthony Fauci, the director of the National Institute of Allergy and Infectious Diseases. 
An exception for Republicans could be President Donald Trump, who 41 percent said would make them more likely to get the coronavirus vaccine. Trump, who was hospitalized in October after being diagnosed with COVID-19, has not yet committed to receiving a vaccine.  
While 44 percent of adults in the most recent Morning Consult survey said they don't plan to get the coronavirus vaccine or didn't know if they would, a large portion of the skeptics could change their mind over time once they see others get the shot, according to a recent study by MassINC Polling Group. 
Brian Yermal is a research editor on the Industry Intelligence team, where he edits the team's email newsletters, written analysis and reports. Brian previously worked as a copy editor at the Altoona Mirror newspaper in central Pennsylvania. He graduated from Penn State University with a bachelor's degree in journalism.
We want to hear from you. Reach out to this author or your Morning Consult team with any questions or comments.
Contact Us