A Trend That Worries Health Experts: As U.S. Gets Closer to COVID-19 Vaccine, Fewer People Say They'd Get One
Since the spring, there are double-digit declines among men, women, people of all political parties and residents of all communities who say they'd get vaccinated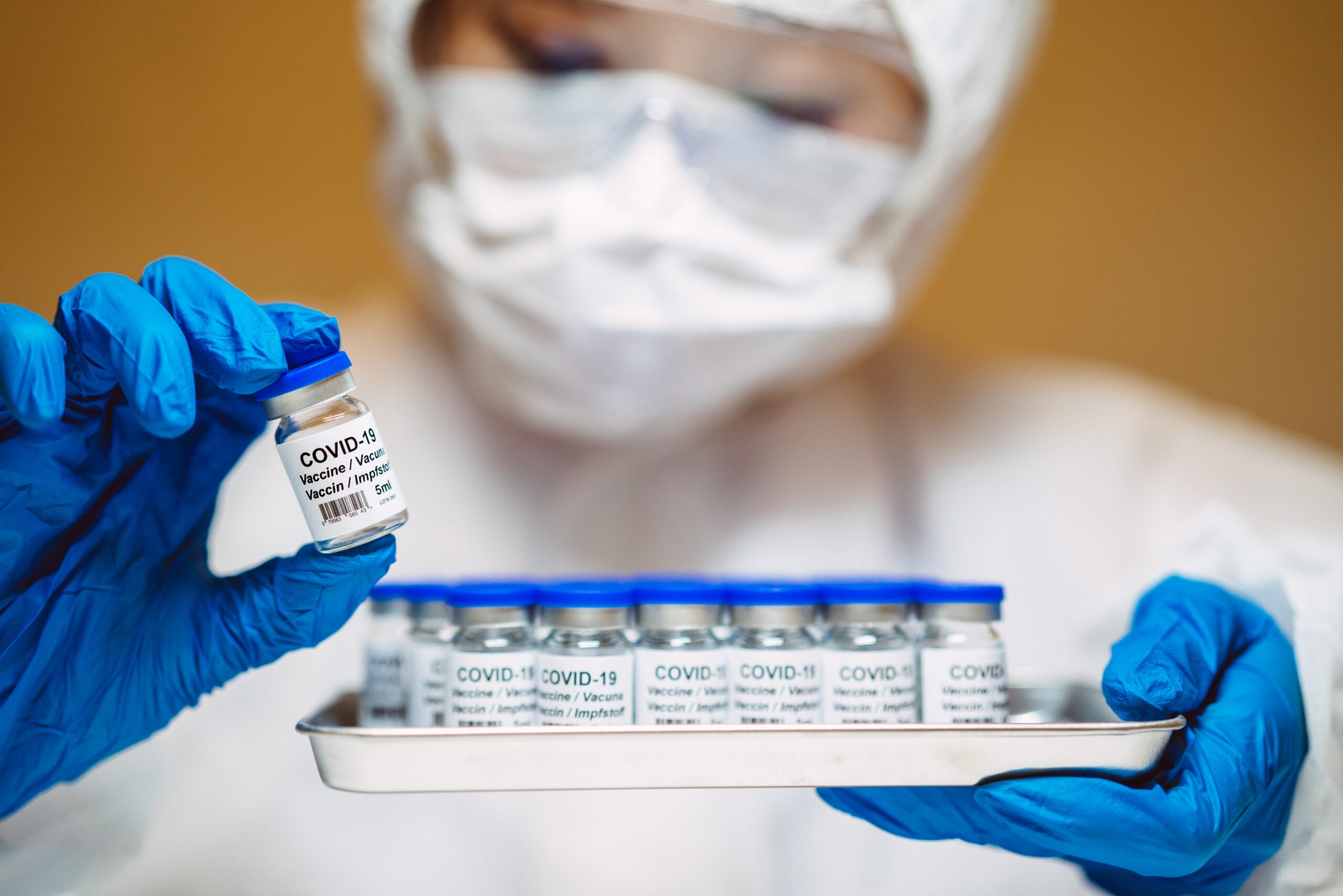 Key Takeaways
51% of U.S. adults say they would get a COVID-19 vaccine if one became available, down from a peak of 72% in early April.

47% of Republicans say they'd get a coronavirus vaccine, a decline of 22 points over the same period, while the share of Democrats who said the same dropped 20 points to 61%.

In early April, 69% of U.S. adults without a college degree said they would get a COVID-19 vaccine if one became available. That share has since declined by 24 points to 45%.
In early April, just weeks after the economy shut down and Americans retreated to their homes in quarantine as the reality of the coronavirus set in, majorities of U.S. adults across political parties, communities, education levels and several other demographic cohorts were largely on the same page when it came to seeking out a medical reprieve from the pandemic.
Asked what they would do if a vaccine that protects from the coronavirus became available, 72 percent of U.S. adults in an April 3-5 survey said they would get vaccinated, which was a quick climb from the 64 percent in a Feb. 28-March 1 poll, when Morning Consult began its weekly tracking of the vaccination question.
But the share of people willing to get the vaccine never rose above 72 percent. What followed that across-the-board rise in public support for inoculation has been a starker drop, even as the number of U.S. coronavirus-related deaths near 200,000 and the number of cases surpass 6 million.
Fifty-one percent of U.S. adults now say in a Sept. 2-6 poll that they would get a COVID-19 vaccination if one became available, representing a decline of 21 percentage points over the past five months. This includes double-digit decreases among men, women, Democrats, Republicans, independents, residents of urban, suburban and rural environments and respondents of all levels of education.
And over the past month alone -- a period in which President Donald Trump has repeatedly promised a vaccine will be delivered by the end of 2020 and possibly before the Nov. 3 election --  the share of adults who say they would get vaccinated has fallen 8 points after public opinion on the matter generally remained steady over the summer. The recent decline has also coincided with questions about the Food and Drug Administration's independence from Trump on coronavirus-related matters. 
The trend in public opinion, if it continues, is troubling to public health experts.
Dr. Bruce Gellin, president of global immunization at the Sabin Vaccine Institute and the former director of the National Vaccine Program Office at the Department of Health and Human Services, cautioned that it's too soon to predict whether people will ultimately get the vaccine, noting that "there's a difference between people's intentions and their actual behavior."
But, he said, the data shows that there is "an urgent need" to understand people's thinking on a coronavirus vaccine so that authorities can develop the right kind of outreach materials that would give people all of the information they would need to make a decision.
Complicating matters is the partisan nature of the public health crisis, as the use of masks was seen by a vocal minority of Americans as a political statement against Trump and as the administration has been accused of pressuring health agencies to expedite the vaccine-approval process.
In mid-March to early April, Democrats (81 percent), Republicans (69 percent) and independents (66 percent) all hit their peak willingness to get a COVID-19 vaccine if one became available, but 61 percent of Democrats, 47 percent of Republicans and 46 percent of independents now say they'd get a coronavirus vaccine if one hits the market.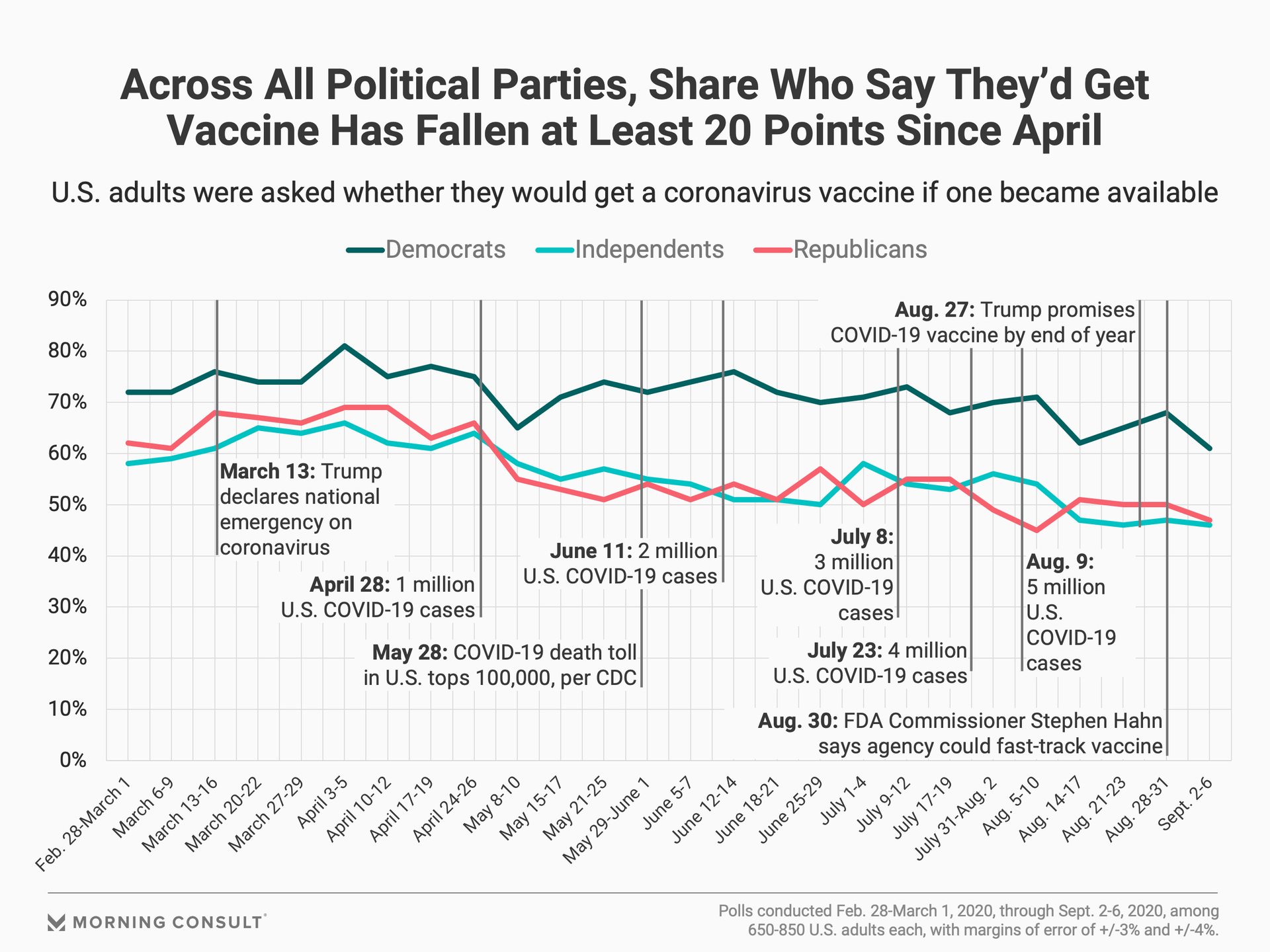 "There's been a lot of anti-science, anti-public health framing of the pandemic in recent times because of the duress" caused by social isolation and economic hardships, said Dr. Monica Schoch-Spana, a medical anthropologist and senior scholar with the Johns Hopkins Center for Health Security.
In a Johns Hopkins study published in July examining the public's role in COVID-19 vaccinations, Schoch-Spana and her co-authors warned that "politicization of the pandemic — both real and perceived — may prime expectations of a partisan-based vaccine allocation rather than an equitable one."
Conflicting reports about the coronavirus' severity -- Trump at one point said "99 percent" of COVID-19 cases were "totally harmless," while experts such as Dr. Anthony Fauci, director of the National Institute of Allergy and Infectious Diseases, have issued grim warnings about the virus' dangers -- could help explain vaccine hesitancy in some quarters.
Schoch-Spana cited the debate over hydroxychloroquine as an example of the confusion the public faces when medical experts are forced to compete with political actors. Hydroxychloroquine, an anti-malarial drug now deemed ineffective in treating COVID-19 by the FDA and the World Health Organization, was nevertheless touted repeatedly by Trump as a game-changer in fighting the virus when research reports at the time offered contradictory evidence as to its effectiveness.
"You also have individuals who have received mixed messages about the severity of the pandemic itself, that it's something that could be a miracle and go away," she said. "So you have this reduced perception of disease risk. People are given less reasons to see the need for a vaccine."
As the trials for several vaccine candidates progress and Trump's end-of-year timeline shortens, all eyes will increasingly turn to the FDA, and the public's trust in the agency's approvals will be put to the test.
FDA Commissioner Dr. Stephen Hahn said in an interview with the Financial Times last week that normal approval processes could be skirted if officials decide that the vaccine's benefits are more substantial than the risks. A subsequent Morning Consult poll found that 28 percent of U.S. adults think the FDA's COVID-19 decisions are politically influenced, while 50 percent said Trump has at least some sway over the agency's choices.
While messaging on mask-wearing, social distancing, how the virus spreads and so many other coronavirus-related issues has been muddled, medical experts and politicians of all stripes have found common ground in vaccination, though waning public trust on vaccine development prompted nine drugmakers this week to issue a statement promising that they would not release a vaccine that hadn't been strenuously vetted.
Early returns on several vaccine candidates that have emerged under expedited research and development cycles have been positive, save for a recent pause in AstraZeneca PLC's trials due to an adverse participant reaction. A joint effort from Moderna Inc. and the National Institutes of Health began Phase 3 human trials in July, while Pfizer Inc.-BioNTech SE and AstraZeneca-University of Oxford collaborations have received billions in funding from the Trump administration and are in the midst of combined Phase 2 and 3 trials.
Gellin created HHS' first pandemic influenza preparedness and response plan in 2005, oversaw the U.S. team that donated and distributed the H1N1 vaccine abroad in 2009 and coordinated the United States' overarching strategy on all facets of vaccines and immunization during his 15-year tenure at the agency. He said he's been impressed, from an outsider's perspective, on the "efforts to develop vaccines that are trying to not take shortcuts but do things in parallel while they're normally done to sequence to shorten timelines."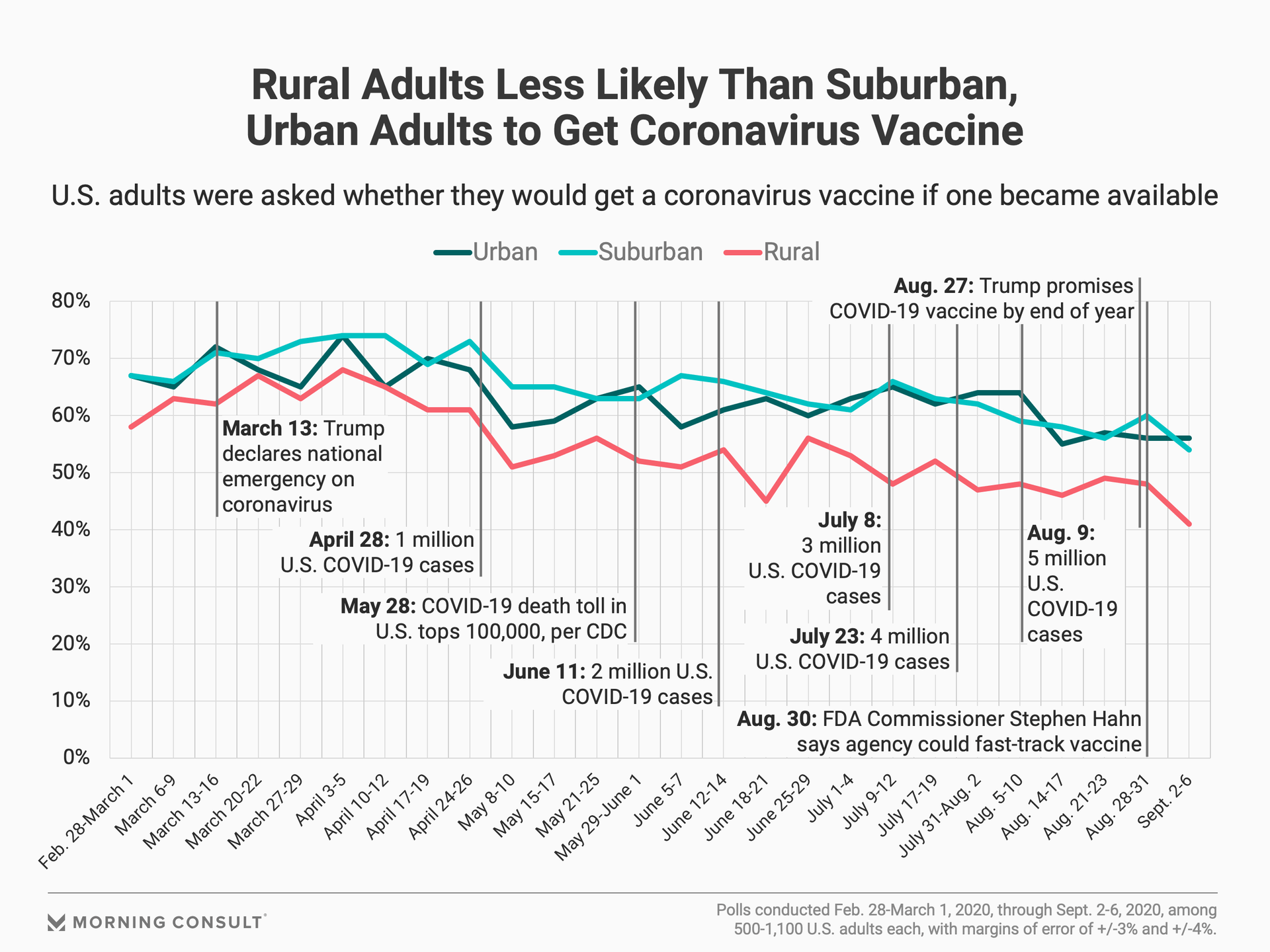 Going forward, how and where Americans access their information about coronavirus vaccine developments may be the single most crucial factor in their perceptions of the vaccines and whether these trends might be reversed. Gellin said he believes mistrust of official sources of information is a large part of the problem, especially with so many Americans seeking coronavirus information on social media platforms overrun with falsehoods.
The most effective way to communicate the importance of getting a COVID-19 vaccine is through the recommendation of a trusted doctor or nurse, as opposed to being told by the government that getting inoculated from the virus is the right course of action, he said.
For Gellin, an encouraging part of the development process has been the transparency with which the FDA has so far operated in considering potential vaccines and delivering clear guidance to drugmakers. The next step will be sharing data on safety and efficacy; to that end, an FDA advisory committee is scheduled to hold a public meeting Oct. 22, where development, authorization and licensing of a potential COVID-19 vaccine will be discussed by scientists and other related experts. 
Operating under the administration's Operation Warp Speed banner could give the public the impression that speed is being prioritized over science, Gellin said, which contributes to an erosion of trust.
An open public meeting of the FDA advisory committee will help, he said, "because the hope is that independent experts who will look at that data will be trusted more than what's being told to them by the government."
In Schoch-Spana's view, getting out the right message about the virus is important, but what's key is the messenger -- even it means getting politics involved. "So, suppose individuals need to hear assessments of the disease risk and the benefit of the vaccine from individuals they trust. And if it falls along political affiliation lines, then that's got to be how that is," she said. 
Correction: Previous versions of the charts had incorrect labels for some numbers during the weeks of May 15-17, June 12-14 and June 18-21.
Matt Bracken previously worked at Morning Consult as a senior editor of energy, finance, health and tech.
We want to hear from you. Reach out to this author or your Morning Consult team with any questions or comments.
Contact Us