Most of the Public Favors Digital Vaccine Passports -- but Only if They're Not Mandatory
More than 3 in 5 adults support offering digital vaccination certification to all Americans
Key Takeaways
63% of adults support making digital vaccination certification available, while 46% would be in favor of requiring vaccinated people to carry them.

41% of adults said the federal government should either create a digital vaccine card or issue guidance for private companies developing them, while 30% said they should not be created by either group.

71% of Republicans and 55% of Democrats said they were concerned about health data protection when it comes to digital vaccine cards.
As vaccine passports emerge as the latest political lightning rod in the COVID-19 response, most Americans say they want digital certification that they've been vaccinated -- but they don't want to have to prove their status to access businesses or services, according to a new Morning Consult survey.
So-called vaccine passports, designed to verify someone's COVID-19 immunization status and allow vaccinated people to more safely resume travel, shopping and other pre-pandemic activities, have become increasingly contentious. The Republican governors of Texas, Mississippi and Florida have all banned their states from requiring proof of vaccination, with Texas Gov. Greg Abbott saying such mandates would violate "personal freedoms."
The survey, conducted April 2-4, found that while 63 percent of adults are in favor of giving vaccinated people access to digital proof that they've gotten a shot, just 46 percent would support a requirement that vaccinated people carry digital certification with them.
At 53 percent, the public was somewhat more supportive of requiring people to have any proof of vaccination, rather than just digital. But support for vaccine passports dropped when people considered whether businesses should be able to require certification or ban unvaccinated people from their stores, with adults more likely to oppose the measures than support them.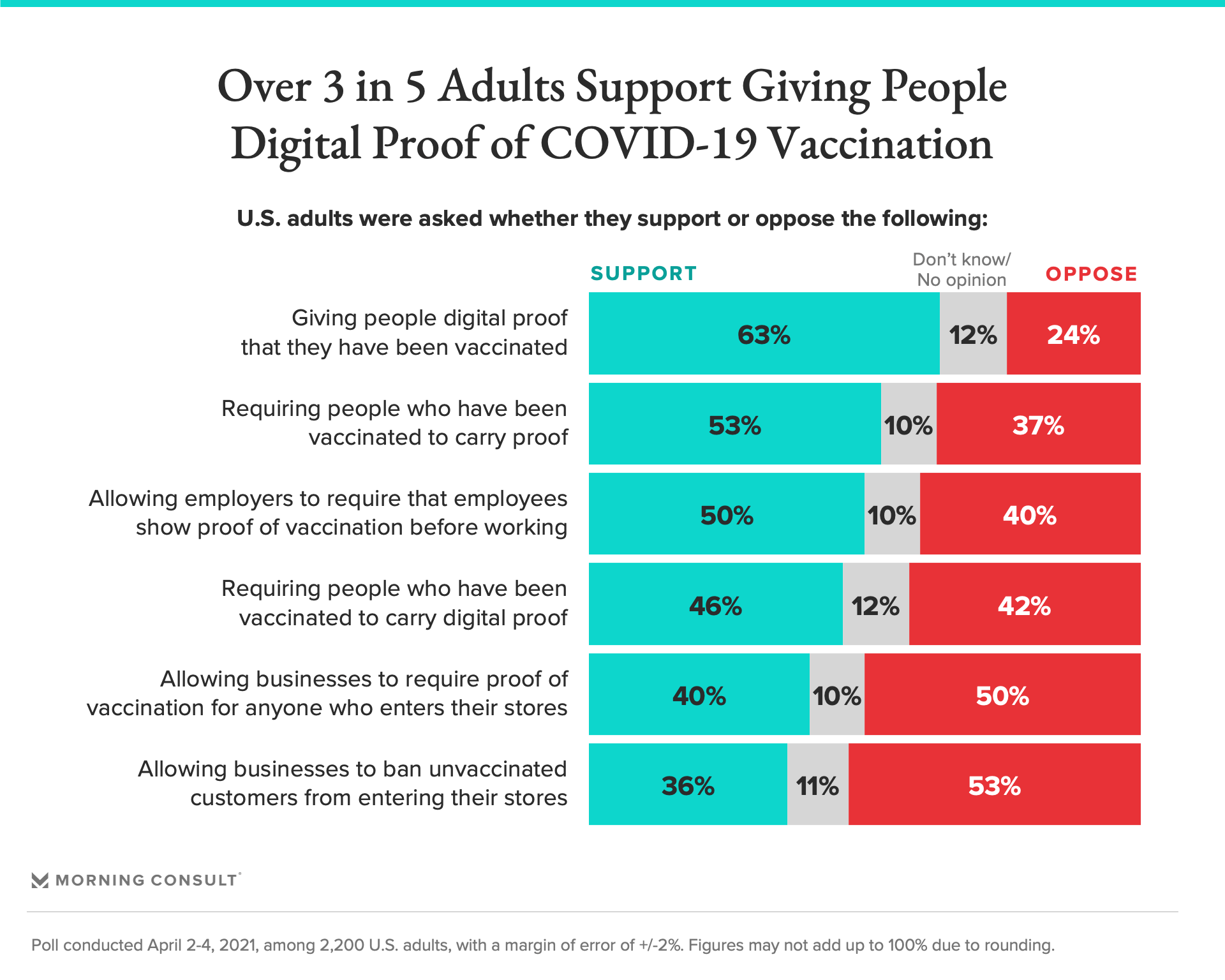 "People don't want these things mandated. But they do want them available," Joel White, executive director of the health technology coalition Health Innovation Alliance, said in an email.
The White House has said it will not require vaccine passports, but that it will offer guidance to private companies developing them. New York is the only state to roll out a digital vaccine certification so far.
Even so, the public was also split on whether the public sector should be involved.
For example, 21 percent of adults said the federal government should develop a universal digital vaccine card and that private companies should not play a role, while another 20 percent said the federal government should issue guidelines for private companies that develop digital vaccine cards.
Just 7 percent of adults said private companies should develop digital vaccine cards without any input from the federal government. But another 30 percent of adults, including 46 percent of Republicans, said neither the federal government nor private companies should develop digital vaccine cards.
Xiomara Peña, vice president for engagement at Small Business Majority, which represents more than 80,000 small businesses, said any guidance on vaccine passports should provide clarity on "practical implementation" and equity, given digital tools to show proof of vaccination may be inaccessible to some people. Asking businesses to enforce these types of requirements could also create "an extra burden" for them, she said.
"We imagine if this is practical to implement, that there could be buy-in," Peña said. "But we're not there quite yet."
Privacy issues also weighed heavily on the public's mind, with 62 percent of adults -- including 55 percent of Democrats and 71 percent of Republicans -- saying they were concerned about health data protection when it comes to digital vaccine cards.
Given both the public's appetite for digital vaccine cards and the widespread privacy concerns, the federal government's guidance for vaccine passports should include "strong privacy protections and a ban on unauthorized reuse or sale of personal data," White said. That includes ensuring the data comes directly from authorized sources, like state vaccine registries, though he acknowledged that could be difficult to execute.
"If not, it's hard to see how people will trust these tools," he said.
The survey was conducted among 2,200 U.S. adults and has a margin of error of 2 percentage points.
Gaby Galvin previously worked at Morning Consult as a reporter covering health.
We want to hear from you. Reach out to this author or your Morning Consult team with any questions or comments.
Contact Us