Variety CMO Says Success of Virtual Events Means They Will Continue Post-Pandemic
Variety Streaming Room events have generated 72,091 unique registrants, 31,238 unique attendees and higher turnout rate
In March, as in-person events came to a standstill, Variety was one of the many organizations faced with a choice: cancel all events or find a way to go virtual. The trade publication opted to lean into the virtual space and has produced more than 60 online events since April, with attendance beating pre-pandemic numbers at in-person events.
To date, Variety Streaming Room events have generated 72,091 unique registrants and 31,238 unique attendees, figures Chief Marketing Officer Dea Lawrence shared exclusively with Morning Consult during an interview. 
The 115-year-old media company typically holds around 70 live events each year, ranging from its annual marketing summit in March to its Power of Women luncheon, encouraging members of the entertainment industry to network and hear from leading industry voices. 
In general, for virtual events before COVID-19, Lawrence said 10 percent of event registrants would ultimately show up for the event. For Variety's virtual events during the pandemic, that figure averages 43 percent and has gone as high as 50 or 60 percent. She attributed varying attendance numbers to the speakers involved in each event.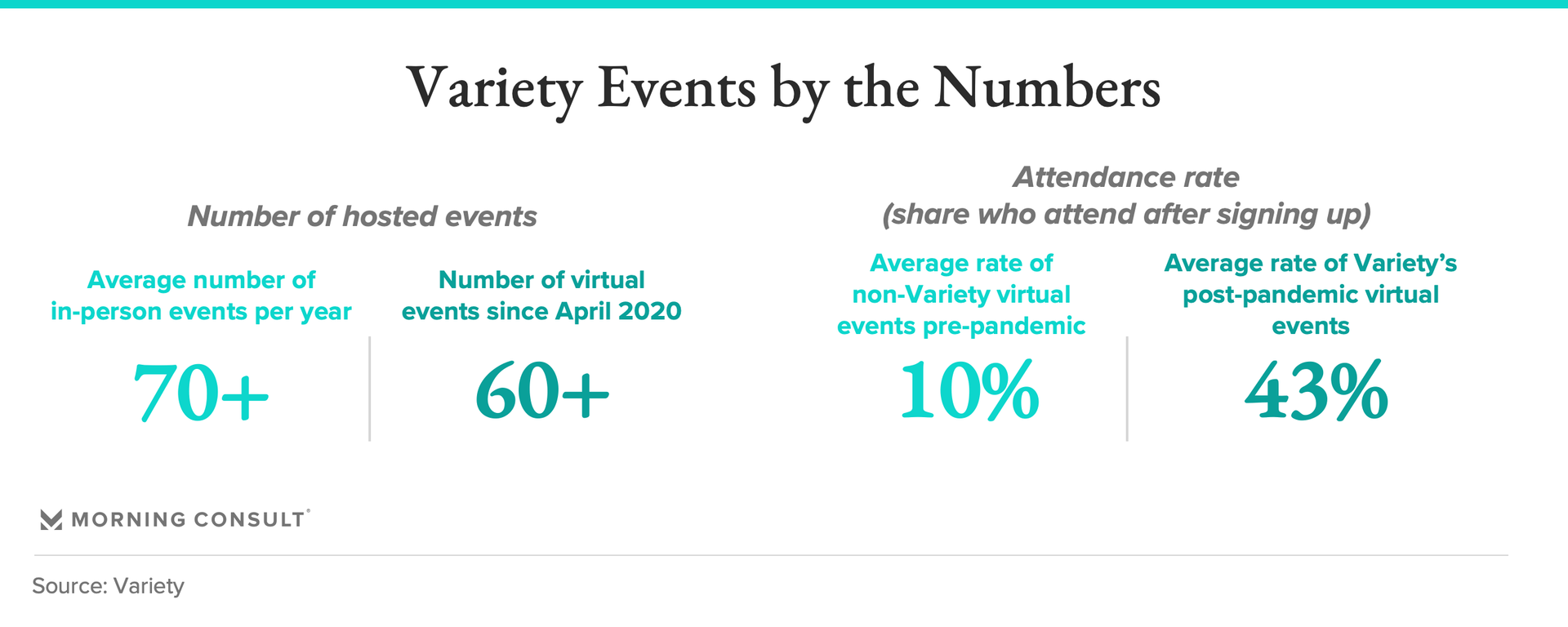 Lawrence said Variety's positive experience with its new virtual component will ensure that it will be part of the event planning strategy post-COVID. 
"Now we realize it's not going to cannibalize sales," Lawrence said. "People are still going to want to buy tickets because they want to network in person." 
Part of Variety's success in the virtual event world was due to her staff's quick pivot, she said.
"We wanted to be the first out of the gate," Lawrence said. "We started pitching all of the advertisers immediately, and everyone said to us, 'You're the very first one that's talking to us.' " 
When the pandemic hit, the publication's in-house events team, made up of eight people focusing on events production and events marketing execution, began vetting platforms to determine the best way to host virtual events. They announced the Variety Streaming Room, a branded series of virtual events, on April 2 and held its first installment, titled "The Entertainment Industry & Navigating COVID-19," on April 7. 
She added that going virtual has also reduced the costs associated with each event, but she did not share specific figures. InXpo Inc., one of the platforms that Variety uses, offers packages that start at $25,000. 
Constant rehearsal and sticking to a list of best practices amid the threat of technical difficulties helped the team ease some of the team's nerves in pulling off virtual events. After the first event, the Variety streaming room has hosted several film festivals, a TV festival and multiple "For Your Consideration" events -- sometimes one a day -- in the weeks leading up to the Primetime Emmys. 
Lawrence said the typical Variety event -- virtual or in-person -- is targeted at members of the entertainment industry. But by expanding virtually, fans also have had the opportunity to attend, with screenings and Q&As with the casts of "Killing Eve" and "Succession" drawing interest from outside the industry. 
She now sees virtual events as key to Variety's wider marketing plan even when in-person events return. 
"When we go back, we are now going to build out this strategy," Lawrence said. "This has helped build our brand."  
Correction: Due to a miscommunication with Variety, a previous version of this story misstated the figure for Variety's pre-pandemic attendance rate.
Sarah Shevenock previously worked at Morning Consult as a reporter covering the business of entertainment.
We want to hear from you. Reach out to this author or your Morning Consult team with any questions or comments.
Contact Us