As Video-on-Demand Usage Climbs, Data Shows COVID-19 Will Keep Viewers Around
Transaction on demand also up 13%, as analyst expects usage to stay high before leveling out with theater viewings
Key Takeaways
26% of adults said they would feel comfortable returning to movie theaters more than six months from now in a recent poll.

Consumers will pay up to $8 to rent a newly released movie at home while the suggested price for these new releases is $19.99; the average TOD price for March was $3.35.
U.S. consumers have been streaming entertainment more and more since stay-at-home orders went into effect, and with almost no movie theaters open, audiences have been turning to video-on-demand services in increasing numbers over the past couple months, checking out both old and new releases. And as people remain cautious about returning to movie theaters and other public venues, this increased usage is likely to persist. 
Data from Comscore Inc. found that VOD usage of all types increased nearly 30 percent year over year for the month of March, with subscribers averaging 16 transactions per household. Most movie theaters across the country closed in March, as the coronavirus spread and states and localities began issuing shelter-in-place orders.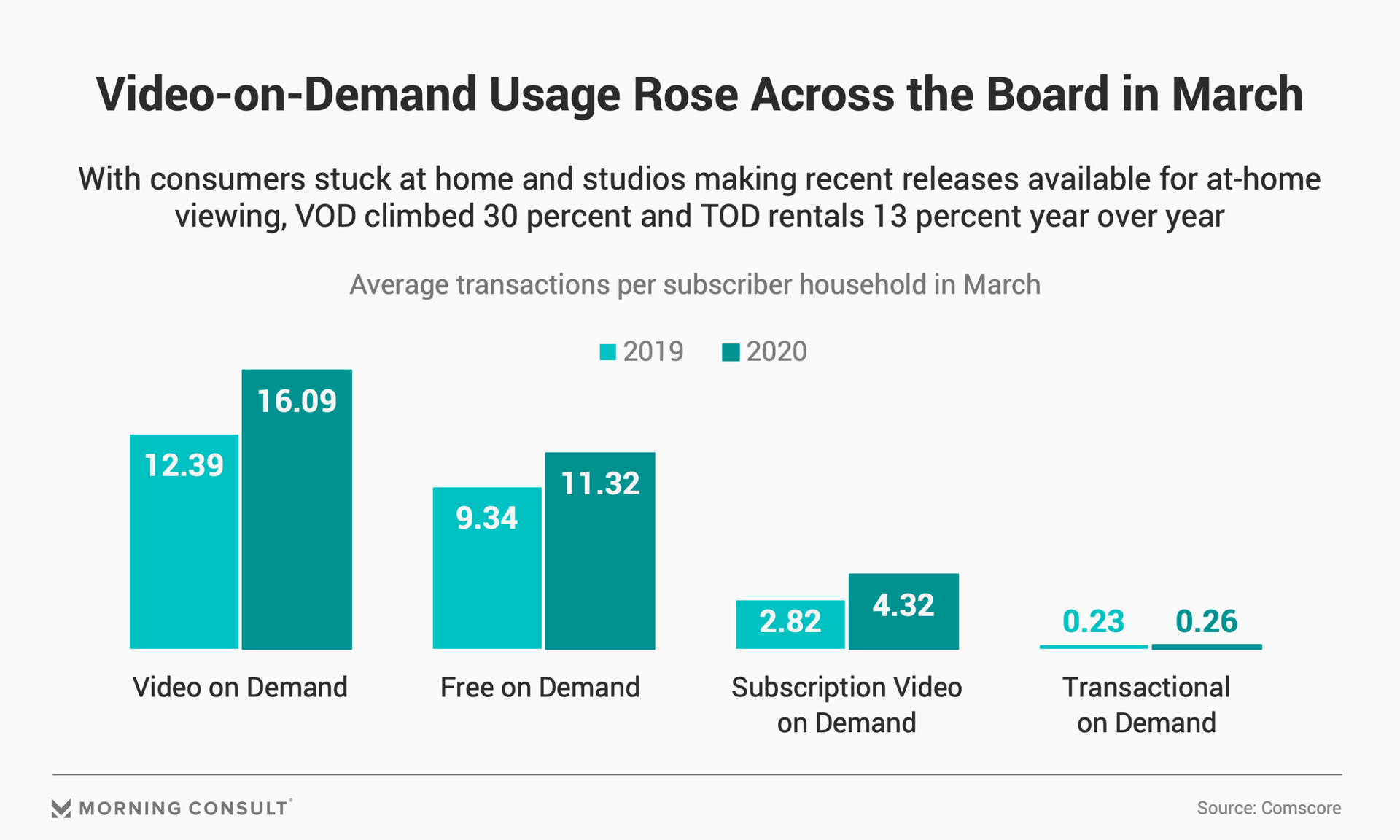 Some consumers have used this time to revisit older releases such as "Contagion" or the Harry Potter films, but others have checked out newly released films, as some studios were quick to adapt to the new normal. Universal Pictures became the first to make recently released titles -- including "Emma," "The Hunt" and "The Invisible Man" -- available for early home viewing after theaters closed their doors.
Comscore data found that transactional on-demand usage, the type of rental where a consumer can view a film for a specified time period such as 48 hours, increased 13 percent year over year for the month of March. According to PwC and Digital TV Research cited by Axios, TOD is expected to account for $10.7 billion of global on-demand video revenue by 2023.
Paul Dergarabedian, a senior analyst with Comscore, said he believes that increased VOD and TOD usage will continue for the immediate future.
"As long as people are literally stuck in neutral at home, they are going to be consuming a much greater-than-average number of over-the-top transactional rentals and sales because the options are so limited," he said, with competing activities that consumers usually seek out for entertainment such as going out to eat and attending concerts are all but eliminated.
Consumers are open to the at-home theatrical experience -- but only if it comes at a low price point. 
A March 19-21 Morning Consult/The Hollywood Reporter survey found that 53 percent of adults said they would prefer to watch a newly released film at home via a streaming service. However, $8 was their maximum price point. While at-home rentals can come at a variety of price points, some of the new releases offered for at-home rental are priced at $19.99.
Comscore found that the average price per TOD transaction for March 2020 was $3.35.
Although it declined to provide specific data, Vudu Inc. said it is seeing "an increase across the board with titles from almost every genre" on its platform. During the coronavirus pandemic, it has been highlighting early release titles and has provided customers who rent these films with extras. For example, users who pre-ordered "Trolls World Tour" received a $5 Vudu credit, and those who pre-order "Scoob!" will receive a credit toward a future Vudu purchase.
Dergarabedian added that after a warming-up period, consumers will return to movie theaters and VOD usage will start to normalize, with the two existing in "equilibrium" before returning to normal usage levels.
But that might be longer than theaters are hoping for. An April 22-24 Morning Consult survey found that about one-quarter (26 percent) of U.S. adults said they would feel comfortable going to the movies more than six months from now, while 41 percent said they would feel comfortable returning at some time within the next six months. The remaining share said they weren't sure when they'd feel OK returning to a movie theater.
Sarah Shevenock previously worked at Morning Consult as a reporter covering the business of entertainment.
We want to hear from you. Reach out to this author or your Morning Consult team with any questions or comments.
Contact Us