Voter Approval of Trump's Handling of COVID-19 Remains Steady
Public views of CDC's performance improve marginally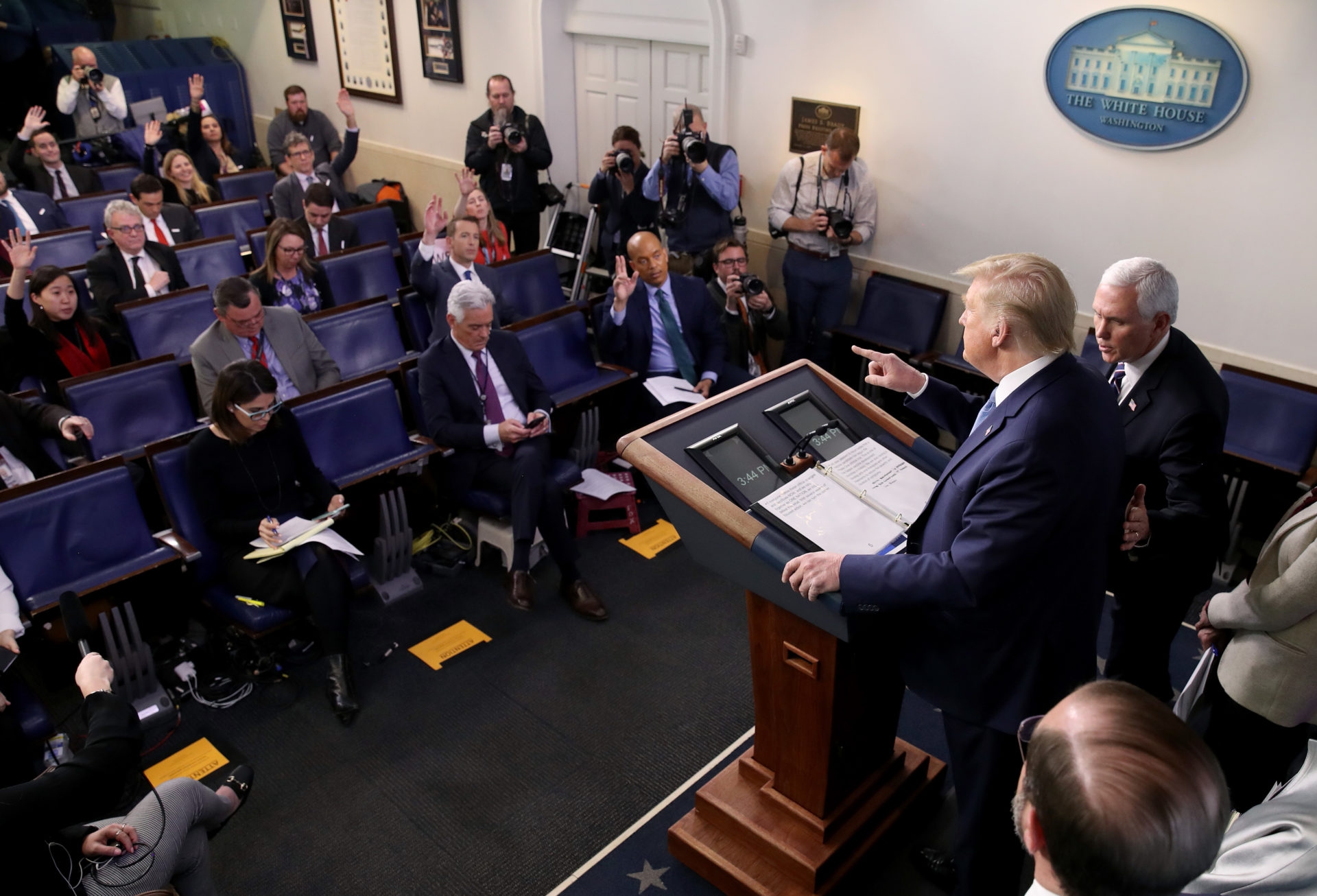 Key Takeaways
47% of voters approve of the president's handling of the coronavirus pandemic, while 43% disapprove.

Net approval (approval minus disapproval) for the CDC rose to 63 points, up from 58 points in a March 6-9 poll

50% of Democrats and 32% of Republicans view COVID-19 as a "severe health risk" in the United States.
With the United States in a state of emergency and new federal recommendations to restrict  gatherings of large groups of people, voter approval of President Donald Trump's response to the coronavirus has stabilized while that of the Centers for Disease Control and Prevention is edging up, according to new Morning Consult data.
The most recent survey, conducted March 13-16, finds approval of Trump's handling of the situation at 47 percent among all voters, with a 43 percent disapproval rate. That puts the president, who appeared last week to begin taking a more sober tone on the threat of COVID-19, at a net approval (approval minus disapproval) of 4 points — statistically equal to his net approval rating of zero in the previous poll conducted March 6-9.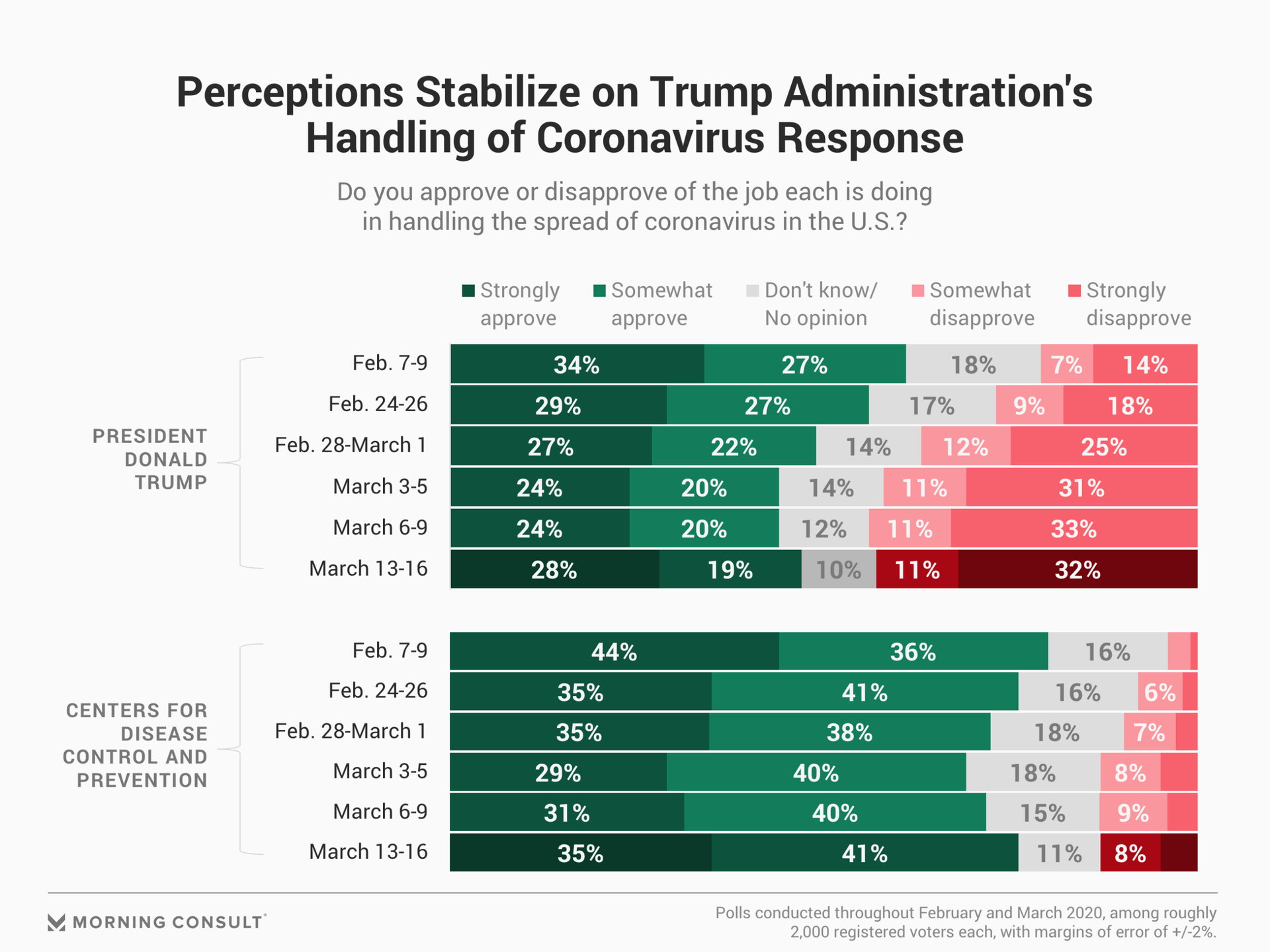 Approval of the Centers for Disease Control and Prevention has also begun recovering, with a net approval of 63 points in the most recent poll, a rise of 5 points from a March 6-9 poll and just outside the 4-point margin of error for net approval. The survey of 1,986 registered voters has a margin of error of 2 percentage points.
Over the weekend, as the caseload in the United States continued accelerating, the CDC issued new recommendations suspending gatherings of more than 50 people for the next eight weeks. On Monday, Trump announced further guidance limiting gatherings to 10 people or fewer for the next 15 days. 
Though the administration's efforts to organize a clear, well-coordinated response after receiving widespread ire for initially downplaying the virus may have halted falling approval rates, health experts and officials continue to issue grave warnings that reversing the trajectory of the disease will not be possible and are now focused on flattening the curve. The United States is now the eighth most affected nation in the world, with more than 4,400 confirmed cases as of Monday afternoon, just over 2,000 behind France. 
The United States has not followed the lead of countries such as Spain and Italy in implementing a nationwide lockdown, and on Monday, Trump shut down that possibility. However, several major cities have initiated harsh restrictions on mass gatherings, shuttering bars and other places that draw crowds.
The threat of the virus spreading in the United States is becoming increasingly salient to Americans, though not all voters are reading risk the same — 59 percent of Democrats say they are "very concerned," compared with 39 percent of Republicans. And while half of Democratic voters consider COVID-19 a "severe" risk in the United States, roughly a third of Republicans agree.
Net approval for Congress has improved dramatically this month, from 6 points in March 3-5 to 25 points in the most recent survey. Before leaving for recess this week, the House passed an emergency supplemental package extending sick leave benefits and guaranteeing access to free care, among other things. 
The Senate was expected to vote on the bill early this week, but it may run into delays as Rep. Louie Gohmert (R-Texas) has blocked it from moving to the chamber. If one member stands in opposition, the House is barred from sending the bill forward until the entire legislative body returns to Washington to take a vote. 
Yusra Murad previously worked at Morning Consult as a reporter covering health.
We want to hear from you. Reach out to this author or your Morning Consult team with any questions or comments.
Contact Us