Voter Sentiment in the Trump Era Plumbs New Pessimistic Depths Amid Coronavirus Resurgence
3 in 4 voters, including half of Republicans, think the country is on the wrong track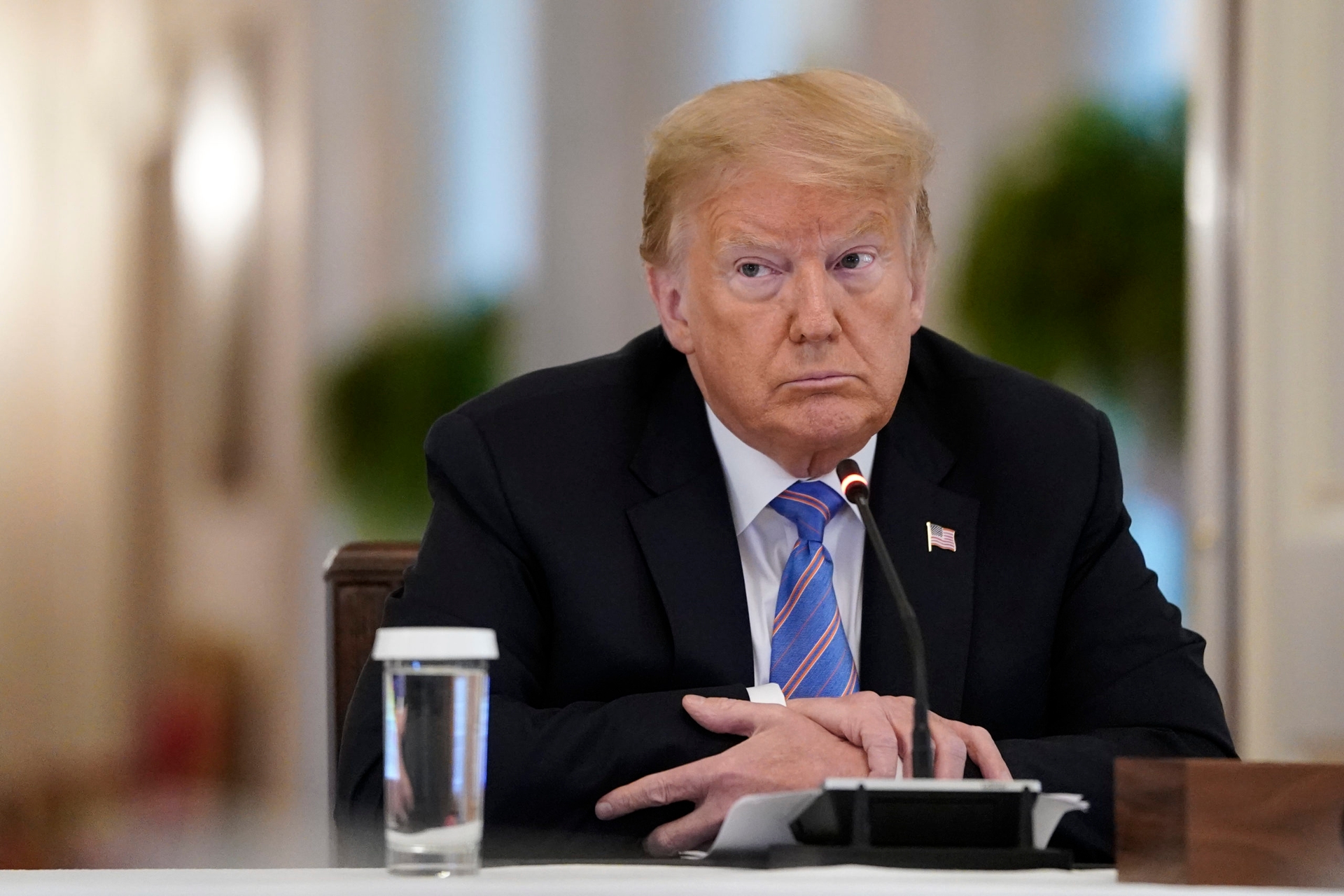 Key Takeaways
Independents and Republicans drive an increase in pessimism from previous high, measured roughly one month ago.

34% of GOP voters say COVID-19 is a "severe health risk" in their own state, up 8 points since the end of May.

However, Joe Biden's lead over President Trump dropped 2 points from a 9-point margin measured last month -- the largest deficit the president has faced in 2020.
Voter optimism has reached a new low amid a resurgence of coronavirus in the United States that's begun to slow the country's economic reopening, according to a new Morning Consult/Politico poll.
The June 26-29 survey found 3 in 4 voters think the country is on the wrong track, compared to a quarter who said it's headed in the right direction. The poll was conducted among 1,984 registered voters, with a margin of error of 2 percentage points.
The survey marks the worst numbers on the question in the 183 polls conducted since immediately after Trump was elected in November 2016, and eclipses a previous record set in a survey released last month amid the nationwide Black Lives Matter demonstrations that continued throughout June.
Republican voters are split down the middle, with optimism dropping significantly since last week, while nearly 4 in 5 independent voters now say the country has gotten off on the wrong track. Ninety-two percent of Democrats said the country is on the wrong track.
Former Vice President Joe Biden, who has kept a relatively low profile since effectively securing the Democratic presidential nomination in early April, looked to capitalize on the nation's dim mood on Tuesday, rebuking Trump in a Delaware speech for declaring himself a wartime president while apparently surrendering to the virus.
While the pessimistic figures make for poor reading for Trump, other Morning Consult data suggests he has managed to stop the bleeding in his race against Biden: Responses gathered June 22-28 among 28,722 registered voters found Trump trailing his challenger by 7 points in a head-to-head national survey, 40 percent to 47 percent. That margin is down from the 9-point deficit -- a 2020 high -- that he was facing less than a month ago. Both of those surveys carry a 1-point margin of error.
Despite that silver lining, pandemic-related indicators have worsened for the president. 
Fifty-two percent of voters in the Morning Consult/Politico poll said they'd heard "a lot" about a record number of new coronavirus cases reported by U.S. health authorities last week, while 47 percent gave Trump "poor" marks for managing the spread of COVID-19 in the United States. That's 10 points higher than the share who said the same in a similar poll conducted in April. 
And since a Morning Consult poll released early last month, the share of voters who approve of Trump's handling of the spread of coronavirus in the United States has fallen 3 points, to 38 percent, while the share who disapprove has increased by 3 points, to 56 percent.
Over the past month, the share of voters who say the coronavirus is a "severe health risk" in the United States has grown 4 points, to 61 percent, including a 5-point increase among Republican voters (to 45 percent) and a 6-point increase among independents (to 56 percent). Among Republicans, the share who said COVID-19 is a "severe health risk" in their own state has increased 8 points, to 34 percent, during that time, while the share of Democrats who said the same (53 percent) went virtually unchanged.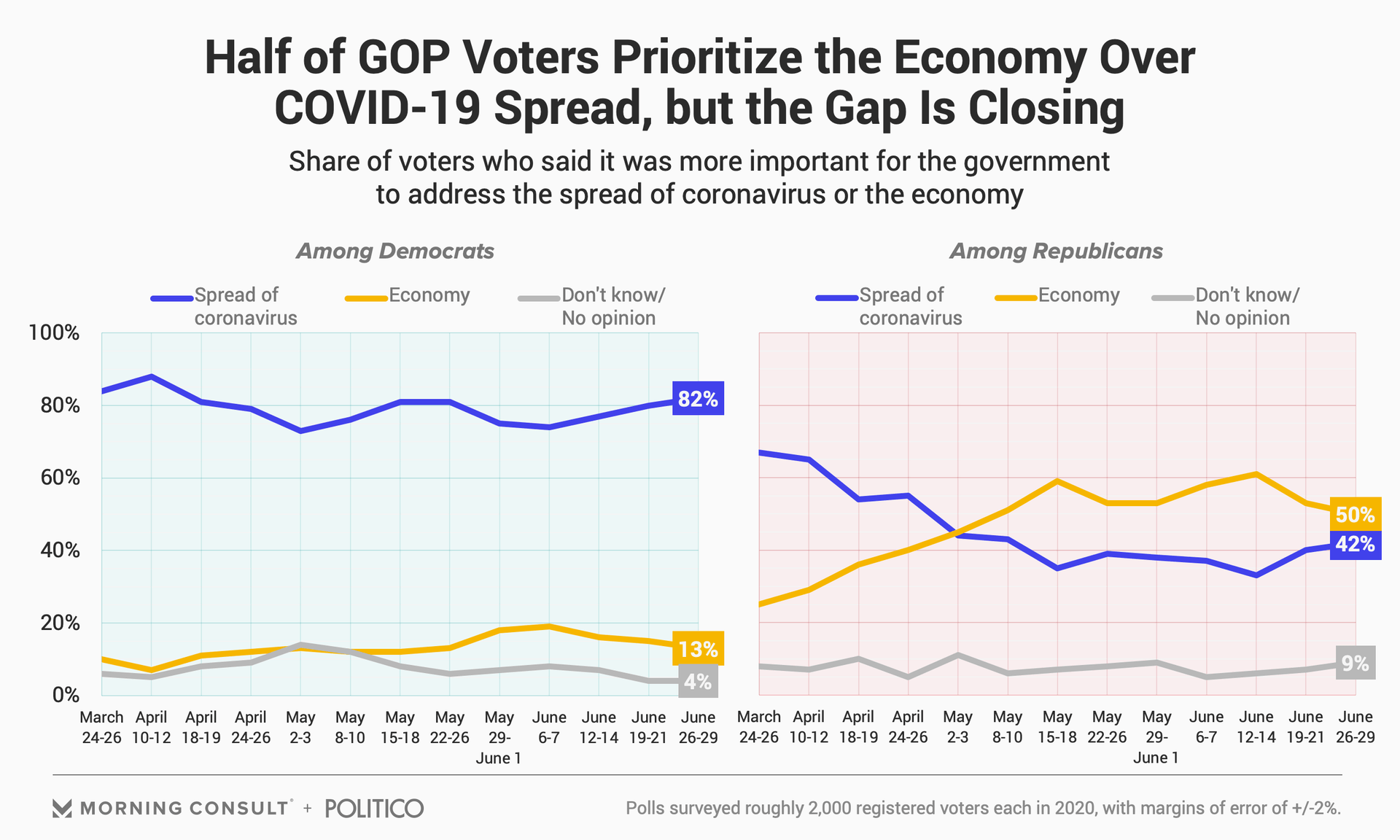 Voters' newfound concern is being matched by shifting priorities for government. 
Over the course of two weeks, the share of voters who said it's more important for the government to address the spread of coronavirus increased 8 points, to 63 percent, while the share who said it was pivotal to address the economy fell 7 points, to 29 percent, driven by a double-digit swing among Republican voters. Forty-two percent of Republicans said it's more important for the government to address the spread of coronavirus than the economy, the highest point since polling conducted in the second week of May. 
Eli Yokley is Morning Consult's U.S. politics analyst. Eli joined Morning Consult in 2016 from Roll Call, where he reported on House and Senate campaigns after five years of covering state-level politics in the Show Me State while studying at the University of Missouri in Columbia, including contributions to The New York Times, Politico and The Daily Beast. Follow him on Twitter @eyokley. Interested in connecting with Eli to discuss his analysis or for a media engagement or speaking opportunity? Email [email protected].
We want to hear from you. Reach out to this author or your Morning Consult team with any questions or comments.
Contact Us