Voter Support for Facial Recognition Technology Slips Amid Debates Over Its Use
42% back the technology, a 7-point drop from the 49% who supported it in an August 2018 survey
Key Takeaways
Opposition to general use of the software among registered voters rose 16 points from 22% to 38% during that time.

Among African American voters, support fell 12 points -- to 38% from 50% -- in the same period.
As lawmakers in Congress and city governments explore the best ways to legislate facial recognition technology, fewer registered U.S. voters are throwing their support behind the technology, a new survey shows.
According to a Morning Consult/Politico poll conducted June 14-16 among 1,992 registered voters, 42 percent said they generally support the use of facial recognition -- a drop of 7 percentage points from the 49 percent who supported it in an August 2018 Morning Consult survey. The August survey came after the American Civil Liberties Union found that widely used facial recognition software misidentified more than two dozen Washington lawmakers, especially racial minorities.
During the same time period, opposition to the technology's usage grew 16 points, with 38 percent of voters opposing it in the June survey compared to 22 percent last year.
Support dropped even more among African American voters, falling from 50 percent in August to 38 percent in the latest survey. Among Hispanics -- a demographic that includes some white and African American voters -- support for the software fell 8 points, from 49 percent to 41 percent.
The surveys both have a margin of error of 2 percentage points.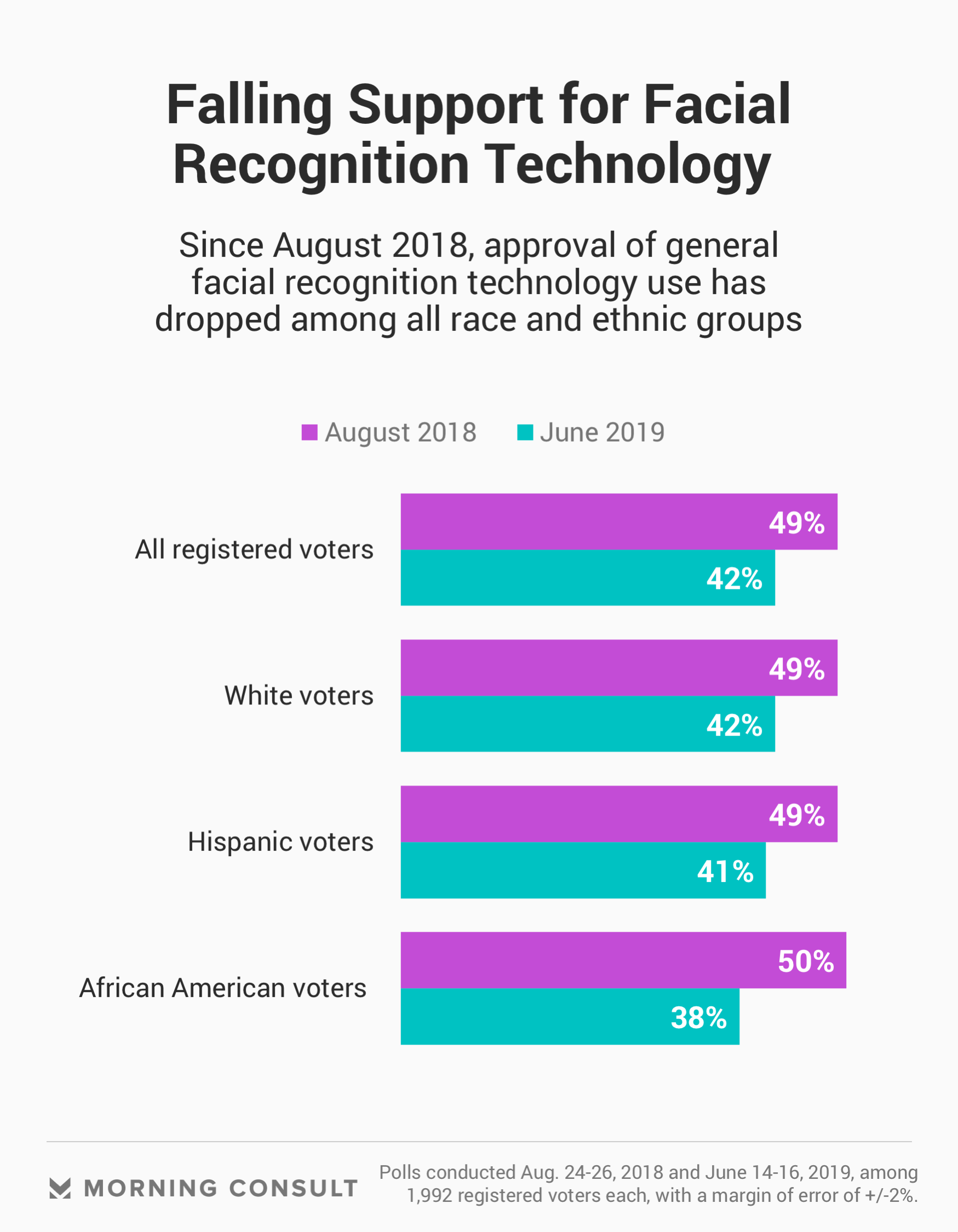 In recent weeks, both federal and local lawmakers have been scoping out the best ways to regulate the use of facial recognition technology. The House Oversight and Reform Committee has hosted two hearings, one in late May and another in early June, on how to regulate government deployment of such devices, while San Francisco's Board of Supervisors passed a measure in mid-May banning the use of the software by law enforcement and other city agencies -- the first major American city to do so. And voters seem to have a growing appetite for government regulation of private company use of this technology: In this month's survey, 58 percent of registered voters said they agree the usage should be regulated by the government, a 6 percentage point jump from August.
The issue came to the forefront last week when U.S. Customs and Border Protection said that the database storing information gathered from its facial recognition program, which it uses to track those entering and leaving the country, had been exposed in a hack of a federal subcontractor. While CBP said fewer than 100,000 people were impacted, the latest event points to a concern held by a slim majority of voters: Fifty-one percent said in the latest poll that they don't think the personal information collected through facial recognition is secure, compared to 30 percent who said they think their data is safe, and 19 percent who were unsure or had no opinion.
When it comes to law enforcement's involvement with the software, 63 percent of voters said they approve of such groups using the technology. However, African Americans, at 49 percent, were 16 points less likely than white voters (65 percent) to support law enforcement's use of facial recognition, and Hispanics were 9 points less likely than white voters to say the same.
In July 2018, the American Civil Liberties Union released the results of a test of Amazon.com Inc.'s facial recognition tool, Rekognition, which a number of state law enforcement agencies use. In the test, the ACLU used Rekognition to see if it could correctly identify Washington lawmakers and found that the software misidentified 28 lawmakers -- many of whom are racial minorities -- as people who had been arrested for a crime. Amazon later said the ACLU was using the technology at a confidence threshold of 80 percent, when it was intended to be used at a 95 percent confidence level.
People of color are also less likely to support the use of facial recognition software by national security agencies: Sixty-seven percent of white voters support it, compared to 59 percent of African American voters and 58 percent of Hispanics.
Sam Sabin previously worked at Morning Consult as a reporter covering tech.
We want to hear from you. Reach out to this author or your Morning Consult team with any questions or comments.
Contact Us