Voters More Likely to Support Trade Agreements – and Tariffs
A plurality of all voters in poll say free trade agreements have had a positive impact on the United States
Key Takeaways
48% of all voters also support imposing tariffs on foreign-made goods that compete with goods made in the U.S.

Plurality of Republicans say the economy benefits more from imposing tariffs rather than reducing them, while most Democrats say the opposite.
More voters than not say free trade has had a positive impact on the United States – and also generally support tariffs on foreign-made goods, two seemingly contradictory views.
But voters' views diverge when they're asked to pick whether the economy benefits more from imposing tariffs or reducing them.
The finding in a new Morning Consult/Politico poll, conducted July 26-30, suggests Republican voters have shifted toward the president's protectionist trade views – even though some Republican lawmakers on Capitol Hill have been vocal about their concerns with the president's trade policy.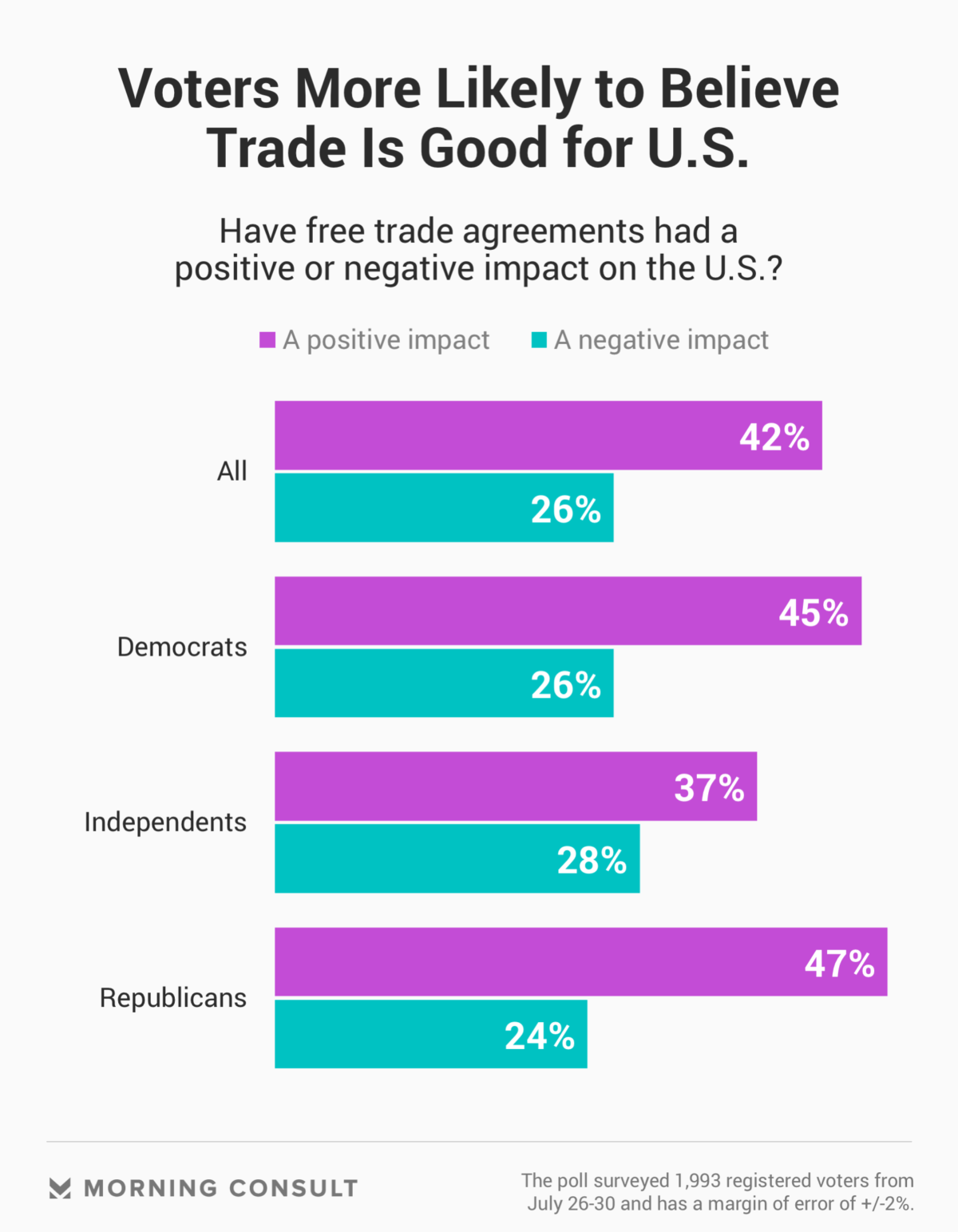 A 42 percent plurality of all voters – and nearly equal shares of Democrats and Republicans – say free trade agreements have had a positive impact on the United States, compared to 26 percent who said they had a negative impact.
But at the same time, almost half of all voters (48 percent) said they generally support imposing tariffs on foreign-made goods that compete with goods made in the United States, versus 32 percent who oppose them.
When asked to pick, 39 percent of voters said they support reducing tariffs and promoting free trade, while 30 percent said the economy benefits from protectionist measures. Another 31 percent said they didn't know or had no opinion. The poll has a margin of error of 2 percentage points.
"I suspect what the survey is picking up is there is some notion that the free trade period has been good for growth, but on the other hand, if you tell me that tariffs will protect my jobs in the auto industry or the steel industry -- that's fine with me," Sherman Robinson, nonresident senior fellow at the Peterson Institute for International Economics, said in an interview Thursday.
While 47 percent of Republicans say free trade has had a positive impact on the United States, a 45 percent plurality also say the economy benefits more from placing tariffs on foreign-made goods, rather than cutting them, in order to protect domestic industries.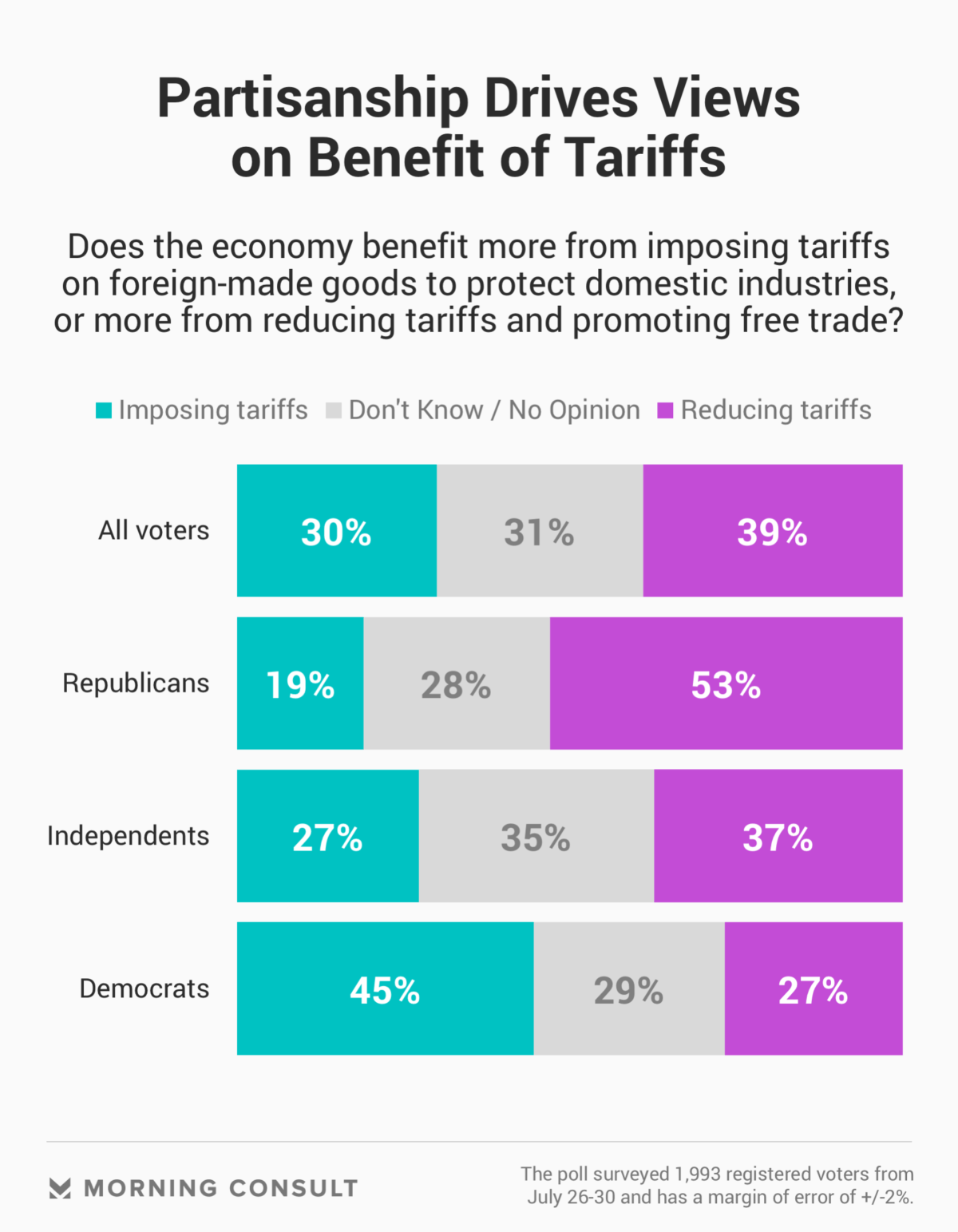 That could be because Republicans are more than twice as likely than Democrats to say that the United States has benefited less than other countries from free trade agreements. Politics is also a factor, said Doug Heye, the former top spokesman for the Republican National Committee and deputy chief of staff to then-House Majority Leader Eric Cantor, in an email Thursday.
"Trump supporters support Trump first, policies second," Heye said. "So if Trump says tariffs are good, they're more likely to support them – and even give him the benefit of the doubt, at least at first, if they have a negative impact – regardless of how they generally feel, overall, about trade."
Trump has touted "fair trade" and has used tariffs to negotiate with other countries. After Trump's meeting with European Commission President Jean-Claude Juncker, the two said they would put a hold on new tariffs and work to resolve their differences.
In a tweet following their meeting, Trump said: "We have come to a very strong understanding and are all believers in no tariffs, no barriers and no subsidies."
But just a day earlier, Trump had tweeted that "tariffs are the greatest," and the White House announced $12 billion in federal aid to support farmers and ranchers affected by other countries' retaliation against U.S. tariffs on goods such as steel and aluminum.
Overall, 57 percent of voters support the federal aid for farmers, including 79 percent of Republicans. Democrats are divided, with 42 percent against the aid and 38 percent in favor.
Eli Yokley is Morning Consult's U.S. politics analyst. Prior to his current role, Eli was Morning Consult's senior reporter covering U.S. politics. Eli joined Morning Consult in 2016 from Roll Call, where he reported on House and Senate campaigns after five years of covering state-level politics in the Show Me State while studying at the University of Missouri in Columbia, including contributions to The New York Times, Politico and The Daily Beast. Follow him on Twitter @eyokley. Interested in connecting with Eli to discuss his analysis or for a media engagement or speaking opportunity? Email [email protected].
We want to hear from you. Reach out to this author or your Morning Consult team with any questions or comments.
Contact Us