Voters Split on Whether Remarks Like Roseanne's Mean Someone Is Racist
But majority agree that the TV star's tweet about former Obama adviser was racist
Key Takeaways
77% of voters said Roseanne Barr's tweet about Valerie Jarrett, a former adviser to President Barack Obama, was racist.

64% of Republicans said racist remarks don't always mean someone is racist -- 66% of Democrats said it usually means they are.

Democrats were more likely than Republicans – 86% to 48% – to say racism is a major problem in the United States.
More than 3 in 4 Americans say Roseanne Barr's tweet about former Obama administration adviser Valerie Jarrett was racist, but voters are split on whether bigoted remarks mean that person is racist, according to a new Morning Consult/Politico poll.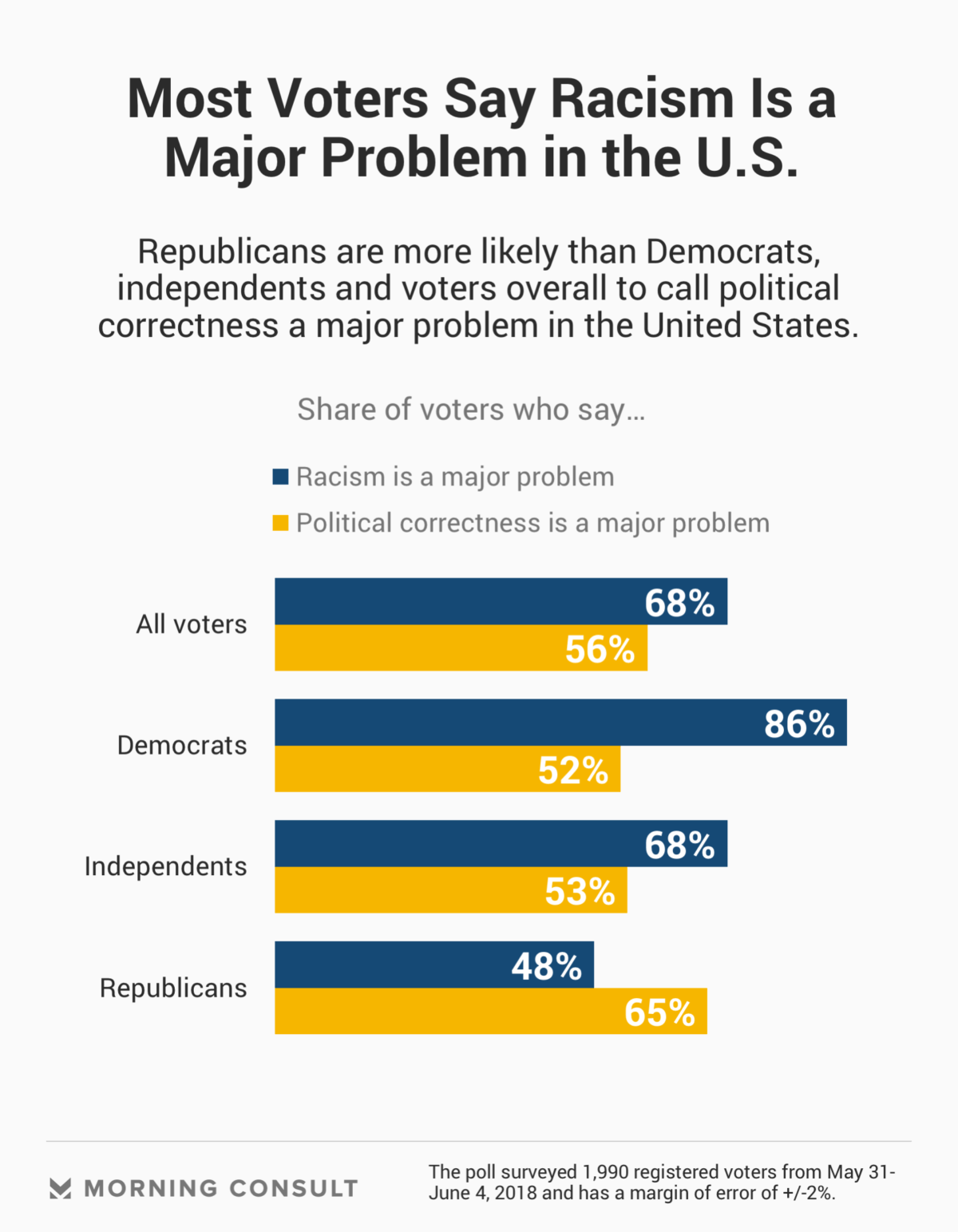 The survey of 1,990 registered voters was conducted May 31-June 4, after ABC canceled the sitcom "Roseanne." The network's move came after show star Roseanne Barr, a white woman, posted a tweet targeting Jarrett, a black woman who was a senior adviser to Barack Obama during his presidency.
When voters were shown Barr's tweet -- "Muslim brotherhood & planet of the apes had a baby=vj," a reference to Jarrett -- 77 percent said it was racist, with 90 percent of Democrats and 66 percent of Republicans taking that position. Thirteen percent of voters said it wasn't, while 10 percent said they did not know or had no opinion.
Barr later deleted her tweet and apologized to Jarrett, calling the post, "insensitive & tasteless" and saying in another since-deleted tweet that she was "ambien tweeting." In a separate post, Barr said she's "not a racist, just an idiot who made a bad joke."
The poll also found that 45 percent of respondents said that when someone makes racist remarks, it usually means they are racist, a viewpoint shared by 66 percent of Democrats. Forty-four percent of voters, including 64 percent of Republicans, disagreed.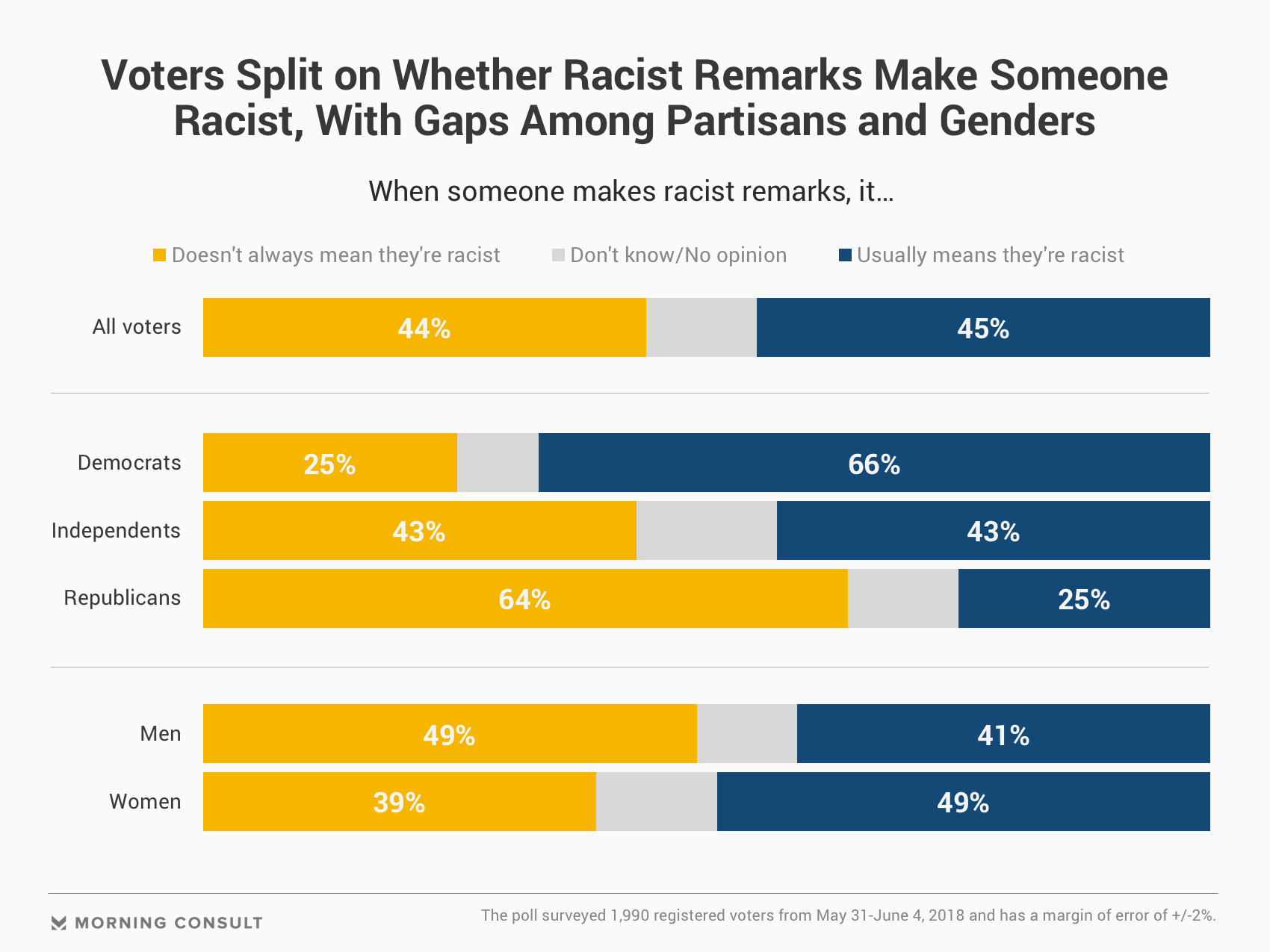 The survey has a margin of error of plus or minus 2 percentage points.
A larger share of Democrats than Republicans – 86 percent to 48 percent – said racism is a major problem in the United States, according to the poll. GOP voters, on the other hand, were more likely -- 65 percent to 52 percent -- to say political correctness is a major problem.
Eli Yokley is Morning Consult's U.S. politics analyst. Prior to his current role, Eli was Morning Consult's senior reporter covering U.S. politics. Eli joined Morning Consult in 2016 from Roll Call, where he reported on House and Senate campaigns after five years of covering state-level politics in the Show Me State while studying at the University of Missouri in Columbia, including contributions to The New York Times, Politico and The Daily Beast. Follow him on Twitter @eyokley. Interested in connecting with Eli to discuss his analysis or for a media engagement or speaking opportunity? Email [email protected].
We want to hear from you. Reach out to this author or your Morning Consult team with any questions or comments.
Contact Us