Voters to Congress: Address the Federal Deficit, but Don't Make Cuts or Raise Taxes
The voting public agrees the deficit is a problem, but how to fix it is another thing
Key Takeaways
48% of voters said they want Congress to make reducing the federal budget deficit a top priority.

Just 11% wanted Congress to prioritize tax cuts to accomplish that goal, while 19% said the same about cutting military spending.
Democrats' takeover of the House will return the era of divided government to Washington after two years of unified Republican control, and when it comes to the country's financial picture, voters most want Congress to better handle the federal coffers.
According to a Morning Consult/Politico survey conducted Nov. 2-4, 48 percent of registered voters said reducing the federal budget deficit should be the top priority for Congress, the highest level of interest among finance-related topics. The survey of 1,963 registered voters carried a 2-percentage-point-margin of error.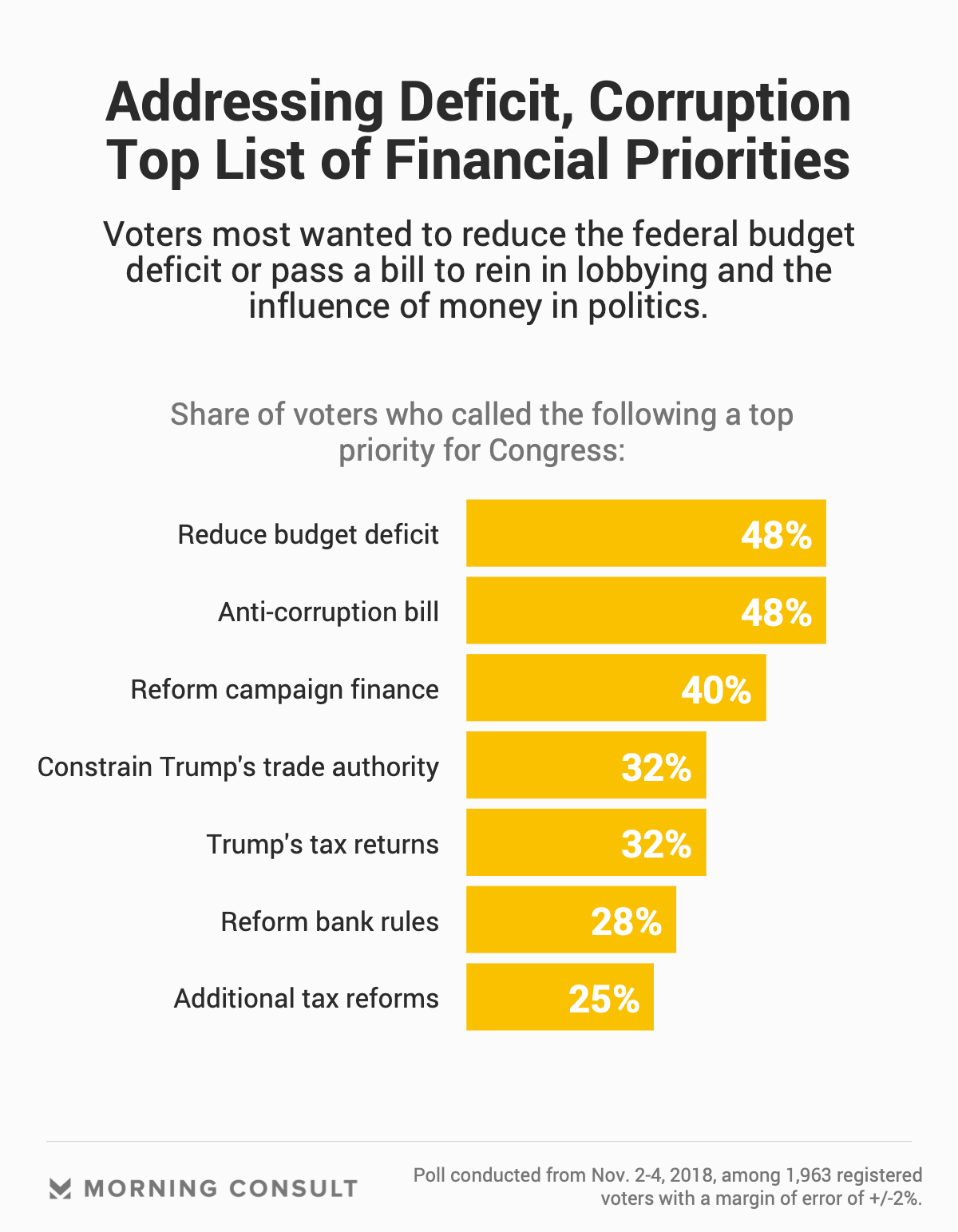 Amid an otherwise robust economy, the U.S. federal deficit ballooned to $779 billion in the last fiscal year, 17 percent wider than the prior year and the highest level in six years, the Congressional Budget Office said in mid-October. Stagnant tax revenue and a bump in government spending — notably military spending — drove up the number.
Many voters want that number to come down.
Reducing the federal deficit has support from voters in both parties — 44 percent of Democrats want reducing the federal deficit to be a top priority, while 51 percent of Republicans said the same.
But while support for shoring up the country's finances is high, voters largely don't prioritize some of the most straightforward ways for Congress to accomplish the goal.
Only 19 percent of voters ranked reducing defense spending as a way to reduce the federal deficit as a top priority for Congress and even fewer, 11 percent, said raising taxes to reduce the federal deficit should be prioritized over other measures.
Twenty-seven percent of voters said Congress should make cutting non-defense spending a priority to reduce the budget.
Passing an anti-corruption bill that would rein in the influence of money and lobbying in Washington was also considered a must-do item for 48 percent of voters.
Other popular measures in the poll included passing a bill to overhaul the campaign finance system, with 40 percent of voters saying it should be a top priority.
Thirty-six percent of respondents said Congress should make investigating Trump's business interests and arrangements to determine whether they conflict with his duties as president a top priority, while 32 percent said the same of forcing Trump to release his tax returns.
Thirty-two percent also said Congress should prioritize constraining Trump's power to impose tariffs on national security grounds without congressional oversight.
Claire Williams previously worked at Morning Consult as a reporter covering finances.
We want to hear from you. Reach out to this author or your Morning Consult team with any questions or comments.
Contact Us