Voters Who Have Heard 'a Lot' About Impeachment Are More Supportive of It
But with voters divided, backing for removing Trump from office could have a low ceiling
Key Takeaways
46% believe Congress should begin impeachment proceedings, a record high.

53% who said they've heard "a lot" about the impeachment inquiry focusing on the Ukraine scandal back impeaching President Donald Trump.

49% of Republicans said there's "almost nothing" Trump could do that would cause them to support his removal.
House Democrats have been successful in bringing the voting public to their side during the nascent stages of their move toward impeaching President Donald Trump, and if they are going to remove him from office, it'll need to continue.
New polling suggests much of the battle over public opinion will be fought over getting people to pay attention: Voters who have their eyes and ears glued to the news are more likely to believe Trump abused his presidential power and to support impeachment proceedings — and although the margins are relatively small now, experts say this movement will continue as voters become more informed and, potentially, as more shoes continue to drop.
"There's definitely an information effect," said Rachel Bitecofer, an election forecaster and the assistant director of Christopher Newport University's Wason Center for Public Policy. "The more people know about the details, the more supportive for impeachment they are."
Just over half (51 percent) of voters -- including roughly equal shares of Democrats and Republicans -- said they had heard "a lot" about House Speaker Nancy Pelosi (D-Calif.) calling for a formal impeachment inquiry against Trump. The attitudes of those more-informed voters tend to be more critical of Trump, unless they hail from his party.
Fifty-three percent of voters who said they'd heard "a lot" about the inquiry supported beginning proceedings to remove Trump from office, compared with 46 percent of all voters, and they were also 7 percentage points more likely to say the president abused his power during his July 25 phone call with Ukrainian President Volodymyr Zelensky. The Sept. 27-30 survey was conducted among 2,488 registered voters and has a 2-point margin of error.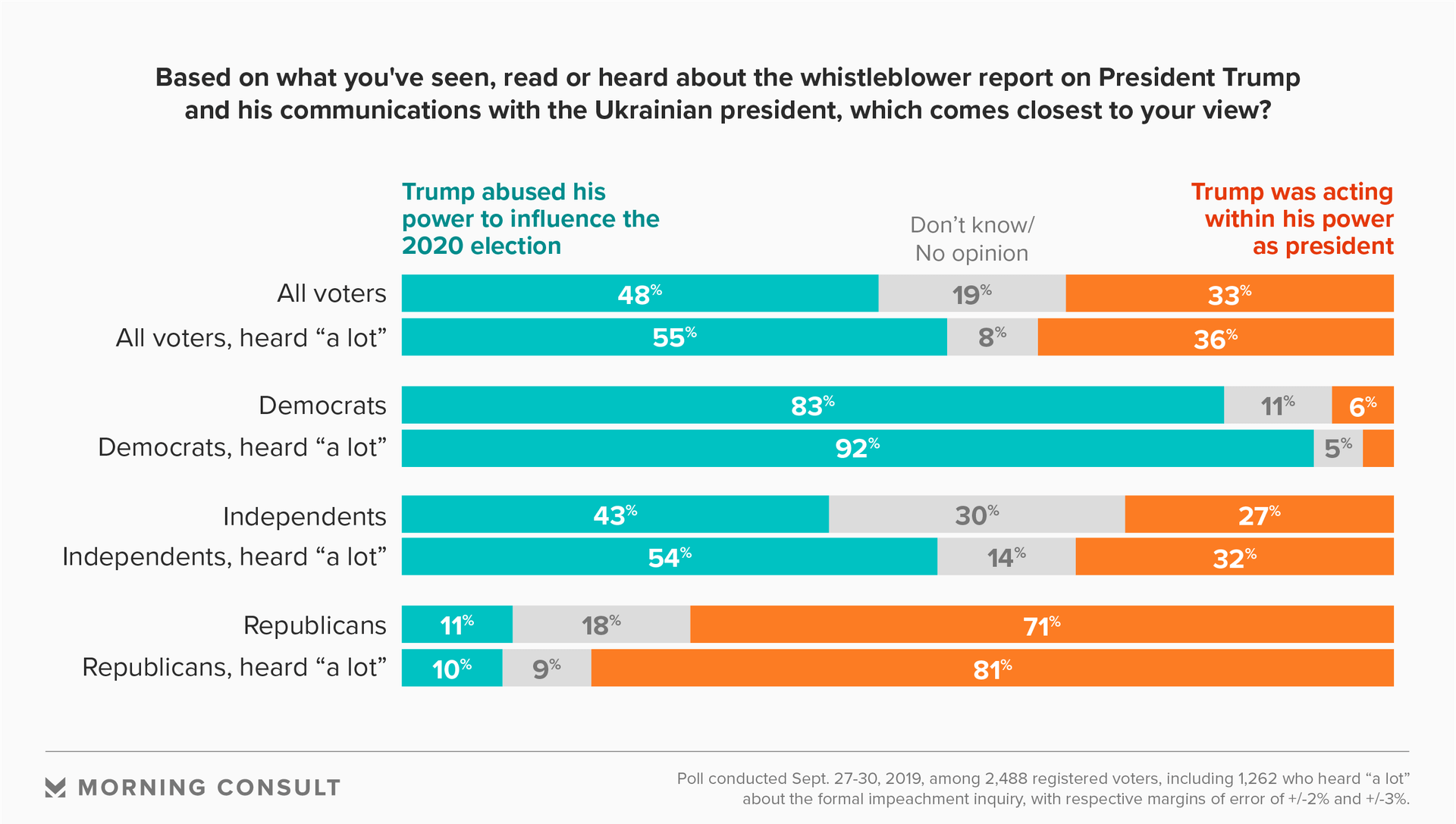 Democrats, however, are almost entirely responsible for the movement in public opinion, suggesting that support for removing Trump from office may have a relatively low ceiling. That early intraparty consolidation reflects movement among voters from the parties out of power during the early stages of the impeachment processes for former Presidents Bill Clinton and Richard Nixon, Bitcofer said.
Pelosi endorsed the launch of the impeachment inquiry against Trump on Sept. 24 following a whistleblower complaint that the president used his official power to pressure Zelensky to investigate allegedly corrupt behavior by Democratic presidential front-runner Joe Biden and his son, Hunter. In one week, support for impeachment has already grown a net 16 points.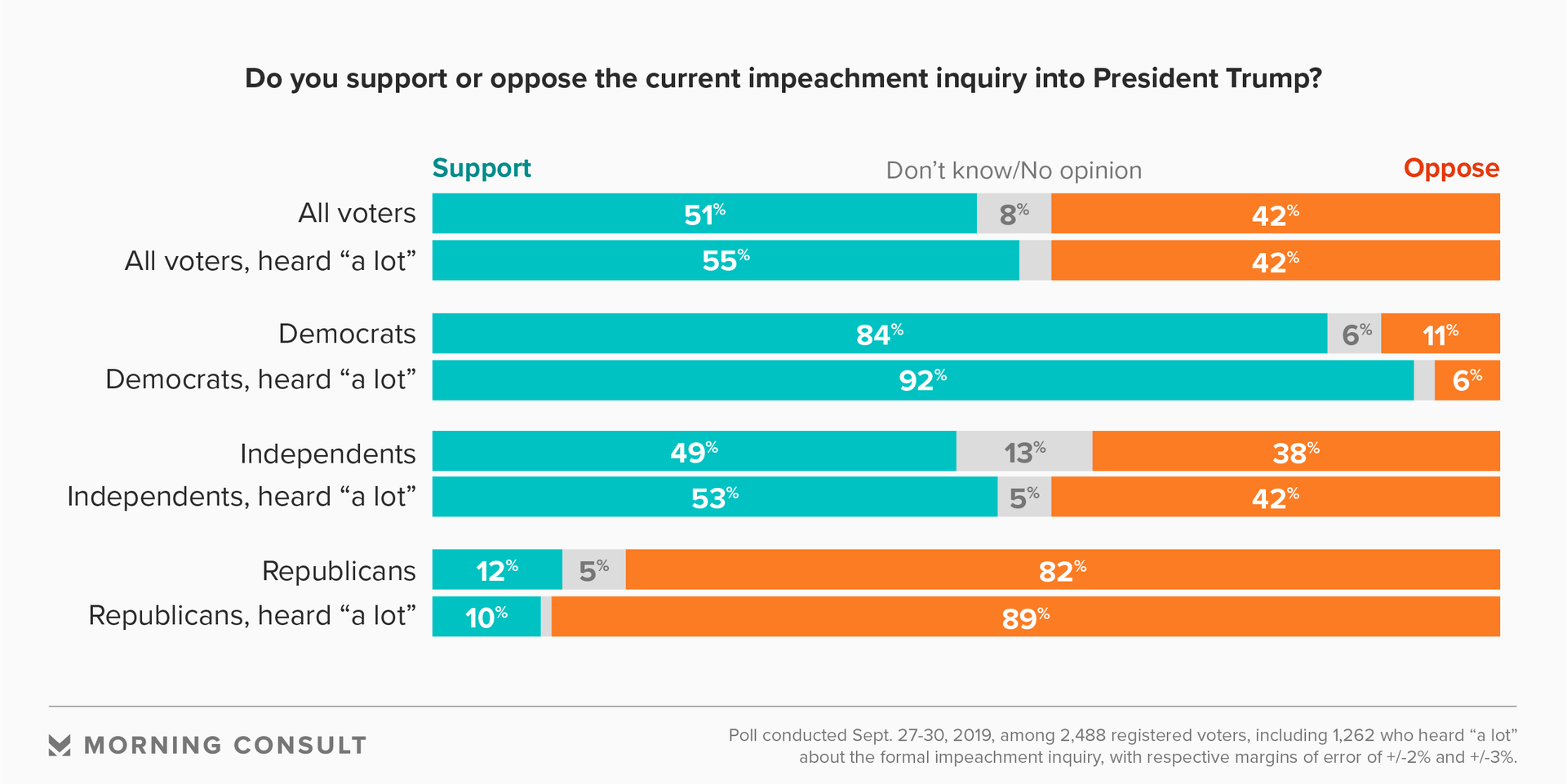 But it's not just Democrats fueling the shift. Independent voters have grown 10 points more likely to support impeachment since a Sept. 20-22 poll -- "crushing" movement, according to John Hudak, senior fellow in the Brookings Institution's Governance Studies program -- and those who said they've kept up with this news story were more likely to be critical of Trump.
Unlike stories surrounding former special counsel Robert Mueller's Russia investigation, the relative simplicity of the Trump-Zelensky story could be harder for the administration to knock down.
"The number of people who could actually explain in detail what happened, and what the Mueller investigation was all about — it's probably pretty small. Not because Americans are dumb, but because it was just so multifaceted. This isn't," Hudak said.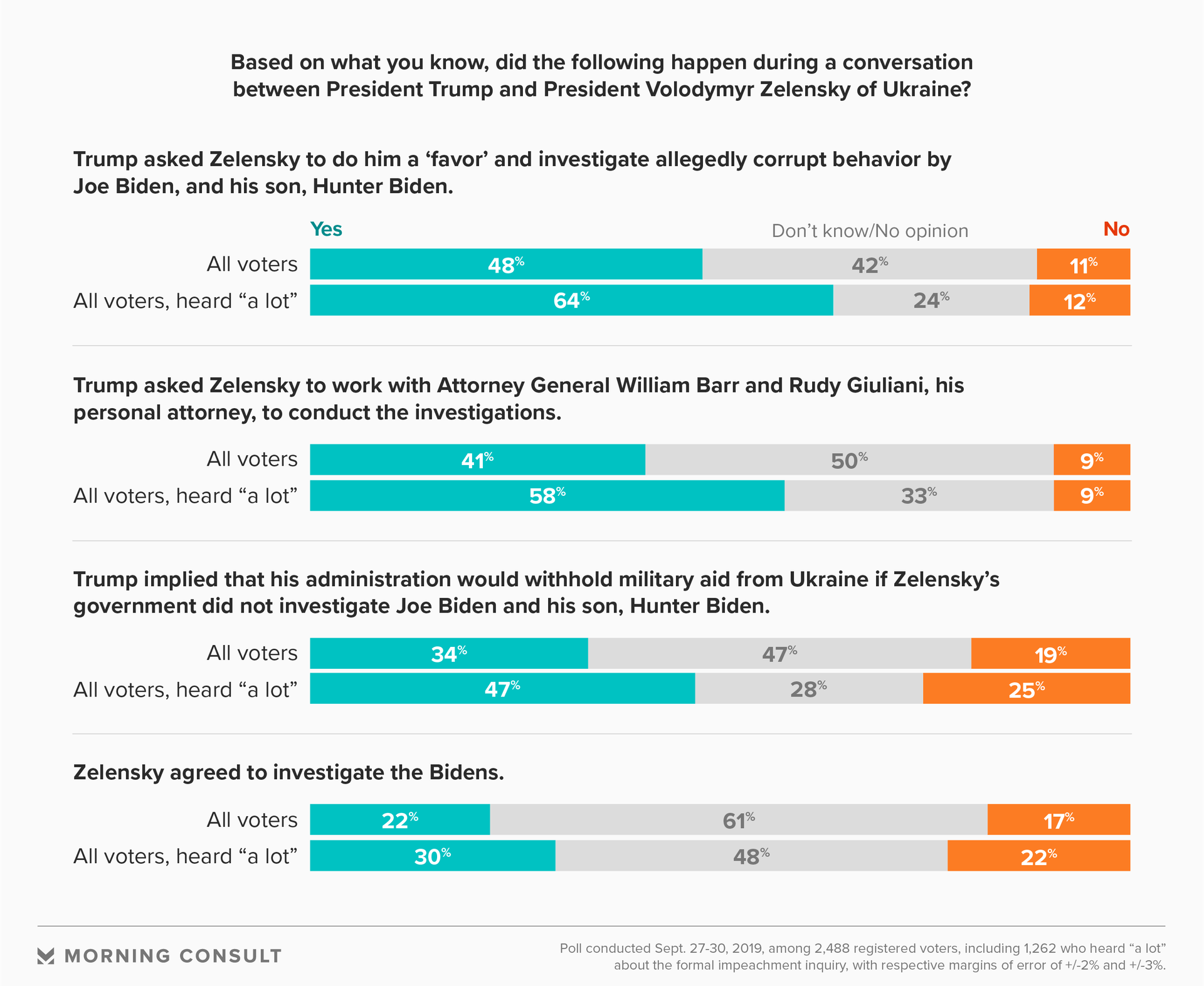 Voters who said they heard "a lot" about the impeachment inquiry were significantly more likely to understand two clear-cut takeaways from the news cycle: that Trump asked Zelensky to do him a "favor" and investigate allegedly corrupt behavior by Joe and Hunter Biden, for example. Most of these more-informed voters were also more likely to say that Trump implied he would withhold military spending if an agreement were not reached.
However, of Republican voters who said they'd followed the impeachment news closely, only 16 percent agreed the president had indirectly introduced a so-called "quid pro quo" into the conversation, roughly the share of rank-and-file Republicans who said the same. 
GOP voters are steadfast in their support for Trump, according to the poll, regardless of media consumption. Forty-three percent of all voters opposed impeachment in the poll, including 85 percent of Republicans and 88 percent of Trump voters. The divide on the question -- 46 percent in support vs. 43 percent in opposition -- isn't far off from the popular vote margin from 2016, and highlights just how polarized the country has become, especially in terms of views on the media.
"Trump's base is very loyal," said Doug Heye, a former Republican National Committee spokesman. "There aren't a lot of cracks to it," adding that such loyalty means it's unlikely that a significant share of Republicans would ever support impeachment.
To Heye's point, nearly half (49 percent) of GOP voters in the poll said there was "almost nothing" that the president could do that would cause them to support proceedings to remove him from office.
Nonetheless, cracks were apparent in what Hudak called a "protection question."
Roughly 2 in 5 Republicans said Trump could do something to change their opinion on the matter, and another 13 percent were unsure or had no opinion.
"That's the poll that I don't think is all that great for the president," Hudak said. "That's the poll that would scare the hell out of me if I was in the West Wing."
This story has been updated to clarify voter sentiment about impeachment support.
Joanna Piacenza leads Industry Analysis at Morning Consult. Prior to joining Morning Consult, she was an editor at the Public Religion Research Institute, conducting research at the intersection of religion, culture and public policy. Joanna graduated from the University of Wisconsin-Madison with a bachelor's degree in journalism and mass communications and holds a master's degree in religious studies from the University of Colorado Boulder. For speaking opportunities and booking requests, please email [email protected].
We want to hear from you. Reach out to this author or your Morning Consult team with any questions or comments.
Contact Us