Voters Say Kamala Harris Won the Vice Presidential Debate, but the Fly Stole the Show
Debate watchers were more likely to say the California Democrat is ready to be president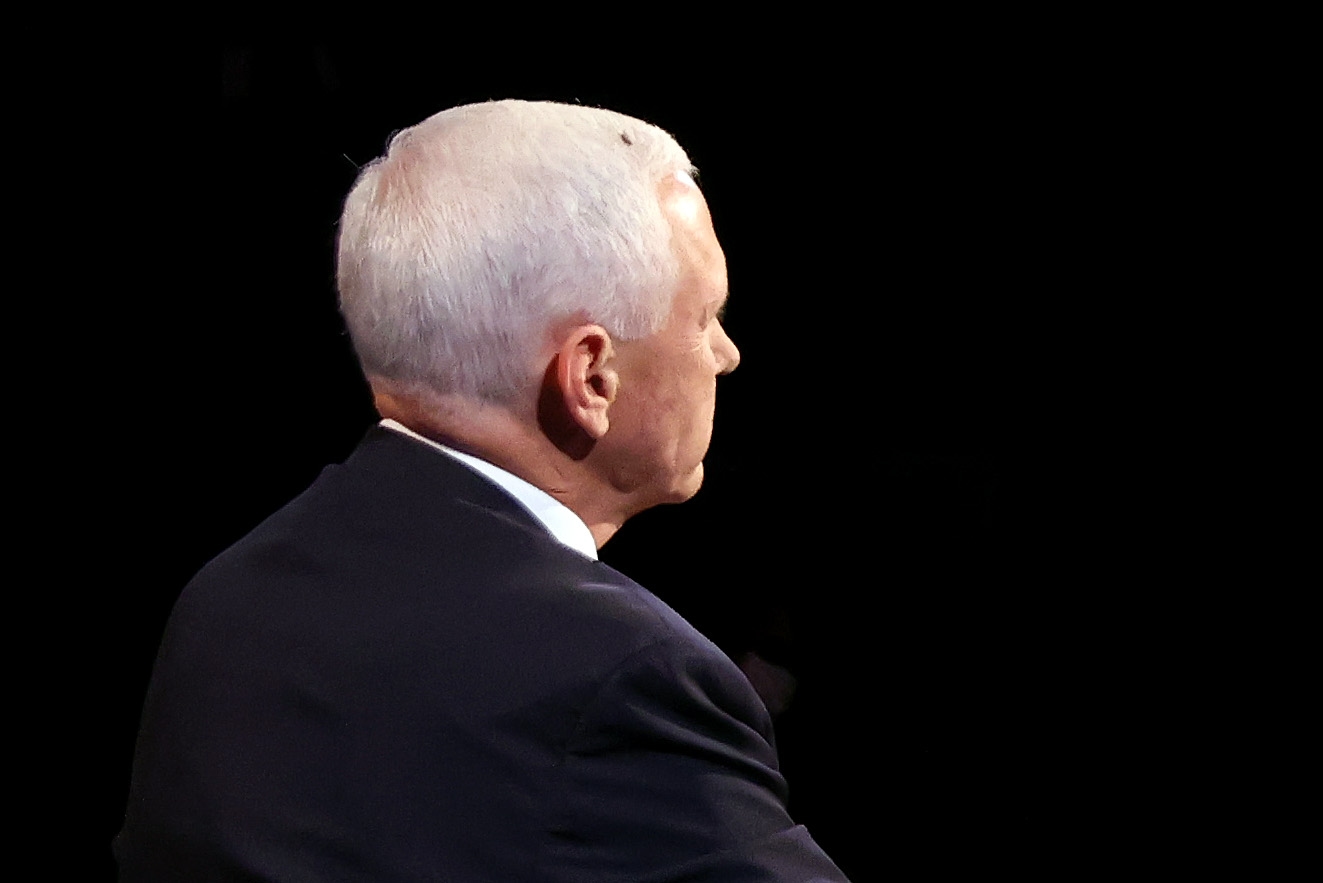 Voters declared California Sen. Kamala Harris the winner of Wednesday's vice presidential debate with incumbent Mike Pence, though a majority of Americans who tuned in were left with the impression that either is prepared to serve as president. 
A new Morning Consult/Politico poll conducted Thursday found 51 percent of voters who watched the debate believe Harris performed best, while 40 percent opted for Pence. Harris went into the debate with higher expectations from voters, and unlike President Donald Trump -- who underperformed projections in the first presidential debate last week -- she stepped up to the challenge in the eyes of the electorate. 
The poll was conducted among 1,717 registered voters, including 1,047 who watched the debate, with respective margins of error of 2 and 3 percentage points.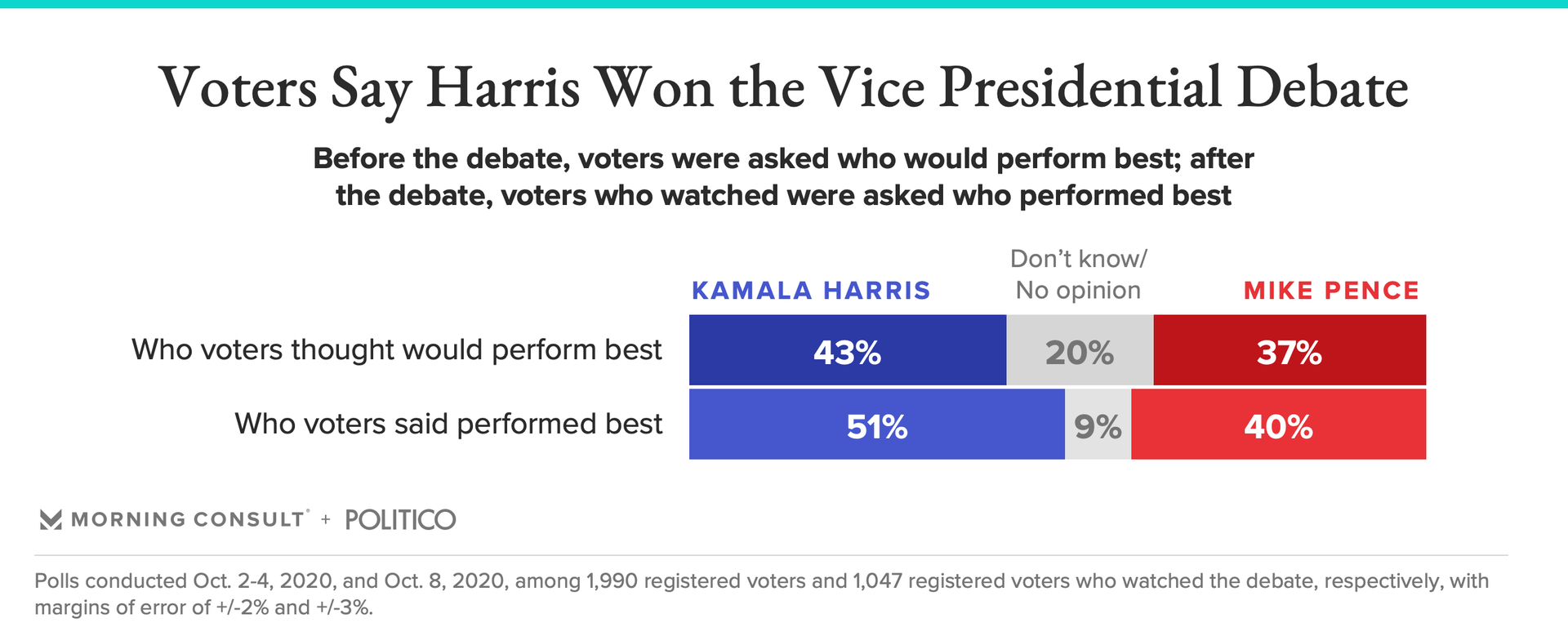 While voters had expected Harris to perform best, they were more likely to say Pence was prepared for the presidency -- a key question as the two serve as running mates to septuagenarians, and one that was thrown to the forefront with Trump's COVID-19 diagnosis last week. Compared to the pre-debate survey, voters are more likely to say that both candidates could take on the role of commander in chief, but the change was more significant for Harris among people who watched the debate.
In the post-debate survey, 59 percent who watched the debate said she was prepared to be president, up 9 points from the Oct. 2-4 survey. Among voters overall, 53 percent said Harris is ready for the job, compared to 50 percent who said the same in the previous survey. 
Pence saw a modest improvement in his ratings on the question: Roughly 6 in 10 voters and debate watchers said he is prepared to be president, up from 57 percent ahead of the matchup. 
The debate was met with talk from pundits that it would matter more than past vice presidential matchups given the recent focus on Trump's health, and garnered more attention than the 2016 meeting between Pence and Hillary Clinton's running mate, Sen. Tim Kaine (D-Va.), according to initial figures from Nielsen. Six in 10 voters tuned in to the event, according to the survey, though that is 9 points fewer than the 69 percent who watched Trump and Democratic presidential nominee Joe Biden butt heads on Sept. 29.
The vice presidential debate was more subdued than the interruption-filled discussion between Trump and Biden last week, though large shares of voters were still displeased with the substance of the exchange. 
While viewers' appetites were largely satiated when it came to talk of the two candidates' public records, roughly half of those who watched the debate said they didn't hear enough about health care, gun policy, the economy or immigration. When it came to the coronavirus -- a key issue for Pence, who led the White House's pandemic task force -- 36 percent said they didn't hear enough about it.
The poll shows that discussion of a number of policy issues ultimately failed to break through, having been overshadowed by a surprise guest. 
Thirty-eight percent of voters and 46 percent of debate viewers said they had seen, read or heard "a lot" about a fly landing on Pence's head during the event, a moment well-documented online and by television. 
That's more than three times the share of debate watchers who heard a lot about Pence dodging a question about whether he would want Indiana to outlaw abortion if the Supreme Court were to strike down Roe v. Wade, and nearly twice the share who heard about Harris refusing to say whether she and Biden would support increasing the number of justices on the court.
Eli Yokley is Morning Consult's U.S. politics analyst. Prior to his current role, Eli was Morning Consult's senior reporter covering U.S. politics. Eli joined Morning Consult in 2016 from Roll Call, where he reported on House and Senate campaigns after five years of covering state-level politics in the Show Me State while studying at the University of Missouri in Columbia, including contributions to The New York Times, Politico and The Daily Beast. Follow him on Twitter @eyokley. Interested in connecting with Eli to discuss his analysis or for a media engagement or speaking opportunity? Email [email protected].
We want to hear from you. Reach out to this author or your Morning Consult team with any questions or comments.
Contact Us