Warren Pulls Ahead of Sanders for No. 2 Spot Among Democratic Primary Voters
Massachusetts senator trails Biden by 12 points, 32% to 20%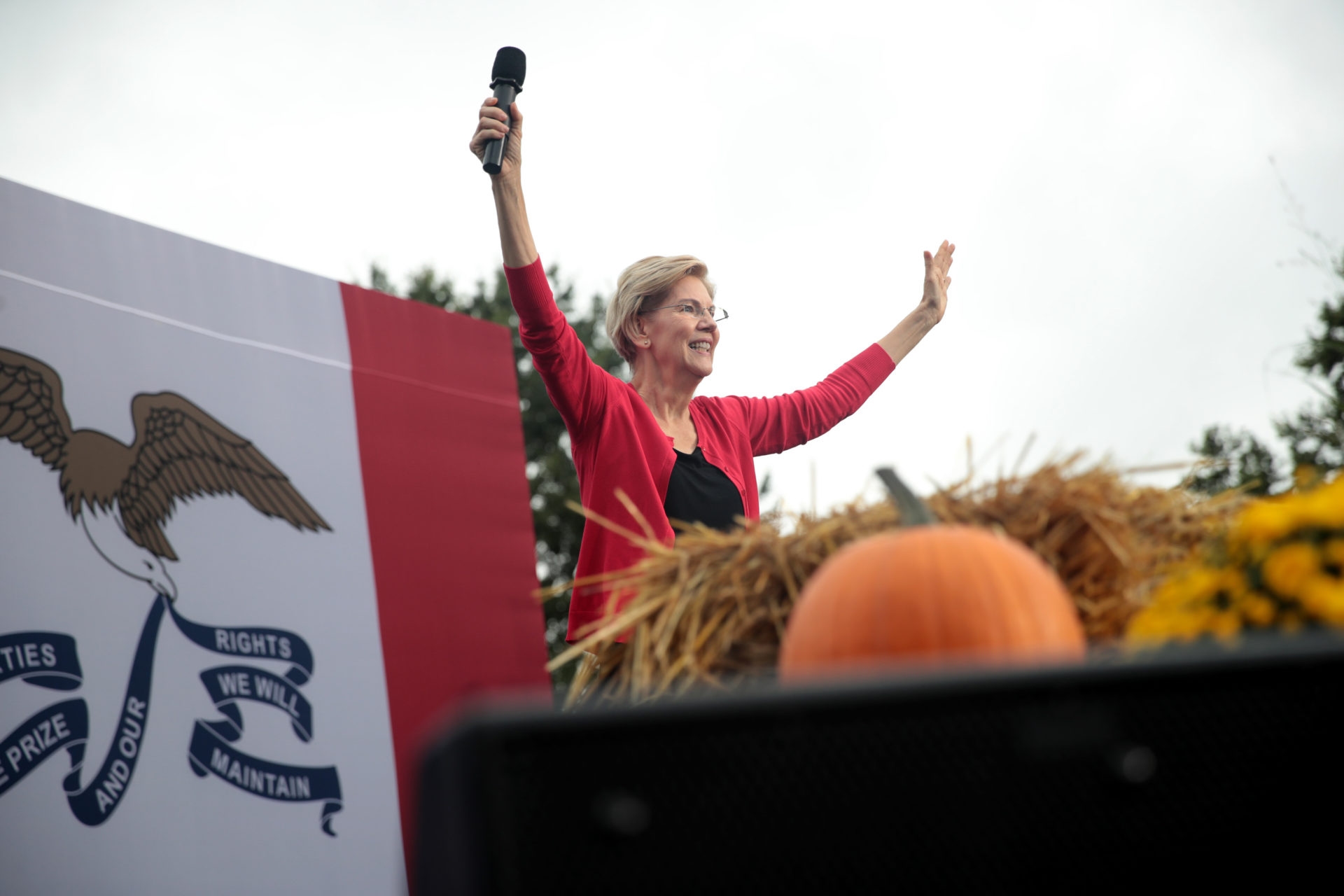 Key Takeaways
Since mid-April, Warren has picked up 13 points of first-choice support while Biden has gained 2 points and Sanders has lost 5 points.

The poll shows ample room for Warren's support to grow among women and voters ages 18 to 29.

40% of black voters back Biden compared with 11% who back Warren, but 29% have yet to form an opinion of the second-term senator.
For the first time since Morning Consult began tracking the 2020 Democratic presidential primary in late January, Sen. Elizabeth Warren (D-Mass.) has overtaken Sen. Bernie Sanders (I-Vt.) for second place. 
Twenty percent of Democratic primary voters said Warren was their first choice for the presidential nomination, up 4 percentage points since a survey conducted before the party's third debate in Houston on Sept. 12 
The uptick marks a continuation of her rise since the spring, while support for Sanders and the race's front-runner, former Vice President Joe Biden, has stagnated or fallen. Warren has picked up 13 points of first-choice support since mid-April, compared with a 2-point bump for Biden and a 5-point dip for Sanders.
The Sept. 16-22 poll, which was conducted among 17,377 registered voters who indicated they may vote in the Democratic primary or caucus in their state, found 19 percent backing Sanders, while Biden continues to lead with 32 percent. The poll has a 1-point margin of error.
Warren -- who, at 40 percent, received the highest average "excellent" performance rating among Democratic voters who watched the three summer debates, according to Morning Consult/Politico polling -- is setting her sights firmly on Biden and on persuading voters who are backing the former vice president because they believe he has the best chance of beating President Donald Trump.
A post-Houston debate Morning Consult/Politico poll found Biden overperforming his first-choice vote share on the question of which candidate is best-positioned to defeat Trump: Thirty-nine percent said Biden vs. 15 percent who chose Warren.
"I know people are scared, but we can't choose a candidate we don't believe in just because we're too scared to do anything else," Warren said in New York City last week at what media reports described as the largest rally of her campaign, an implicit jab at Biden's electability pitch. "Democrats can't win if we're scared and looking backward." 
The latest poll suggests that message may be resonating more deeply. For the first time, more of Biden's supporters view Warren as their second-choice candidate than Sanders, 28 percent to 26 percent, and she's within striking distance of knocking Biden off his perch as the second choice for voters who prefer Sanders to the other candidates.  
Biden largely owes his front-runner status to his standing with black voters, and he holds a significant edge over Warren with the key Democratic constituency.
Forty percent of black Democratic primary voters identify Biden as their first choice, compared to 11 percent who are backing Warren. Despite that sizable edge, there is cause for optimism in the Warren camp: 29 percent of those voters have yet to form an opinion of the senator. 
During the course of the early stages of the campaign, Warren's support has increased as Democratic primary voters have learned more about her. Her net favorability (the share of people who have favorable views of her minus those who have unfavorable views) surpassed Biden's in the latest survey as unfavorable views about him have increased among the Democratic electorate. A continuation of that dynamic could pull her closer to the top of the race.
The latest Morning Consult poll also shows ample room for growth among voters ages 18 to 29 and female voters, 35 percent and 24 percent of whom respectively have no view of Warren.    
Biden has a strong advantage over Warren with conservative Democratic primary voters (33 points), moderates (26 points) and people who said they voted for President Donald Trump in 2016 (25 points).
Warren's main advantage over the front-runner comes from the most liberal voters. Among white voters who identify as "very liberal," Warren leads with 34 percent, followed by Sanders (25 percent) and Biden (18 percent).
Eli Yokley is Morning Consult's U.S. politics analyst. Prior to his current role, Eli was Morning Consult's senior reporter covering U.S. politics. Eli joined Morning Consult in 2016 from Roll Call, where he reported on House and Senate campaigns after five years of covering state-level politics in the Show Me State while studying at the University of Missouri in Columbia, including contributions to The New York Times, Politico and The Daily Beast. Follow him on Twitter @eyokley. Interested in connecting with Eli to discuss his analysis or for a media engagement or speaking opportunity? Email [email protected].
We want to hear from you. Reach out to this author or your Morning Consult team with any questions or comments.
Contact Us