Warren Was Worried Democratic Town Halls Would Aid Fox's Image. For Now, She's Right
Fox News seen in slightly more positive light after the events, but ad researcher says it won't affect advertising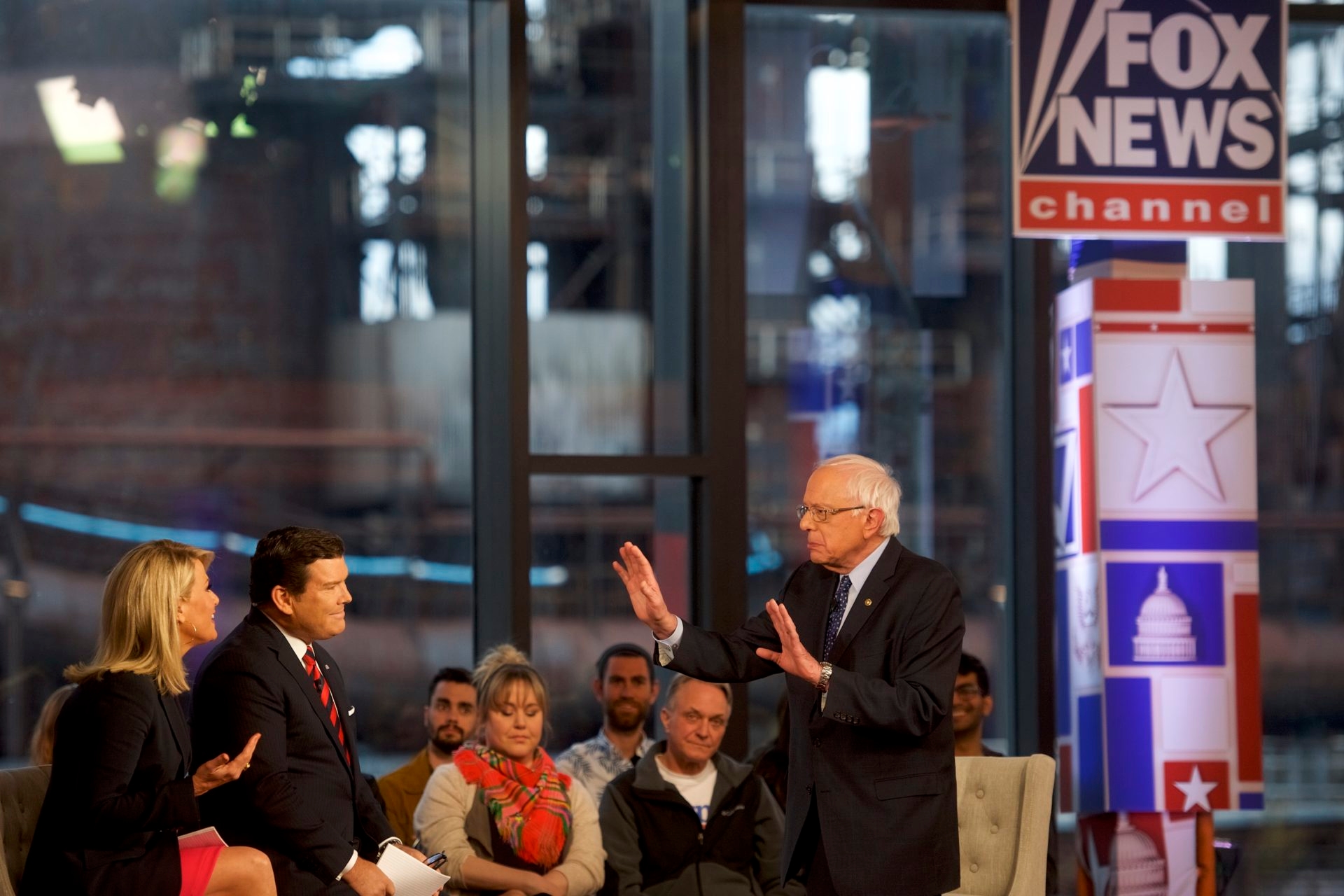 Key Takeaways
Among those that watched some or all of a Democratic candidate's town hall on Fox, 19% said the town hall changed their perception of the network for the better; 13% said it changed for the worse.

Among Republicans, 65% say that Fox News gives the Trump administration fair coverage, compared to 19% and 17% who said the same about MSNBC and CNN, respectively.
Town halls with 2020 Democratic candidates have generated a lot of media buzz, especially after Massachusetts Sen. Elizabeth Warren turned down an invitation to appear on Fox News, accusing the network of hosting Democratic town halls in an effort to appeal to potential sponsors.
But while polling shows attitudes about Fox News improved slightly as a result of the town halls compared to those of CNN and MSNBC, one advertising researcher says the slight bump in positive sentiment is unlikely to affect the network's sponsorship revenue.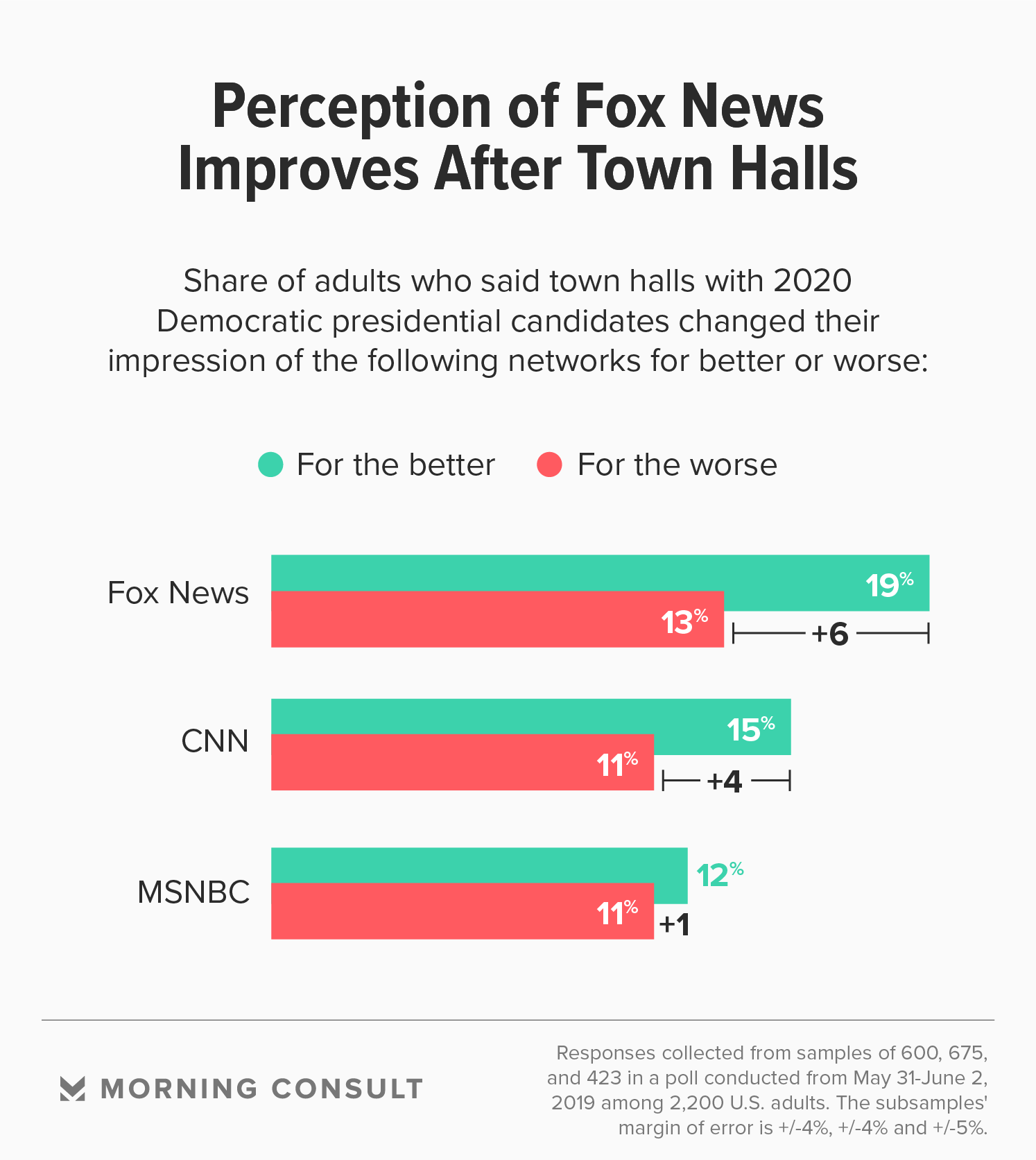 The May 31-June 2 Morning Consult/The Hollywood Reporter survey found that among viewers that watched some or all of the various town halls airing on Fox News, MSNBC and CNN, Fox News was the biggest beneficiary: 19 percent of the 600 viewers who watched said the town hall changed their perception of the network for the better compared to 13 percent who said it changed their perception of the network for the worse.
Among those who saw the town halls on CNN, 15 percent said their views changed for the better; 11 percent said they changed for the worse. And for MSNBC, those figures were 12 percent and 11 percent, respectively.
The poll's overall margin of error is 2 percentage points. The margin of error for the samples that watched town halls on Fox News and CNN is 4 points, and the margin of error for those that watched town halls on MSNBC is 5 points.
Scott McDonald, CEO and president of the Advertising Research Foundation, said Fox News' perception bump could mean the network "is getting some credit" among the public "for letting in some other voices," rather than being an echo chamber.
McDonald cautioned that it may not last long. "I wouldn't call it a trend until you actually can watch it over a period of time and see whether it builds," he said.
A Morning Consult/Politico poll conducted last month found that 64 percent of Democratic voters said it was appropriate for Democratic candidates to appear on town halls on Fox News. Fifty-nine percent of Republicans shared that opinion.
In a May 14 Twitter thread, Warren laid out her reasons for declining to appear on Fox News, which had already hosted town halls for Democrats such as Minnesota Sen. Amy Klobuchar and Vermont independent Bernie Sanders. She alleged that Fox News, which she called a "hate-for-profit racket," is using the programs to bolster its advertising business by assuring sponsors of brand safety.
When asked to comment, a spokesperson for the Warren campaign pointed to previous remarks the senator made on "The View," during which she said, "I'm just not going to help Fox News executives raise money off my name."
But McDonald said that it is unlikely the slight increase in positive perception shown in the poll will make an impact on the network's advertising.
"I would expect that this would have very little effect on the slate of advertisers that Fox would be able to sell to," he said. "I wouldn't expect there to be a bunch of advertisers popping up that haven't already been doing business with Fox."  
When reached for comment, a Fox News representative pointed to remarks made by CEO Suzanne Scott during this year's investor day on May 9, in which she said this fiscal year is "on track" to be the network's "highest advertising revenue year ever."
According to Nielsen data, Sanders' April 15 town hall on Fox News has been the most watched of all of the town halls, averaging 2.5 million viewers, while Sen. Kamala Harris' (D-Calif.) MSNBC town hall on May 28 came in at No. 2 with an average of 2.21 million viewers.
When it comes to how coverage of the Trump administration and the 2020 Democratic candidates is perceived across networks, 46 percent of the 2,200 U.S. adults surveyed said Fox News covered the Trump administration fairly while 44 percent thought CNN covered the Democratic candidates fairly.
When looking at partisan attitudes around how networks cover the Trump administration, 65 percent of Republicans said that Fox News gives fair coverage, while 17 percent and 19 percent said the same of CNN and MSNBC, respectively.
Among Democrats, 66 percent said that CNN has given fair coverage to Trump. Forty-two percent said the same of Fox News.
When asked about the coverage of the 2020 Democratic candidates, Democrats were far more likely than Republicans to say that CNN gave the candidates fair coverage, 68 percent to 28 percent. Among Republicans, 61 percent said that Fox News gave fair coverage of the candidates, compared to 33 percent of Democrats who shared that view.
The margin of error for the Republican subsample is 4 points, while the margin of error for the Democratic subsample is 3 points.
Sarah Shevenock previously worked at Morning Consult as a reporter covering the business of entertainment.
We want to hear from you. Reach out to this author or your Morning Consult team with any questions or comments.
Contact Us