Democrats Have High Expectations for Warren Ahead of Fourth Debate
For the first time, Democratic voters expect her to outperform Biden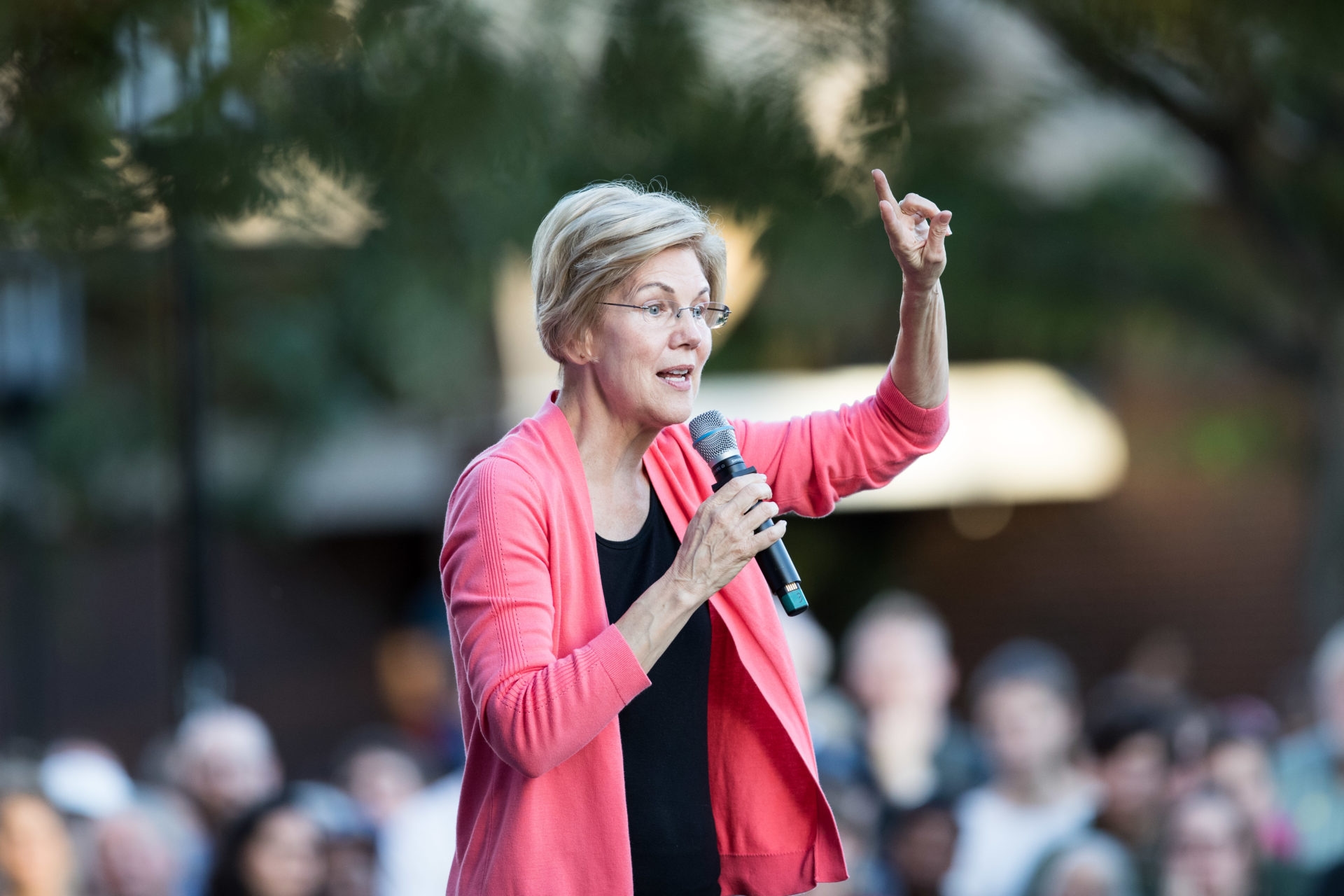 Key Takeaways
29% of Democratic voters said they expect Sen. Elizabeth Warren to perform best in Ohio, up 10 points since pre-Houston debate in September.

Voters continue to prioritize gun policy, the treatment of migrant children and climate change.

46% said candidates should talk about President Donald Trump, up 8 points since the Houston debate and the largest figure to date.
Expectations for Sen. Elizabeth Warren are higher than they've ever been ahead of Tuesday night's debate in Ohio, with the Massachusetts Democrat topping former Vice President Joe Biden for the first time on whom voters expect to perform best after rising to second place in the race for the Democratic nomination nationwide.
Twenty-nine percent of Democratic voters in the latest Morning Consult/Politico poll expect Warren to perform best against the other 11 candidates on stage, up 10 percentage points since a poll conducted before the September debate and more than twice the share who expected her to come out on top in polling conducted before the first round of debates in June.
Twenty-six percent of Democratic voters in the Oct. 11-13 poll said they expect Biden to perform best, down 7 points since June and within the Democratic sample's 4 percentage point margin of error of Warren. And 13 percent expected Sen. Bernie Sanders (I-Vt.) to perform best, down 4 points since September.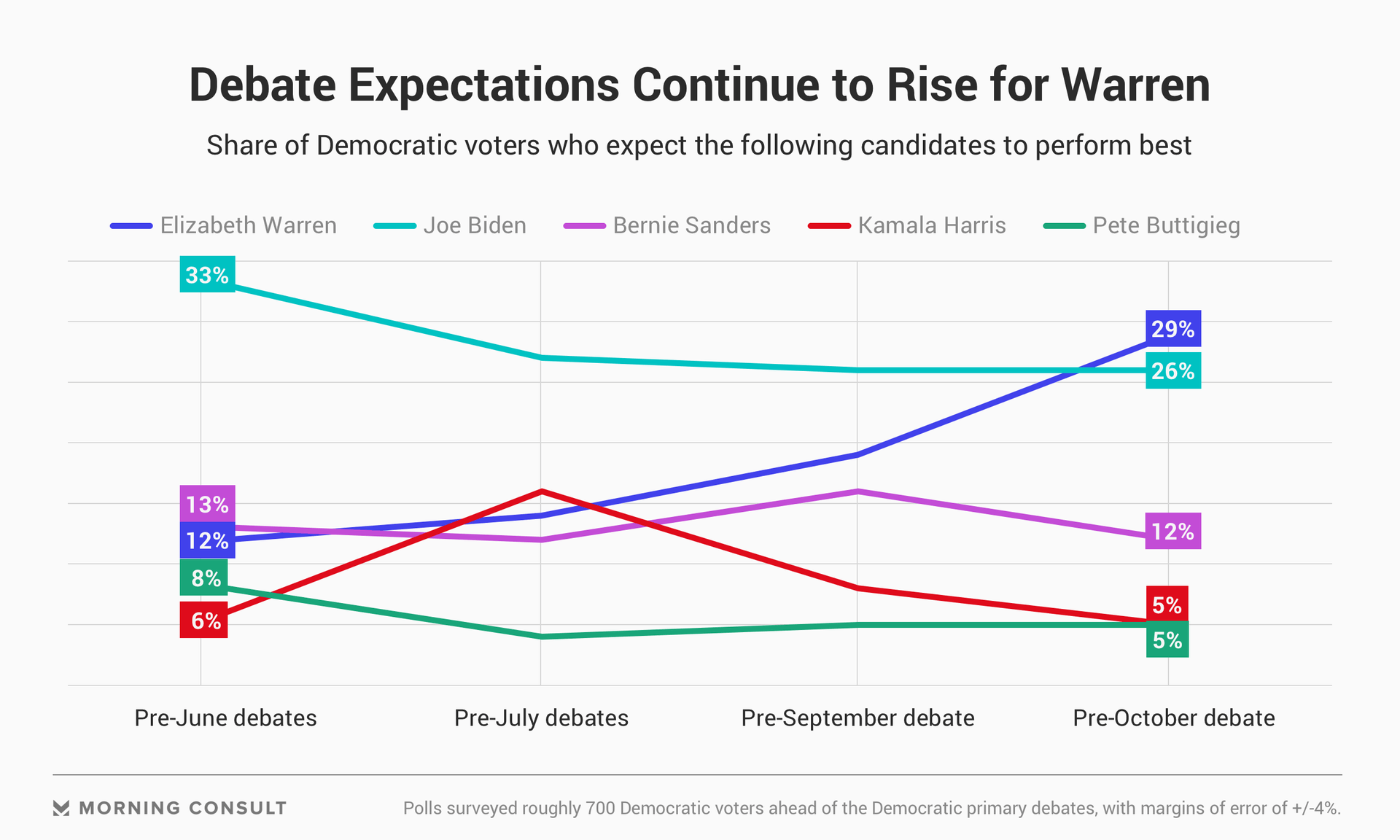 "There is always a danger in high expectations," said Adrienne Elrod, the former director of strategic communications for Hillary Clinton's 2016 campaign. "But if past is precedent, Warren will have another steady debate performance. She has a unique ability to present her argument and engage in rebuttals without seeming defensive or going on the attack. And she doesn't need to rely on debates to propel her in the polls."
The increase in expectations for Warren is reminiscent of the surge for Sen. Kamala Harris (D-Calif.) following the first debate in June, when she made headlines for dinging Biden's positions on federal involvement in desegregation bussing and work with segregationists as a senator from Delaware. Harris, too, saw an increase in her share of the first-choice vote after the first debates, but it wore off following the second debates. 
But unlike Harris, Warren's rise among the Democratic electorate has been slow and steady since the early stages of the campaign. She pulled ahead of Sanders last month, but still trails Biden by double digits, 32 percent vs. 21 percent, in Morning Consult's tracking among Democratic primary voters, mainly due to his strength with black voters.
The latest Morning Consult/Politico poll, which has a 2-point margin of error, finds very little change since September in what Democratic voters say is "very important" for candidates to discuss. The top issues remain gun policy (71 percent), the treatment of child migrants detained at the border (67 percent) and climate change (67 percent), which have ranked near or at the top of a list of priorities ahead of the past three debates. 
However, amid an impeachment inquiry on Capitol Hill probing President Donald Trump's conduct with Ukraine, there was an increase in the share of Democratic voters who said it was very important for the candidates to discuss the president from the stage in Westerville, Ohio. Forty-six percent of Democratic voters prioritized discussion of Trump, up 8 points since September and marking a high point for the campaign. 
A third of Democrats said it was very important for the candidates to discuss Ukraine.
Eli Yokley is Morning Consult's U.S. politics analyst. Prior to his current role, Eli was Morning Consult's senior reporter covering U.S. politics. Eli joined Morning Consult in 2016 from Roll Call, where he reported on House and Senate campaigns after five years of covering state-level politics in the Show Me State while studying at the University of Missouri in Columbia, including contributions to The New York Times, Politico and The Daily Beast. Follow him on Twitter @eyokley. Interested in connecting with Eli to discuss his analysis or for a media engagement or speaking opportunity? Email [email protected].
We want to hear from you. Reach out to this author or your Morning Consult team with any questions or comments.
Contact Us