Wealthy, Liberal and Well-Educated: Some of the Traits of a Brand Boycotter
29% of adults said they'd boycotted a company because of its political behavior
If your brand plans to attract a customer who makes more than $100,000 a year, is highly educated or politically liberal, think twice before you take a stand on something political: According to a Morning Consult/Advertising Week survey, these are the people most likely to stop patronizing a company because of its politics.

The poll, conducted Aug. 13-15, asked 4,200 adults whether they had stopped buying the products or services from a company because of that company's political action or stance. Twenty-nine percent, or 1,215 people, said they had.
Out of those people, half have post-graduate degrees, 43 percent identify as liberal and 42 percent make over $100,000 a year.
While it's uncertain how much these three traits overlap among people who say they have boycotted services and goods for political reasons, liberal and wealthy both fit the typical customer profile at the latest company to suffer a major boycott -- SoulCycle, where one class costs about $34 including tax. 
New York, Los Angeles and San Francisco -- which all have big politically liberal populations -- make up about 46 percent of SoulCycle's bookings, according to Earnest Research, which analyzes credit and debit card transaction data. Earnest Research reported on Aug. 15 that SoulCycle saw around a 10 percent decline in class bookings nationwide immediately after The Washington Post's Aug. 6 report that SoulCycle investor Stephen Ross was planning a Hamptons fundraiser for President Donald Trump.
Consumers who are both liberal and earn over $100,000 a year make up a small share of the population, representing about 4.3 percent of the 4,200 survey respondents.
But their purchasing power can still make a significant dent in the sales of a company, according to Maurice Schweitzer, a management professor at the University of Pennsylvania. Schweitzer cited the example of actor George Clooney, who in March called for a boycott of the luxury hotels owned by Brunei Sultan Hassanal Bolkiah after Brunei said it would stone and whip to death any citizens found to be gay. After other celebrities and U.S. companies such as JPMorgan Chase & Co. joined the boycott, the sultan said in May that the country wouldn't enforce the death penalty for gay sex.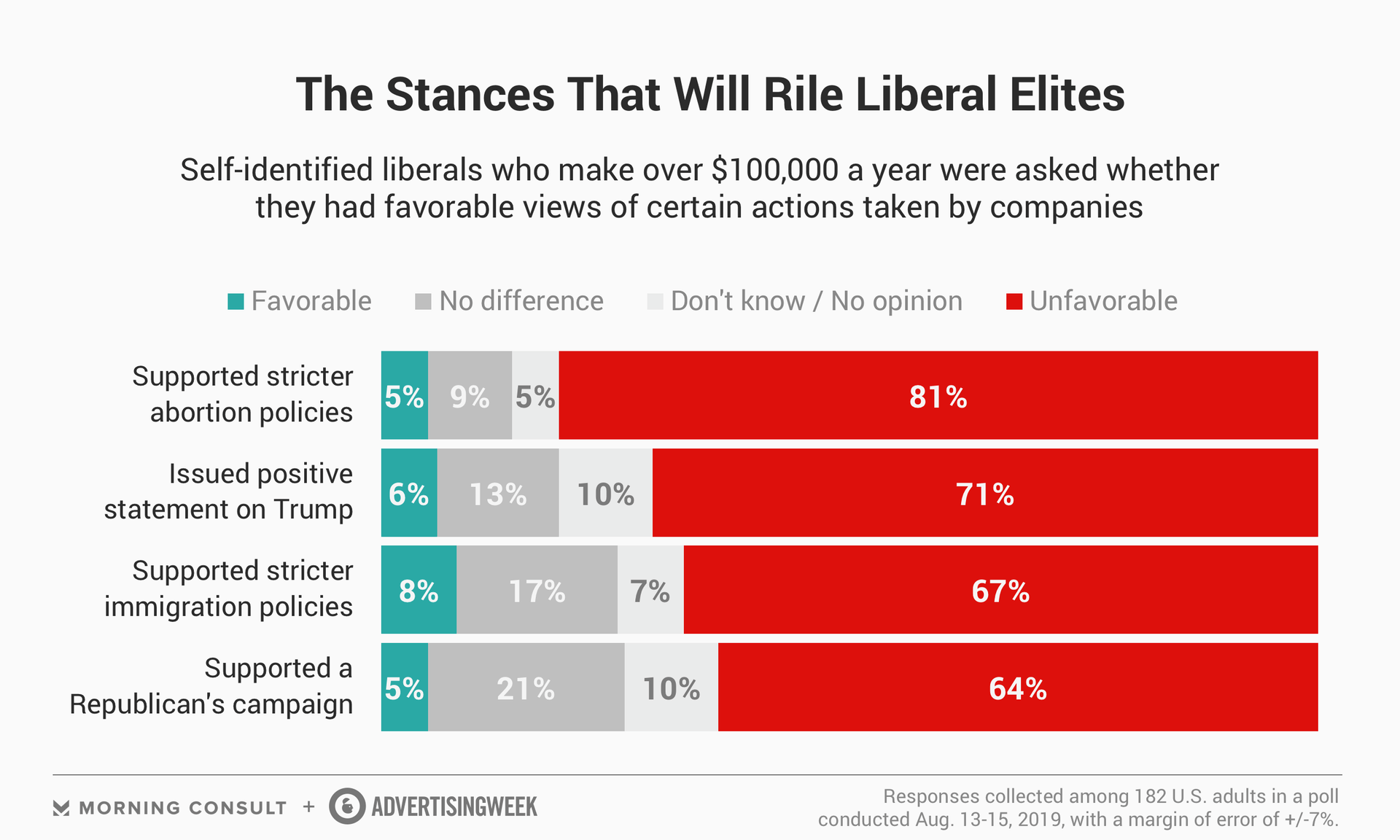 For liberals, one of the worst things a company can do is issue a positive statement about Trump, with 65 percent of this group saying they would view the action unfavorably. While fewer of those making over $100,000 (39 percent) and those with a postgraduate degree (48 percent) share that sentiment, the move still ranks among the top two disliked stances for these groups.

An anti-abortion position was equally unpopular among liberals (65 percent) and was the most disliked stance among those making over $100,000 (48 percent). Supporting the campaign of a Republican lawmaker was the second-most unpopular stance among those with a postgraduate degree, at 44 percent. 
But even if companies avoid the third rail of politics, Thomas Ordahl, chief strategy officer at brand consulting firm Landor, said there's no way for companies to escape a boycott because there's always going to be a reason people dislike a brand. Given this reality, companies shouldn't fear calls for a boycott as long as they continue focusing on what matters most to their customers.

"Stay true to the issues that matter most to your target audience," Ordahl said. "We need to be reflecting and adhering to values and to the things that are important to the people that we're trying to try to target."
On the flip side, Schweitzer said boycotts can actually rally opposition to the boycotters, thus limiting the negative impact on sales.
Schweitzer cited the case of the #GrabYourWallet campaign, which began in October 2016 after Trump's infamous Access Hollywood tape was leaked. The campaign calls for boycotting companies that do business with Trump and his family, but those who supported Trump were inspired by the movement to buy more of his daughter Ivanka's clothing line.

"There are people on the other side that get energized," he said, and "they actually might boost sales" as well. 
Lesser-known companies have less to lose by taking a politically polarizing stance because they usually have a smaller market share, said Neeru Paharia, professor of marketing at Georgetown University. For these companies, there's also a potential upside: They can raise their profile by taking a bold stance, increasing consumer awareness of their brand.
Ordahl said the kind of boycotts that can cripple a company are the ones that are inspired by actions that compromise  "the credibility of a brand's promise." He cited a hypothetical example of a company that touted its support of women's rights but turned out to have a chief executive who treated women badly.   
"Undermining the credibility of the claims behind the brand is much more pernicious than people saying, 'Okay, let's all punish this brand by not shopping there for a while,' " Ordahl said. "Because whatever this issue is, people are pretty equipped to get over that quickly."
See crosstabs for baby boomers, Generation X, millennials and Generation Z demographics, as well as how these topics fared among all adults.
Kasey Meredith previously worked at Morning Consult as a reporter covering brands.
We want to hear from you. Reach out to this author or your Morning Consult team with any questions or comments.
Contact Us