Whether It's at the Oscars or With the Public, Female Directors Go Unrecognized
On average, poll respondents were 3 times more likely to say a man directed a film that was helmed by a woman
As the Academy of Motion Picture Arts and Sciences prepares to hand out an Oscar on Sunday to one of the five men nominated for Best Director, its critics are pointing to the constant lack of female director nominees as proof that women don't get adequate recognition for their work in Hollywood.
It's not just the Academy, however: Morning Consult polling finds that the public incorrectly gives the director's credit to a man even when a woman helms a film.
A Jan. 30-Feb. 3 Morning Consult survey of 2,201 adults showed that when given a selection of movies from recent years -- half of which were directed by men, half of which were directed by women -- respondents were on average three times more likely to say that a man directed a film that was actually directed by a woman.
For example, a 46 percent plurality said that Academy Award-winning director Kathryn Bigelow's 2017 film "Detroit" was directed by a man, while 11 percent correctly said that it was directed by a woman.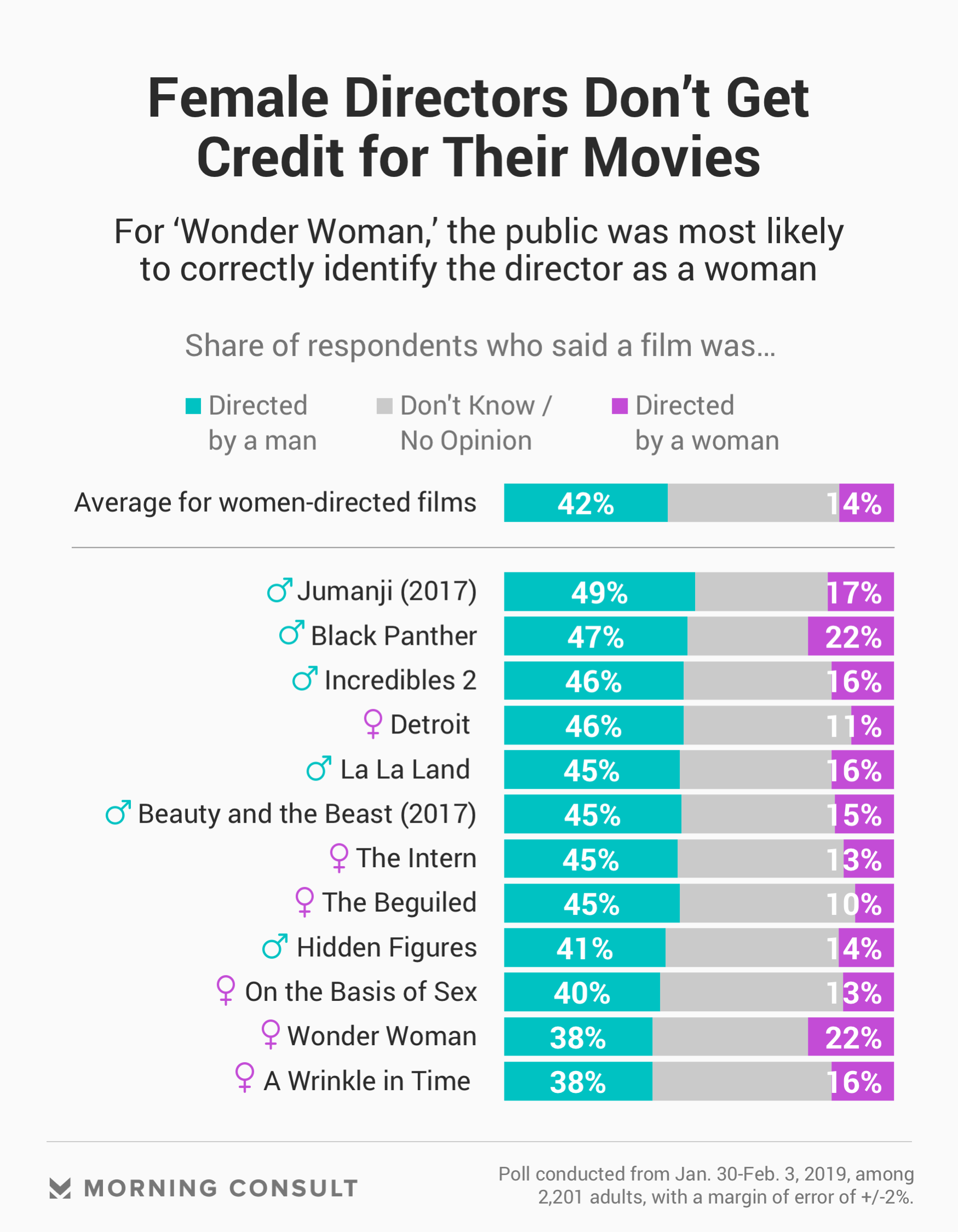 The lack of awareness of the gender of the director reflects the sheer number of men who sit in the director's chair. During 2007-2018, the share of women directors among the 1,200 top films never topped 10 percent, according to an Annenberg Inclusion Initiative study released Jan. 4. In 2018, the number of female directors dropped to 4 percent.
Catherine Hardwicke, director of 2008's "Twilight" and most recently the action film "Miss Bala" in 2019, said the solution is clear: "All TV shows could commit to 50 percent female directors," she said by email. "All studios could commit to 50 percent female directors on all films."
Researchers, advocacy groups and female directors working in the industry have proposed a number of changes, including inclusion riders and transparent hiring practices, that can be put into practice now to increase the number of working female directors.
This year at the Sundance Film Festival, actress Tessa Thompson called on major studios and key industry players to work with a female director at some point in the next 18 months as part of the Time's Up and Annenberg Inclusion Initiative's "4 Percent Challenge." Jordan Peele, Reese Witherspoon, J.J. Abrams and Kerry Washington, among others, along with Universal Pictures and MGM have all signed onto the effort.
And Paramount Pictures, in addition to accepting the "4 Percent Challenge," has announced the establishment of a Content Creation Council to ensure accountability to diversity in front of and behind the camera.  
According to Jennifer Warren, the founder and chairperson of Alliance of Women Directors, an organization focused on increasing the number of working female directors by providing professional support and education, female directors face an uphill climb when it comes to making films.
"Women directors receive less support overall, less support in terms of budget and resources during production, and less distribution and marketing dollars during the release," she said.  
In a separate interview, Hardwicke said female directors have to overcome the stereotype that men are naturally the leaders.
"Two thousand years we've seen men's faces on coins as presidents and generals so it's kind of just baked into our DNA to expect the men to be the leaders," Hardwicke said. "I think these are the kind of things that we are all working on to change."
Abby Kohn, a writer and director who made her feature film directorial debut in 2018 as co-director on the Amy Schumer-led film "I Feel Pretty," said that she felt as though she needed to change her personality to direct -- an experience she is unsure is shared by her male counterparts.
"I think that sometimes I have felt pressure to be somebody else," Kohn said. "To be sort of a tough-guy badass that doesn't fit with the nature of the movie that I'm making nor with the nature of who I really am. And I'm not sure if men feel that same pressure. I think I feel -- because I'm a woman -- pressure to show people that I am tough and unflappable and not as in tune with emotions and humor because that somehow will make people feel safer with me."
Hardwicke said she is hopeful that increased dialogue about female directors will help achieve gender parity in the field.
"I think shining that light is important because it makes people stop and think just a little bit," she said. "Maybe 10 percent of the executives think 'Wait a minute. There is a woman in the lead in this movie. Maybe we should think about a female director.' We need it to change, so every visible, vocal person is helping to make the change."
Sarah Shevenock previously worked at Morning Consult as a reporter covering the business of entertainment.
We want to hear from you. Reach out to this author or your Morning Consult team with any questions or comments.
Contact Us