White House's COVID-19 Vaccination Mandates Have the Support of About 3 in 5 Americans
But stark divides persist among Democrats, Republicans on the measures to ramp up inoculation levels
Key Takeaways
80% of Democrats back the plan to require U.S. employers with at least 100 workers to mandate vaccinations or testing vs. 33% of Republicans who say the same.

About two-thirds of Democrats say vaccine requirements protect the rights of Americans, and just as many Republicans say the mandates violate those rights.

Roughly 3 in 5 U.S. adults think the White House plan will result in reduced COVID-19 cases and increased vaccination rates.
Americans are divided along party lines on the White House's latest strategy to boost COVID-19 vaccination rates, as well as the role the government should play in promoting the shots more broadly, new Morning Consult/Politico polling shows.
The White House's plan to compel vaccinations set off a fresh wave of criticism over the weekend from Republican officials, who said President Joe Biden is overstepping his legal authority with sweeping mandates that affect most health care workers, federal employees and contractors as well as roughly 80 million private-sector workers.
The poll shows that while 58 percent of U.S. adults are in favor of vaccination mandates or weekly testing for employees at businesses with at least 100 workers — a key tenet of the new plan — there's a massive partisan gap, with 80 percent of Democrats and 33 percent of Republicans supporting such a requirement. Another 14 percent of Democrats and 62 percent of GOP adults oppose the rule.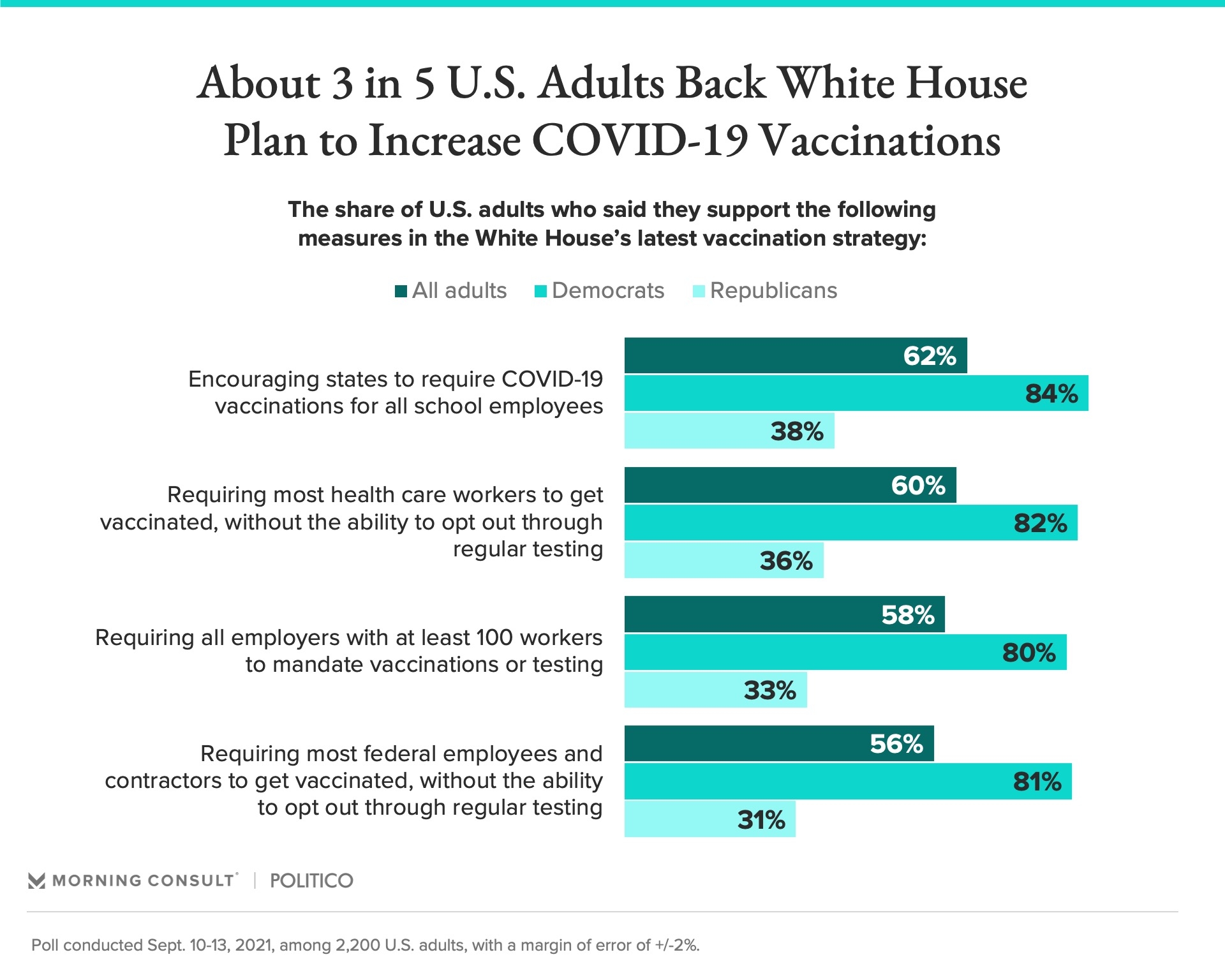 Most Americans also back other major pieces of the new plan: 62 percent are in favor of encouraging states to require COVID-19 vaccinations for all school employees; 60 percent support a vaccination mandate for most health care workers without the ability to opt out through regular testing; and 56 percent support the same rule for most federal workers and contractors.
Yet across those measures, the public's support hinges largely on party affiliation. Democrats are also more likely than Republicans to think vaccination mandates for private-sector employees will help bring down COVID-19 cases and boost vaccination rates.
Partisanship also shapes what Americans think of mandates more broadly: 67 percent of Democrats say vaccination requirements protect the rights of Americans, while 66 percent of Republicans say they violate their rights.
The public's viewpoints largely echo the stances political figures took over the weekend. In Texas, for example, Republican Gov. Greg Abbott called the requirement for private-sector companies to get their workforces vaccinated or test them regularly an "assault on private businesses," while the chair of the state's Democratic party referred to the White House plan as a "common-sense policy" to help the country emerge from the pandemic.
Adults felt similarly when considering requirements from their local governments: 58 percent of adults said they support a vaccination mandate for all Americans, except those with medical exemptions. Another 61 percent are in favor of vaccination mandates for local employees — though again, there are major splits between Democrats and Republicans as well as vaccinated and unvaccinated adults.
In general, adults were more likely to support local mask mandates than vaccination requirements. Meanwhile, 56 percent of adults think local governments should be encouraging COVID-19 vaccinations and masks in indoor public spaces, including 77 percent of Democrats and 33 percent of Republicans.
The survey was conducted Sept. 10-13, 2021, among 2,200 U.S. adults and has a margin of error of 2 percentage points.
The charts in this story were updated to correct the dates in which the survey was conducted.
Gaby Galvin previously worked at Morning Consult as a reporter covering health.
We want to hear from you. Reach out to this author or your Morning Consult team with any questions or comments.
Contact Us