Why the NFL, Advertisers Shouldn't Worry About Politics in the Super Bowl
People are going to watch regardless, according to polling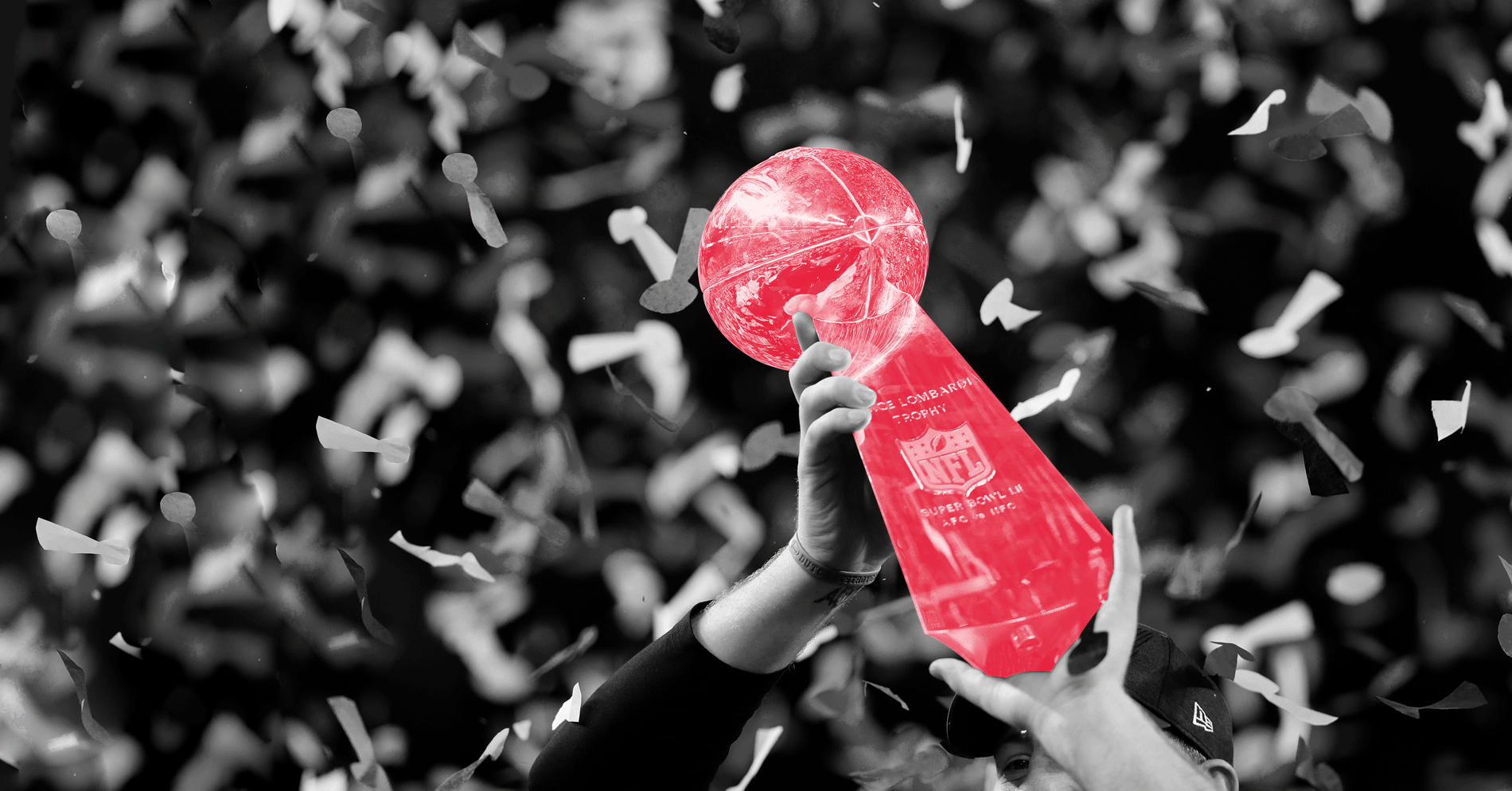 Key Takeaways
31% believe Super Bowl LIII will be more political than last year's game.

Those U.S. adults are just as likely to say they've watched more NFL games in the past five years than fewer ones (38% versus 35%).
Americans are split on whether Super Bowl LIII in Atlanta will be more politicized than last season, a year which saw a concerted effort by broadcasters focusing on NFL players kneeling during the national anthem, declining league ratings for a second consecutive season and continued rebukes from President Donald Trump directed toward Commissioner Roger Goodell and senior leadership.
A new Morning Consult poll of 2,201 U.S. adults conducted Jan. 3-5 found that 31 percent of respondents said they think the upcoming Super Bowl will be more political than last year's contest. Still, those Americans were just as likely to watch the prime-time Feb. 3 event as the general public (71 percent versus 69 percent -- inside the survey's 2-point margin of error).
Perceptions that the Super Bowl has become more political also haven't been a drag in viewing habits: Adults who said they thought this year's game would be more political were no less likely to say they'd watch in comparison with last year's contest, or more generally, than they were to watch NFL games five years ago.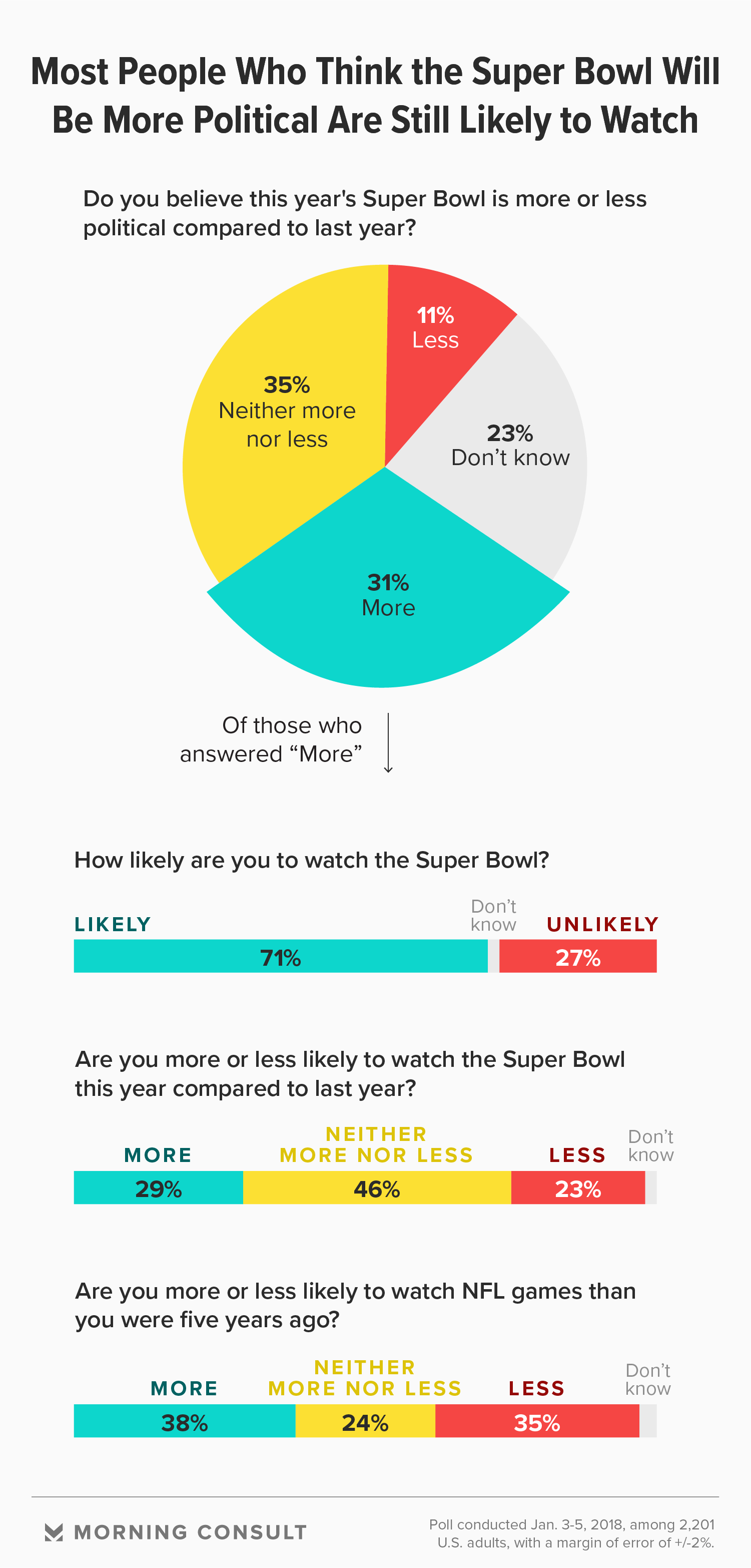 It's leading some media executives and sports marketing experts to say that the Super Bowl carries the same level of influence regardless of one's political opinion.
"Name one big sports, entertainment or cultural event now that isn't somewhat political," said Todd Alchin, a partner at creative and strategic media agency Noble People, which has previously bought Super Bowl media for PayPal Holdings Inc. "The Academy Awards, Christmas: There's really nothing that's big that doesn't have some sort of political conversation surrounding it."
Part of the initial discussion with a blue-chip brand contemplating a $5 million Super Bowl advertising spot, according to Alchin, lies around how including oneself in the marquee sports event is possibly perceived by the general public. He said that while it's hard to ignore the current political climate, the league overall is more "politically charged" than its showcase event. Alchin cited Nike Inc.'s 30th-anniversary initiative at this season's outset that featured NFL free agent quarterback Colin Kaepernick -- who sparked the league's political controversy in 2016 by kneeling during the national anthem before games to protest racial profiling in policing and other aspects of American life -- as the face of the brand's "Just Do It" campaign.
"You definitely want to get it right if you're making a political or social statement," Alchin said of Nike, which attributed part of a second-quarter stock surge of 9.2 percent to the controversial ad campaign.
For next month's Super Bowl, one brand in particular, Anheuser-Busch InBev, told Ad Age last week that it won't be making a political statement with its record five-and-a-half minutes of air time. It's a different approach from the one the company took in 2017, when a Budweiser ad highlighted its own founder's history as an immigrant, furthering a wider discussion of the immigration debate as Trump entered the White House.
When asked if, generally speaking, fans could view companies less favorably for advertising in the Super Bowl, Alchin said that naturally some individuals will have that viewpoint. Still, he suggested most people want to be entertained for those four hours and aren't specifically judging brands' participation as they attempt to reach U.S. television's largest annual audience of 100-plus million consumers.
Some media executives, such as Arnold Wright, executive vice president and co-head of consulting at sports marketing agency Octagon, said the Super Bowl and NFL are "less political than last year."
Trump was critical of the NFL in 2017 and the manner in which Goodell handled the Kaepernick kneeling controversy, but his public remarks have significantly lessened this year. League partners also haven't aired the national anthem and drawn attention to the flag while broadcasters have consciously made an effort to refrain from discussing the issue.
"It's less of a pointed discussion, at least in mainstream media," Wright said.
During the 2017 NFL regular season, ratings dropped nearly 10 percent while they rebounded this year, up 5 percent, with Wright suggesting one could argue that the NFL is as strong today as it's ever been. Consequently, he stated that if he were a brand, he'd take notice and not shy away from a Super Bowl investment unless it was budgetary-related. Last week, CBS ad sales chief Jo Ann Ross told reporters at the network's Super Bowl media day in New York that inventory for the Big Game was already "over 90 percent sold" with three weeks remaining.
How brands assess whether the Super Bowl serves their core objectives — generating awareness, furthering branding affinity or starting a conversation via a social statement — has remained largely unchanged over the past five years, Noble People's Alchin hypothesized, in spite of the increasing difficulty to cut through the advertisement clutter and make a brand impact.
At its core, the Super Bowl is still the most discussed sports and entertainment event in the country, a game where avid and casual fans tune in for the game itself and the all-encompassing cultural spectacle. Regardless of political stance, fans will be present in three weeks as the Super Bowl and NFL operate ''business as usual."
"If you're going to advertise in the Super Bowl, you're probably doing it to hit the most people -- whether that be a product launch, reinforce a message or whatever that core component of your advertisement is," Wright said. "Where the concern comes in from some of the dynamics that surround the sport, whether it be political, social, player or personal conduct issues, those typically are considered by those people who are in it for the long haul."
Mark J. Burns is a sports analyst on the Industry Intelligence team, where he conducts research, authors analyst notes and advises leaders in the sports industry on how to apply insights to make better business decisions. Before joining Morning Consult, he served as a beat reporter at Sports Business Journal, covering the business of hockey and soccer. Mark graduated from the University of Michigan with a bachelor's degree in history and holds a Juris Doctor from Belmont University. For speaking opportunities and booking requests, please email [email protected].
We want to hear from you. Reach out to this author or your Morning Consult team with any questions or comments.
Contact Us